Toronto Raptors: 2010-11 Season Review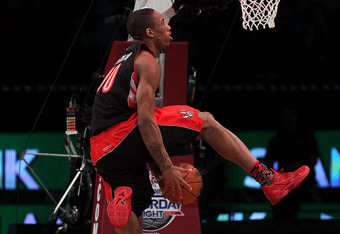 Jeff Gross/Getty Images
It has been a terrible season for the Toronto Raptors. The Raptors are poised to finish the season with the team's lowest win total in over a decade. Toronto fell from second in the Atlantic Division to last. And the future is filled with uncertainty.
Questions remain whether Maple Leaf Sports and Entertainment will renew the contracts of head coach Jay Triano and general manager Bryan Colangelo. There are positives and negatives to both. Personally, I've never been a fan of Triano and would not be sad to see him go.
All of the team's problems obviously stem from the departure of Chris Bosh. This is a move in the short term that hurts, but in the long term should be very beneficial.
Bosh was never a franchise player. Fans convinced themselves he was because they needed to fill the void left by Vince Carter.
Bosh has talent, no doubt. He is one of the top power forwards in the game and probably a top-25 player in the league. However, he is not in same category as Kobe, LeBron, Dirk or Duncan.
Entering the season, I picked the Raptors to win between 25 and 35 games. As it stands now Hollinger's NBA Playoff Odds have Toronto projected to finish the season with a 22-60 record. This would be the third-worst record in the NBA.
The only positive is that the team will end up with a high draft pick.
Harry How/Getty Images
The 2011 NBA Draft is not a deep one by any means. There is no consensus No. 1 pick. That, combined with the current labour uncertainty, means that more top prospects may return to college for another year.
Despite the above, if the Raptors finished with the third worst record, then the team will select anywhere between first and sixth, with a 15.6 percent chance of landing the top pick in the draft.
This will allow Toronto to add another piece to the puzzle. It may not be a franchise player, but it should be someone who will help this team going forward. Personally, if the Raptors can land either Kyrie Irving or Derrick Williams, I'll be happy.
In my previous article, I explained how Irving could help transform the Toronto Raptors.
As for Williams, he is a combo forward who has been compared to Michael Beasley and David West. He was an absolute beast in the NCAA Tournament and would fill the current void the Raptors have at the three spot.
Going into the offseason, Toronto has approximately $40 million in guaranteed payroll.* Under the current Collective Bargaining Agreement the salary cap is set at $58.044 million.
Based on the current CBA standards, the cap would likely increase to $60 million next season, leaving the Raptors with $20 million in cap space.
Chris Trotman/Getty Images
However, the current CBA is set to expire at the end of this season. One major point for NBA owners is to change the current salary structure. This would include a lowering of the salary cap. Therefore, it is unclear how much cap space the Raptors will have, but it will likely be closer to $10 million, not $20 million.
This definitely limits what Toronto is able to accomplish. That $10 million means that the team is only able to acquire one impact player. According to Ramona Shelburne of ESPNLosAngeles.com, DeAndre Jordan's value on the open market is between $9 million and $11 million.
Jordan is the type of defensive centre most teams need. He should draw interest from a number of teams this offseason, including the Raptors.
Therefore, the new CBA will significantly limit Toronto's ability to improve.
That being said, the Raptors' current core includes a few nice building blocks for the future. The core consists of Andrea Bargnani, DeMar DeRozan, Ed Davis, Jerryd Bayless, James Johnson, Amir Johnson and Jose Calderon. Everyone in that group, with the exception of Calderon, is 25 or younger.
Furthermore, if Toronto is lucky enough to be able to draft Irving, there is no doubt Colangelo will revisit trading Calderon.
Which player will improve the most during the offseason?
Bargnani is a solid player and has taken his game up a notch this season. With the departure of Bosh, Bargnani became the team's go-to-guy offensively by default. His future will probably max out as the second or third option on a playoff team.
DeRozan is having a breakout sophomore season. He has improved statistically every month, so much so that it has led to whispers that the team should move Bargnani and focus on moving forward with DeRozan as its franchise player.
As the team stands today, I don't think they are talented enough to move a player like Bargnani, and such a move would be a mistake.
Bayless has played tremendous in April with injuries to Calderon. He has averaged 24 points and 6.4 assists per game for the month.
However, Bayless is not a pure point guard. He is a combo guard and I don't see him as the Raptors' long-term solution running the team.
Someone always needs to score on a bad team. Every Raptor fan should remember that Mike James was the team's second leading scorer during the 2005-06 season.
I'm not implying Bayless is the next Mike James because I like Bayless and personally used to cringe every time James tried to take over a game in the final two minutes.
However, I just want to caution fans from getting too excited about big stats in the final month of a bad year.
Davis and the Johnsons are all nice players. Amir has expanded his game since joining the Raptors last season. Both Ed Davis and James Johnson should continue to develop with the offseason and a full training camp under their belts.
Unfortunately, rebuilding is a long and slow process. However, if management is able to make the right moves through free agency and the draft this team should make the playoffs in 2013.

*This is based on the following assumptions (1) Leandro Barbosa exercises his player option for next season; (2) the team does not extend qualifying offers to Julian Wright and Joey Dorsey; and (3) the team does not extend contracts to Sonny Weems, Alexis Ajinca and Reggie Evans.
This article is
What is the duplicate article?
Why is this article offensive?
Where is this article plagiarized from?
Why is this article poorly edited?

Toronto Raptors: Like this team?