How the Lockout Will Affect the 2011 NFL Draft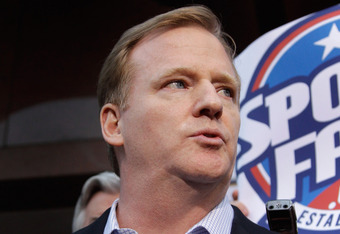 Rob Carr/Getty Images


The labor dispute has changed several things. The dispute has added the term 'courtroom football' to the football vernacular and added April 6, 2011 as an important date on the NFL's off-season calendar. The labor dispute should come as no surprise and a lockout in 2011 was imminent prior to the start of the 2010 season.

'Brady v. NFL' has started, all we know at this point is that U.S. District Judge Susan Richard Nelson wants the case to remain in her court and has urged both sides to return the bargaining table.
However, it will be weeks before we all hear Nelson's ruling. Two things are for certain—the draft will start and finish before said ruling and that the process could easily drag on for a while.

In the NFL there are normally three ways to improve your football team 1) veteran free agency 2) the Draft 3) signing un-drafted free agents. The lockout has effectively cut those options down to two.

The league granted a record 56 underclassmen special eligibility for the 2011 draft, exceeding last years record-tying 53. This has added depth to a draft class that does not have a true no.1 talent. That ship sailed the moment Stanford QB Andrew Luck made the decision to remain a Cardinal.

The lockout presents an interesting conundrum. The lockout has caused teams to view members of a weak quarterback class in a different light. Seven of the teams with a top-10 pick in the 2011 draft have a big need at quarterback.

The question is what team is going to reach for a QB?
There are six teams with new head coaches. A new head coach has to find his guy at the QB position. The two are, in a sense, married to each other—although the coach and general manager need to be on the same page as well. Some teams have to replace veterans with drafted players.

When you remove the option of adding a veteran quarterback via trade before the draft, the task of a QB needy team is simple, you must land one in the draft. A team could 'trade up' using draft picks. The fact of the matter is, due to the lockout, it is imperative that every team focus more on NEED in every round.

A team with a top-ten selection in the draft has a difficult task ahead of them. This is the drafts most expensive neighborhood. There are only five positions a team should draft with a top-ten pick; 1) A franchise Quarterback 2) A franchise Left Tackle 3) An elite Pass Rusher 4) A Shutdown Cornerback 5) A top-five Running Back.

We have seen teams swing and miss at the top of the first round year in and year out. It is impossible to think that this year will be different. A mistake with a high selection and it could set the franchise back for years.
Imagine, if in 2005, then head coach Mike Nolan and the 49ers brass pulled the trigger on local kid QB Aaron Rodgers instead of QB Alex Smith. The 49ers are just one of at least 13 other teams that had a need at QB in 2005. Mike Nolan is no longer a head coach and Alex Smith will be playing in a different city when league business begins.

In 2006, the Tennessee Titans were in need of a quarterback. Everyone in the organization wanted to draft Matt Leinart except for owner Bud Adams. Adams is from Houston, Texas and he wanted Vince Young.

At that time, Norm Chow was the Titans offensive coordinator. Chow was the offensive coordinator at the University of Southern California from 2001-2004. If the Titans pulled the trigger on the USC quarterback, Leinart would have hit the ground running playing in the same offense in college and as a professional.

After 16+ seasons, Jeff Fisher is no longer coaching the Titans. As soon as league business begins, Vince Young will no longer be a Titan. How ironic is it that Leinart is a back up QB in Houston?
If Vince Young can clean up his act and display more maturity, he will have to continue to develop in another city.
This article is
What is the duplicate article?
Why is this article offensive?
Where is this article plagiarized from?
Why is this article poorly edited?