Barry Bonds: Has Prosecutor's Closing Argument Swayed the Jury Against Bonds?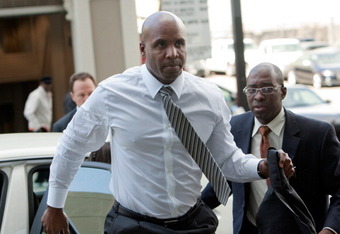 Barry Bonds Sees Prosecutor Launch into Hour-Long Closing Argument Against the Slugger
Following Dr. Arthur Ting's testimony, it looked like everything was going Bonds' way.
Ting, who was called up by the prosecution in the government's case that Bonds knowingly took steroids, openly refuted Steve Hoskins' claims that they had had as many as 50 conversations about Bonds and steroids.
That was largely deemed a turning point for Bonds.
But after an hour-long closing argument by U.S. Attorney Matt Parrella that reportedly was very convincing, things could have swayed back to the prosecution's corner.
Parrella reportedly told the jury that Ting was "a celebrity doctor trying to soften the blow for a celebrity crime."
Via Yahoo! Sports:
"In conclusion," Parrella told the jury, "there's a real irony to this case and it's that these substances that the defendant took to make himself strong, he wasn't strong, he was weak. He went to the grand jury too weak to tell the truth despite all the anabolic steroids."
The jury, consisting of eight women and four men, deliberated all of Friday and is set to continue on Monday.
The Bonds case, where the former San Francisco Giants slugger is facing three counts of lying to a grand jury and one count of obstruction of justice, has resembled more of a circus than a courtroom throughout, but did you expect anything more?
The case has included Bonds' former mistress Kimberly Bell running through the physical signs he exhibited of allegedly using steroids, including saying his testicles shrank.
It's also included Bonds' former personal shopper saying she saw him injected, tearful in her testimony.
For a look at the case for Barry Bonds, check out Tim Garrity's piece.
Most recent updates:
This article is
What is the duplicate article?
Why is this article offensive?
Where is this article plagiarized from?
Why is this article poorly edited?