2011 NFL Mock Draft: Pittsburgh Steelers 7-Round Projections.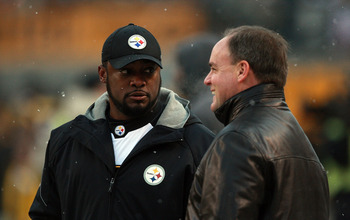 Karl Walter/Getty Images
When it comes to the NFL Draft, there are not many teams that can say they are as successful as the Pittsburgh Steelers.
From having the greatest draft class in the history of the NFL (1974 - Four players voted into the Hall of Fame), to continually rebuilding their team with successful drafts, the Steelers seem to have an uncanny ability to find superstars in each round of the Draft.
In 2011, the NFL is having an offseason unlike any other. For the first time, the NFL will actually hold the NFL Draft prior to the start of free agency.
Yes, there is a chance that the NFL and NFLPA* will work out an agreement between now and then, but there is also a chance I will hit the lottery between now and then.
With that in mind, teams will be forced to draft differently than they normally would, because they have no idea who on their team that has been tendered a restricted contract offer will still be valid once the new CBA (Collective Bargaining Agreement) is agreed upon.
With that in mind, the Steelers will still enter this draft, at least in my opinion, with the "Best Player Available" attitude. And, again, they will have another successful Draft.
Here is my first, 7-Round Pittsburgh Steelers Mock Draft.
Round 1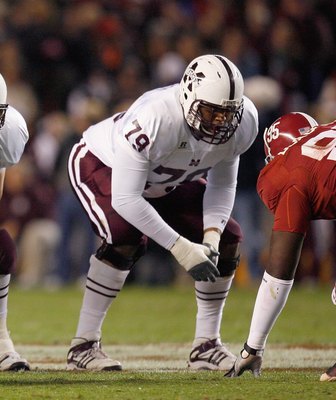 Kevin C. Cox/Getty Images
With their first-round selection, the Pittsburgh Steelers select:
Derek Sherrod, OT - Mississippi St.
Though it would make a wonderful story for the Steelers to draft Mike Pouncey to play next to his brother—and Rookie All-Pro Pro Bowler—Maurkice, that simply isn't going to happen.
Maurkice just played too well for his twin brother to slide all the way to the Steelers at pick 31.
And, yes, it would be wonderful for a player like Baylor's Phil Taylor to fall to the Steelers and eventually replace Casey Hampton. With so many teams switching to the 3-4 defensive front, however, there is no way a talent like Taylor will fall to the Steelers.
For that matter, there is even a chance that Sherrod will not be there when the Steelers draft. But with a lot of depth in the rookie offensive line, I believe that the Steelers will be able to get Sherrod.
With Sherrod, the Steelers will have spent two consecutive first-round picks drafting for the offensive line, which is exactly what most people believe they needed to do.
Regardless of most opinions, there should not be more of a pressing need than keeping the $100 million dollar man, Ben Roethlisberger upright as often as possible—which the offensive line has had trouble doing in years past.
With Sherrod, and possibly another early draft pick, Pittsburgh will have corrected one of the teams biggest needs and solidified the area of the offense that was unquestionably the weakest.
Round 2
With their second-round selection, the Pittsburgh Steelers select:
Davon House, CB, New Mexico St.
Having addressed the offensive line in the first round, the Steelers address their second biggest need in the second round with House.
At 6'1" and 200 lbs, House fits the mold that the Steelers covet at the CB position. With quick feet, House is similar to Ike Taylor—he likes to hit.
That makes House the perfect fit for the Pittsburgh Steelers.
Round 3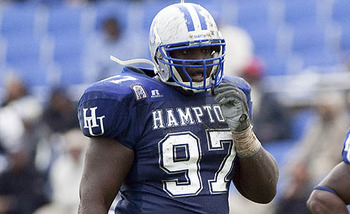 With their third-round selection, the Pittsburgh Steelers select:
Kenrick Ellis, NT, Hampton.
The Steelers spent their first-round pick in 2009 on Ziggy Hood. With the addition of Ellis, the Steelers will have solidified their defensive line for years to come.
Casey Hampton (is it ironic that Hampton's replacement could have played at Hampton?) is not getting any younger, and the Steelers will eventually have to replace him. Ellis is the perfect long-term replacement for Big Snack.
Round 4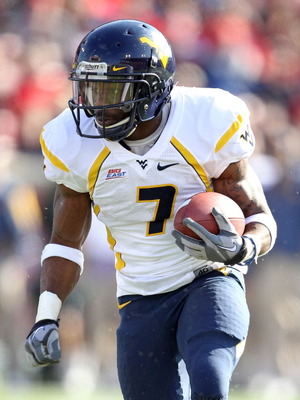 Andy Lyons/Getty Images
With their fourth-round selection, the Pittsburgh Steelers select:
Noel Devine, RB - West Virginia.
With the uncertainty of being able to retain Mewelde Moore, the Steelers are going to have to consider drafting his replacement.
The Steelers are set at starter, with Rashard Mendenhall. In Isaac Redman, they are set with their short yardage back.
What they need is the elusive back with breakaway speed. Devine is just that.
I have to say, Noel Devine played his at North Fort Myers High School, where I live. I was fortunate to see him play, even though—unfortunately for my son—it was against my son's team.
Since then, I had hoped that somehow he would end up on the Steelers' roster. He would fill a definite need.
Round 5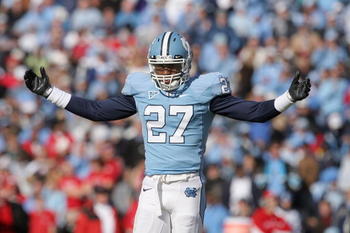 Streeter Lecka/Getty Images
With their fifth-round selection, the Pittsburgh Steelers select:
Deunta Williams, FS - North Carolina.
Their secondary was a major concern for the Steelers and, as many people believe, was the reason they didn't win their seventh Super Bowl.
Ryan Clark is not getting any younger, and the Steelers are going to have to find his eventual replacement—Williams could be exactly that.
As a fifth-round selection, the Steelers would allow Williams to spend a year behind Troy Polamalu and Ryan Clark before competing with Ryan Mundy in 2012.
Round 6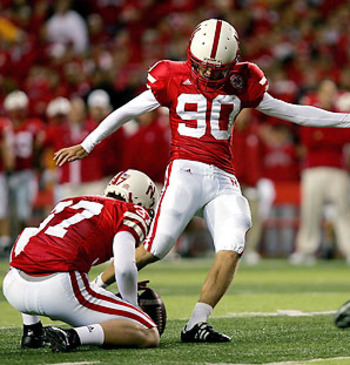 With their sixth-round selection, the Pittsburgh Steelers select:
Alex Henery, K/P - Nebraska.
There is no question that the Steelers have not had the best of luck with kickers and punters. Daniel Sepulveda has had three knee surgeries, and while on Scott Suisham was good for the Steelers, he was not great.
With Sepulveda's injuries, adding a kicker that can punt as well would give Steelers depth that no other team in the NFL would have.
Round 7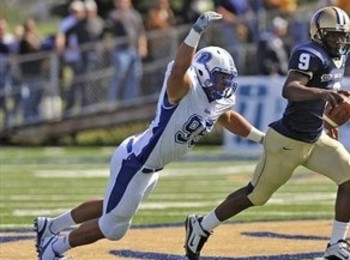 With their seventh-round selection, the Pittsburgh Steelers select:
Dain Taylor, DE/OLB - Drake University.
Far be it for the Pittsburgh Steelers to not select a LB with one of their draft picks. Having skipped the position for the first six rounds, the Steelers select Taylor with their final pick.
Though Taylor has spent his college career playing DE, he will be converted to OLB with the Steelers. Being selected in the seventh round, the Steelers will probably try to keep Taylor on the practice squad for at least a year before giving him a real shot at dressing for games.
Even though most seventh-round picks have a hard time making any team's roster, the Steelers have a knack for taking late-round picks and making them eventual studs.
Conclusion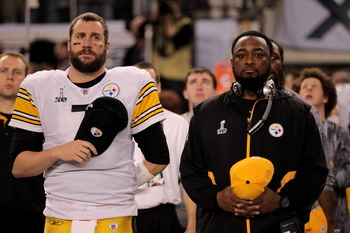 Jamie Squire/Getty Images
Mock drafts are hard enough to predict without trades, but there is a chance that the Steelers will trade up or down in any of the seven rounds.
This is my opinion, based on needs, with the best available player thrown into the mix.
Think I'm nuts? Feel free to let me know with your comments.
Keep Reading

Pittsburgh Steelers: Like this team?