Arizona Wildcats Football: Why They Can Contend in the Pac-12 South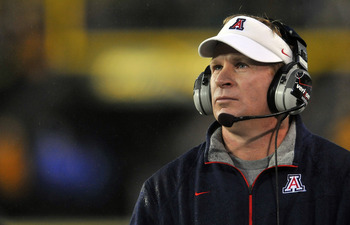 Steve Dykes/Getty Images
Losing five consecutive games to end a season is not exactly what you set out to do. Well, that's what the 2010 Arizona Wildcats did. Losing to Oregon, Stanford, USC, ASU and Oklahoma State in the Alamo Bowl.
Don't get me wrong, all of those teams are very good, but with a 7-1 start, we expected Arizona to come out with at least one or two more victories, and at least be competitive in all of them.
That being said, they return many of their skill position players and have the potential to be a very scary offensive unit in 2011. The big question is going to be the offensive line. With new run game coordinator, Robert Anae, the offensive line seems to be in for major changes.
If they play up to their potential, Arizona should have no problem finishing in the top three of the Pac-12 south.
Offense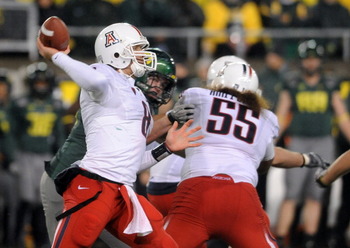 Steve Dykes/Getty Images
Nick Foles is one of the best QBs in the country. However, the key to a good season for the Cats is the offensive line: Five new starters and a new run game coordinator. Although the skill positions for Arizona are solid. Foles, along with Keola Antolin and Daniel Jenkins in the backfield, and Juron Criner and Dan Buckner as the receivers.
Running back Greg Nwoko is out indefinitely with a knee injury, leaving Keola Antolin as the only back with meaningful game experience. Sophomore Daniel Jenkins, freshmen Ka'Deem Carey and Jared Baker will have a much bigger role than they had expected. If the running game can get going, that will open up the passing game for Foles, Criner and Buckner.
And if the o-line can keep Foles on his feet then Arizona's offense will be up near the top of the Pac-12.
Juron Criner and Dan Buckner aren't the only receivers that are expected to make a contribution next season. Nick Foles' roommate David Douglas will be a solid slot receiver, as will David Roberts. William Wright will have quite a fight for playing time, but if he is successful as a return man, Mike Stoops will have to find a spot for him on the field.
Defense
Stephen Dunn/Getty Images
Losing Adam Hall to a knee injury hurts the Arizona defense big time. He was the one guy who could be tagged as a game changer and a playmaker. However, Arizona has the depth at defensive back to get past that injury. Marquis Flowers and Jonathan McKnight should expect a lot of playing time coming their way.
Last season, linebacker was a major concern in the middle of Arizona's defense. Derek Earls, Paul Vassallo and Jake Fischer surprised people and played very well. All three of them return, and when you throw in top recruits Rob Hankins, Dominique Petties and Hank Hobson, linebacker should be the strength of the team next year.
Like the linebackers last year, the defensive line this year is a major concern. Arizona lost two NFL caliber defensive ends in Ricky Elmore and Brooks Reed. The only returning starter is tackle Justin Washington, and he only played in a handful of games last year due to injury.
This defense has the pieces to be a great unit, but with powerful offenses like Oregon and Stanford in the Pac-12, don't expect it to be a lock down defense.
Special Teams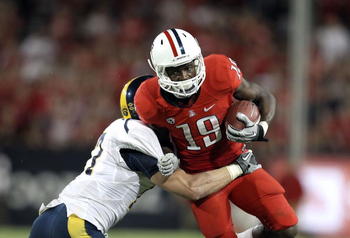 Christian Petersen/Getty Images
Everyone remembers Alex Zendejas' two extra points that were blocked and ultimately cost Arizona the game vs. Arizona State. But I don't think he will be the key to a monster special teams season. If William "Bug" Wright can handle catching punts on a daily basis, then he could be one of the better return men in the country.
Wright muffed many punts last season, something that cannot be afforded in the long run of a season. But when he actually catches the ball, saying he is explosive is an understatement. At 5'9", Wright is a nightmare to bring down in the open field, so I expect Mike Stoops to utilize Wright in the kickoff return game as well as punt returns.
Kyle Dungandzic has the starting punter spot to lose. The JC transfer is ahead of Alex Zendejas and linebacker Derek Earls in the depth chart. People don't realize how important a good punter really is. If you can pin your opponent deep in their own territory, it makes it that much harder to score. A bad punter can leave your defense hanging and give the other team the advantage in field position.
Nick Foles to Juron Criner
The Cats return one of the best QB's and the best receiver in the Pac-12 next year. Foles to Criner worked extremely well for Arizona last season, resulting in 1,000+ yards and 11 TD's for Criner.
Not to mention that Texas transfer Dan Buckner is eligible this season after sitting out last year. Buckner, at 6'4", 210 lbs, will be able to command double teams if he gets off to a hot start. That will result in Criner ripping apart single coverage. And if teams decide to double both (that would be terrible coaching), Terrence Miller, David Douglas and Williams Wright will be seeing a lot of the ball.
The key to this connection is the run game. If they struggle running the ball early, teams will drop more defensive backs, creating much smaller throwing windows for Foles. However, if Keola Antolin and Daniel Jenkins can gain yards carrying the ball, it will open up everything for Foles, Criner and Buckner.
Foles and Criner don't get the national attention they deserve. I was looking at a Pac-12 receivers ranking, and I saw Juron Criner second behind Robert Woods. Woods is good, but Criner out received him by 400+ yards and had five more TD's than him.
I usually don't base things on stats, but it really isn't even close who the best Pac-12 receiver is.
They're Headed in the Right Direction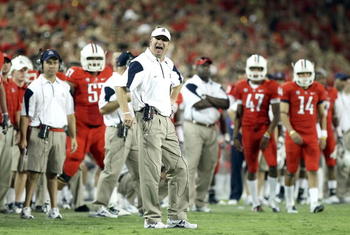 Christian Petersen/Getty Images
Mike Stoops and Arizona have been to three straight bowls and have had three straight winning seasons. A winning culture is being inserted at Arizona by Mike Stoops. Getting his recruits to play up to their potential and play more as a team. By hiring Robert Anae and other assistant coaches who have had a long history with winning programs.
Five years ago, if I told you that Arizona football was an above-average program with a chance to win the Pac-12 south, you would have said I was crazy. Arizona is a basketball school. Always has been and always will be, but that doesn't mean the football team can't become an elite program on the west coast.
Although Arizona hasn't ever attracted the top recruits, Mike Stoops' classes have gotten better each year. And there's always an unheralded recruit that steps up and plays a huge role on the team. With steady increases in recruiting, Arizona should continue their recent trend of winning seasons and going to bowl games.
There's no telling what will happen this season, and with a gauntlet of tough early games, Arizona may not succeed this season or next season, but the future is still bright in Tucson.
Keep Reading