College Versus the Pros: Who Has the Hottest Fans?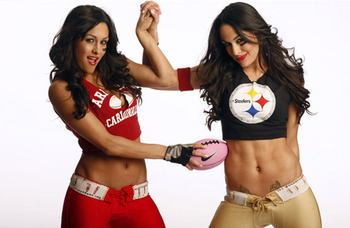 Warning: The following slideshow might melt your computer screen.
Rivalries abound in sports. Yankees vs. Red Sox. Duke vs. North Carolina. Lakers vs. Celtics. Michigan vs. Ohio State. Pirates vs. Nationals.
Alright, so maybe not the last one.
The debate over these rivalries is endless, making the games themselves all the more fun. But there is another rivalry that is rarely talked about, the sort of passionate debate that will finally be determined here:
Are the fans hotter in college sports or professional sports?
On the following slideshow, I will debate that very topic, presenting 50 pictures as evidence to support my ruling. I would warn against looking too closely at these pictures, however, as many of them are hot enough to burn your retinas.
You have been warned.
Photo Courtesy of WWE.com
Angels Fans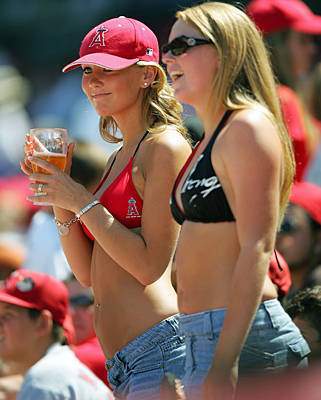 We open the deliberations with professional fans. As you will see, sexy fans such as these Angels support their teams in a variety of ways.
Michigan State Fan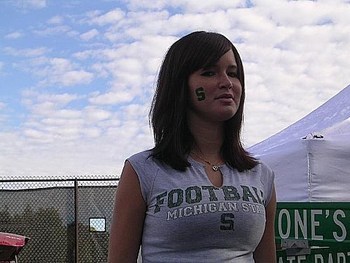 But college sports has its fair share of gorgeous fans as well, such as this lovely Spartan.
Braves Fan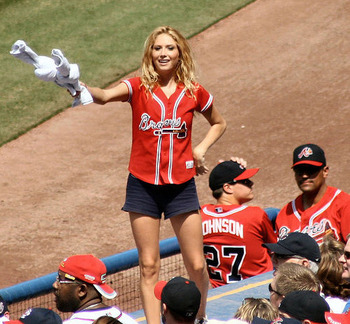 Professional fans aren't afraid to pump up the crowd to give the team a needed energy boost.
Oregon Fan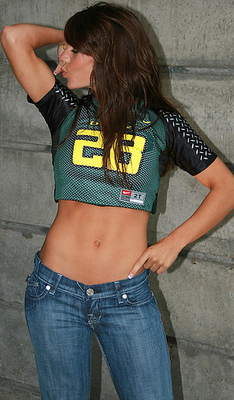 Of course, college fans aren't afraid to purchase team gear in the child's section.
Thank you for that, Oregon fan.
Saints Fan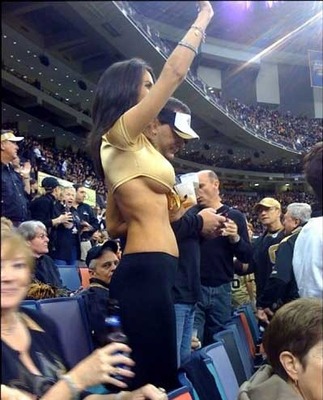 Professional fans can barely contain their (cough) excitement during games.
Morehead State Fan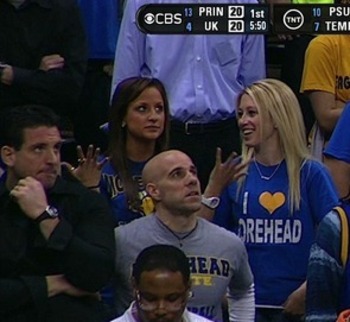 College fans are intelligent—being well-educated, of course—and display their school-pride through the use of sexy t-shirts, or clever cheers.
Steelers Fans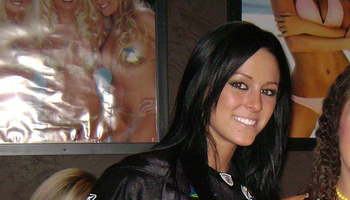 Professional fans travel in sexy packs.
Oklahoma Fan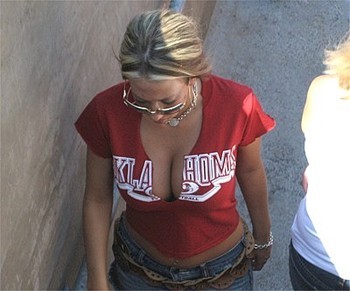 College fans are superstitious. For example, this lovely Oklahoma fan isn't afraid to wear her lucky shirt just because it has been torn down the center.
Vikings Fans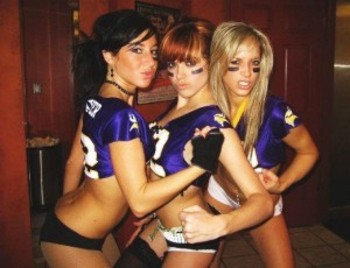 Professional fans will fight at a moment's notice to protect the good name of their team.
Texas Fans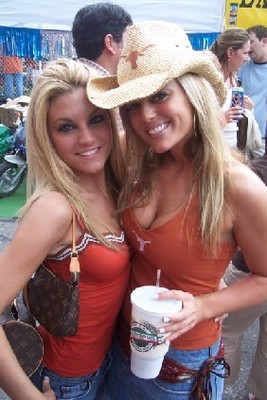 But college fans are loyal, and always stick together.
Packers Fans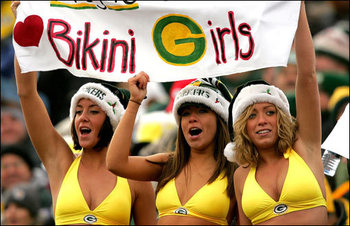 Pro fans brave the elements to show their support (among other things).
Florida Fan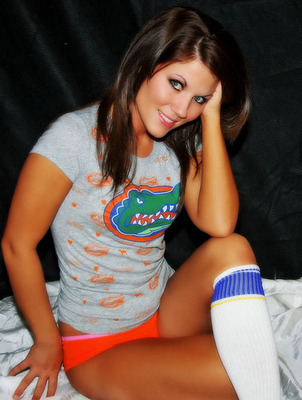 College fans even support their teams while they sleep.
Red Sox Fan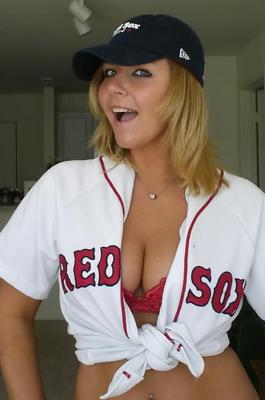 Missing a few buttons?
Not a problem for this resourceful Red Sox fan, who isn't going to let something like a little wardrobe malfunction keep her from sharing the love of her team with the world.
Illinois Fan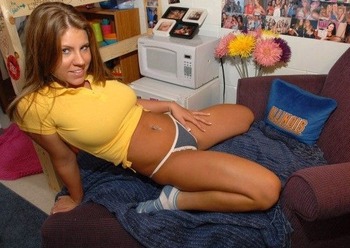 College fans gear up around the house.
Oh, and if you are wondering how I knew she was an Illinois fan, take a look to the right. See the pillow? I know, you would have never even looked back there, that's why I'm here.
To handle the details.
Dolphins Fans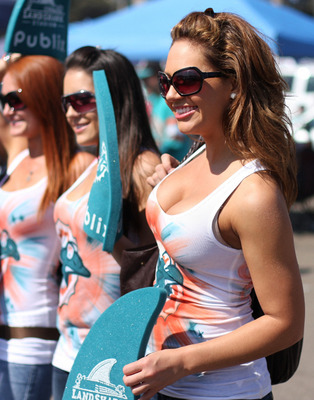 Professional fans are a creative bunch, waving around foam fingers—or in this case, foam fins—to support their squad.
Utah Fans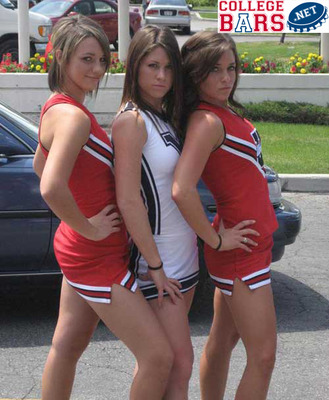 College girls randomly stop on the street to show off their fandom for any pedestrians who may want to document such passion.
Cubs Fan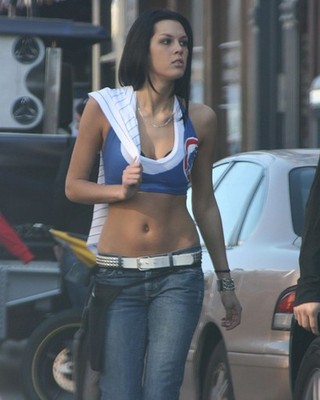 The support of professional fans runs layers deep.
N.C. State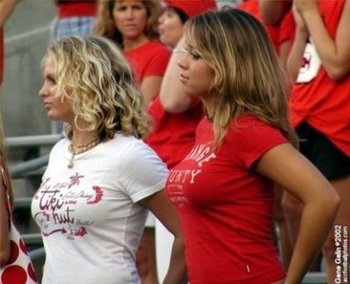 Collegiate fans don't take a play off during the game. They stand, watching intently, ready to cheer in a moment's notice.
Bears Fan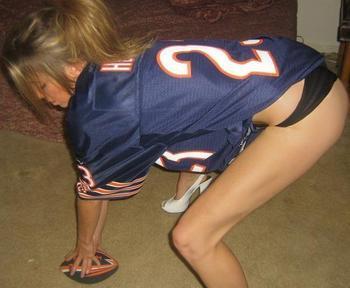 But fans of the pro game are still reenacting their favorite plays from the game, well into the night.
Arizona State Fans, Part One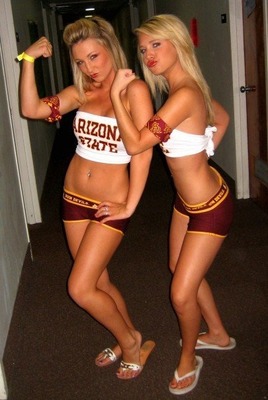 Still, college fans are known to be a wild, fun-loving bunch.
Erika Nicole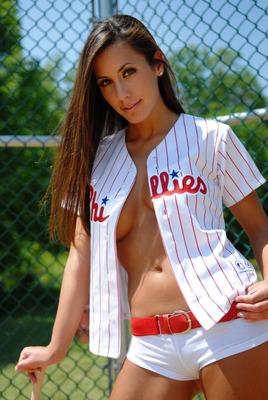 And professional sports attracts some of the hottest women in the world, such as model—and Phillies fan—Erika Nicole.
Arizona State Fans, Part Two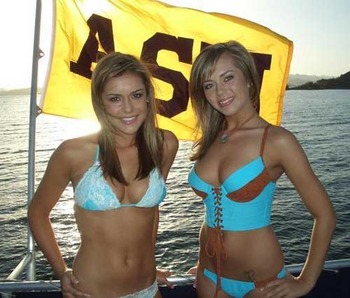 Even in the offseason, college fans don't forget where their loyalties lie.
Cho Sang Hee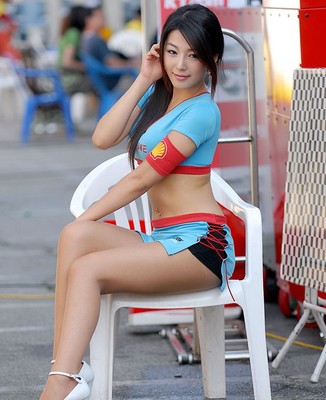 And no, I didn't forget about you, racing fans, or some of the gorgeous models that appear for big-money sponsors like Shell.
Rutgers Fans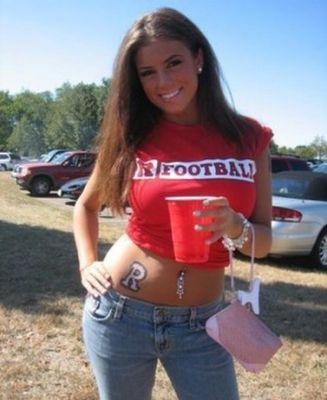 College ladies enjoy alcohol before, during, and after the game, which helps to raise the excitement level at the stadium.
Denise Milani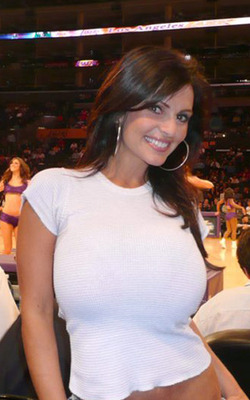 If you're lucky, you may even end up seated next to a knockout like model Denise Milani during an NBA game.
Texas Tech Fans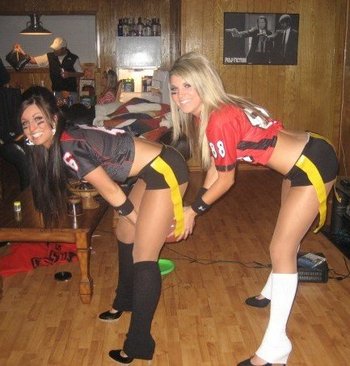 College fans go through team strategy, and practice the plays they hope their team will run.
Kim Kardashian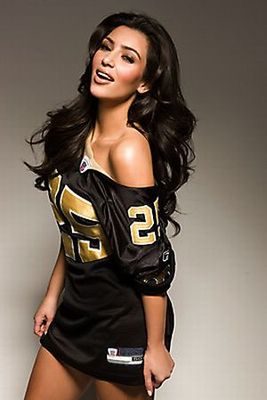 Still, professional sports takes the cake when it comes to celebrity fans, for two main reasons:
1. Attending certain professional games is looked upon as a status symbol.
2. Sexy WAGs, such as Kim Kardashian, have proliferated professional sports, attending games and modeling sexy versions of the uniforms worn by their men.
Virginia Tech Fan
College fans are persistent in their efforts to make it to the game.
Eva Longoria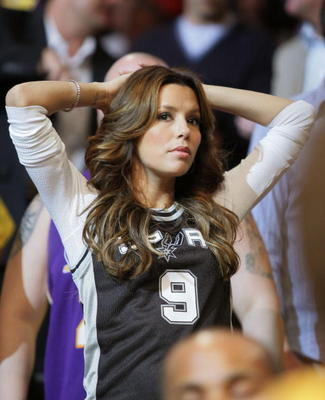 Sometimes, WAGs wind up with men who don't appreciate them.
Still, that's no reason to stop appearing at NBA games, Eva.
Ohio State Fans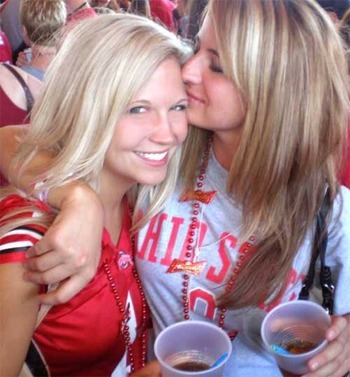 College fans savor their time together.
Red Sox Fan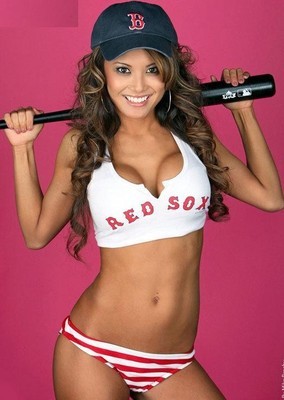 Of course, some MLB fans may just model sexy sports apparel for the sake of modeling sexy sports apparel.
And thank God for that.
LSU Fans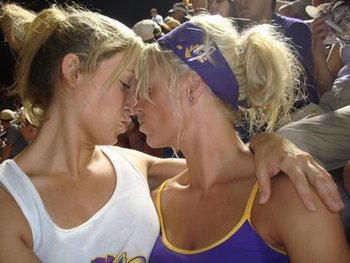 Did I mention how much college fans savor their time together?
Alyssa Milano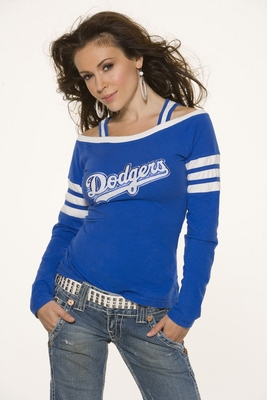 Professional sports has enterprising hotties such as Alyssa Milano.
She has gone so far as to design sexy, sports-themed clothing for women, such as Alyssa Milano's Touch Collection for Major League Baseball.
Ashley Judd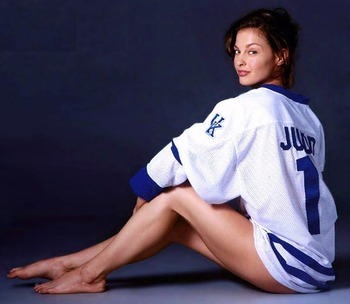 Surely, college sports offer some celebrity fans, such as well-known Kentucky basketball enthusiast, Ashley Judd.
Marisa Miller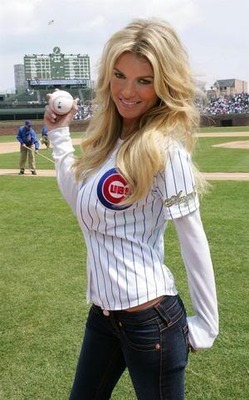 Though professional sports counters with diehard, celebrity fans such as the heavenly Marisa Miller.
Jenn Sterger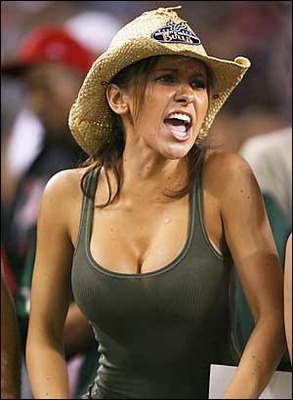 But who could forget about Jenn Sterger, who became a sensation because she was noticed during a college football game?
Jessica Alba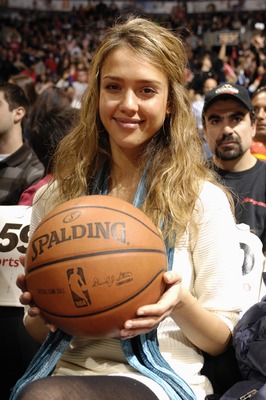 Some NBA fans, such as Jessica Alba, love the game of basketball so much, they even show up at Clippers games.
Seriously—Clippers games.
Arkansas Fan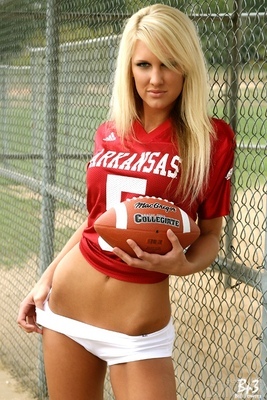 So as we draw closer to a verdict, it is necessary to gauge how college and pro sports fans look in the jerseys of their teams.
College fans, for example, wear their jerseys short, exposing the midriff.
Lakers Fan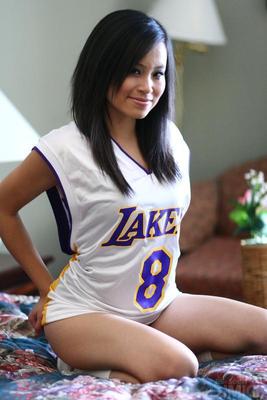 Of course, professional fans are no slouches when donning a team jersey.
Some, for example, turn them into sexy nightgowns.
Florida Fan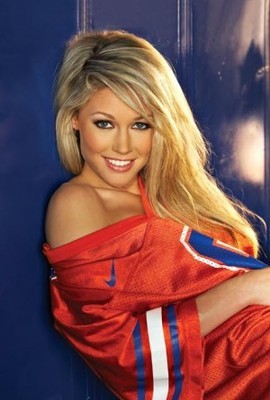 College fans wear them long, like a dress.
Packers Fan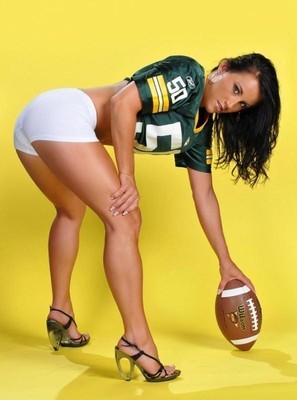 Professional fans use them as hot workout wear.
San Diego State Fan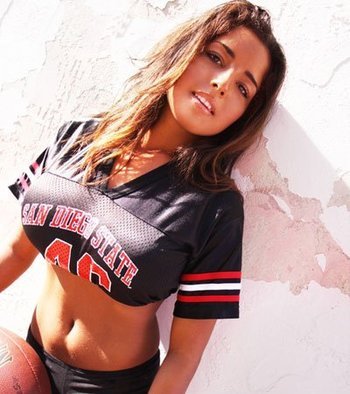 College fans even tuck them in.
Canadians Fan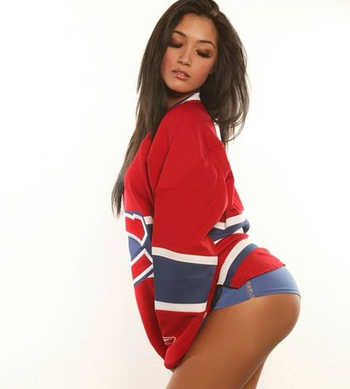 And NHL fans use them to melt ice.
Georgia Fan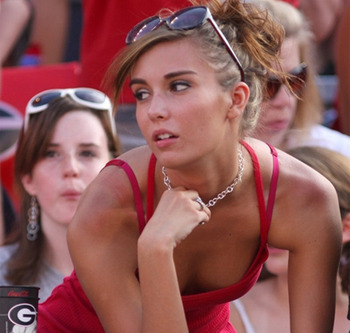 So, to review:
College fans are passionate, supportive, and never give up on their team.
Mets Fan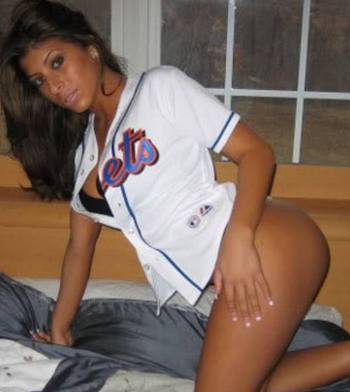 Professional fans are a never-say-die breed that will support their teams through thick and thin.
Boston College Fan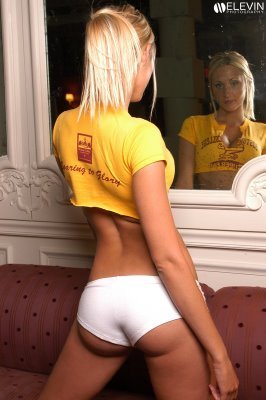 Collegiates love to have fun at the games, and aren't afraid of a little wild partying before and after.
Dolphins Fan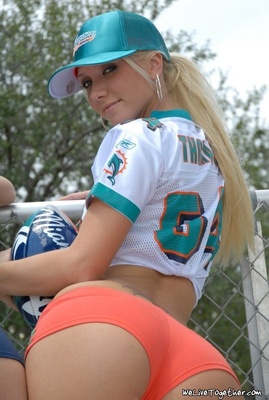 Professional sports attract some of the sexiest models, WAGs and celebrities in the world.
UCLA Fan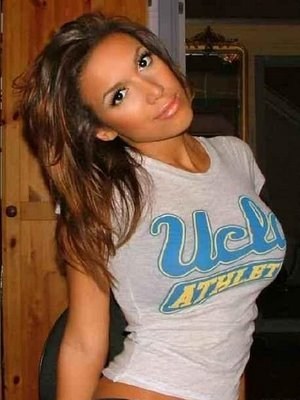 And college fans tend to be smoking hot, in case you haven't noticed.
Misa Campo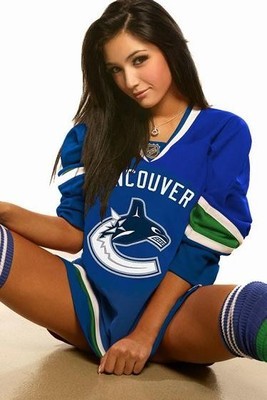 That being said, the NHL—or at least one of its jerseys—is responsible for this photo, which I will now boldly proclaim to be the hottest picture I have ever seen.
It may not be your favorite, but I have never seen anything this sexy.
Whew.
But enough of my distractions—we need a verdict.
Final Verdict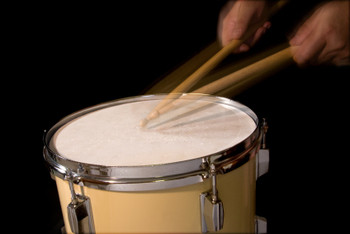 Drum roll, please.
And without further ado, the hottest fans in all of sports are...
The Champion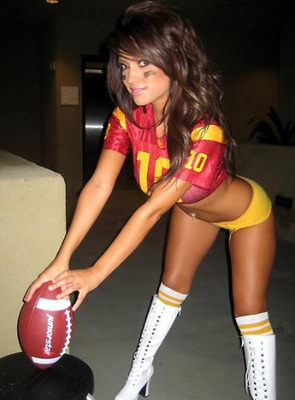 COLLEGE FANS!
Professional sports may bring in celebrities and WAGs, but college fans are consistently hotter, wilder, and dressed in far skimpier team apparel.
Professional fans put up a good fight, but at the end of the day, there just isn't anything like college girls.
As always, I hope you enjoyed the show.
Be sure to hit me up on Twitter (@TRappaRT) along with the entire B/R Swagger team (@BR_Swagger)
Keep Reading