Orange Bowl CEO: Is Anyone in College Sports Not Corrupt These Days?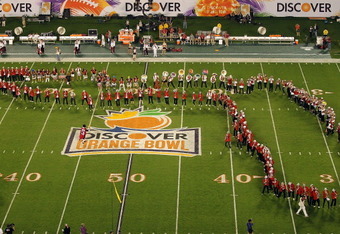 The Orange Bowl CEO, who made approximately $150,000 in 2009, received a pay bump that brought him up to well over $500,000 last year, according to recently filed tax returns.
This goes to show that apparently, the majority of people involved in college sports these days are corrupt.
No wonder so many schools, coaches and players are constantly under investigation. It starts at the top.
According to Frederic Frommer of the Associated Press, the Orange Bowl can back up why they bumped its Ceo's pay by such a lofty number.
"Orange Bowl spokesman Larry Wahl said in an email that the increase was mostly supplemental compensation given to CEO Eric Poms for 'the added work and effort involved' in hosting two Bowl Championship Series games in 2009, including the national championship, in south Florida," according to Frommer.
But Poms is not the only major bowl game CEO to be in the news for the wrong reasons.
The Fiesta Bowl fired CEO John Junker last week over "extravagant and improper spending uncovered by an internal report."
You have to love the line by Wahl, though, about added work and effort. Can't we all make that claim? Not many people go to work and keep their jobs over less work and a lazier effort.
But neither do they all get raises that lift them up over a half million dollars annually.
Only in America. And, well, college athletics.
Another statement by Frommer makes me wonder if another BCS big wig is next in line for a big pay day.
"The Sugar Bowl says that its CEO can receive a bonus based on meeting specific criteria and the bonus can be higher in a year when it hosts the championship game, but it's not a given," according to Frommer.
This has become an epidemic in the NCAA as of late. Regardless of whether you are a student athlete, coach, recruiter, or administrator, this has all got to stop.
After all, how can we expect a bunch or 18 to 22-year-old kids to always do the right thing when everyone above them is not?
It is unfair.
It is also unrealistic.
For a sarcastic look at how we can fix these problems, make sure to check out Bleacher Report Correspondent Rob Kelley, who mockingly takes a look at Congress Loves Sports: So Why Don't They Try to Fix NCAA Recruiting?
Most recent updates:
This article is
What is the duplicate article?
Why is this article offensive?
Where is this article plagiarized from?
Why is this article poorly edited?