Michael Vick: What Right Does Vick Have Giving Any Advice to Plaxico Burress?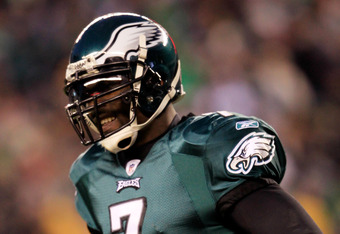 Michael Vick wants to give advice to Plaxico Burress.
Vick wants to give advice to Burress.
Can you imagine a more unlikely scenario?
Vick was in prison for his role and involvement and lying about illegal dogfighting in 2008.
Burress was shooting himself in the leg in a nightclub in 2008, later to serve time in jail himself.
And now, one is going to give advice and counsel the other.
Only in America.
Burress is about to be released, and Vick has said that he wants to reach out to the former Super Bowl hero. Vick wants to tell Burress how he can get his career - and life - back on the right track.
Imagine that. One of the most despicable players in NFL history doling out advice. And it is free and unsolicited, no less.
I have no problem with Burress. I actually feel bad for him. he made a mistake, yes, A big one. But he had no intention of hurting any other living being. He was trying to simply protect himself at a time where many other football players and professional athletes were suffering robberies and attacks. You cannot fault a man for that, although it just happened that wearing sweat pants was not the best choice of attire that dreadful night when Burress's gun went off and he shot himself.
Michael David Smith of Pro Football Talk seems to think that this is a good thing that Vick is helping out Burress by giving him advice.
"But if there's anyone who can inspire Burress to get his career back on track after a lengthy prison sentence, it's the only active player who has already done just that," says Smith.
Isn't it great how we just forgive and forget what people do in this country, regardless of how disgusting and inhumane it happens to be? Vick got off with a slap on the wrist as it is, at least as far as what the common man would have received for what Vick did. Between hosting dog fights and then lying to everyone about it, his sentence was not harsh enough.
But apparently, Mark Buehrle and I are in the minority here. The images of Vick and his cronies beating, drowning, torturing and killing all of those poor, defenseless, helpless animals must have disappeared from most people's minds.
But they will never leave my mind. This is something that should have haunted Vick for the rest of his life, but all is well because he now wants to give out advice and help others.
This is a man who couldn't even help himself.
Now he is helping a man who also couldn't help himself.
Sure, this ought to go well.
For more on Burress, who does deserve another chance in life and the NFL, make sure to check out Bleacher Report Correspondent Michel Perchick, who takes a look at Plaxico Burress: Ten Reasons Why the Giants Should Bring Him Back.
Most recent updates:
This article is
What is the duplicate article?
Why is this article offensive?
Where is this article plagiarized from?
Why is this article poorly edited?