LeBron James' Mother: Why Her Arrest Has Nothing to Do with Miami Heat Superstar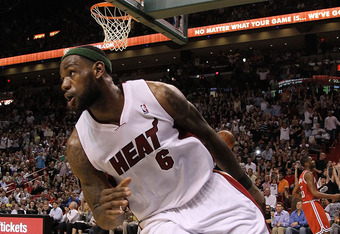 LeBron James, superstar for the Miami Heat, has gone from one of the more popular athletes in the world to one of the most hated within a matter of months. Now, to add insult to injury, his family members are dragging his name through the mud as well.
Gloria Marie James, LeBron's mother, was arrested in Miami Beach early Thursday morning after getting into an altercation with a valet at the Fontainebleau Miami Beach Hotel. According to police reports, James was "apparently intoxicated" with bloodshot eyes and smelled of alcohol on her breath.

Pat Andrews of the Miami Herald reported that this was not the first time that James ran into problems with the law.
"This is the second time she has been arrested. In 2006, she faced DWI charges while living in Ohio," Andrews wrote. "According to reports, she kicked out the window of a police car. She was also charged with speeding for driving 50 mph in a 30-mph zone, reckless operation, disorderly conduct and damaging police equipment."
LeBron James has been hearing his name for negative reasons since last May. Sometimes it was well deserved, but other times was out of jealousy and bitter feelings.
James left Cleveland. While he handled things about as poorly as possible, he did it, it happened, and leaving was well within his right as an NBA player and a human being.
It happened. It is over. We all need to move on.
But just when things had been settling down, this incident happens involving his mother. As if things were not bad enough for the man who is perhaps the best player in the game.
But this one is not fair. Gloria Marie James is not LeBron. He is her son, but he is not her. What she does is obviously going to affect him. But it should affect him as a person only, and not an athlete. he has no control over the actions of his mother, just like neither does any other athlete.
I feel bad for James. If this happened to someone else, it would be news, but the overall reaction would be sympathy. But that is not the case for James. Because people do not like him, they are actually capitalizing off the fact that his mother is hurting his reputation even more.
Had it happened to Derrick Rose, the feelings would have been much different. Much like they would have been toward Dwight Howard, or Kevin Durant or Ray Allen. Because they are well liked, the headlines and columns would have been much different.
Everyone needs to give James a pass on this one. Boo him on the court of you choose to do so, but make it for the right reasons. If you disagree with how he left the Cavaliers, that is fine. If you are not a fan of the commercialism involving James and the Heat, I completely understand.
But if you feel the need to get on a man because his mother is a mess right now and is dragging down her own son, then I have to say that there is a problem with that.
Especially since we all have at least one family member or friend that we try to help, but they continually do the wrong thing, therefore affecting everyone in their life.
You cannot fault James for what his mother does in her personal life.
He is not her, and she is not him. The sins of the mother shall not be visited upon the son.
For more on James and his South Beach gang, make sure to check out Bleacher Report Heat Featured Columnist John Friel, who takes a look at LeBron James and Dwyane Wade's 10 Best Individual Miami Heat Games in 2010-2011.
Most recent updates:
This article is
What is the duplicate article?
Why is this article offensive?
Where is this article plagiarized from?
Why is this article poorly edited?