Kyrie Irving: Is Former Duke Guard Top Draft Pick Material in 2011 NBA Draft?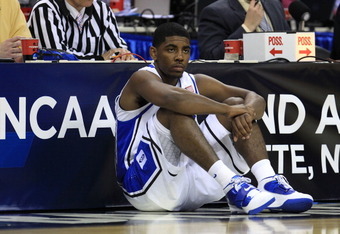 Kyrie Irving has decided that 11 games at Duke is enough. He is going to enter the 2011 NBA Draft and hire an agent, thus ending his college career before it really even got started.
Tell me again why there is a rule why kids have to be one year removes from high school before they can enter the NBA Draft? Does 11 games really make that big of a difference? Other than allowing all of these 'one-and-done' players to ruin recruiting and hurt college basketball.
It is no secret that Irving has decided to go pro after just one partial season at Duke. He never tried to hide his intentions to leave the Blue Devils after one year, and his toe injury did not derail his future plans one bit.
But in his opinion - and in the opinions of many scouts and general managers - he showed just enough.
As of now, it appears as if the Cleveland Cavaliers and Minnesota Timberwolves have the best shot at landing the No. 1 pick in the 2011 NBA Draft. Of course, luck has something to with it, and neither of those teams has been exactly lucky over the past few years. That means that you cannot count out the Washington Wizards, Sacramento Kings, Toronto Raptors and even Utah Jazz. It is all about the ping pong balls, and they rarely favor the worst overall team.
First things first. We still do not know who else is entering the 2011 NBA Draft. Harrison Barnes, Derrick Williams and many other underclassmen have not yet declared, and they have until April 24th to do so, so any mock draft right now is really going off of speculation only at this point.
Royce Young of CBS Sports figured that Irving could be the top pick regardless of who ends up with the No. 1 selection.
"He's a 6-2 point guard from New Jersey and despite playing in just 11 games because of a toe injury, Irving displayed a wide range of ability in the NCAA tournament. In those 11 contests he averaged 17.5 points 3.4 rebounds and 4.3 assists a game while shooting better than 50 percent from the floor and 46 percent from 3," said Young.
If the Jazz somehow get the pick, Irving could fit. They traded away Deron Williams, and although they received Devin Harris in return, they could consider Irving. But considering the Jazz are very unlikely to land the top pick, and that Harris has three years remaining, there is no point in speculating any further for Utah.
How about Sacramento? Yes, they have Tyreke Evans. But is he a true point guard? The Kings are also unlikely to get the first overall pick, but they would think long and hard about taking Irving, depending on who else comes out early. Still, I would see them preferring a shooting guard or small forward.
The Raptors have a shot at landing the top pick, and they would almost definitely take Irving with the pick. they have some solid forward play with Andrea Bargnani and a very good shooting guard in DeMar DeRozan, but they could really use a catalyst. Irving would be a natural fit.
The Wizards could get the top pick, but it would make little sense for them to ponder taking Irving. They just drafted John Wall last year. They need a small forward.
That leaves two teams. The Timberwolves love drafting point guards. they selected two in the same draft a couple of years ago. But with a solid frontcourt, they would definitely consider Irving. They need as much backcourt help as they can get at this point. Unless they are still naive enough to believe that Ricky Rubio will play for them one day.
Finally, the Cavs are the only ones left who stand an excellent chance to get the No. 1 pick in the 2011 NBA Draft. A team is bad as Cleveland can use help at almost every position, so Irving could be a good fit. Although, they acquired Baron Davis at the trade deadline, and he still has three years remaining on a hefty contract. They could go with Irving, but other players could make more sense, depending on who else declares themselves eligible. And although this was a terrible team this past season, they have two picks in the top 10 most likely in this year's draft. Two solid picks could get them back into the NBA Playoffs after taking just one year off in the Eastern Conference.
Irving will be in the discussion for the No. 1 pick in the 2011 NBA Draft. But we still have to wait for who else declares and which team gets the top pick before we can truly speculate whether or not Irving will be the first selection.
For more on all of the top prospects, make sure to check out Bleacher Report Contributor Trevor Lowry, who previews the 2011 NBA Mock Draft: Kyrie Irving Leaves Duke, Shakes Things Up.
Most recent updates:
This article is
What is the duplicate article?
Why is this article offensive?
Where is this article plagiarized from?
Why is this article poorly edited?