Ryo Ishikawa, Chicago Bulls, Masters Leaderboard and Friday's Top Sports Stories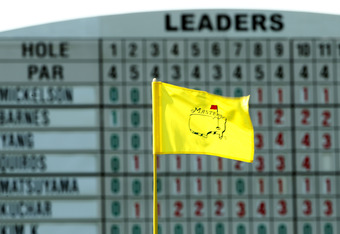 Jamie Squire/Getty Images
The 2011 Masters has the first 18 holes in the book already and there are plenty of big names in contention.
Phil Mickelson is looking to join Jack Nicklaus, Nick Faldo and Tiger Woods as the only golfers to ever win consecutive green jackets.
Many names toward the top of the leaderboard will fall out of contention within the next day or so, while others will get it in gear over the weekend to make a late push.
If you can't see yourself rooting for any of them, however, this is the time to pull for Ryo Ishikawa.
The young Japanese golfer has stated that he will donate all of his 2011 PGA Tour earnings to the relief effort in Japan, following last month's earthquake and tsunami that caused disaster throughout his homeland.
After 18 holes, Ishikawa carded a 71 leaving him at minus-1 and six shots behind the leaders.
While Ishikawa will hope to post a better score on day two, he will not be the only one looking to climb up the scoreboard at Augusta over the next few days.
In other sports news, the Chicago Bulls inched one step closer towards securing the No. 1 seed in the NBA Eastern Conference Playoffs by destroying the Boston Celtics at home last night, 97-81.
Derrick Rose led the winning effort with 30 points.
Stay tuned for the latest at Augusta and the 2011 Masters, the NBA Playoff positioning and all of the top stories from the world of sports.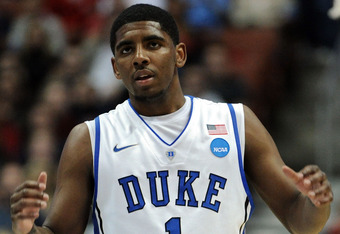 Kyrie Irving is entering the 2011 NBA Draft. He is also ruining NCAA basketball.
Not just Irving, but he is one of the guilty culprits.
Although, I cannot blame Irving alone. The NBA has a lot to do with this as well.
Irving played 11 games in his college career at Duke. He would have played more, but a big toe injury sidelined him for the majority of the season. That was not his fault.
It is also not his fault that he even had to attend Duke. Clearly, he did not want to, and it has nothing to do with Duke. I'm sure it is a fine school.
Irving did not want to attend college at all. But he is not unlike so many kids these days. They want to go directly from high school to the NBA so they can get paid. I don't blame them for that. I have always said that I could never fault anyone for wanting to make more money.
It is the American Dream, after all.
But Irving never would have bothered wasting his time in college for one year if it were not for the NBA rule that every player must be one year removed from high school before they can declare themselves eligible for the NBA Draft.
Really, does 11 games make that big of a difference?
I get where the NBA is coming from, but they have to consider what it is doing to the college game. Coaches spend so much effort in recruiting players, only to see them leave after one year. Sure, they usually know that going in, but these players are not there for the college experience or to learn how to better their game. They are there to show off what they can do at the next level.
And to get paid, of course.
According to David Hope of the Online Journal, Irving says he is really going to miss his collegiate career.
"This was a special year for me," Irving said in a statement. "I love everything about Duke and I'm going to miss it. Duke has a special place in my heart.

"Even though I'm leaving this year, Duke will always be in my mind and my heart. I'm going to miss putting on that No. 1 jersey."
How would he even know? He played 11 games. In a year or so, he won't even remember any of what happened in Durham this past year.
This rule needs to be changed. I don't fault Irving, or players from Kentucky, or any other 'one-and-done' for their decisions. After all, they never had any desire to play college basketball in the first place.
Brandon Jennings admitted he wanted to just get paid. That was what mattered most, and I appreciate his honesty. He played in Europe for one season before entering the NBA Draft.
I would expect that we will see a lot more of that in the future. That is, unless these kids go the route of Bryce Harper and quit high school, get their G.E.D. and shave off one more year of having to have to wait to turn pro.
Way to go NBA.
Talk about being against education.
For more on possible early entrants into the 2011 NBA Draft, make sure to check out Bleacher Report Knicks Featured Columnist Paul Kasabian, who takes a look at the NBA Draft 2011: Terrence Jones and 10 Players Who Shouldn't Enter Draft Early.
This article is
What is the duplicate article?
Why is this article offensive?
Where is this article plagiarized from?
Why is this article poorly edited?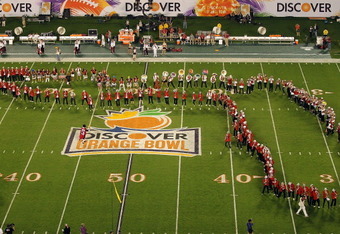 The Orange Bowl CEO, who made approximately $150,000 in 2009, received a pay bump that brought him up to well over $500,000 last year, according to recently filed tax returns.
This goes to show that apparently, the majority of people involved in college sports these days are corrupt.
No wonder so many schools, coaches and players are constantly under investigation. It starts at the top.
According to Frederic Frommer of the Associated Press, the Orange Bowl can back up why they bumped its Ceo's pay by such a lofty number.
"Orange Bowl spokesman Larry Wahl said in an email that the increase was mostly supplemental compensation given to CEO Eric Poms for 'the added work and effort involved' in hosting two Bowl Championship Series games in 2009, including the national championship, in south Florida," according to Frommer.
But Poms is not the only major bowl game CEO to be in the news for the wrong reasons.
The Fiesta Bowl fired CEO John Junker last week over "extravagant and improper spending uncovered by an internal report."
You have to love the line by Wahl, though, about added work and effort. Can't we all make that claim? Not many people go to work and keep their jobs over less work and a lazier effort.
But neither do they all get raises that lift them up over a half million dollars annually.
Only in America. And, well, college athletics.
Another statement by Frommer makes me wonder if another BCS big wig is next in line for a big pay day.
"The Sugar Bowl says that its CEO can receive a bonus based on meeting specific criteria and the bonus can be higher in a year when it hosts the championship game, but it's not a given," according to Frommer.
This has become an epidemic in the NCAA as of late. Regardless of whether you are a student athlete, coach, recruiter, or administrator, this has all got to stop.
After all, how can we expect a bunch or 18 to 22-year-old kids to always do the right thing when everyone above them is not?
It is unfair.
It is also unrealistic.
For a sarcastic look at how we can fix these problems, make sure to check out Bleacher Report Correspondent Rob Kelley, who mockingly takes a look at Congress Loves Sports: So Why Don't They Try to Fix NCAA Recruiting?
This article is
What is the duplicate article?
Why is this article offensive?
Where is this article plagiarized from?
Why is this article poorly edited?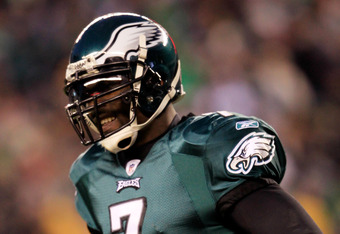 Michael Vick wants to give advice to Plaxico Burress.
Vick wants to give advice to Burress.
Can you imagine a more unlikely scenario?
Vick was in prison for his role and involvement and lying about illegal dogfighting in 2008.
Burress was shooting himself in the leg in a nightclub in 2008, later to serve time in jail himself.
And now, one is going to give advice and counsel the other.
Only in America.
Burress is about to be released, and Vick has said that he wants to reach out to the former Super Bowl hero. Vick wants to tell Burress how he can get his career - and life - back on the right track.
Imagine that. One of the most despicable players in NFL history doling out advice. And it is free and unsolicited, no less.
I have no problem with Burress. I actually feel bad for him. he made a mistake, yes, A big one. But he had no intention of hurting any other living being. He was trying to simply protect himself at a time where many other football players and professional athletes were suffering robberies and attacks. You cannot fault a man for that, although it just happened that wearing sweat pants was not the best choice of attire that dreadful night when Burress's gun went off and he shot himself.
Michael David Smith of Pro Football Talk seems to think that this is a good thing that Vick is helping out Burress by giving him advice.
"But if there's anyone who can inspire Burress to get his career back on track after a lengthy prison sentence, it's the only active player who has already done just that," says Smith.
Isn't it great how we just forgive and forget what people do in this country, regardless of how disgusting and inhumane it happens to be? Vick got off with a slap on the wrist as it is, at least as far as what the common man would have received for what Vick did. Between hosting dog fights and then lying to everyone about it, his sentence was not harsh enough.
But apparently, Mark Buehrle and I are in the minority here. The images of Vick and his cronies beating, drowning, torturing and killing all of those poor, defenseless, helpless animals must have disappeared from most people's minds.
But they will never leave my mind. This is something that should have haunted Vick for the rest of his life, but all is well because he now wants to give out advice and help others.
This is a man who couldn't even help himself.
Now he is helping a man who also couldn't help himself.
Sure, this ought to go well.
For more on Burress, who does deserve another chance in life and the NFL, make sure to check out Bleacher Report Correspondent Michel Perchick, who takes a look at Plaxico Burress: Ten Reasons Why the Giants Should Bring Him Back.
This article is
What is the duplicate article?
Why is this article offensive?
Where is this article plagiarized from?
Why is this article poorly edited?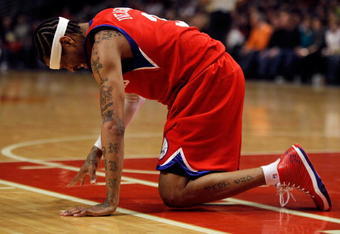 Allen Iverson has certainly fallen on hard times as of late. He could not find a job in the NBA, had to settle for playing in Turkey, but is now out of professional basketball altogether following an injury.
But that was just the beginning.
Iverson was pulled over as a passenger in his 2007 Lamborghini Murcielago last week when the driver was cited for switching lanes without signaling.
Because regular people in regular cars get pulled over for that sort of thing every day, right?
Anyway.
According to the Huffington Post, the illegal lane change was not the only issue that evening.
"When police scanned the identification number of the vehicle, which belongs to Iverson, it was found to have tags that expired in 2009," reported the Post. "Iverson, former MVP for the Philadelphia 76ers, was told his car would be towed."
But this is when it gets interesting.
Iverson went off on a 20 minute rant like only Iverson can. But he was not overheard saying "Lane switching. We're talking about lane switching. Lane switching. Not turns. Not stopping. But lane switching."
Again, I repeat, that did not happen.
Iverson did, however, go off in a different direction, according to the Post.
"Take the vehicle, I have 10 more," Iverson reportedly said. "Police don't have anything else (expletive) to do except (expletive) with me." He then asked, "Do you know who I am?"
Iverson was said to have gone on a long rant about who he was for 20 minutes."
Is anyone really surprised? This is Iverson. It is good to see that age and a dying career has not changed him as a person all that much.
For better days in Iverson's life, make sure to check out Bleacher Report Featured Columnist Allen Kim, who takes a look at Allen Iverson and the 10 Greatest Guards in Philadelphia 76ers History.
This article is
What is the duplicate article?
Why is this article offensive?
Where is this article plagiarized from?
Why is this article poorly edited?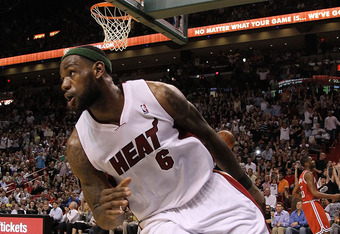 LeBron James, superstar for the Miami Heat, has gone from one of the more popular athletes in the world to one of the most hated within a matter of months. Now, to add insult to injury, his family members are dragging his name through the mud as well.
Gloria Marie James, LeBron's mother, was arrested in Miami Beach early Thursday morning after getting into an altercation with a valet at the Fontainebleau Miami Beach Hotel. According to police reports, James was "apparently intoxicated" with bloodshot eyes and smelled of alcohol on her breath.

Pat Andrews of the Miami Herald reported that this was not the first time that James ran into problems with the law.
"This is the second time she has been arrested. In 2006, she faced DWI charges while living in Ohio," Andrews wrote. "According to reports, she kicked out the window of a police car. She was also charged with speeding for driving 50 mph in a 30-mph zone, reckless operation, disorderly conduct and damaging police equipment."
LeBron James has been hearing his name for negative reasons since last May. Sometimes it was well deserved, but other times was out of jealousy and bitter feelings.
James left Cleveland. While he handled things about as poorly as possible, he did it, it happened, and leaving was well within his right as an NBA player and a human being.
It happened. It is over. We all need to move on.
But just when things had been settling down, this incident happens involving his mother. As if things were not bad enough for the man who is perhaps the best player in the game.
But this one is not fair. Gloria Marie James is not LeBron. He is her son, but he is not her. What she does is obviously going to affect him. But it should affect him as a person only, and not an athlete. he has no control over the actions of his mother, just like neither does any other athlete.
I feel bad for James. If this happened to someone else, it would be news, but the overall reaction would be sympathy. But that is not the case for James. Because people do not like him, they are actually capitalizing off the fact that his mother is hurting his reputation even more.
Had it happened to Derrick Rose, the feelings would have been much different. Much like they would have been toward Dwight Howard, or Kevin Durant or Ray Allen. Because they are well liked, the headlines and columns would have been much different.
Everyone needs to give James a pass on this one. Boo him on the court of you choose to do so, but make it for the right reasons. If you disagree with how he left the Cavaliers, that is fine. If you are not a fan of the commercialism involving James and the Heat, I completely understand.
But if you feel the need to get on a man because his mother is a mess right now and is dragging down her own son, then I have to say that there is a problem with that.
Especially since we all have at least one family member or friend that we try to help, but they continually do the wrong thing, therefore affecting everyone in their life.
You cannot fault James for what his mother does in her personal life.
He is not her, and she is not him. The sins of the mother shall not be visited upon the son.
For more on James and his South Beach gang, make sure to check out Bleacher Report Heat Featured Columnist John Friel, who takes a look at LeBron James and Dwyane Wade's 10 Best Individual Miami Heat Games in 2010-2011.
This article is
What is the duplicate article?
Why is this article offensive?
Where is this article plagiarized from?
Why is this article poorly edited?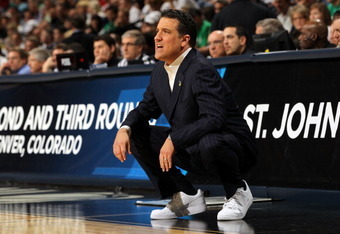 Steve Lavin, fresh off of a run to the 2011 NCAA Tournament with St. John's University, is battling prostate cancer.
Lavin, 46, was diagnosed with an early stage of prostate cancer this past fall, and was told by medical experts that he will be able continue coaching without interruption.
According to Jeff Borzello of CBS Sports, Lavin remains in good spirits and is encouraged by the news given to him by his doctors.
"My family feels fortunate that through annual health exams, we detected my condition at an early stage," Lavin said in the release. "This past fall I didn't want to distract our team, but with the season behind us, we are now working with medical experts and taking the proper steps to tackle this health challenge head on."
According to the Sporting News, Lavin has been heavily involved in cancer research and fundraising for most of his coaching career.
"For the past decade, Lavin has been highly involved with both Coaches vs. Cancer and The V Foundation for Cancer Research, participating in numerous fundraising and awareness events," SN reported. "For six years, he has been a part of the President's Club leadership giving group of The V Foundation, a group that includes Duke's Mike Krzyzewski, Michigan State's Tom Izzo and Kentucky's John Calipari. Lavin has taken part in V Foundation events for the past 10 years while at UCLA, ESPN and St. John's, and will serve as the Chairman of the Jimmy V Basketball New York Dinner Auction in October 2011."
Lavin led the Red Storm back into the NCAA Tournament for the first time since 2002 this past season. It was his first season coaching St. John's.
For more on the future of the Red Storm, make sure to check out Bleacher Report Senior Analyst Leslie Monteiro, who takes a look at St. John's Basketball: Long Way to Go Before They Are New York's Team.
This article is
What is the duplicate article?
Why is this article offensive?
Where is this article plagiarized from?
Why is this article poorly edited?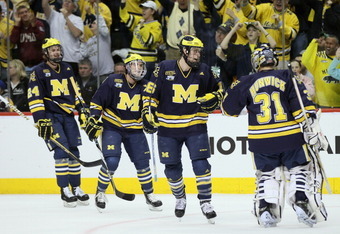 The 2011 Frozen Four has been paired down to the top two as the Michigan Wolverines will take on the Minnesota Duluth Bulldogs for the national championship on Saturday night.
Michigan eliminated the North Dakota Fighting Sioux on Thursday, 2-0, behind a stellar goaltending performance by Shawn Hunwick. The Michigan goalie stopped all 40 shots en route to his fourth shutout of the season.
Behind Hunwick, Michigan will look to win its first national championship since 1998.
Ben Winnett scored the first goal for Michigan in the first period, and Scooter Vaughan added an empty netter late to preserve the victory.
Minnesota Duluth defeated Notre Dame, 4-3, in the other Frozen Four matchup, and will advance to its second national title game in school history.
Even though they were outshot 15-2 by the Fighting Irish in a hectic third period, the Bulldogs were able to come out on top to set up a date with Michigan in the finals.
While many fans may be happy to see the Wolverines and Bulldogs battle it out on Saturday night for the national championship, David Albright of ESPN says that this matchup is quite a surprise.
"The prevailing wisdom coming into this weekend was that North Dakota, the only remaining No. 1 seed and therefore the prohibitive favorite, would simply roll to two more wins and finish off what has been another great season in Grand Forks with the school's eighth NCAA title," said Albright.
Albright also said that while Hunwick is getting all the credit for helping Michigan get back to the title game, he had some help around - and in front of - him.
"It should be noted that as well as Hunwick played and despite the fact that he faced 40 shots, he did get help from the players in front of him," said Albright. "Michigan did a good job of controlling play in the neutral zone and kept the puck to the outside for much of the game. It helped Hunwick to avoid many second-chance opportunities."
Michigan and Minnesota Duluth will face off at 7:00 PM on Saturday night to determine the 2011 Frozen Four winner and national champion.
This article is
What is the duplicate article?
Why is this article offensive?
Where is this article plagiarized from?
Why is this article poorly edited?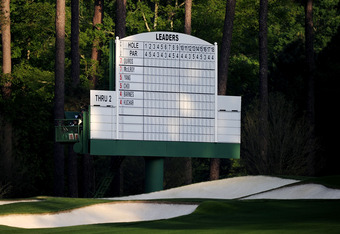 The 2011 Masters is in the midst of the second round, and the leaderboard is all bunched up atop the current standings. Rory McIlroy and Alvaro Quiros finished tied at -7 after the first day, but will either one of them still be near the top of the pack at Augusta on Sunday when the 2011 green jacket is placed on the winner?
Many of the top players in the PGA world rankings are well in contention following the first 18 holes, including No. 10 ranked Matt Kuchar, who is -4 to start the second round. No. 4 ranked Luke Donald is -3, although he is looking to break the curse and become the first ever Par contest winner to win the Masters that same year.
No. 3 ranked Phil Mickelson and No. 6 ranked Paul Casey are both at -1, while No. 7 ranked Tiger Woods finished the first round at -1 as he looks to end his losing streak.
No. 2 ranked Lee Westwood is hoping to finally win the green jacket and stop finishing in second or third place, and he finished the first round at even par.
Absent once again from contention at Augusta is the current No. 1 player in the world, Martin Kaymer, who shot a 78 to finish at +6 after the first day. Kaymer has always struggled to play well at Augusta, and he may be a long shot to even make the cut after today.
Gene Wojciechowski of ESPN was not necessarily surprised either by Kaymer's rough round, although you may be shocked to hear who he jokingly feels could have shot a lower round.
"The good news is ... well, there is no good news," writes Wojciechowski. "Once again, Kaymer laid a very large German egg. Only four other players shot worse scores. Sam Snead could have shot better -- and he's dead."
Aside from Kaymer and some of the other top golfers, a few other names to watch for this weekend include Ricky Barnes, who appears poised to make some noise. Fred Couples is still in contention, and he is playing very well in the majors still, even as his career on the PGA Tour winds down.
Y.E. Yang and K.J. Choi are also toward the top, and show no sign of slowing down. They have been contending almost every week on the 2011 PGA Tour.
Finally, one dark horse to consider is youngster Rickie Fowler, who has been finishing in the top 10 for a few tournaments now and appears ready to take the next step at such an early age. If he can keep it together for all four rounds, the youngster from Oklahoma State could be a contender on Sunday for his first major.
We will not know who will be slipping on the green jacket until Sunday evening, but the second day could give us some indication.
You may not be able to win the 2011 Masters on the second day, but you could certainly play yourself out of contention with a poor round.
For more at Augusta, make sure to check out Bleacher Report Featured Columnist Ben Gibson, who takes a look at the Masters 2011 Leaderboard Day 1: 10 Most Surprising Rounds of Day 1.
This article is
What is the duplicate article?
Why is this article offensive?
Where is this article plagiarized from?
Why is this article poorly edited?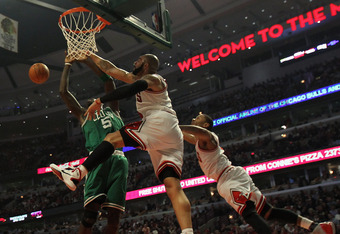 The Chicago Bulls are riding one of their best runs since the days of Michael Jordan and Scottie Pippen. With Derrick Rose well on his way toward capturing the 2010-2011 NBA MVP award, the Bulls moved one step closer toward securing the No. 1 seed in the Eastern Conference NBA Playoffs following a blowout victory at home last night against the Boston Celtics.
Chicago is closing out the regular season as one of the hottest teams in the league. They are getting great play out of Rose, as has been the case all season long, but Carlos Boozer, Joakim Noah and others have also stepped up their game down the stretch.
The Bulls look nearly unstoppable. They can score, they can defend, and they very poised to take home a lot of hardware this year. Rose will most likely be named MVP, Tom Thibodeau is the heavy favorite to win the Coach of the Year award, and the Bulls are looking as if they are ready to reclaim their first NBA title since the days of Jordan and Pippen almost 13 years ago.
So with only a few games remaining before the NBA Playoffs begin, can anyone slow down Chicago?
Many things will factor into what happens in the postseason, but as of right now, it looks like the Bulls should play - and defeat - the Indiana Pacers in the first round. The Pacers have played well since they fired Jim O'Brien, as Tyler Hansbrough has hit his stride, but I would be surprised if they win more than one game against Chicago.
That would most likely leave a second round matchup against either the Orlando Magic or Atlanta Hawks. While Chicago would struggle to contain Dwight Howard, I feel they would still come out on top in five or six games.
If everything plays out as expected, that would leave the winner of the series between the Celtics and Miami Heat for Chicago with a trip to the 2011 NBA Finals on the line.
Jon Greenberg of ESPNChicago says that Rose and the Bulls would not be intimidated by a matchup with the Celtics, especially after what they were able to do to them last night.
"The most important thing isn't that Rose put up another MVP effort," said Greenberg. "It's that he did it against a possible playoff opponent and the one, true playoff-tested team in the East. It was important because Rose feels responsible for carrying a first-place team. You'll never find him pinning the blame on his teammates for a loss or questioning coach Tom Thibodeau's decisions."
But Boston in the regular season is not the same as Boston in the playoffs. They know how to turn it on when it matters most. But will they be able to do so once again this year?
I still feel as if Miami is inferior to Chicago and Boston, and will not be a factor in the playoffs. If anyone can stop the Bulls, it would be the Celtics. But if last night was any indication of what the 2011 NBA Playoffs will feature, then the Bulls will be returning to the NBA Finals.
They may even get to so against the team who they defeated for their first ever NBA championship in franchise history and the coach who led them there, the Los Angeles Lakers.
Time will tell.
For more on the special season in the Windy City, make sure to check out Bleacher Report Correspondent Sam Tastad, who takes a look at the Chicago Bulls: Will Derrick Rose and Co. Make a Run to the NBA Finals?
This article is
What is the duplicate article?
Why is this article offensive?
Where is this article plagiarized from?
Why is this article poorly edited?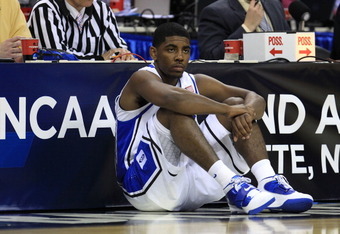 Kyrie Irving has decided that 11 games at Duke is enough. He is going to enter the 2011 NBA Draft and hire an agent, thus ending his college career before it really even got started.
Tell me again why there is a rule why kids have to be one year removes from high school before they can enter the NBA Draft? Does 11 games really make that big of a difference? Other than allowing all of these 'one-and-done' players to ruin recruiting and hurt college basketball.
It is no secret that Irving has decided to go pro after just one partial season at Duke. He never tried to hide his intentions to leave the Blue Devils after one year, and his toe injury did not derail his future plans one bit.
But in his opinion - and in the opinions of many scouts and general managers - he showed just enough.
As of now, it appears as if the Cleveland Cavaliers and Minnesota Timberwolves have the best shot at landing the No. 1 pick in the 2011 NBA Draft. Of course, luck has something to with it, and neither of those teams has been exactly lucky over the past few years. That means that you cannot count out the Washington Wizards, Sacramento Kings, Toronto Raptors and even Utah Jazz. It is all about the ping pong balls, and they rarely favor the worst overall team.
First things first. We still do not know who else is entering the 2011 NBA Draft. Harrison Barnes, Derrick Williams and many other underclassmen have not yet declared, and they have until April 24th to do so, so any mock draft right now is really going off of speculation only at this point.
Royce Young of CBS Sports figured that Irving could be the top pick regardless of who ends up with the No. 1 selection.
"He's a 6-2 point guard from New Jersey and despite playing in just 11 games because of a toe injury, Irving displayed a wide range of ability in the NCAA tournament. In those 11 contests he averaged 17.5 points 3.4 rebounds and 4.3 assists a game while shooting better than 50 percent from the floor and 46 percent from 3," said Young.
If the Jazz somehow get the pick, Irving could fit. They traded away Deron Williams, and although they received Devin Harris in return, they could consider Irving. But considering the Jazz are very unlikely to land the top pick, and that Harris has three years remaining, there is no point in speculating any further for Utah.
How about Sacramento? Yes, they have Tyreke Evans. But is he a true point guard? The Kings are also unlikely to get the first overall pick, but they would think long and hard about taking Irving, depending on who else comes out early. Still, I would see them preferring a shooting guard or small forward.
The Raptors have a shot at landing the top pick, and they would almost definitely take Irving with the pick. they have some solid forward play with Andrea Bargnani and a very good shooting guard in DeMar DeRozan, but they could really use a catalyst. Irving would be a natural fit.
The Wizards could get the top pick, but it would make little sense for them to ponder taking Irving. They just drafted John Wall last year. They need a small forward.
That leaves two teams. The Timberwolves love drafting point guards. they selected two in the same draft a couple of years ago. But with a solid frontcourt, they would definitely consider Irving. They need as much backcourt help as they can get at this point. Unless they are still naive enough to believe that Ricky Rubio will play for them one day.
Finally, the Cavs are the only ones left who stand an excellent chance to get the No. 1 pick in the 2011 NBA Draft. A team is bad as Cleveland can use help at almost every position, so Irving could be a good fit. Although, they acquired Baron Davis at the trade deadline, and he still has three years remaining on a hefty contract. They could go with Irving, but other players could make more sense, depending on who else declares themselves eligible. And although this was a terrible team this past season, they have two picks in the top 10 most likely in this year's draft. Two solid picks could get them back into the NBA Playoffs after taking just one year off in the Eastern Conference.
Irving will be in the discussion for the No. 1 pick in the 2011 NBA Draft. But we still have to wait for who else declares and which team gets the top pick before we can truly speculate whether or not Irving will be the first selection.
For more on all of the top prospects, make sure to check out Bleacher Report Contributor Trevor Lowry, who previews the 2011 NBA Mock Draft: Kyrie Irving Leaves Duke, Shakes Things Up.
This article is
What is the duplicate article?
Why is this article offensive?
Where is this article plagiarized from?
Why is this article poorly edited?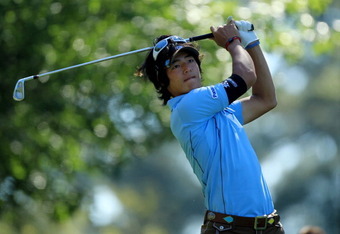 Ryo Ishikawa is a name to root for at the 2011 Masters. Not only is the 19-year-old a class act, but he has agreed to donate all of his 2011 PGA earnings to the Japan Earthquake and Tsunami Relief Fund.
Winning the 2011 Masters could go along ways in helping his homeland.
Ishikawa finished the first round with a score of 71, which puts him at -1 following the first 18 holes. That is good enough for a tie for 24th place along with Tiger Woods, Fred Couples and three other golfers.
That means that Ishikawa still has some work left to do if he hopes to move up the leaderboard at Augusta, which will also move him up the money list.
Following the worst earthquake and tsunami to hit Japan, things have not gotten any easier. After Ishikawa finished his first round, he was dealt more devastating news, as northeastern Japan was hit with an aftershock of a 7.1 magnitude earlier in the day.
With all of that going on, it must be extremely difficult to focus on golf. It would be for many 19-year-olds, but this kid is special. He is mature far beyond his years, and he continues to show his class, maturity and unselfishness.
According to Joe Juliano of the Philadelphia Inquirer, Ishikawa could wind up donating a lot of money to the relief fund in Japan.
"Ishikawa already has pledged every dollar of his winnings in 2011 to the relief effort in his country, which would be close to $2 million if he equaled his earnings of last year," says Juliano. "Even though his heart is there, he believes he can inspire his countrymen by playing well."
Juliano also wrote what Ishikawa said through his translator.
"I understand that people, especially in Sendai, they are living in hell," Ishikawa said, "and I would love to show the energy and power of what golf can bring to those people."

Ishikawa is scheduled to tee off at 1:04 PM on Friday afternoon in the second round, and he will look to put up another solid score to remain in the hunt at Augusta this weekend.
If you love the sport of golf, and especially enjoy watching the Masters without a rooting interest, this would be the time to put your support behind Ishikawa. It is a great story.
For more from Augusta, make sure to check out Bleacher Report Featured Columnist Ben Gibson, who takes a look at the Masters 2011 Leaderboard Day 1: 10 Most Surprising Rounds of Day 1.
This article is
What is the duplicate article?
Why is this article offensive?
Where is this article plagiarized from?
Why is this article poorly edited?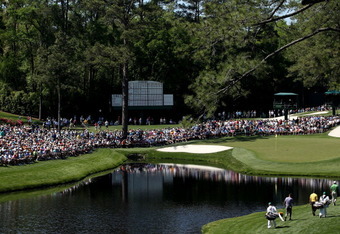 The Masters 2011 TV coverage continues today, starting at 3:00 PM on ESPN. They will have live coverage for four hours, and you can then watch taped footage beginning at 8:00 PM for three more hours.
You can follow all of the action on ESPN as Rory McIlroy and Alvaro Quiros look to hold onto their spots atop the leaderboard. But they will not be the only two will be looking to remain in contention.
Aside from the top two players who are both at -7 to start the second round, Y.E. Yang and K.J. Choi are both at -5 following the first 18 holes.
Matt Kuchar and Ricky Barnes are the two top Americans right now, as they finished the first round at -4.
Other big names include Sergio Garcia at -3, Geoff Ogilvy at -3, Rickie Fowler at -2, Phil Mickelson at -2, and Paul Casey at -1.
Rounding out some of the top names who finished in the red are Ryo Ishikawa, Tiger Woods, Angel Cabrera, Miguel Angel Jimenez, Fred Couples and Stewart Cink, who all finished at -1 after the first 18 holes.
Here is a look at what time some of the best players in the world tee off on Friday.
Key Masters Round 1 Tee Times (Thursday, ET)
• 10:30 a.m.: P. Mickelson, G. Ogilvy, P. Uihlein
• 12:42 p.m.: R. McIlroy, R. Fowler, J. Day
• 1:48 p.m.: T. Woods, G. McDowell, R. Allenby
• 1:59 p.m.: A. Atwal, S. Garcia, R. Karlsson
• 10:41 a.m.: J. Vegas, G. Woodland, A. Quiros
For more at Augusta, make sure to check out Bleacher Report Featured Columnist Ben Gibson, who takes a look at the Masters 2011 Leaderboard Day 1: 10 Most Surprising Rounds of Day 1.
This article is
What is the duplicate article?
Why is this article offensive?
Where is this article plagiarized from?
Why is this article poorly edited?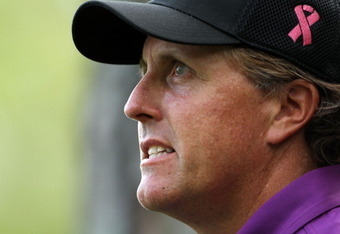 Day two of the 2011 Masters tees off today, and in this day and age of technology available at all times, you can catch the action at Augusta everywhere.
You can follow Phil Mickelson, Tiger Woods and all of the top golfers in the world on CBSSports.com live as the action takes place. The live action begins at 10:30 AM at Amen Corner.
At 11:00 AM, they will be showing coverage on the 15th and 16th holes. Beginning at noon, they will be airing the Featured Group No. 1.
Beginning at 2:00 PM, the Masters Radio coverage will begin. At 3:00 PM, live coverage will begin airing on ESPN, while 3D coverage is also available, provided you have the right components and glasses.
The 2011 Masters is available in more ways than ever, beginning at 10:30 on CBSSports.com, the official online streaming network of the tournament at Augusta. This way, you can see if Rory McIlroy and Alvaro Quiros can maintain their lead at Augusta. Or if Phil Mickelson can make history. Or of Tiger Woods can actually win a tournament.
Make sure to follow all of the live streaming coverage of the 2011 Masters.
For more at Augusta, make sure to check out Bleacher Report Featured Columnist Ben Gibson, who takes a look at the Masters 2011 Leaderboard Day 1: 10 Most Surprising Rounds of Day 1.
This article is
What is the duplicate article?
Why is this article offensive?
Where is this article plagiarized from?
Why is this article poorly edited?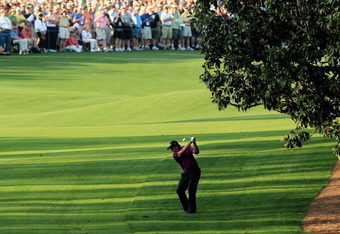 The 2011 Masters opening round is in the books, and many names are perched toward the top of the leaderboard. While you may not be able to win the green jacket on day two, you can certainly lose the tournament with a bad showing.
The second 18 holes will see golfers tee off beginning at 7:45 AM, and here is a list of some of the notable pairings and when they tee off on day two of the 2011 Masters.
8:40 a.m.: Trevor Immelman, Lucas Glover, Hideki Matsuyama
8:51 a.m.: Zach Johnson, Y.E. Yang, Miguel Angel Jimenez
9:02 a.m.: Jose Maria Olazabal, Davis Love III, Lion Kim
9:13 a.m.: Tom Watson, Ricky Barnes, Jason Bohn
9:24 a.m.: Fred Couples, Luke Donald, Steve Stricker
9:35 a.m.: Anthony Kim, Henrik Stenson, Steve Marino
9:57 a.m.: Bubba Watson, Paul Casey, Edoardo Molinari
10:08 a.m.: Stewart Cink, Jim Furyk, Yuta Ikeda
10:19 a.m.: Justin Rose, K.J. Choi, Louis Oostuhuizen
10:30 a.m.: Phil Mickelson, Geoff Ogilvy, Peter Uihlein
10:41 a.m.: Jhonattan Vegas, Gary Woodland, Alvaro Quiros


11:25 a.m.: Ben Crenshaw, Brandt Snederker, Kevin Na
11:36 a.m.: Mark O'Meara, Anders Hansen, Heath Slocum
11:47 a.m.: Dustin Johnson, Adam Scott, Nick Watney
12:09 p.m.: Vijay Singh, Tim Clark, Aaron Baddeley


12:42 p.m.: Rory McIlroy, Rickie Fowler, Jason Day
12:53 p.m.: Mike Weir, Hiroyuki Fujita, Retief Goosen
1:04 p.m.: Padraig Harrington, Ryo Ishikawa, Bill Haas
1:15 p.m.: Larry Mize, Rory Sabbatini, Jin Jeong
1:26 p.m.: Martin Kaymer, Lee Westwood, Matt Kuchar
1:37 p.m.: Hunter Mahan, Ernie Els, Francesco Molinari
1:48 p.m.: Tiger Woods, Graeme McDowell, Robert Allenby

1:59 p.m.: Arjun Atwal, Sergio Garcia, Robert Karlsson

The pairings are the same as they were on the opening round, but the players who teed off in the morning yesterday basically switched to the afternoon today, and vice versa.

So on day two, will Rory McIlroy and Alvaro Quiros be able to hold on to their spot atop the leaderboard? Will Phil Mickelson be able to make history and become just the fourth golfer to capture the green jacket in consecutive years? Will Tiger Woods be able to end his winning drought of over a year and a half?

Make sure to follow every moment of the 2011 Masters to find out if history will be made at Augusta this weekend.

For more at Augusta, make sure to check out Bleacher Report Featured Columnist Ben Gibson, who takes a look at the Masters 2011 Leaderboard Day 1: 10 Most Surprising Rounds of Day 1.
This article is
What is the duplicate article?
Why is this article offensive?
Where is this article plagiarized from?
Why is this article poorly edited?