2011 NFL Mock Draft, First Round: Cheerleaders to Replace Players in New York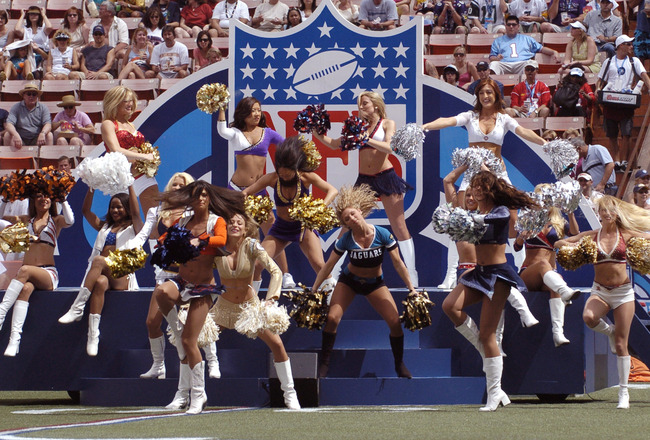 The 2011 Pro Bowl Cheerleaders will be on hand to kick off the event and try to distract us from the absence of players.
A. Messerschmidt/Getty Images
The NFL draft is right around the corner and, despite Judge Nelson's efforts, we still don't have progress on the false labor pains. The players non-union wants players to attend their party, so the Commissioner had to do something.
What's the next best thing to the players being there? What about the unsung heroes who support them year in and year out. No, not mom. She'll be at the other party, too.
Yes, cheerleaders from the players' schools will be on hand to whoop it up and get the crowd going...and accept the officially licensed NFL jersey and Draft Cap. Got to have the Draft Cap...
1. Carolina Panthers: Marcell Dareus, DT, Alabama 6'3", 319 Lbs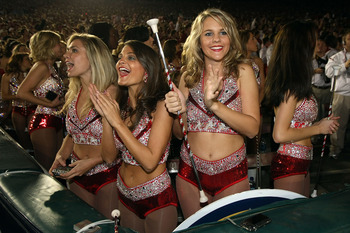 Stephen Dunn/Getty Images
I realize this isn't technically a cheerleader, but don't we need a drum majorette to start the parade of players? I mean...replacements for players?
Dareus will do more good for the Panthers long-term than Newton. If the Panthers want to replace Clausen already, they should wait one more year. They are almost certain to get one of the top picks in next year's draft, where they can get a much better QB prospect.
2. Denver Broncos: Nick Fairley, DT, Auburn 6'4" 291 Lbs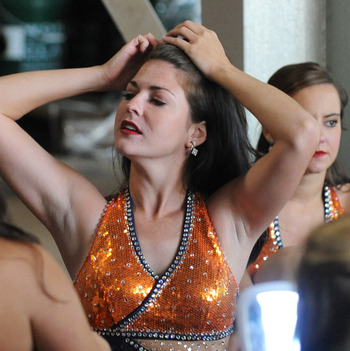 Al Messerschmidt/Getty Images
Here is where the Fox comes in; with a new start in Denver. His defensive line needs some help to transition to his scheme. There is little doubt that Fairley will be ready to hear his name announced in the top five.
Speaking of getting ready, I wonder if Goodel has accounted for the extra time and space needed for cheerleaders to do hair and makeup?
3. Buffalo Bills: Patrick Peterson, CB, LSU 6'0" 219 Lbs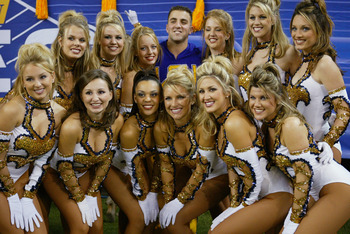 To be fair, I needed to include at least one guy. He's there...look closer. No - Up. Further. There he is...
Jamie Squire/Getty Images
Peterson will shore up a big chunk of Buffalo's pass defense, and do more to improve the team than a move from Fitzpatrick to a rookie QB.
I know what you are thinking right now—three picks in, and no QB yet? This must be the only mock in the country that doesn't think Newton or Gabbert are worthy. Actually, it isn't that I don't think one of them won't go this early, it will just be after a trade. I mock based on what the team will do. Someone will trade out of the top three spots and still get their guy, and there will be a nice group of teams waiting to move up.
Speaking of nice groups... Oh—you were thinking those are the Saints Cheerleaders? Well, mostly. But I wanted to recognize the yell kings, too. Yes, he's in there. Look up. Higher. Higher...there you go. The LSU male cheerleader is right there.
4. Cincinnati Bengals: Cam Newton, QB, Auburn 6'5" 248 Lbs
To be perfectly clear, these pictures are meant to celebrate the men and women who cheer for our teams. Beauty should be appreciated, not objectified.
And speaking of a thing of beauty, Newton can simply move on a football field. It will be interesting to track his progress as he transitions to the pro game.
5. Arizona Cardinals: Von Miller, DE/OLB, Texas A&M 6'3", 246 Lbs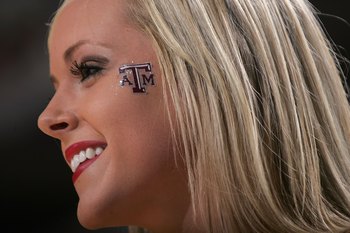 Ronald Martinez/Getty Images
The Cardinals will be very happy to see a pass rusher who they covet still on the board. Gabbert doesn't fit their offense, despite what every draft analyst out there says. Take that, Mayock and Kiper and McShay and...
Huh...they might be onto something I am missing. One thing that is hard to miss is a great smile and school spirit. This Aggie cheerleader has both!
6. Cleveland Browns: A.J. Green, WR, Georgia 6'4" 211 Lbs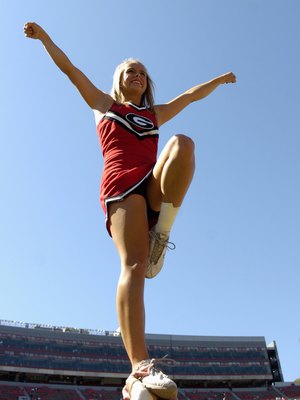 Al Messerschmidt/Getty Images
Cleveland needs some targets for McCoy, so the top of the draft couldn't work out much better for the Browns.
The top half of this pose is working pretty well, too. The guy holding her is also working out. Trust me...he's there.
7. San Francisco 49ers: Prince Amukamara, CB, Nebraska 6'0" 206 Lbs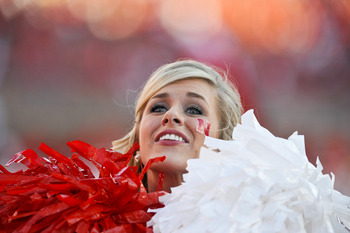 Eric Francis/Getty Images
The 49ers need a QB, desperately. But I don't think Harbaugh will be duped by the Gabbert hype, and he must have some assurances from Jed York that he'll have some say in player personnel...doesn't he? As much as Jed will want to draft Gabbert, I'm starting to think Jim will stop him. Prince will make the team better, and they can get a QB in round two.
This princess will be all to happy to show up in New York with her big pom poms and pick up Amukamara's new hat. She should keep the jersey, though.
8. Tennessee Titans: Blaine Gabbert, QB, Missouri 6'4" 234 Lbs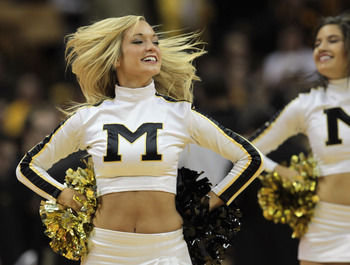 Jamie Squire/Getty Images
As much as I want to drop Gabbert out of the top 10, this may be about as far as he'll last. I still think the Titans would be better off with Locker or Mallett, but they both hold risk. Still, the Titans are solid enough at most positions to take a little risk with this pick.
Speaking of being solid, I think this cheerleader works both football and basketball games.
9. Dallas Cowboys: Tyron Smith, OT, USC 6'5" 307 Lbs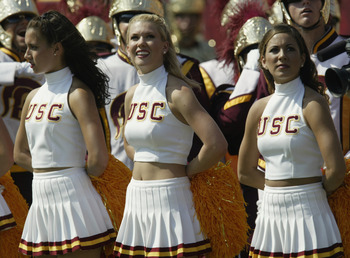 Stephen Dunn/Getty Images
There might be flashier picks (and pics) that the Cowboys could go with, but sometimes smart and classy is the way to go. Even for Jerry Jones.
As for Smith—I slated Smith to the Boys back in February when most of the analysts thought he was too small and Solder wasn't a total project. I'm sticking to my guns...Smith at 9, Solder in the second round. And thank you, USC for giving me some wonderful talent to work with...we LOVE Pete Carroll in Seattle now that he is our coach and not yours.
10. Washington Redskins: Julio Jones, WR, Alabama 6'3" 220 Lbs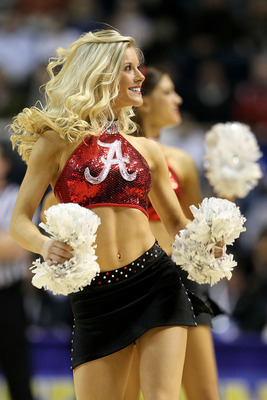 Andy Lyons/Getty Images
What needs to be said here? The Redskins need a WR and a QB. I think they should take Jake Locker or Ryan Mallett, but they don't pay me for my opinion so it doesn't really matter.
Jones should be a decent consolation prize, but he needs to stop dropping balls. Jaws dropping is fine...balls—not so good.
11. Houston Texans: Robert Quinn, DE/OLB, North Carolina 6'4" 265 Lbs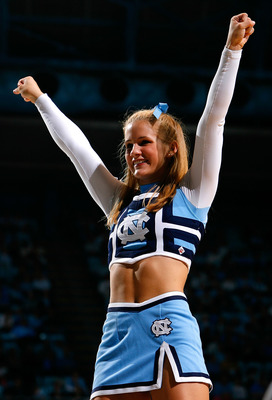 Kevin C. Cox/Getty Images
The NCAA (Non-Crimes Are Actionable) decided to wrap Quinn up into one of their witch hunts, which has sent his draft status tumbling from where it would have likely been last season. He'll be a steal at this point in the draft, so expect the Texans to do cartwheels after securing him!
12. Minnesota Vikings: Jake Locker, QB, Washington 6'3" 231 Lbs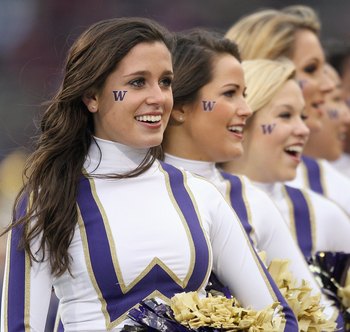 Otto Greule Jr/Getty Images
Locker's status has been all over the board, but he is a talented QB who would fit in Minnesota very well. Frazier has spoken highly of him, and I've had Locker at No. 12 for a month. Judd Zulgad of the Minneapolis Star-Tribune came out today to reveal discussions he's had with the Vikings making him believe the Vikings will take Locker at No. 12—if the Titans or Redskins don't take him.
There is one good thing about Locker going to the Vikings. He spent so much time on his back that the "W"s on the cheerleaders looked like the "M"s he'll see in Minnesota.
13. Detroit Lions: Gabe Carimi, OT, Wisconsin 6'7" 314 Lbs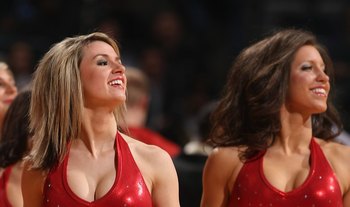 Jonathan Daniel/Getty Images
There are so many ways the Lions could mess up this pick. There is a lot of good talent available, but the Lions really need to work on the O Line. They will make their fans happy by addressing this huge need, not to put a big ol' smile on Stafford's day.
There is something to be said for happy people with big smiles!
14. St. Louis Rams: Cameron Jordan, DE, California 6'4" 287 Lbs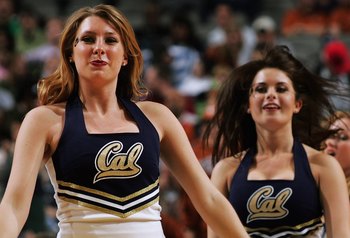 Ronald Martinez/Getty Images
I had St. Louis taking the home town Tiger Aldon Smith earlier, and they still might if they think he can convert to a 4-3 OLB. If not, the Rams can get a true DE to replace James Hall before his performance fades away.
15. Miami Dolphins: Corey Liuget, DT, Illinois 6'2" 298 Lbs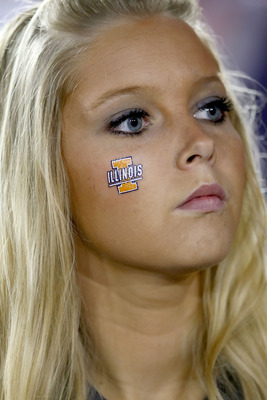 Donald Miralle/Getty Images
I just can't see Miami staying here. There isn't much talent with value here who fits their needs. They need a QB and RB—they can trade down in the first round and get either one. I'm tempted to put Mallett here, but I'm just not completely sure they've given up on Henne. Sorry, Dolphin fans.
16. Jacksonville Jaguars: Aldon Smith, DE/OLB, Missouri 6'4" 263 Lbs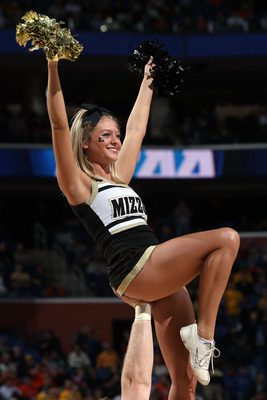 Rick Stewart/Getty Images
Kerrigan will be a great fit here, both in terms of value and offering the Jaguars help in their defensive formation.
Speaking of needing help with a formation...that guy looks tired!
17. New England Patriots: Ryan Kerrigan, DE/OLB, Purdue 6'4" 267 Lbs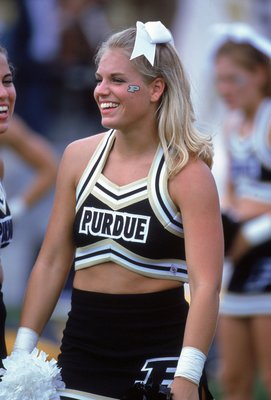 Jonathan Daniel/Getty Images
The Patriots need some help on both lines, but the top offensive help is off the board. I didn't originally have Kerrigan falling this far, so this is a great boon for the Patriots and bad news for the Jets.
Speaking of news—it looks like someone got some of the good variety.
18. San Diego Chargers: J.J. Watt, DE/DT, Wisconsin 6'5" 290 Lbs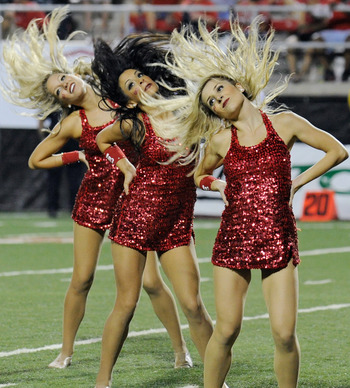 Ethan Miller/Getty Images
On all three mocks, I've tried to find a place higher up the draft board for Watt, but it just isn't happening. Miami May trade out of their pick for a team that wants him if he's still there at 15. Miami may even take him over Liuget, but Watt may not be quite as good a fit.
Perhaps I should consult these three ladies—if they can find a way to make all this hair fit in the shot, maybe they can help me fit Watt somewhere higher in the draft.
19. New York Giants: Anthony Castonzo, OT, Boston College 6'7" 311 Lbs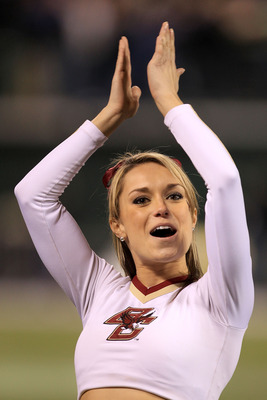 Ezra Shaw/Getty Images
With a few changes at the top, one of the best OTs in the draft will be available for the Giants. That gives Eli Manning a little something to cheer about, and Castonzo's draft day representative is getting in on the act.
20. Tampa Bay Buccaneers: Da'Quan Bowers, DE, Clemson 6'3" 280 Lbs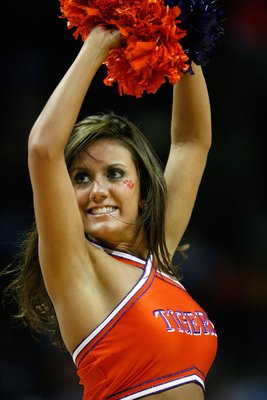 Kevin C. Cox/Getty Images
With concerns over Bowers' knee dropping him out of the top five, the Buccaneers will be looking at two players with concerns (Bowers and Clayborn). The ceiling is much higher with Bowers given that the negative reports are coming from people looking at records.
The doctors who have been following Bowers' care say he will be 100 percent again, making Da'Quan a better gamble than Clayborn. But he's still just the second-best gamble on this page.
21. Kansas City Chiefs: Torrey Smith, WR, Maryland 6'1" 204 Lbs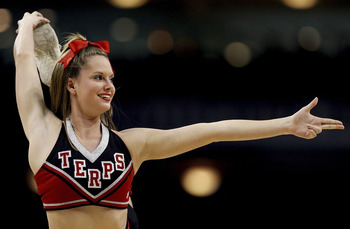 Doug Benc/Getty Images
The Chiefs need help on the offensive line. With Castonzo fresh off the board, they need to look elsewhere. Fortunately they have someone to point them in Smith's direction. He should make a strong compliment to Bowe.
22. Indianapolis Colts: Ryan Mallett, QB Arkansas 6'7" 253 Lbs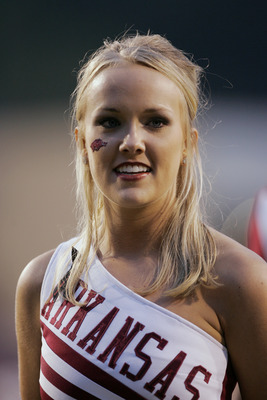 Brian Bahr/Getty Images
Yes, the Colts have Peyton Manning. Backing him up is...well...give me a minute. It will come to me.
Perhaps it is a good thing that Manning's backup is not well known. It speaks to his durability. However, he can't play for ever...at least not for the Colts. At $32 million a year, Jim Irsay will eventually run out of money. Before he does, he needs to find Peyton's replacement.
Mallett is the guy...Curtis Painter isn't. Don't believe me? She'll back me up...
23. Philadelphia Eagles: Akeem Ayers, OLB, UCLA 6'3" 254 Lbs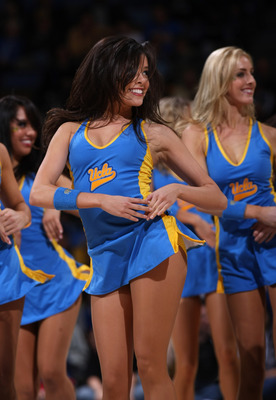 Stephen Dunn/Getty Images
OLB is a distinct area of need for Philly, and Ayers will provide needed versatility to give the Eagles a little more push on the QB.
He's good in run and pass defense, too. Speaking of which...I wonder how many passes she'll have to defend in New York...
24. New Orleans Saints: Stephen Paea, DT, Oregon State 6'1" 303 Lbs
Tom Hauck/Getty Images
This is a tough one. The Saints need a NT, but will they take Paea's strength or Taylor's (Baylor) size? I went with Paea, but mostly so I could use the picture of the Beaver cheerleader with the big "O."
25. Seattle Seahawks: Jimmy Smith, CB, Colorado 6'2" 211 Lbs

Doug Pensinger/Getty Images
I've had Smith going to the Seahawks since February, and I'm not about to change it. However, they may risk trading down to the end of the round or early round two and hope his character concerns allow him to tumble down to them.
I have a picture of a Buffalo Cheerleader tumbling...I just like this one better.
26. Baltimore Ravens: Brooks Reed, OLB Arizona 6'3" 264 Lbs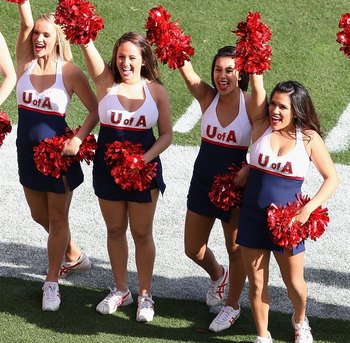 Christian Petersen/Getty Images
I want to place an OT here, but there just isn't anyone on the board who will be ready this year, except maybe Derek Sherrod.
I've had Reed on the edge of the first round, but haven't quite been able to plug him in. The Ravens need a pass rusher, and Reed would fill a need for them.
The Ravens have been linked to him, but maybe someone likes the representative he would be sending to the draft.
27. Atlanta Falcons: Kyle Rudolph, TE Notre Dame 6'6" 259 Lbs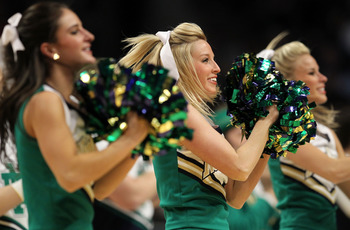 Jamie Squire/Getty Images
As good as Roddy White was for the Falcons, he was one of Matt Ryan's few viable options in the passing game. That lack of dimension spells trouble come playoff time and expect this issue to be resolved in short order.
The Falcons may look at Torrey Smith if available, or Titus Young could even be available in round two. But Gonzalez is on his way out, and lacked production last year. Getting a solid TE will help out the Falcon passing game, too, and Rudolph will be a good one...if he can stay healthy.
28. New England Patriots: Mark Ingram, RB, Alabama 5'9" 215 Lbs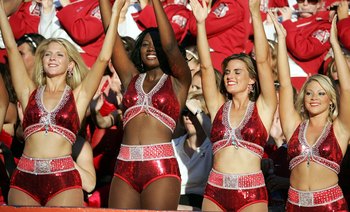 Marc Serota/Getty Images
I think the Patriots would also look at QB here, but they need help in the run game. Ingram may fall out of the first round, given the knee issue, but the Patriots are the ideal team to take a chance on him.
29. Chicago Bears: Mike Pouncey, G, Florida 6'5" 303 Lbs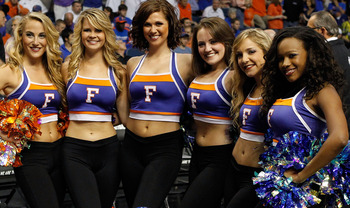 J. Meric/Getty Images
I don't think Pouncey is a better prospect than four or five other guys, one of which should be available with the Bears' second pick. But someone will take a shot with Pouncey because of his brother's performance. I just don't want to mock him to the Steelers, and I really wanted to use this next picture...
29. Chicago Bears: Mike Pouncey, G, Florida 6'5" 303 Lbs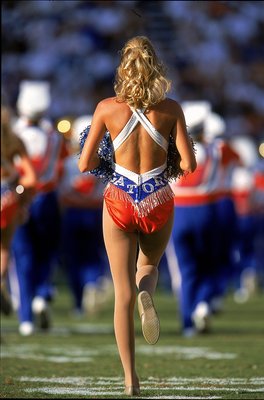 Andy Lyons/Getty Images
Pittsburgh fans will have to say goodbye to the idea of having the Pouncey brothers back together.
30. New York Jets: Justin Houston, DE/OLB, Georgia 6'03" 270 Lbs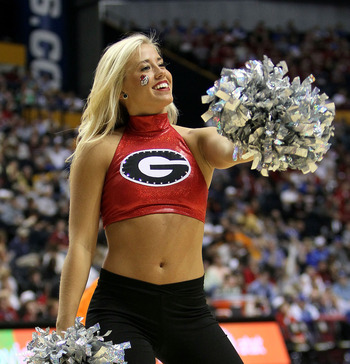 Andy Lyons/Getty Images
I'd look at the Jets to make another bold move and trade up to get Julio Jones, as WR is their most glaring need.
If Jones is off the board too early, the Jets may decide to grab Titus Young. However, they also need a marquee sack machine. Houston put up double-digit sacks as a junior and would add some credibility to the Jets' pass rush.
31. Pittsburgh Steelers: Benjamin Ijalana, OT/G, Villanova 6'4" 317 Lbs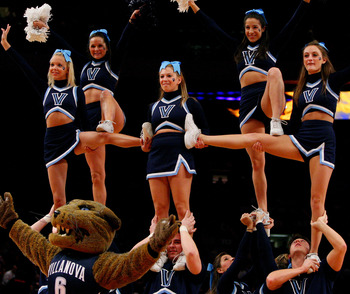 Jim McIsaac/Getty Images
Some are calling Ijalana a stretch here, but he was amazing at lesser competition, and looked great at his pro day. He is worth a risk in round one, and the Steelers will be better of with him than the other Pouncey.
32. Green Bay Packers: Muhammad Wilkerson, DE/DT, Temple 6'4" 315 Lbs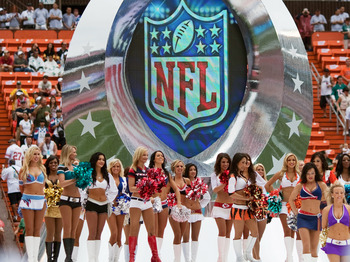 Kent Nishimura/Getty Images
Wilkerson is a solid, versatile player who can help plug holes and pressure opposing QBs. He has the size and acceptable speed to slide into a DE in the Packers 3-4 set. I'm not sure if he'll ever turn into a pro bowl caliber player, but his explosiveness, speed and power will improve the Packers defense.
The Packers may have to trade up to get Wilkerson, as he is being targeted by the Seahawks. They can afford to part with their third round pick, and Seattle has enough needs that they can find someone at 32 who will improve the team.
Speaking of moving up...have you met the pro bowl cheerleaders?
Keep Reading