2011 NFL Mock Draft: Projecting the First-Round Picks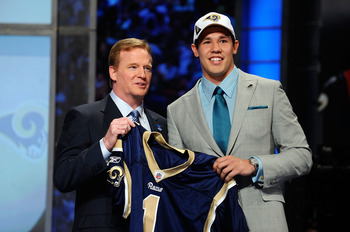 Jeff Zelevansky/Getty Images
The NFL Draft is just three weeks away and with it comes the anticipation of college athletes ready to make an impact in the NFL. Even with the lockout, the 2011 draft is still very important and many teams are trying to work out the best ways to draft players and put together deals to help their team in the upcoming season. Here is a projection of the first-round draft picks.
1: Carolina Panthers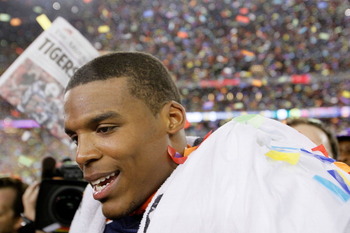 Kevin C. Cox/Getty Images
Projected Pick: Cam Newton, QB
After a "bust" in picking Jimmy Clausen last year during the draft, the Panthers will yet again look to rebuild their quarterback position by selecting Heisman trophy winner, and national champion, Cam Newton.
Newton has been criticized by many, saying that he will not be successful in the NFL, much to the likes of Vince Young. Either way the Panthers will select Newton with the first overall selection.
2: Denver Broncons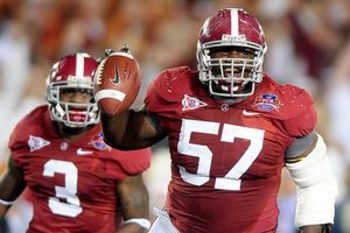 Projected Selection: Marcel Dareus, DE/DT
The Broncos struggled on defense during the 2010 season. The team needs to resign Champ Bailey to help anchor a very weak secondary and they still need a lot of help up front.
The Broncos might also consider DE Da'Quan Bowers. Because they are switching over to a 4-3 defense this would make sense but they need a lot of help in the middle as well. While there are other defensive prospects available that could help the Broncos, Dareus makes the most sense to help out the team on the defensive line.
3: Buffalo Bills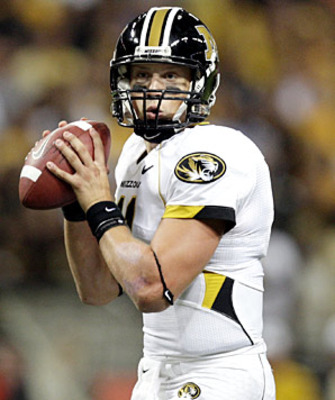 Projected Selection: Blaine Gabbert
The Bills have a lot of rebuilding to do in the upcoming seasons. A lot of their struggles on offense have come with the struggle of quarterback Ryan Fitzpatrick.
Buddy Nix has explained that in the upcoming draft he wants a quarterback and he wants the best player available. Gabbert is a very talented quarterback and the Bills have already expressed interest in him. Even if Gabbert is not ready to step in as a starter in 2011, he can be a backup to Fitzpatrick and observe the offense until his chance comes.
4: Cincinnatti Bengals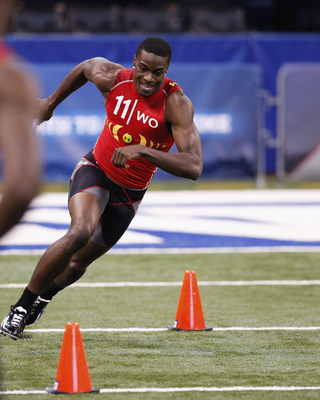 Joe Robbins/Getty Images
Projected selection: A.J. Green, WR
Patrick Peterson would also make sense for the Bengals but selecting him could come with some consequences.
Johnathan Joseph has made it obvious that he wants to play for the Bengals and signing another free agent could give the impression that the Bengals feel as if they do not need him. The Bengals are going through an offensive overhaul right now. T.O. is gone and Ochocinco will most likely be traded away at some point. Because of this Green makes sense.
Green is built much like Larry Fitzgerald in that he is a physical wideout who can make plays happen. Because of this, watch for the Bengals to select Green with the fourth overall pick.
5: Arizona Cardinals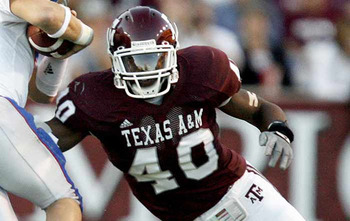 Projected selection: Von Miller, DE/OLB
Miller got a lot of attention especially during the Senior Bowl. During the game he made many impressive plays and was compared to Clay Matthews. He only helped his cause at the combine when he ran a 4.46 40 and had a 37 inch vertical. He was also very impressive during the drills.
The Cardinals also need a quarterback but they will most likely go after someone like Donovan McNabb or target Kevin Kolb for a trade to please Larry Fitzgerald. Watch for Miller to be drafted if he is still available to help bolster the Cardinals defense.
6: Cleveland Browns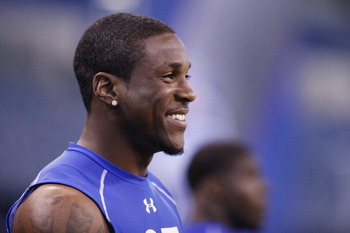 Joe Robbins/Getty Images
Projected selection: Patrick Peterson, CB
The Browns could really use an offensive weapon to compliment Colt McCoy who impressed many people last season. However with Peterson available this deep it will be hard for them to pass him up. Peterson would really complement Joe Haden at cornerback and it would give the Browns one of the top secondaries in the NFL.
7: San Francisco 49ers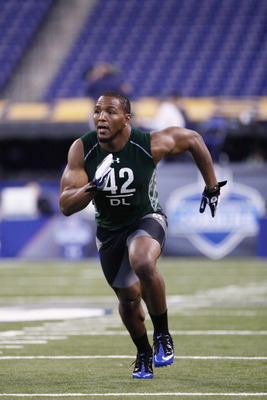 Joe Robbins/Getty Images
Projected selection: Robert Quinn, DE/OLB
The 49ers really need a good pass rusher and Quinn can bring that to the outside. He had a very strong Pro Day and there should be no way that he drops out of the top 10.
8: Tennessee Titans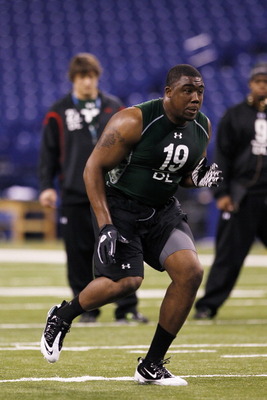 Joe Robbins/Getty Images
Projected selection: Nick Fairley, DT
Fairley had a very good Pro Day to help give him more potential after a poor showing at the Combine. He has great footwork and he could be a great asset for the Titans. Tennessee's new defensive line coach also just happened to coach Fairley at Auburn.
9: Dallas Cowboys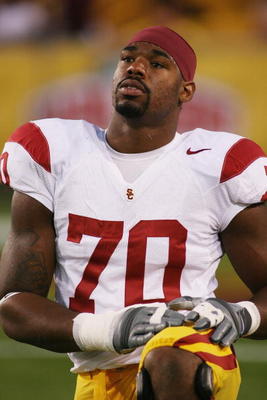 Jeff Golden/Getty Images
Projected selection: Tyron Smith, OT
While the Cowboys NEVER select an offensive tackle during the first round, it is very likely that they could pick Smith here.
Tony Romo is the prized player on the team and the Cowboys obviously need help protecting him. Smith is a very talented lineman who would be a huge help to the offense.
While Cowboy fans may criticize this pick, it makes too much sense for them to pass it up.
10: Washington Redskins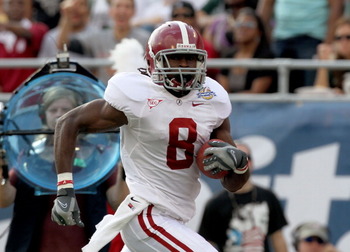 Mike Ehrmann/Getty Images
Projected selection: Julio Jones, WR
Jones is a very fast wideout. He posted a 4.39 40 time while still suffering from a fractured foot. Santana Moss is becoming a free agent so the Redskins need to find a reliable target for whomever is at quarterback when the season starts.
11: Houston Texans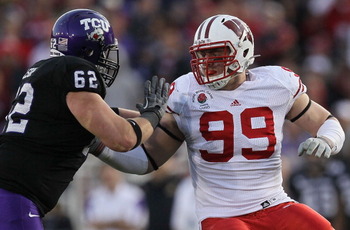 Stephen Dunn/Getty Images
Projected selection: J.J. Watt, DE
Watt is a very important pick for the Texans as they are switching over to a 3-4 defensive setup. Watt has speed around the corner but can also go inside as well.
12: Minnesota Vikings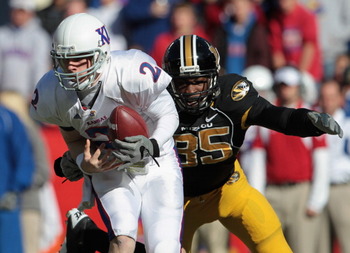 Jamie Squire/Getty Images
Projected selection: Aldon Smith, DE
The Vikings need to find a player to complement Jared Allen on the other side of the line. If J.J. Watt is taken early, the Vikings will most likely select Smith with the 12th overall pick. He is a very good pass rusher who has potential to put up 10+ sacks per season.
He missed time this season which contributed to his relatively low numbers but do not let that fool you. Smith is a very good defensive end and would really help out the Vikings defensive line.
13: Prince Amukamara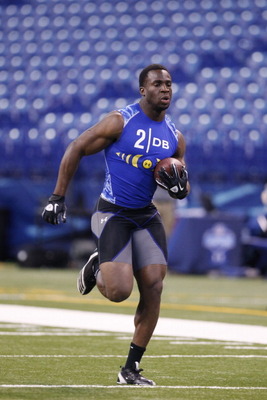 Joe Robbins/Getty Images
Projected selection: Prince Amukamara, CB
The Lions may actually get a prospect that they are targeting even with the 13th pick.
The Lions really need help in the secondary and Amukamara could give them the help that they need. Patrick Peterson should be gone long before this so Amukamara would be the next best option for the Lions.
14: St. Louis Rams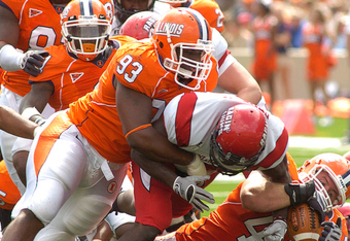 Projected selection: Corey Liuget, DT
This is a stretch but if the Rams can work out a deal they would love to be able to pick up Liuget.
15: Miami Dolphins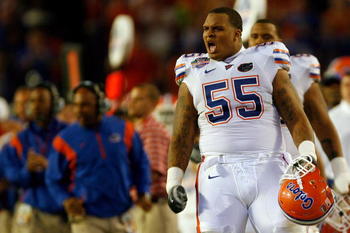 Eliot J. Schechter/Getty Images
Projected selection: Mike Pouncy, G
Mark Ingram was projected to be drafted by the Dolphins for a long time but many people believe that teams will shy away from him in the first-round because of his knee. Because of this the Dolphins may go after Pouncy to add depth to their offensive line. While this may not be the top choice for the Dolphins it makes the most sense for them.
The Dolphins may try to trade up to a higher pick to avoid this situation but at this point it looks like it could be Pouncy selected at 15.
16: Jacksonville Jaguars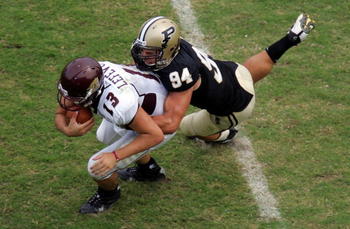 Ronald Martinez/Getty Images
Projected selection: Ryan Kerrigan, DE
Kerrigan is a player that would fit the likes of General Manager Gene Smith. Kerrigan is a proven leader on the field and could develop into a key leader on defense for the Jags. The Jags need a lot of help at defensive end and Kerrigan could fill that role nicely.
17: New England Patriots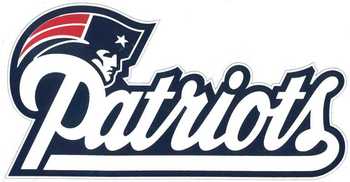 Projected selection: Unknown
Let's just leave this one blank for now. Belichick will probably trade and move down a few more spots and take a late first-round draft pick so at this point the Patriots draft selection is up in the air.
18: San Diego Chargers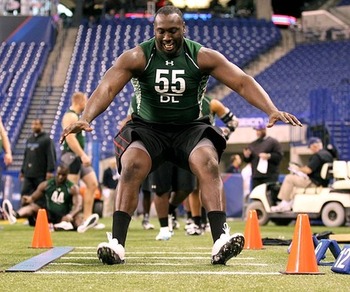 Projected selection: Muhammad Wilkerson, DE/DT
Wilkerson is seeing his stock rise more every day. Some experts have him being selected by the Patriots but if they move down like they are projected to do, Wilkerson should still be available for the Chargers at the 18 spot.
19: New York Giants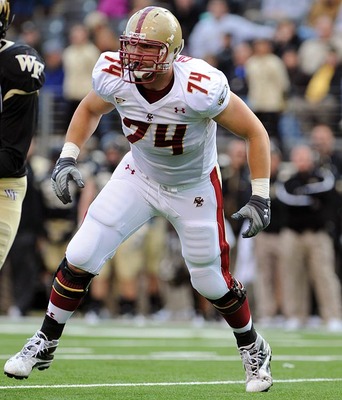 Projected selection: Anthony Castonzo, OT
Castonzo would give the giants a boost to the offensive line and they need to find a solid, dependable left tackle. Castonzo had a great Combine and he was very impressive in drills. His athleticism and form should help him be successful in the NFL.
20: Tampa Bay Buccaneers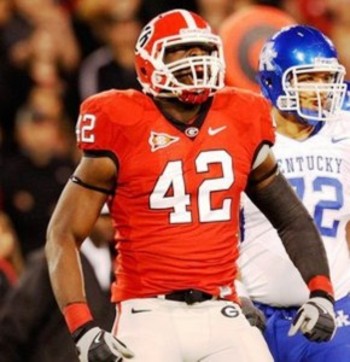 Projected selection: Justin Houston, DE
The Bucs need a defensive end in the worst way. Houston will at least fill one of the gaps on the outside.
Other mocks have reported from sources that the Bucs are targeting Houston and they will be looking to select him with their first pick.
21: Kansas City Chiefs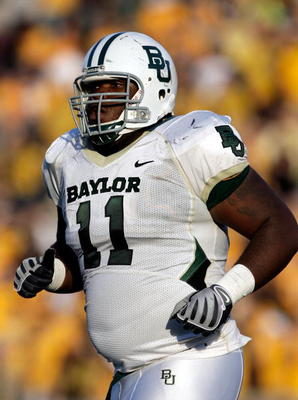 Jamie Squire/Getty Images
Projected selection: Phil Taylor, NT
Phil Taylor would fill a huge void for the Chiefs run defense. They have little strength up the middle and Taylor would provide that. He lost weight and came into the combine at 334 pounds and ran an impressive 5.18 40 yard dash.
Taylor is very athletic for his big size and he will be able to shut down a lot of run games up the middle which will really help the Chiefs.
22: Indianapolis Colts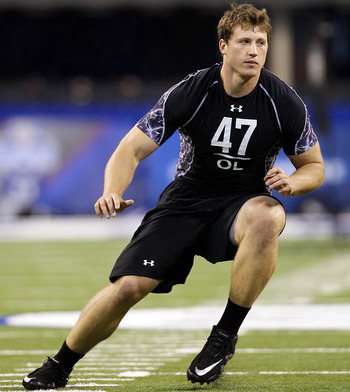 Projected selection: Nate Solder, OT
The Colts need help to protect against the pass rush and Solder could give them a boost up front.
Solder is considered the top left tackle available in the draft which makes him perfect for protecting Manning's blind side. He had a very good performance in the Combine and has impressed many scouts since the end of the season.
23: Philadelphia Eagles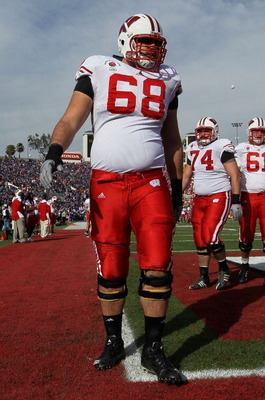 Stephen Dunn/Getty Images
Projected selection: Gabe Carimi, OT
The Eagles gave up 52 sacks in 2010-2011 and have shown that the offensive line needs a lot of help.
Carimi has shown that he can fit in with the Eagles blocking schemes and he should be able to step in and become an effective blocker for Vick.
24: New Orleans Saints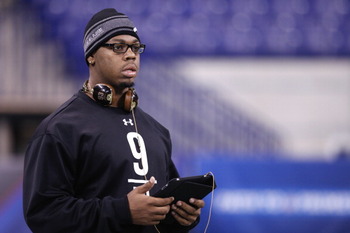 Joe Robbins/Getty Images
Projected selection: Da'Quan Bowers, OT
Bowers was very disappointing during Pro Day and he showed he was not in the best shape. He tired quickly through the drills and there are a lot of concerns about his knee, which could potentially cause any team to pass over him in the first round.
The Saints, though, need help up front and Bowers, if healthy and in shape, could give them the help they need immediately.
25: Seattle Seahawks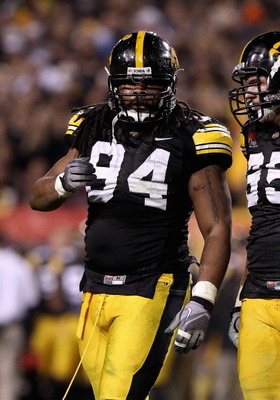 Christian Petersen/Getty Images
Projected selection: Adrian Clayborn, DE
Clayborn was projected as a Top 10 draft pick earlier this year but after a horrible season, he has fallen to a mid 20s pick. However Pete Carroll has been known to take some risks on players before and Clayborn could potentially help them out a lot at defensive end to give them a better pass rush and run defense.
26: Baltimore Ravens
Projected selection: Jimmy Smith, CB
Smith tested positive for drugs while in college, which hurt his stock greatly. He has the talent to be a top 15 pick. However he will only be effective if he can stay out of trouble. The Ravens could use more corners however with three of the four becoming free agents after the season.
The Ravens veteran clubhouse could also help Smith if drafted by Baltimore.
27: Atlanta Falcons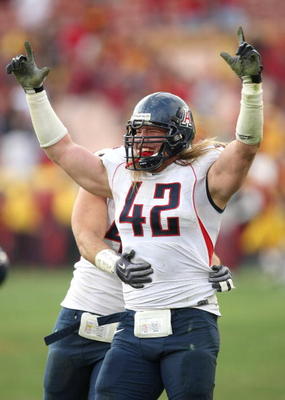 Stephen Dunn/Getty Images
Projected selection: Brooks Reed, DE
John Abraham needs a lot of help with the pass rush. Reed not only can help with the pass rush, but he can also drop back into coverage effectively as well. He has shown he can be nearly as explosive as Clay Matthews. That's saying something as a lineman.
28: New England Patriots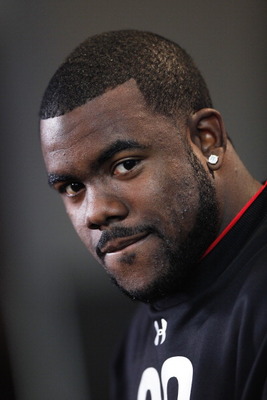 Joe Robbins/Getty Images
Projected selection: Mark Ingram, RB
If the Patriots do drop down to #28 they could very well select Ingram. While they may not need him he could be effective in the offense if he is healthy or he could be trade bait later.
Again the Patriots are completely up in the air right now and not too many predictions can be made about them.
29: Chicago Bears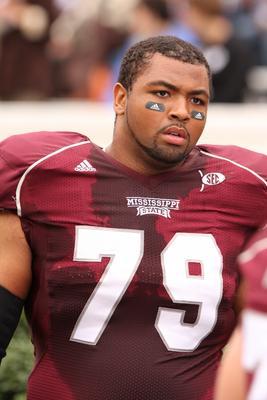 Projected selection: Derek Sherrod, OT
The Bears led the NFL in sacks allowed last season with 60. The offensive line needs to give Cutler a lot better protection if they want to compete in the playoffs again this season. The team has met with Sherrod a few times so this pick should come with no surprise if he is available.
30: New York Jets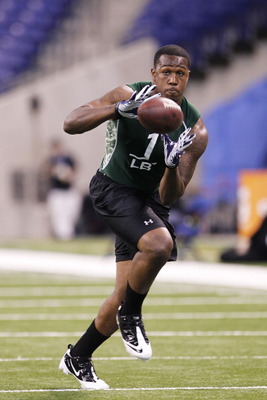 Joe Robbins/Getty Images
Projected selection: Akeem Ayers, DE/OLB
Do not let Ayers' stats from last season fool you. He is one of the best pass rushers available in the draft class but he did not tally many sacks last season at UCLA because he was not on the line much.
The Jets need all the help they can get to help them compete in their strong division. With the addition of Ayers, the Jets defense could help them make a deep push in the playoffs again.
31: Pittsburgh Steelers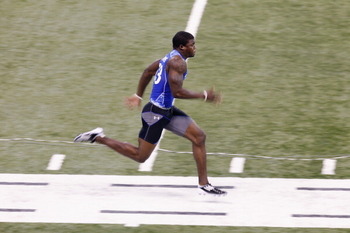 Joe Robbins/Getty Images
Projected selection: Aaron Williams, CB/FS
At this point for the Steelers the best available players are mostly skilled position players, which they do not need. Aaron Williams will give them more depth in the secondary to help their already strong pass defense.
32: Green Bay Packers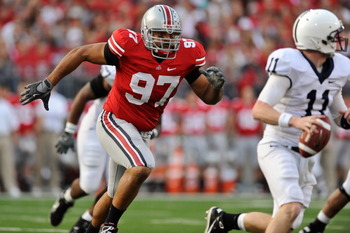 Jamie Sabau/Getty Images
Projected selection: Cameron Heyward, DE/DT
The Packers are having some issues with their defensive line and they need to have another player available to fill in. Heyward would give them depth at the very least if anything else would happen.
Keep Reading