NBA Draft 2011: Kyle Singler and 15 Players the New Jersey Nets Should Target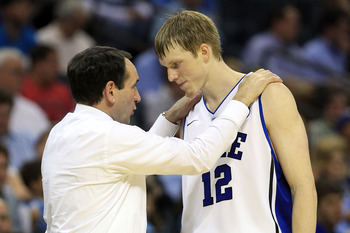 Streeter Lecka/Getty Images
In the 2011 NBA draft, the New Jersey Nets may target Duke's Kyle Singler and other players who can have an immediate impact on the team.
Heading into the offseason, the Nets appear on the verge of becoming a playoff contender. Since the acquisition of Deron Williams, New Jersey is only one or two pieces away from being a dangerous team.
The draft may provide the Nets with the talent they need to get over the hump. The Nets own the 28th and 36th overall picks.
The Nets could look to trade up to draft a player with more upside, and they may even turn to some international players.
Here are 15 players the Nets should attempt to draft.
Note: I grouped together the international targets, possible slips, possible trade-ups and actual targets based on drafting position.
15. Nikola Mirotic, SF/PF, Serbia (International)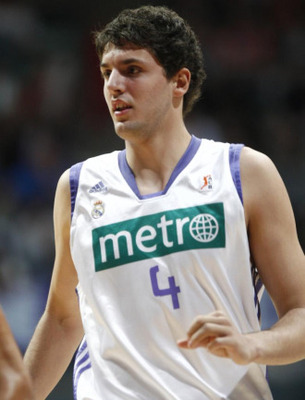 Nikola Mirotic, a 6'10" forward from Serbia, may fall right into the Nets' lap.
His ranking among prospects has varied. ESPN's Chad Ford has him ranked 18th overall, though that doesn't necessarily translate into where he'll be selected.
NBAdraft.net has him going 33rd overall to the Detroit Pistons. However, since the Nets pick 28th, they may take a chance on Mirotic.
He averaged 8.1 points in just 17.0 minutes per game for Real Madrid. Draft Express is calling him the "Harrison Barnes of Europe."
In fact, Draft Express has ranked him as the 14th overall prospect in the draft.
If other teams pass on him, Mirotic may be worth the gamble for New Jersey. They may see if he slips to 36th overall before pulling the trigger.
14. Bismack Biyombo, PF/C, Congo (International)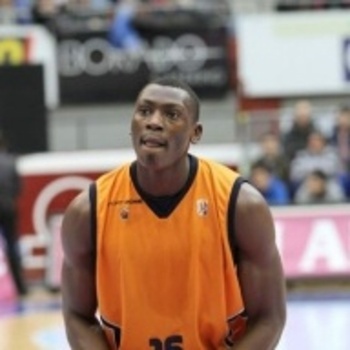 Bismack Biyombo could be a great option to spell Brook Lopez off the bench for the Nets.
The 6'9", 240-pound center from the Congo is a physical presence on the glass and uses his 7'7" wingspan to rebound and block shots. He averaged 2.3 blocks in 17.0 minutes for Baloncesto Fuenlabrada this season.
Draft Express has him ranked 18th overall, but NBAdraft.net has him being selected at No. 50 to the New Orleans Hornets.
The Nets may look for an upgrade over current backup center Johan Petro, and Biyombo could fit that bill.
13. Kawhi Leonard, SF, San Diego State (Possible Slip)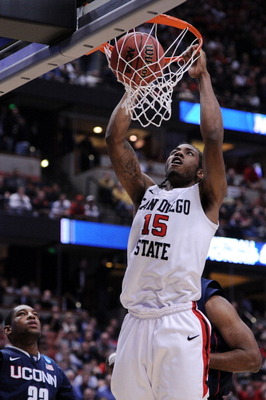 Harry How/Getty Images
San Diego State small forward Kawhi Leonard is projected as a mid-first-round pick by both Draft Express and NBAdraft.net. Chad Ford ranks Leonard as the 13th overall prospect.
He had a huge sophomore season for the Aztecs, averaging 15.5 points and 10.6 rebounds per game.
There are a number of good prospects projected in the mid-first round, so Leonard may be a candidate to slip to No. 28.
The Nets would love to add a high-energy player like Leonard. He'd be a nice complement to another high-energy player in Kris Humphries—assuming the Nets can re-sign "The Incredible Hump."
New Jersey has a void at small forward. The team signed Travis Outlaw last season to a five-year deal, but he has played much better coming off the bench. The Nets drafted Damion James in the second round last year, but he spent more time injured than on the court this season.
Other teams may snatch up Leonard before the Nets get the chance, but if he's available, he'd be a great find for New Jersey.
12. Jimmer Fredette, PG, BYU (Possible Slip)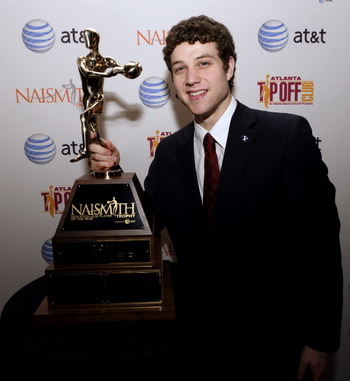 Bob Levey/Getty Images
NCAA 2010-2011 scoring leader Jimmer Fredette has been ranked as high as eighth and as low as 20th on NBA draft boards.
The 6'2" point guard scored 28.9 points per game and shot 39.6 percent from three-point range.
There's no doubt he's a great shooter, but scouts and analysts are wondering how that will translate to the NBA. Remember a top prospect from Gonzaga named Adam Morrison? How has his NBA career turned out?
Teams may be skeptical in drafting Fredette, which may cause him to slip in the draft.
The Nets have Deron Williams at point guard at least for next season, but there's still some uncertainty if he'll re-sign with the Nets in the summer of 2012. Fredette could be a possible successor to Williams as the Nets move to Brooklyn.
Fredette will have to be passed up by several teams for the Nets to grab him.
11. Alec Burks, SG, Colorado (Trade Up)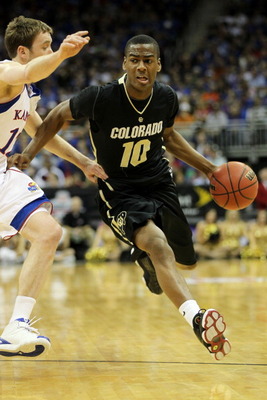 Jamie Squire/Getty Images
Alec Burks of Colorado has been rising up draft boards after a big sophomore season for the Buffaloes. He averaged 20.5 points per game this season.
NBAdraft.net has the 6'6" shooting guard being taken at No. 8 overall to the Cleveland Cavaliers. Draft Express places Burks at No. 13, while Chad Ford ranks him as the No. 15 prospect.
Most likely, the Nets would have to trade up to draft Burks. His outside shooting skills and slashing ability in the paint will make him a hot commodity.
The Nets could possibly package either their 28th or 36th pick along with a bench player for the chance to draft Burks.
Anthony Morrow had a good season for the Nets at shooting guard, but like Travis Outlaw, Morrow thrives in a bench role, which opens a spot for Burks.
10. Terrence Jones, SF, Kentucky (Trade Up)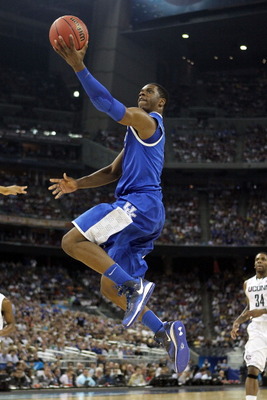 Andy Lyons/Getty Images
Both Chad Ford and Draft Express have Kentucky small forward Terrence Jones ranked at No. 11 overall.
NBAdraft.net projects Jones as the 14th overall pick to the Houston Rockets.
He averaged 15.7 points and 8.8 rebounds per game for the Wildcats this year.
Once again, the Nets may look to fill their void at small forward through the draft. Jones would become a possibility if the Nets can swing a trade.
The 18-year-old Jones only played one season at Kentucky, which may force teams to be skeptical. However, he will still likely be drafted in the top 15, meaning the Nets would have to trade up to bid for his services.
9. Derrick Williams, SF, Arizona (Trade Up)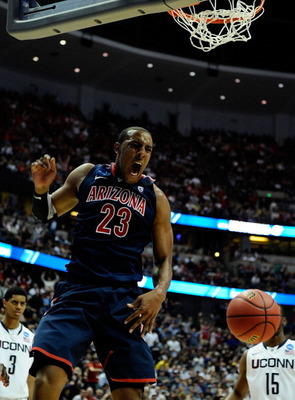 Kevork Djansezian/Getty Images
Derrick Williams is not ranked lower than No. 2 on each of the draft boards.
He's a lock to be a top-five pick, so naturally the Nets would have to trade up.
Williams would be a tremendous force in New Jersey's starting lineup, and he would give Deron Williams another big man to find down low.
It may be confusing with two D. Williamses, but the Nets wouldn't mind the production these players would give.
However, the Nets may not have the pieces to pull off a trade with the Cleveland Cavaliers, Minnesota Timberwolves or Toronto Raptors.
They may have to include their late first- and early second-round picks, plus some NBA-ready players.
It may be a long shot, but the Nets would be an instant contender if they pulled this off.
8. Justin Brownlee, SF/PF, St. John's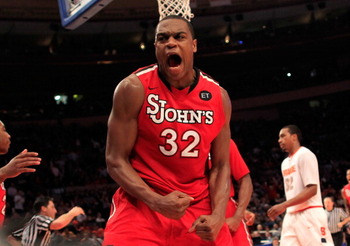 Chris Trotman/Getty Images
The next eight players, starting with Justin Brownlee of St. John's, probably would not require a trade or a player to slip too far.
Brownlee made a name for himself this season after the Red Storm earned a trip back to the NCAA tournament for the first time since 2002.
The senior averaged 12.3 points and 5.2 rebounds per game this season.
He likely won't be ready to jump into a starter's role right away. The Nets are likely to pursue a free-agent forward, so Brownlee would have time to learn the position at the NBA level.
He's projected at No. 43 overall to the Chicago Bulls by NBAdraft.net, but his stock could rise to the No. 36 pick, which the Nets hold.
7. Justin Harper, PF, Richmond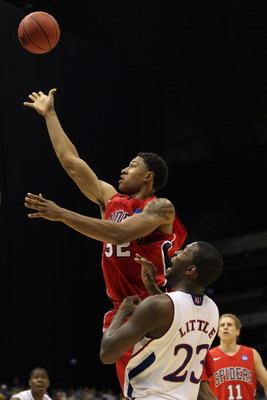 Jamie Squire/Getty Images
NBAdraft.net actually projects Justin Harper to be selected by the Nets with the No. 36 pick.
The strong power forward averaged 17.9 points and 6.9 rebounds this season, as the Richmond Spiders advanced to the Sweet 16 of the NCAA tournament.
Assuming the Nets re-sign Kris Humphries, Harper could provide bench minutes to keep "The Incredible Hump" fresh.
Harper is ranked No. 30 by Draft Express, which falls right into the Nets draft range.
If the Nets are unable to trade up to draft a small forward, Harper would be a good fit to give New Jersey some depth off the bench.
6. Jon Leuer, PF/C, Wisconsin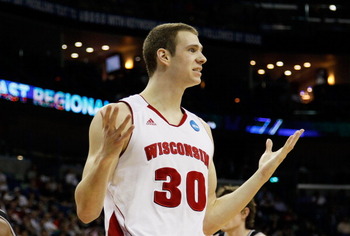 Kevin C. Cox/Getty Images
NBAdraft.net ranks Wisconsin forward Jon Leuer in the middle of the Nets draft range.
As previously mentioned, the Nets may look for an alternative option to Johan Petro to back up Brook Lopez at center.
Leuer would be a big body down low for New Jersey, but he can also score. He averaged 18.3 points and 7.2 rebounds per game for the Badgers this season.
He shot 52 percent from the field, which can translate into efficient bench scoring.
Though he may slip to No. 36, the Nets may want to lock him up at No. 28 if they see him as a good fit.
5. Chandler Parsons, SF, Florida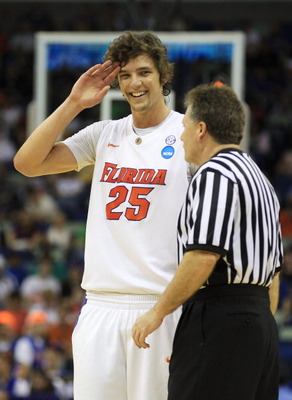 Streeter Lecka/Getty Images
Chandler Parsons had a strong senior season for the Florida Gators, averaging 11.3 points and 7.8 rebounds per game while shooting 37 percent from beyond the arc.
NBAdraft.net has him as the 35th overall pick to the Sacramento Kings.
He may not be ready to assume the starting small forward spot for the Nets right away, but with some refinement, he can be an impact player.
Most likely, the Nets will look elsewhere for their No. 28 pick, but if Parsons is still available at No. 36, he could be a viable option.
4. Nolan Smith, PG/SG, Duke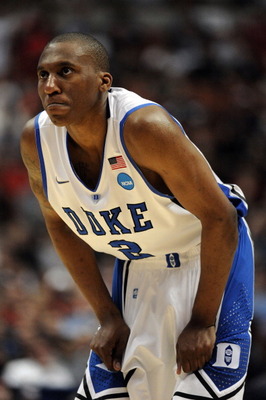 Harry How/Getty Images
Nolan Smith has drawn plenty of attention among draft experts. Draft Express has him ranked as the 24th overall prospect, while he's projected at No. 25 to the Dallas Mavericks by NBAdraft.net.
The 6'3" guard averaged 20.6 points and 4.5 assists for the Blue Devils this season.
The Nets appear strong at the guard position with Deron Williams, Anthony Morrow, Jordan Farmar and Sasha Vujacic—if he is re-signed.
However, Farmar and Morrow looked great off the bench, and the future is clouded concerning Williams.
Smith could be the scoring option the Nets need to take them to the next level. He'd have to drop down a few slots for the Nets to take him at No. 28.
3. JaJuan Johnson, PF, Purdue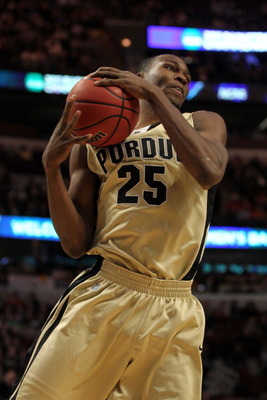 Jamie Squire/Getty Images
JaJuan Johnson can do it all on the court.
The 6'10" power forward averaged 20.5 points and 8.6 rebounds per game for Purdue this year, while also adding 2.3 blocks on the defensive end.
Johnson can finish inside and also has the ability to stretch the floor.
His only drawback is that he's classified as a "tweener" at the NBA level, according to NBAdraft.net, which projects Johnson going to the Chicago Bulls at No. 26 overall.
Johnson lacks the strength of an NBA power forward or center, but if he adds on weight, he could fit that role.
He'd be a nice scoring option off the Nets bench if they can re-sign Kris Humphries.
2. Chris Singleton, SF/PF, Florida State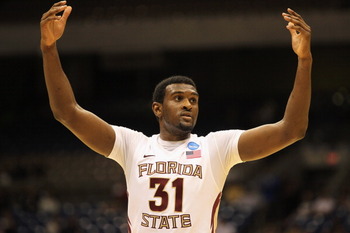 Jamie Squire/Getty Images
Florida State's Chris Singleton is as much of a defensive presence as he is an offensive force.
He won this season's ACC Defensive Player of the Year award. Singleton also averaged 13.1 points and 6.8 rebounds per game.
Draft Express and NBAdraft.net each rank him as a mid-to-late first-round pick. Draft Express even called him "the most versatile defender in the NCAA."
The Nets could use a shutdown defender to contain an opposing team's best scoring threat. There were countless times this year that the Nets actually played well offensively but struggled to limit their opponent's points.
Singleton would assume the starting small forward position in New Jersey. The Nets would just have to hope that the teams picking directly in front of them don't snatch him away.
1. Kyle Singler, SF, Duke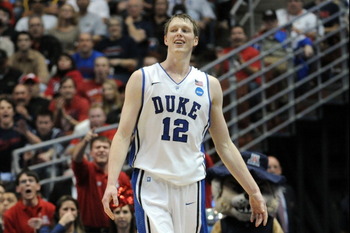 Harry How/Getty Images
Kyle Singler has flown under the radar compared to his Duke teammates Kyrie Irving and Nolan Smith. However, Singler is arguably the most NBA-ready player of this group, based on his high basketball IQ.
He averaged 16.9 points and 6.8 rebounds this season.
NBAdraft.net projects him as the Nets pick with their No. 28 selection. This definitely seems like a realistic destination for the 6'8" forward.
He always hustles on the court and has a quick release to his shot. His energy would fit well with the Nets' new style of play.
Though he might not be the most athletic guy on the floor, he'll make up for that with his passion and intensity.
Singler would be a great option for the Nets at No. 28, as New Jersey continues it push to be a perennial contender.
Keep Reading

Brooklyn Nets: Like this team?