Worst Opening Pitches in Baseball History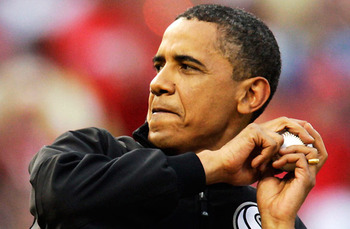 There's plenty of ways to embarrass yourself on live television. In sports, you could definitely do some damage to your reputation on a ceremonial opening pitch.
It looks easy. All you have to do is get the ball to the catcher. It's like a simple game of catch.
That simple game of catch often turns into balls bouncing halfway to the plate, flying off to the left and right, or a combination of the two.
Here are the 20 worst ceremonial opening pitches in baseball history.
They'll be calling you noodle arm for the rest of your life...
20. Michael Wilbon
The pitch wasn't that bad, but really Wilbon?
Nice tight jeans, tucked in jersey combo.
19. Annika Sorenstam
Getting a baseball in a catcher's glove, getting a golf ball in a hole, they're kind of similar, sort of.
Well, she's definitely better at the golf one.
18. Adam Carolla
Fast Forward to 0:40
The wind up looked professional at least.
Hey, got to give him props for at least throwing hard and not playing it safe.
17. Bernie Williams
Fast Forward to 0:55
You would think a former outfielder who got the ball to the catcher from the outfield would be able to get the ball there from the pitcher's mound.
I guess the first thing you lose is your arm.
16. Trent Edwards
The quarterback can't even get the ball to the plate.
Another incompletion for Trent Edwards.
15. Barak Obama
The placement wasn't nearly as bad as the pitches to follow, but the velocity...
Mr. President, my grandmother could throw harder.
14. Nevada Faculty
Not only does he skip the ball into the dirt, he tries to make it look like it was a joke.
Laughing it off never looked so ugly.
13. Baba Booey
Fast Forward to 0:52
It actually wouldn't surprise me if Baba Booey tried to aim for the umpire, but his reaction on Jimmy Kimmel says otherwise.
At least he knows the pitch was horrible; he bent over with shame as soon as he threw it.
12. Charlie Brown
Charlie Brown misses the target again.
Only ESPN would take the time to diagram a botched opening pitch by a mascot...
11. Charlie Crist
It just kept going left, well, his right.
"Ooops..."
10. T-Rex
Fast Forward to 0:31
Maybe I'm being a little harsh.
That's probably better than anyone else on this list could do throwing with their mouth.
9. Shawn Johnson
Fast Forward to 0:29
That crowd is just ruthless.
No attempt to hold back the laugher; just mock the poor 12 year old.
8. Mariah Carey
Somebody call a translator.
She should have went with the softball throw.
7. Carl Lewis, Renaissance Man
"Hey, give me another try."
"I'll make up for it now."
"Just like I did here"
Who is a better entertainer than Mr. Lewis (actor, singer, first pitch thrower)?
6. Joan Steinbrenner
Fast Forward to 0:22
George set up his wife on that one.
The commentator thinks she could do better.
5. Padres Fan
He tried so hard too.
Look at that windup for the "Polish Sinker."
4. Giants Fan
She was rocking the Tim Lincecum jersey.
Dare I say she was high?
3. Cubs Fan
Fast Forward to 0:42
Sorry, you have to watch closely for this one.
Could that be the only opening pitch ever to not make it past the pitcher's mound?
2. Mark Mallory
Mark Mallory is more famous for his botched opening pitch then anything he's done as a mayor.
Well, at least on YouTube.
1. Sports Broadcaster
The skeptical side of me wants to believe he was aiming for the umpire.
The side of me that wants to make fun of the broadcaster wants to believe he threw the worst opening pitch ever.
David Daniels is an NFL Featured Columnist at Bleacher Report and a Syndicated Writer. Follow him and Bleacher Report Swagger on Twitter.
Keep Reading