College Football: The 20 Best Football and Basketball Programs Combined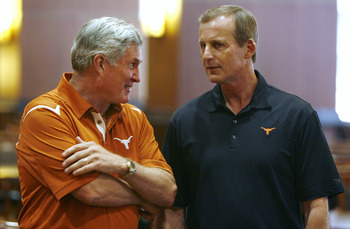 Erich Schlegel/Getty Images
In college sports, the idea for an athletic director is to have strong programs in all sports that your university competes in. They key is to hire great coaches to build and oversee those programs and orchestrate their success. Yet the two big sports that have always been vital are basketball and of course football. Chances are if your athletic program has both a good gridiron and hoops program, you're going to find yourself in stable security as an athletic director.
With this list, the main factor in listing the top football/basketball schools was balance. Both programs have to have successful and have widespread appeal. There are some schools where one sport is just a tad more alluring, but not like at Duke, where the hoops program is the end-all-be-all in the athletic department.
Come see if your favorite school is a both a top football and basketball school!
20. Kansas State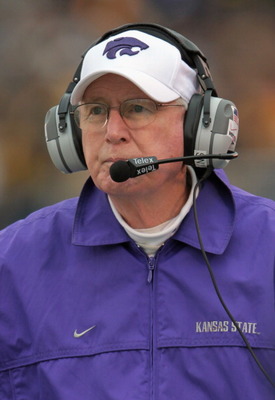 Jamie Squire/Getty Images
I was a bit surprised to be putting K-State on this list, but the more and more I looked at it, the more and more it became obvious they were deserving. Bill Snyder risen the program from the dead again and is clearly the best football coach the school has seen.
Snyder has always has the Wildcats competitive in the Big 12, going back to the days of having Micheal Bishop.
The hoops team is led by the fiery Frank Martin, and its success has come more so in the recent years. Martin convinced Micheal Beasley to come to Manhattan after Bob Huggins left, and the Wildcats made a deep run in the Tournament. This past season was a bit of a let down, but it feature pre-season All-American Jacob Pullen.
19. B.Y.U.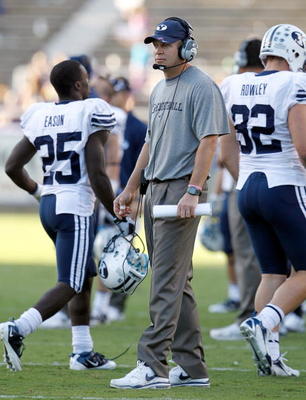 Tom Pennington/Getty Images
The Cougar football program is one of the more storied and tradition-laden programs in college football. From the days of LaVell Edwards, Steve Young, Ty Detmer and more, BYU football has been innovative in college football.
Today Bronco Mendenhall and his prized QB Jake Heaps lead the program, that is now Independent.
The men's basketball team saw a rise this year, thanks in part two sharp shooting guard and numerous outlets player of the year award winner Jimmer Fredette. Say what you want about Fredette's NBA future as I think he will be solid, but you can't deny he bested competition in Provo.
18. Tennessee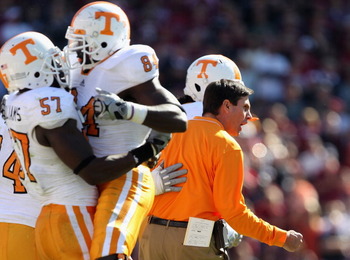 Streeter Lecka/Getty Images
Volunteer football hasn't been up to its standards in recent years, as it has seen three coaches in a four year span in Phil Fulmer, Lane Kiffin and now Derek Dooley. Yet I think Dooley is the man for the job, and he is leading the program in the right direction.
If the Vols can continue to develop QB Tyler Bray and a few other pieces, they will be able to contend for the SEC in 2012.
The Men's hoops program is in some flux, as if Bruce Pearl had been forthright from the start, I think he'd still be the coach. But the Women's basketball program is in the top two overall programs in the country, and coach pat Summit could be the Vols' next A.D.
17. Pitt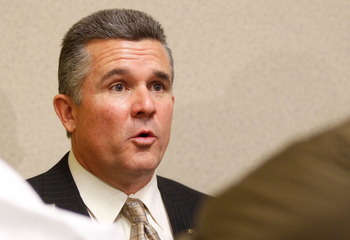 Jared Wickerham/Getty Images
Pitt is another school that doesn't jump out at you for this list, but as you think about it, you realize they fit. The football program is now led by Todd Graham, as he makes the move up from Tulsa.
Some say Dave Wannstedt deserved more time and shouldn't have "forced" out, which may be true, but change has happened with Panther football.
The Men's basketball program has been just fine since Ben Howland left for UCLA, and saw itself win the regualar season Big East title and get a No.1 seed in the Tournament this year.
16. Kentucky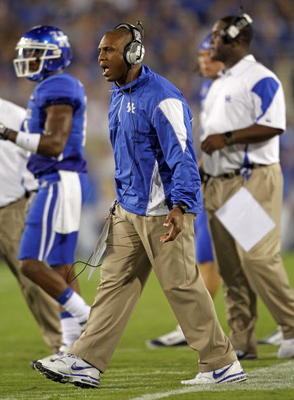 Andy Lyons/Getty Images
Now here come the Wildcats. Starting with football, the program has seen success over time. Dating back to the days of Tim Couch and the Air Raid offense with Hal Mumme, to Andre Woodson's tenure, and now to Joker Phillips lading the program.
What can you say about UK basketball? Coach Cal. Ashley Judd. Past and present studs like John Wall, Brevin Knight, Tayshaun Prince, DeMarcus Cousins, and more. Even Rick Pitino coached there. Which leads me to the next program...
15. Louisville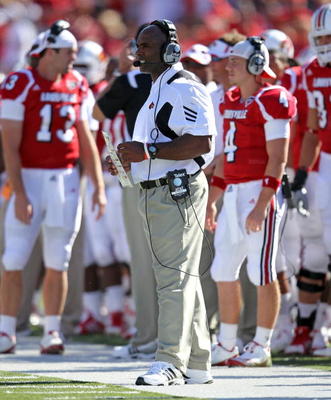 Andy Lyons/Getty Images
Pitino now is the basketball coach at arch rival Louisville. Then you have to notice he and Calipari aren't too coozy either, and it's not because they are the coaches at rival schools. But Pitino has Louisville basketball known as one of the top defensive teams in the country, and he knows he is a college coach and not a NBA coach.
Charlie Strong is now in charge of the football program. 7-6 last year, Strong is switch from the high octane offensive days the program has seen from Dave Ragone, Brian Brohm, Micheal Bush and Bobby Petrino in recent memory.
14. Texas A&M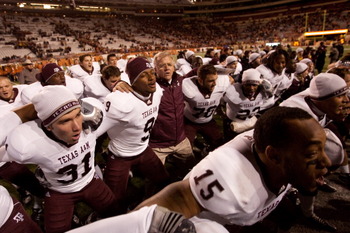 Darren Carroll/Getty Images
The A&M basketball program is also pretty good. It has been solid since Billy Gilespie left for Kentucky, and is a frequent contender around the Big 12 and a player come March. Aggie Basketball: Get into it!
The football program is led by Mike Sherman, the former head coach and GM of the Packers. Sherman has the Aggies in NFL mode, running a pro-style offensive with West Coast offense principles, and now in a 3-4 defense that turned Von Miller into a sheer lock to be a top five pick in the NFL draft this month.
13. West Virgnia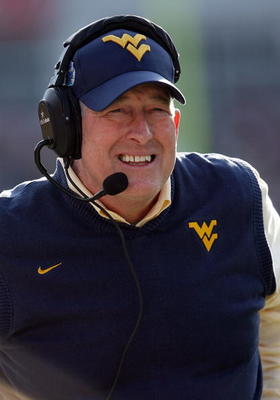 Doug Benc/Getty Images
Some were a bit upset that Bob Huggins left Kansas State after just a short stay after they offered him a job after he unceremoniously left Cincinnati. But as Bear Bryant said, where your alma mater calls, you have to go.
Now Huggins has his Mountaineers as one of the major players in the Big East. For those of you aren't big on NCAA hoops, being big time in the Big East in basketball is like being big time in the SEC in football. The Big East in basketball is the lead conference.
The Mountaineers are also solid in football, led by now both Bill Stewart and Coach-in-Waiting Dana Holgorsen. Oliver Luck has been criticized, bu detractors will say credit him for being pro-active.
12. Wisconsin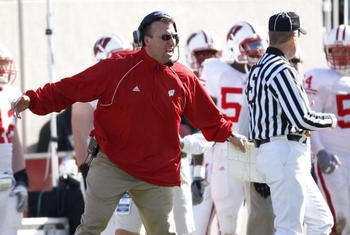 Gregory Shamus/Getty Images
As a kid I remember never realizing that the Badgers even had a hoops program until I saw they had a skinny point guard named Devin Harris. My father and used to debate who was better between Harris and Ben Gordon.
Now, Wisconsin is a top tier program in basketball, and yes they were a bit offensively challenged this year, but defensively the Badgers were solid on the hardwood.
In football, I think Brett Bielema is great coach I love the make up of the program. Built on toughness, physicality and work ethic, the Badgers could have at least running backs approach 1000 yards in 2011.
11. Notre Dame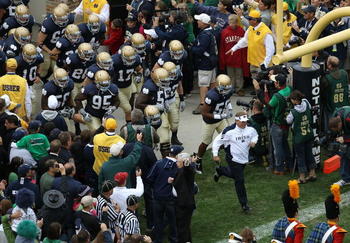 Jonathan Daniel/Getty Images
Oh yeah, the Irish are football and basketball school. The Men's squad was ranked in the top five of the polls for most of the past season and earned a No.2 seed in the Southwest bracket.
Then, not sure if you noticed, but the Women's team almost won the national title of Tuesday. Muffet McGraw is one of the top coaches in the game from the days of Ruth Riley in the post, the fighting Irish have been a force in the Women's hoops world.
Notre Dame football. Yeah, it's also kind of a big deal too.
10. Syracuse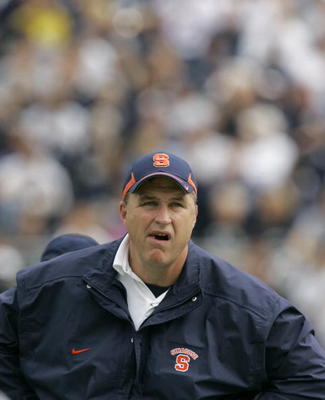 Chris Gardner/Getty Images
The Orange have been powers in both basketball and football for some time now. As the football team saw a rise in the 70s and 80s with the Carrier Dome becoming a spectacle in itself. Then came a QB from Chicago that somehow operated an offense with an option running game and West Coast offense passing game, named Donovan McNabb.
Now Doug Marrone is back at the school as head man, and has the program back on ascension.
Jim Boeheim and his 2-3 match up zone defense is one of the staples of college basketball. The 'Cuse have a national title from earlier last decade, led by Carmelo Anthony.
9. Arizona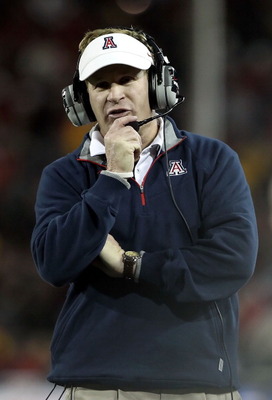 Christian Petersen/Getty Images
The Wildcats are solid football/basketball school out west in the desert, with two solid coaches at the helm. Football has Mike Stoops leading the program, and he has Arizona competing hard in the Pac-12 year in and year out. Nick Foles is back, and is one of the top QBs in the conference.
Basketball has transitioned fine from Lute Olson to now Sean Miller, who got the Wildcats into the top 10 in the polls for the first time in four years.
Led by potential No.1 pick Derrick Williams 'Zona got to the Elite Eight this year
8. Michigan State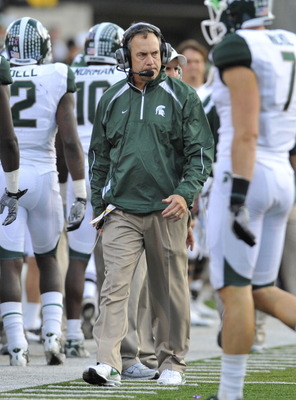 David Purdy/Getty Images
I'm going to start with he football program. Yes they were thrashed by Alabama last time we saw them, but the Spartans, who won a piece of the Big Ten last year, and Mark Dantonio have a great program. Plus, I know you saw the fake field goal for the Spartans' win over Notre Dame last year.
When it comes time for the tournament, as highly as I think of Nick Saban in football, I think that highly of Tom Izzo as a coach. No one is better game to game in preparation and adjustments.
Izzo got the Spartans to the Final Four last by himself in my opinion. His coaching was that good in last last year's tournament.
7. Florida State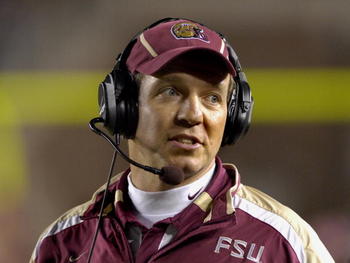 Al Messerschmidt/Getty Images
Leonard Hamilton is one of the more underrated coaches in the game. He's rebounded well from his tenure with the Wizards and has FSU Men's basketball as one of the factor programs in the ACC. The 'Noles were in the Sweet 16 and ultimately fell to CInderella VCU.
Prayers are going out to Jimbo Fisher and his family in regards to the health of his son. Yet on the field, the Seminoles have a chance win the ACC this year, and I think they will find themselves playing the 2012 Orange Bowl.
6. UCLA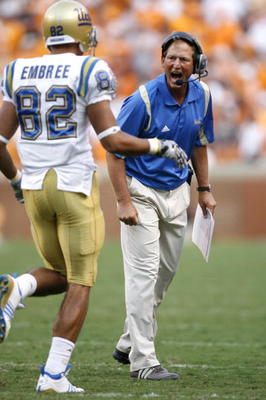 Joe Murphy/Getty Images
UCLA is a basketball school. It always will be, just USC will always be a football school. But the UCLA football program is considered a major program in the coaching world and it has a vast amount of resources.
UCLA is located on the west side of Los Angeles, and the campus is called Westwood. It's near the beach, Los Angeles has a wealth of high school football talent for recruiting, and the Bruins have had its fare share of success in football dating back to the 1960s.
The Men's hoops team is one of the most storied programs or teams not in just college basketball, but in sports history. All-time greats like Lew Alcindor (Kareem Abdul-Jabaar), Bill Walton and perhaps the most well known coach in sports history in John Wooden call UCLA home.
5. UCONN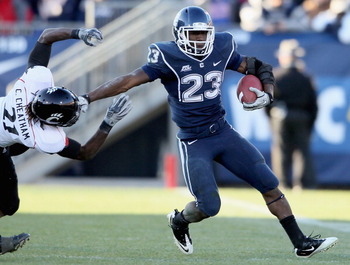 Elsa/Getty Images
Sure, the Huskies may find themselves this high thanks a bit more to the Men's team winning the national title on Monday, but the football team is great too. Randy Edsall got the Huskies to the Fiesta Bowl and the program has grown from FCS power, to a well respected FBS program.
Edsall is gone to Maryland and Paul Pasqualoni is now in charge.
The hoops squad has had some serious success under their coach. Big time talent has waked the halls in Stoors like Sue Bird, Diana Taurasi, Maya Moore, Rebecca Lobo and it has been led by Geno Auriemma.
Oh you thought I was talking about the Men's hoops squad? Yes, they are also extremely big time under Jim Calhoun, with former greats like Ray Allen, Emeka Okafor to now Kemba Walker.
4. North Carolina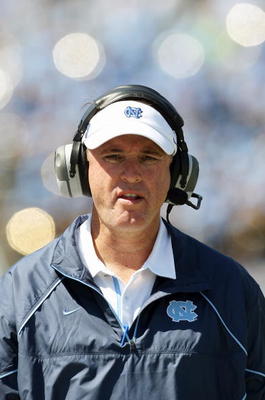 Streeter Lecka/Getty Images
The Tar Heels even have had some of their top football players play on the basketball team in years past in Julius Peppers and Ronald Curry among others.
Today, Butch Davis has the UNC football program among one of the factors in college football and he and his staff have done a great job in recruiting.
Roy Williams left Kansas for his dream job and has a national title under his belt in Chapel Hill. I won't go into how many all-timers have played for the Tar Heels on the hoops team, just "His Airness" to name one.
3. Texas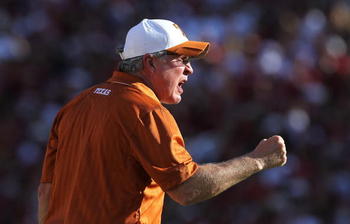 Ronald Martinez/Getty Images
Mack Brown and Rick Barnes are coaches that have seen their programs ranked No.1 in polls during each other's tenure in Austin.The Texas hoops team is a very, very solid program and has had some great players recently like TJ Ford, LaMarcus Aldridge and of course Kevin Durant.
But the football team still is top dog with the school and Brown has a BCS Title and a Rose Bowl under his belt, to go along with a host of Big 12 titles.
Longhorns football is so big that it was the instrumental presence in the school getting its own sports network.
2. Florida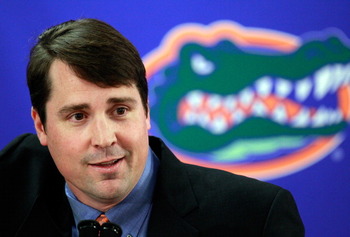 Sam Greenwood/Getty Images
Florida has a great two pronged athletic attack with football and basketball. Billy Donovan is a great coach, who turned down the Orlando Magic to stay in Gainesville. It also doesn't help that Donovan has two back to back national titles on his resume with Florida.
Will he ever leave Florida for Kentucky? Doesn't look like it.
Will Muschamp inherits a roster stocked with talent for the for football team and is living the dream. He enters his first year at the helm in 2011.
1. Ohio State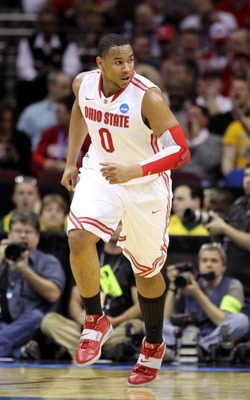 Andy Lyons/Getty Images
So when you don't win the national title and you still get a first place vote in the final coaches poll, you know you have a good program. That exactly happened with Thad Matta's Buckeye basketball program, as Jered Sullinger has also announced he will return or his sophomore year.
Matta has also had Greg Oden and Micheal Conley in his program, which also is friendly with Micheal Redd and one LeBron James.
The football program is in some disarray as Jim Tressel is in a bit of hot water. He and five players, including Terrelle Pryor, Mike Adams, DeVier Posey, Solomon Thomas and Boom Herron are out the first five contests in 2011.
Yet when it comes to a balance of both football basketball greatness, the Buckeyes are the top school.
Keep Reading