Masters 2011, Live Streaming and Day 1 Action from Augusta National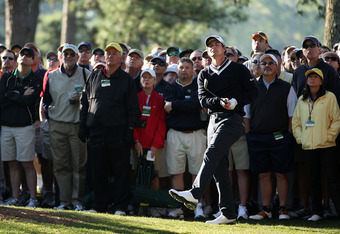 Andrew Redington/Getty Images
The 2011 Masters are underway in Augusta, Georgia. One of golf's most hallowed events annually brings in great ratings with high drama and great storylines.
Tiger Woods enters the field as something other than the favorite for the first time in more than a decade, while Phil Mickelson will try and win it all again.
The first day of play almost always turns in one compelling storyline, and we will be monitoring the field this afternoon and turning in updates on the action.
Keep checking back as we run down all the day's action with commentary and analysis.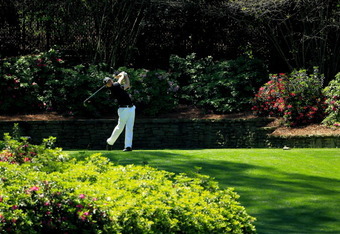 Phil Mickelson Shoots Par Through Seven Holes
Rory McIlroy came out to Augusta on Day One and let everyone know who is in charge so far. The young golfer from Northern Ireland has a three-shot lead with no challenger in sight for the rest of the day.
That is not to say someone will not move up in the latter part of the afternoon, but Tiger is struggling just to stay at one under and Phil Mickelson is shooting even through seven holes.
Sergio Garcia could get another shot or two in the last few holes, but I just do not see Garcia remaining on the top end of the leaderboard as any kind of challenger as the weekend goes on.
When you look at McIlroy's past, you see he is a winner. While only 21, McIlroy already has had more success in a little more than three years than many golfers have in a decade.
McIlroy has finished tied for third at the Open Championship in 2010 and the PGA Championship the last two years. He has two professional wins, one on the European Tour and one on the PGA Tour.
Meanwhile, Woods still is trying to get his game back. Physically, Woods looks good–except his putting has not been great. That speaks more to the mental issues and the game between the ears every golfer must dominate to have a chance of winning.
Thursday has started off with a great story in McIlroy, so it will be interesting to see who still is in contention by the end of the day tomorrow and who does not make the cut.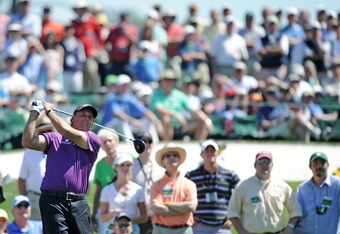 Sergio Garcia Trying To Rise Up The Leaderboard
Phil Mickelson and Tiger Woods have a problem on Day One of the Masters, they seemed to have misplaced their short game.
Neither Woods or Mickelson have been able to make critical birdie putts. Through five holes, Mickelson has not been able to make any, and Tiger only has made two.
If Woods had made all the birdie putts he has missed, he would be challenging Rory McIlroy for the lead right now.
McIlroy, 21, quickly took the lead from Ross Fisher and has not looked back, finishing his day seven under.
Sergio Garcia is four under and tied for second place through 15 holes, but if you have read any part of this live blog, you know I do not put much stock in Garcia's chances of remaining on top of the leaderboard.
Garcia had a chance to go five under, but he missed the birdie putt. I think there is a theme developing here.
I could be wrong and Garcia will end up having a great weekend, but do not hold your breath and do not be surprised if he fades at some point.
Still, congratulations to Garcia for having a good round so far.
Matt Kuchar also is tied for second at four under through 17, and he could end up being one of the more compelling stories as the weekend progresses.
Retief Goosen was tied for the lead at one point, but he now is five shots off the lead at two under.
If the Masters is going to turn into the Tiger and Phil show, as many sponsors would like it to turn into, both golfers are going to have to find their short games very fast, or at least find out what is wrong with their putters.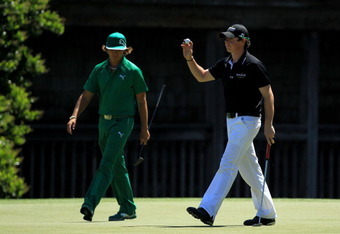 Matt Kuchar Making A Run For The Lead
The story so far today is Rory McIlroy, who finished the day at seven under and the lead.
But not so fast, here comes Matt Kuchar, who is five under through 15 holes and has a chance to at least tie McIlroy for the lead coming out of Day One of the Masters. He lost a shot on the 16th hole and now is three shots back again.
Kuchar turned pro in 2000 and finished tied for sixth at the U.S. Open last year. However, that was his best finish in a major.
Tiger Woods is not having a great first day. It could be worse, but Woods will not consider his performance today to be one of his better ones. He is even through 13 holes.
Phil Mickelson is shooting even par through three holes, so it is too early to say how his day is going, other than it could be worse.
McIlroy is the one to watch at this point in time, and if we (as fans) are lucky, Kuchar or somebody else will keep challenging McIlroy throughout the weekend.
Or it could be even better if McIlroy just starts knocking off challengers throughout the weekend, culminating in a thrilling final pairing of McIlroy and another "name" golfer such as Mickelson, Els, Goosen, or Lee Westwood.
Still plenty of golf to play, and if we are really lucky, Woods will surge tomorrow and give everyone something to talk about.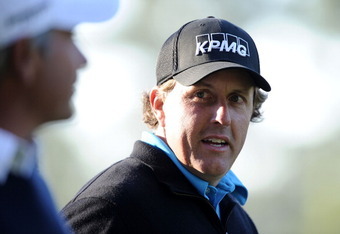 Rory McIlroy Firmly In Charge So Far
Tiger Woods is watching his first day go down the toilet as he continues to play an average first day while Rory McIlroy builds a big lead.
McIlroy is sitting on a three-shot lead through 17 holes and an eight-shot lead over Woods.
Phil Mickelson shot par on the first hole and is looking to repeat as Masters Champion. He will be looking to catch up to and challenge McIlroy before the day is through. He remains even through two holes.
Woods has been missing putts left and right. He has had chances for several birdies but keeps coming up short. He has missed a few fairways, but his short game again is deserting him.
It has been 17 months since his last victory, and if he continues to put like he has today, that streak will not get broken this weekend. It is a shame the story on Woods now is his losing streak instead of his chances of earning his fifth Green Jacket.
Woods was not the favorite coming in to the weekend, and his performance today will do nothing to change that.
Retief Goosen remains in second place, three shots behind McIlroy. Early leader Ross Fisher is four shot off the lead and is done for the day at three under.
Tom Watson, who made headlines for almost winning the Open championship and playing excellent golf in 2009, is four over through six holes and has a long way to go if he is going to make headlines again in 2011 at age 61.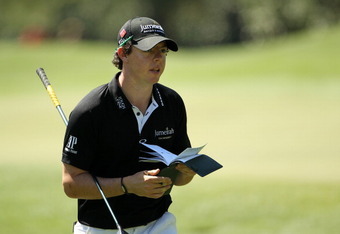 Phil Mickelson Tees Off On The First Hole
Rory McIlroy is making his presence known at Augusta on the first day as he has a three-shot lead through 16 holes.
Meanwhile, Tiger Woods is beginning to struggle. Woods lost a shot on the 10th hole and his first shot off the 11th tee went right into the trees.
McIlroy fast is becoming the story of the Masters. The 21-year old from Northern Ireland made a name for himself in the last few years on the European tour and some good performances in two majors in 2010.
McIlroy is getting the Tiger comparisons, and at 21, they are well-deserved. No golfer has earned the kind of comparison McIlroy is getting and lived up to it to date. Should McIlroy stay strong throughout the weekend and win, he will officially be "the next big thing" and help shift Tiger firmly into the "yesterday's news" category.
This was unthinkable two years ago when it was thought Woods had another five or ten years left of being completely dominant. Woods has had ups and downs as he tinkered with his swing and battled knee injuries, but the game between his ears had not changed.
Now Tiger has not won a tournament in 17 months and the problems in his personal life seemed to have spilled into his professional one since the infamous weekend when he crashed his car outside his residence.
Until Woods can get his mental edge back, not only is he vulnerable, but he opens the door for a young guy like McIlroy to come in and take all the glory.
Looking at it objectively, McIlroy could be the best thing to happen to golf since Woods hit the scene in the mid-1990's. McIlroy is talented and he has personality.
If there was one knock against Woods when he was dominating, it was his lack of personality despite all the endorsements.
Now McIlroy has got the lead, time will tell if he can keep it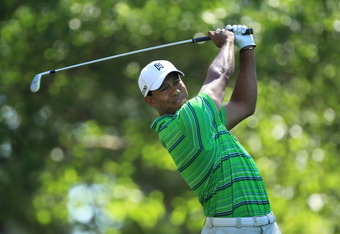 Rory McIlroy Just Misses Birdie On 13th
Tiger Woods is one under through the first nine holes and four shots off the lead. Woods has been close to the hole on every green and keeps missing the birdies, otherwise he might be in contention for the lead.
Meanwhile, Rory McIlroy went for the Eagle on the 13th, missed wide and gave himself a great chance for a birdie. The ball lipped around the cup and McIlroy had to settle for par.
McIlroy still has the lead at five under par, now one shot over Retief Goosen and Charl Schwartzel. Ross Fisher finished his day three under and now two shots out of the lead.
Goosen is the most experienced golfer at the top of the leaderboard, although Sergio Garcia and Ernie Els are not that far behind.
I do not put much stock into anything Garcia does, he tends to flirt with the big victories before just falling apart or posing over the ball, waggling his club endlessly while he loses it between the ears.
Garcia is much better about waggling his club than he was at the beginning of his career when it evolved into a joke and a minor embarrassment for the sport of golf. Still, it speaks to a lack of confidence somewhere.
Garcia has had a good career, and he is not a bad golfer, but he never will be considered one of the elite unless he can win some of the majors.
When did this turn into a Garcia-bashing session? I like Garcia, but head-to-head against the best, I am taking the field every time.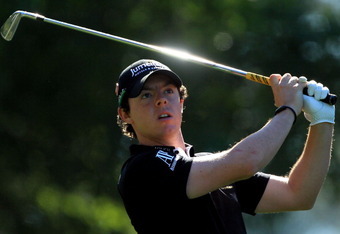 Mike Weir Not Getting Off To A Good Start
Rory McIlroy, one of the youngest players in the Masters at age 21, now is one shot ahead of Retief Goosen. McIlroy is five under through 12 holes.
McIlroy and Goosen briefly shared the lead, but Goosen lost one shot on the 11th hole.
McIlroy gets compared to Tiger Woods and already has made an impression on the golf world in his short career.
McIlroy turned professional in 2007 and has one win on the European tour and one on the PGA tour. McIlroy made a name for himself in the majors last year when he shot an opening day 63 at the Open Championship last year. He finished tied for third.
Later in the year, he missed out on being in a three-way tie for the lead in a playoff at the PGA Championship with Bubba Watson and Martin Kaymer.
McIlroy is one of the more exciting and interesting golfing personalities to emerge in the last few years, and if Tiger Woods is going into a decline, this is a good thing as golf needs big personalities to go along with the talent to keep the TV ratings.
Woods is one under through eight holes, four behind McIlroy. Phil Mickelson will tee off at 1:48 p.m.
Mike Weir is not getting off to a good start and four over through 11 holes.
There is a lot of tournament to go, so keep checking back for updates.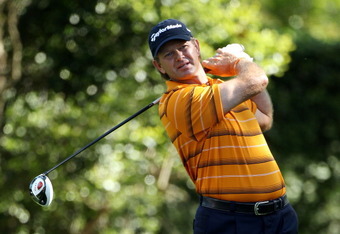 Ross Fisher Falls Into Tie For Third
Retief Goosen has taken a one-shot lead over Rory McIlroy as former leader Ross Fisher falls two strokes behind into a tie for third.
Goosen, from South Africa, has been at the top of leaderboards in many majors throughout his career, but he never has managed to win a Green Jacket. He has finished second, or tied for second in 2002 and 2007.
Goosen has won two U.S. Opens, so he does have the ability to win Major Championships.
Fisher is almost done for the day, so he probably will not finish the day with the lead. However, this is a great start for Fisher and should help keep him in the mix on Friday, depending on what happens the rest of the day.
Sergio Garcia also has entered the top of the leaderboard, going three under through five holes and staying ahead of Tiger Woods, who is one under through six holes.
Ernie Els is even through seven holes and Vijay Singh has fallen to four over through 12 holes.
Live streaming coverage is on Masters.com and live television coverage begins at 3 p.m. on ESPN.
It has been a good start to the Masters. Not too much drama yet, but it still is early. McIlroy is making a good showing on the 10th hole and could get another stroke to tie with Goosen.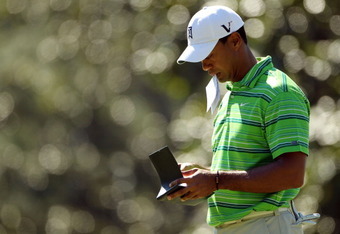 Woods Keeps Missing The Birdie Shots
Tiger Woods has had better starts to the Masters, but he also has had worse starts to just about every tournament in the last year.
It is a sunny day in Augusta Georgia, perfect weather for Tiger to get his game back on track at a Major. So let us do a quick recap of what has gone on so far today.
Tiger went for birdie on the first hole but ended up with a par. Not bad for the first hole considering his recent tournament woes of late.
On the second hole, Tiger hit a great shot to get on the green but missed the birdie by about an inch and was even through two.
Tiger was in the trees on the third hold but managed to save bar with a great wedge shot that left the ball a few inches from the cup.
Tiger missed birdie again on the fourth hole as he just can not find the "perfect" touch to make those shots.
Tiger just finished the fifth hole and remains even.
While this obviously is not where Tiger wants to be, it is a lot better than being four or five over for the day. You do not have to win the Masters on the first day, but it helps if you do not lose it.
Woods has been losing tournaments on Thursday, so right now this is a positive step forward for Tiger even if it is not the dominant beginning he was hoping to have.
If Tiger can stay within a few shots of the lead, he should consider this day successful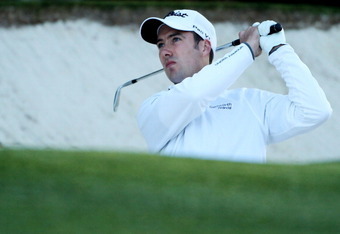 Ross Fisher Takes Masters Lead Early On Day 1
Ross Fisher took the early lead on Day 1 at the Masters Tournament. Fisher is a name known only to dedicated golf fans at this point.
Fisher, 30, plays mainly on the European Tour and his best finish at the Masters was a tie for 30th in 2009.
Fisher is from England and began his professional career in 2006 and won his first tournament, the KLM Open, in 2007.
One of his biggest tournament highlights was a three-way playoff at the HSBC Champions in 2008 with Phil Mickelson and Lee Westwood. Fisher lost but it was a sign Fisher could hang with the big boys once he got more experience.
In July of that year, Fisher won the European Open, proving he had really grown as a player throughout the past year. That tournament featured Fisher shooting an opening round 63 and finishing seven shot ahead of Sergio Garcia.
Fisher did hold a two-shot lead in the early part of the final round of the Open Championship in 2009, but fell apart on the fifth hole, shooting a quadruple bogey eight and ended up finishing in a tie for 13th for the weekend.
Fisher now has a chance to really make a name for himself in America if he can stay on top of the leaderboard through the rest of the weekend.
Fisher is off to a good start, shooting four under through 15 holes and tied with Retief Goosen, who is four under through seven holes.
Retief Goosen Hot On Fisher's Heels.
It has been a good morning for Ross Fisher and Retief Goosen. Through 12 holes, Fisher is four under par.
Goosen came out of the gates hot, though, shooting birdies on the first four holes.
As I write this, Tiger Woods is teeing off, so we will get to see if Woods can reclaim his former glory at Augusta National.
Woods has four Green Jackets, but injury and outside factors have derailed his last few attempts at a fifth Green Jacket.
Fisher's best finish at Augusta was a tie for 30th in 2009, so leading for at least a few holes on Day 1 is a feat for the 30-year old from England. Fisher did qualify for the European Ryder Cup Team last year.
Rory McElroy is one shot back, playing close to Goosen. So there are some early storylines before the "big" names really start flexing their muscles for the day. Not that McElroy is small.
Vijay Singh is even through six holes, and his window for winning a second Green Jacket is beginning to close. Singh won the Masters in 2000 and would like to get at least one more victory before age catches up with him.
Singh missed the cut last year, so he has a lot of drive to do better in 2011.