Brock Lesnar: Is the UFC Star a Good Fit on Season 13 of the Ultimate Fighter?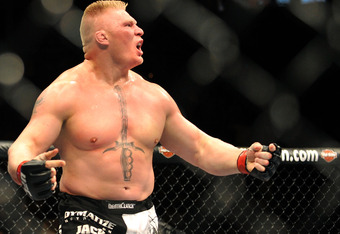 How is Brock Lesnar Being Received as Coach on the Ultimate Fighter?
Season 13 of The Ultimate Fighter on Spike hasn't been that big of a hit. The expectations were pretty high since the show would feature Brock Lesnar as one of the coaches. However, the show received a rating of 1.0, which is no where near what expected.
The highest rating for the show was a 2.9, which was in season 10. That year internet sensation Kimbo Slice was a competitor. The previous low for the show was 1.2, which was in season eight. Nobody cares to see Lesnar as a coach.
The reason Lesnar has gotten so much fame in the MMA world is because of his dominant performance in his fights. He bullied guys and fans loved to see that. People don't care enough to watch him coach a bunch of amateurs.
At first Lesnar didn't even want to do the show. He told USA Today that it was a pleasant experience.
"I was apprehensive at doing the show because I was out of my comfort zone," Lesnar said in an interview with The Associated Press. "It turns out every once in a while, it's good to get out of your comfort zone. I learned good and bad things about myself, and I was able to make some changes to what I did. I enjoyed the guys. It was actually very painless."
Good for him that he had a great time and all, but nobody is watching, so what does it matter?
In a recent chat with USA Today one of the fighters on the show, Clay Harvison said it was hard at first to take tips from a guy who hasn't been in MMA for very long. In the end he did learn from Lesnar.
"I'm here to be coached by him, so I have to trust him and do my job. He certainly knows way more about wrestling than I do, so I'm definitely going to take everything he has to say. We have to trust those guys (the coaches), those guys are in our corners. ... You're going to learn. You're going to pick up stuff, or remember something you forgot about. Fundamental reiteration, that's what wins fights."
However, none of this matters if people don't watch the program. It's not a network show, which means it isn't going to pul in killer numbers. However, an average of 1.7-2.0 per show is where they need to be. I highly doubt this show will reach that.
Blame it on Lesnar or the No. 13, but people just aren't that into the show.
Most recent updates:
This article is
What is the duplicate article?
Why is this article offensive?
Where is this article plagiarized from?
Why is this article poorly edited?