2011 New York Yankees: A Letter of Admiration from a Phillies Fan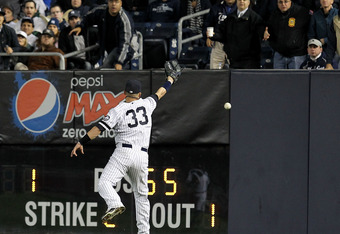 Apparently, this really cool relationship between the bleacher creatures and the players started with Nick Swisher ... or at least, he's taken credit for it!
Al Bello/Getty Images
As the title states, I am not a fan of the Bronx Bombers.
I do, however, have quite a bit of experience with them, as I lived in Manhattan from 1996-2000, and I was fortunate enough to be able to watch one of history's greatest teams during their prime years.
I was even so fortunate as to be at the 1997 playoff game that saw the Yanks hit three consecutive home runs (Jeter, Raines and O'Neill, if memory serves).
One thing I was not lucky enough to witness is the relationship that today's players have with a section of the crowd known as the "Bleacher Creatures."
I watched the beginning of the Yankees-Twins game on Monday night and saw what I now know is a nightly ritual—kind of a call and response, if you will—between fans and players.
I'm certain that all Yankees fans are aware of this, but for those of you who are not, the ritual is dubbed the roll call; the fans in the bleacher will chant a player's name until he responds with a wave.
Here's the cool part: The players actually acknowledge the "Bleacher Creatures."
Maybe I'm easily impressed, but I thought that this dynamic was so cool. In the biggest city in the country, where players are supposed to be so untouchable, this incredible connection happens on a nightly basis.
In Philadelphia, we like to think that we the fans have a strong connection with many of our players, and in many ways, we do.
However, we really have nothing as cool as this interaction between the fans and the players. I guess it's been too long since I've watched a Yankees game, although I didn't notice this in the 2009 World Series, because I've never seen it before.
It really is an amazing give-and-take in a sport that has gotten so far away from the players having a connection with those that come out to the ballpark daily to support them, and so I'd just like to say how impressive it is, from both fans and players. Kudos, Yankees and kudos, Yankees fans!
Sincerely, Phillies Phan.
This article is
What is the duplicate article?
Why is this article offensive?
Where is this article plagiarized from?
Why is this article poorly edited?

New York Yankees: Like this team?