NHL Free Agents: Ranking the Most Expensive Free Agents on the Market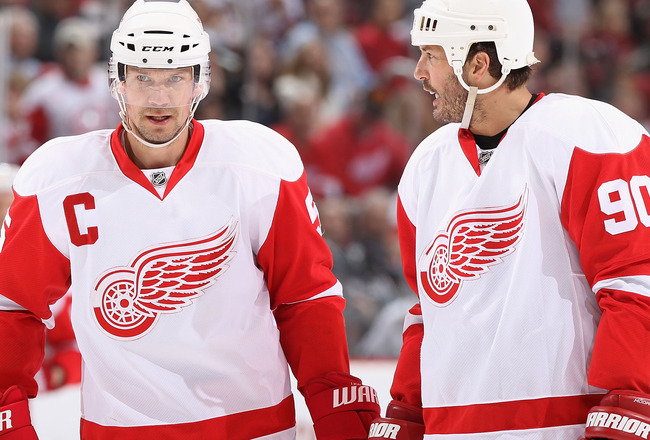 Christian Petersen/Getty Images
As the NHL season winds down, contenders and non-contenders alike will begin to hound the trading wire and the free agent market, each looking to add pieces which can help their team in the future.
With San Jose's Joe Thornton and Washington's Alexander Semin having signed contract extensions in-season, and Niklas Lidstrom far more likely to retire than play for anyone but the Red Wings, the NHL's 2011 free agent class is devoid of any game-changing players.
Instead, it is a player pool deep in talented defensemen, high upside goalies and second line scorers.
Not one of these players is likely to ever be a Hall of Famer, but all of them are potential All-Stars who possess the skills to make a good team better.
They are the types of players who turn contenders into champions.
With that in mind, what follows is a ranking of the top NHL free agents for the upcoming 2011 offseason.
Their order is determined by the potential impact they could have on their new clubs relative to their expected salary.
10. Craig Anderson, Ottawa Senators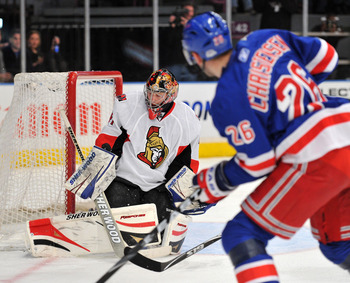 Christopher Pasatieri/Getty Images
It will be a long time before fans in Colorado forget about the night that Craig Anderson put on his best Patrick Roy impression.
In Game Three of a first-round playoff pairing with the Sharks last season, Anderson stopped all 51 shots he faced in a 1-0 home win.
Although the Sharks won the next three games, and the series in six, Anderson returned in 2010 as the Av's unquestioned starter.
In just 33 games with Colorado (versus 71 last year), Anderson's goals against average ballooned from 2.63 to 3.28, and his save percentage fell from .917 to .897.
With the team struggling and his contract due to expire at the end of the year, Anderson was flipped to Ottawa for goalie Brian Elliot.
In 16 games since arriving in Canada's capital, Anderson has been in fine form. He's 9-5-1 with a 2.06 GAA and a .940 save percentage.
Although he's unlikely to continue living up to these numbers, Anderson's career numbers suggest that his save percentage with the Senators is closer to his true talent level than the poor luck he had earlier this year with the Avalanche.
If Anderson keeps playing well down the stretch, he'll easily be the third-best goalie available in free agency, and could find himself back in the playoffs again next season.
9. Ville Leino, Philadelphia Flyers
Jim McIsaac/Getty Images
Ville Leino is one of the NHL's breakout stars of the 2010-2011 season.
Although the 27-year-old Finland native totaled just 11 points in 55 games last season between Detroit and Philadelphia, he exploded in the playoffs for seven goals and 14 assists in 19 games.
He appears to have carried his newfound success over to this season, recording 52 points (19 goals, 33 assists) in his 78 games played.
Leino is a two-way winger who seems to get better with the more minutes he plays.
Even if he helps the Flyers back to the Stanley Cup Finals, Philadelphia is likely to face some tough payroll decisions in the offseason. Will they be willing to bet that this late bloomer continues to get better?
I'd say it's more likely that someone else outbids them.
Either way, Leino should see a nice raise from his current $800,000 salary.
8. Joni Pitkanen, Carolina Hurricanes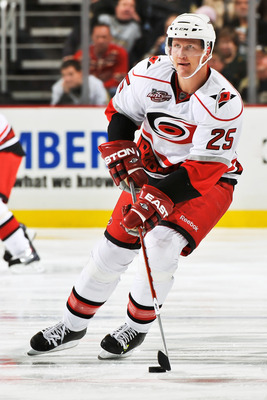 Jamie Sabau/Getty Images
Joni Pitkanen is a talented defenseman. But he never quite seems to get the recognition he deserves because of the teams he's played for and his inability to stay healthy.
The 6'3", 210-pound blue-liner has bounced around from the Flyers to the Oilers, and now (for the past three seasons) the Hurricanes.
He has missed at least 11 games in all but one season (2006-2007 with the Flyers). But Pitkanen is capable of posting good assist totals, blocking a lot of shots and acting as a hard-nosed, first pair defender.
He's also just 27-years-old, so his ability to continue maturing as he enters his physical prime is definitely possible.
As one of the better under-30 defenseman on the market, Pitkanen should get a lot of interest from top teams.
Even over 70 games of work, he'll give you 6-10 goals and 35-plus assists per year with 20-plus minutes per game of solid defense.
Others may overpay for Roman Hamrlik or Andrei Markov. Pitkanen is a better buy.
7. Tim Connolly, Buffalo Sabres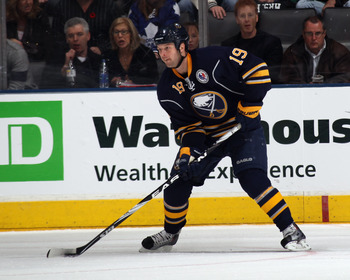 Bruce Bennett/Getty Images
With Patrice Bergeron and Joe Thornton both signing extensions and removing themselves from free agency proceedings, Tim Connolly became the second-best free agent center by default.
That's not a knock against Buffalo's shifty pest, it's just a matter of fact.
When healthy, Connolly could be one of the better second line centers in the NHL. Staying on the ice, however, has been an issue.
Though he played 73 games last year, and 65 thus far this season, Connolly managed just 48 games in each of 2007-2008 and 2008-2009 because of hip problems.
He missed all but two games in the previous year due to post concussion syndrome.
Perhaps fatigue from playing so many games recently has caused Connolly's numbers to drop this year. Or it could be his new combination of line-mates.
But Tim Connolly will enter free agency as a great defensive center—especially when it comes to penalty killing, who, in the right situation, has been more than capable of scoring between 55-65 points.
He had 17 goals and 48 assists in his 73 games with the Sabres last year. A contending team will probably wager that he can do it again.
I wouldn't bet against him.
6. Tomas Kaberle, Boston Bruins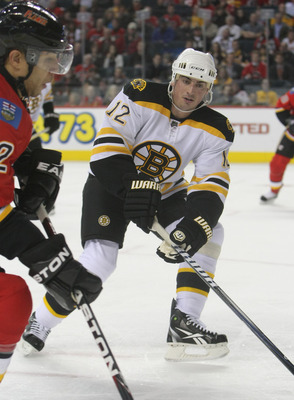 Dave Sandford/Getty Images
Boston's trade for Tomas Kaberle on February 18th may go down as the most underrated move of the 2011 season.
Since acquiring the lifelong Maple Leaf, Boston has gone 12-5-4. They've clinched their division title, and positioned themselves to overtake both the Flyers and the Capitals for the East's top spot.
Kaberle is as sturdy a veteran defeseman as there is in the NHL. He's a very smart player with great vision, who is more than adept at quarterbacking a power play.
Additionally, when Kaberle doesn't get caught pinching, he can be a tremendous one-on-one defender.
Since he has great stick skills and he's a very good skater, Kaberle is able to stay up with almost any attacker in the league.
Although the wear and tear of 13 NHL seasons probably limits Kaberle to a second pairing role in the future, as a still-productive offensive defenseman, Tomas Kaberle could make a nice chunk of money this summer.
I personally wouldn't offer him more than a two-year deal, but in that time, Kaberle should be good for 10 goals and 45 assists if healthy.
For now, he'll work on Boston's second defensive unit and leave the toughest assignments to captain Zdeno Chara.
5. Simon Gagne, Tampa Bay Lightning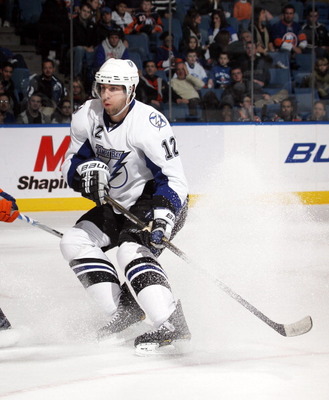 Bruce Bennett/Getty Images
Had I written this article two months ago, it's unlikely that Simon Gagne would have found his way onto this list. After all, the Canadian winger is already in his 11th NHL season and injuries have severely limited his production over the past few years.
Gagne posted back-to-back 40-plus goal seasons in 2005-2006 (47) and 2006-2007 (41) with the Flyers, but assorted ailments held him to just 25 games in 2007-2008, and 58 contests in 2009-2010.
This past offseason, the Lightning decided to take a chance on a player just one year removed from a 74 point season in 2008-2009 (34 goals, 40 assists), swapping Matt Walker and a fourth-round pick for Gagne's services.
Although he got off to a very slow start, with just 13 points (and a minus-19 rating) in 33 games, Simon Gagne has made a dramatic turnaround in the second half.
Since the all-star break, he's netted seven goals and 18 assists over 28 games. Since March 12th, Gagne has six goals and 10 assists over an 11 game span.
The rest of this season, especially the playoffs, will be a much bigger indicator as to whether Gagne is finally healthy and recovered from all of his injuries, whether he's merely become more comfortable with his teammates and linemates or whether he's just been the beneficiary of some good luck recently.
If Gagne is able to keep up this pace, at least one team should draw up a bigger offer sheet for him in free agency.
Players capable of scoring 70-plus points don't often come cheap.
4. Christian Ehrhoff, Vancouver Canucks
Frederick Breedon/Getty Images
One of the key factors behind the Vancouver Canucks' ascendancy to the top of the Western Conference this season has been the play of defenseman Christian Ehrhoff.
The 6'2, 200-pound German national is a big, puck-moving defender with great vision and skating ability. He's very adept at controlling the breakout and quarterbacking the powerplay.
Over the past few seasons, Ehrhoff has also developed into one of the most reliable defenders in the NHL.
He has led the Canucks in average time on ice for each of the past two seasons. Ehrhoff also led all defensemen on the team, for both years, in goals, assists and points (44 last year, 49 this season).
The Sedin twins, Ryan Kesler and Roberto Luongo may get all of the Canucks hype, but Christian Ehrhoff logs big minutes and does a lot of the team's dirty work.
At just 28 years old, he's due a big pay-day when free agency hits.
Christian Ehrhoff should be the best available defenseman on the market when taking talent and age into consideration.
We'll see if the Canucks can afford to keep him.
3. Ilya Bryzgalov, Phoenix Coyotes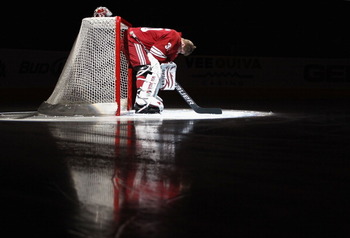 Christian Petersen/Getty Images
Truthfully, I can't see the Phoenix Coyotes being able to afford to let Bryzgalov leave. Keeping him, however, may cost a bunch of money.
Since his arrival in Phoenix, Bryzgalov has helped to make the Coyotes progressively more relevant every season.
In four years, he's proven to be a reliable, workhorse type of goaltender who can easily start 65-70 games for your team per season.
His save percentage with the Coyotes has been .920 or .921 for three out of his four years. While his goals against average has fluctuated, it seems to normalize around a respectable 2.45 mark.
Bryzgalov has posted 15 shutouts over the past two seasons. Though not the most talented athlete, when he's on, there's very few goalies in the league who are better.
Ilya Bryzgalov will see the largest contract offer of any free-agent goalie this offseason.
If he ends up on a new club, they'll surely find themselves pleased with his consistency.
2. Tomas Vokoun, Florida Panthers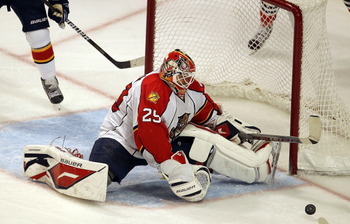 Jonathan Daniel/Getty Images
Though a few years older (he'll be 35 this summer) and a bit less unheralded than Ilya Bryzgalov, Tomas Vokoun will be, in my opinion, the best available free-agent goalie this offseason.
Vokoun has spent each of the past four seasons on middling Florida Panthers teams, quietly going about his business and posting save percentages of .919, .926, .925 and .921.
He's also been able to keep his goals against average and win-loss record respectable, despite the fact that the Panthers are so miserable.
Vokoun has played behind a revolving door of NHL and borderline AHL defensemen during his time in Florida, yet he's consistently been one of the best goalies in the league.
Every time I watch Vokoun and the Panthers play, he often stands on his head to keep his team in the game.
Tomas Vokoun is a far superior athlete to Ilya Bryzgalov. Vokoun is quicker, has better agility and makes more acrobatic saves than his Russian counterpart.
He probably won't receive as big of an offer, however, primarily due to his age.
Any serious Stanley Cup contender can immediately up their chances by sticking Vokoun in net. He's one of the best in the game, and should come at an affordable price for two or three years.
1. Brad Richards, Dallas Stars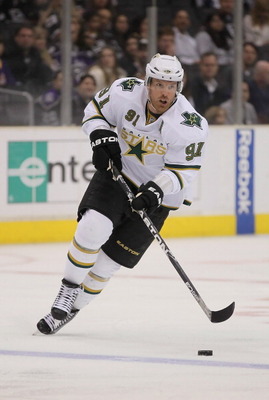 Jeff Gross/Getty Images
Though no longer the two-way stud that he once was, Brad Richards is still one of the best playmaking centers in the NHL.
The 30-year-old should, by default, be the most sought after free agent this summer.
Goal scorers can always be found. There's plenty of guys toiling around even in the minor leagues who, if you brought them up now and played them enough with the right players, would score 20-25 goals for you.
But the guys who can consistently find themselves among the assist leaders in the NHL? Those guys belong in a special group.
Hockey is a game of sacrifice. It is a game where conceding possession of the puck to a teammate and sacrificing your body for the greater good of the team are qualities to be admired; they both help your team to win games.
Brad Richards is a lead-by-example kind of guy. The example he likes to set is one of an unselfish teammate who doesn't care about personal glory.
This attitude has helped guide the Dallas Stars to a surprising 40-28-11 record this season.
Richards has been their leading scorer, with 26 goals and 46 assists in 69 games played (10 less games than many of his teammates).
In a full and healthy season last year, Richards registered 91 points (67 assists), the second time he's reached that plateau in his career. He also scored 91 points (68 assists) with the Lightning in 2005-2006.
Despite a relatively weak crop of goal scorers around him, Brad Richards has maintained his production in the heart of Texas.
Look for this Canadian national to play for a team closer to home as he prepares for (probably) the last big contract offer of his career.
Keep Reading