NFL Draft 2011: Setting the Odds on Draft Prospects Becoming NFL Superstars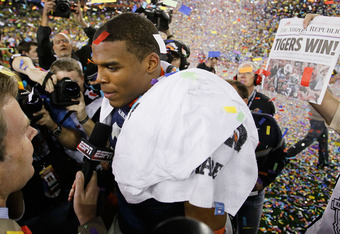 Kevin C. Cox/Getty Images
There is no magic formula to determining which draft prospects will be superstars and which ones will bust out.
If there was some kind of formula that guaranteed success, every NFL team would have adopted it by now.
In April, every prospect is a superstar and the fans love every one of them. Once the players take the field in September, it is time to perform or go home. The love fades quickly if the numbers are not there.
Keep checking in while we run down players like Cam Newton, Blaine Gabbert, Marcell Dareus and the rest of the big names everyone has been following.
Joe Robbins/Getty Images
In The "Who Is Better?" Argument, Green Wins Over Jones
There are two wide receivers considered elite in this year's draft, A.J. Green and Julio Jones. Green is considered to have the better hands of the two even though Jones is faster and bigger.
In this competition, the better hands should win every time. Green does get a knock for being slightly undersized for a wide receiver, but if he is catching the passes, he can make plays.
NFL Mocks believes Green also is the superior receiver:
Green is a physically gifted player. At 6'4, he has great size to go up and get the football, and he also provides excellent speed. He always comes across as faster on film than he is in shorts, which is a big plus for me. With the ball in his hands, he simply showcases natural change of direction skills, making him very shifty and tough to tackle. Many people say that he isn't spectacular in the weight room, but I have seen good strength from him in football pads, as he seems to be an effective blocker, and he can rip the ball out of a defenders hands in the air. He also possesses solid bulk and unbelievable body control when going up for the football.

Green also has really good hands. He tends to avoid trapping balls against his frame, which is valued highly in the NFL, and he almost never drops passes. He also probably is the best in all of college at catching the ball at its highest point. His ability to get high in the air and catch the ball in his fingertips with his incredibly long arms is shocking and he does it with unbelievable consistency. It will be a major asset to his game in the NFL.
Green shows everything you want to see in a wide receiver prospect. The hands are the important thing, though. With that kind of consistency, Green will be successful in the NFL.
I give Green a 70 percent chance of success in the NFL.
For a look at the NFL Draft, check out our NFL Draft Hub
This article is
What is the duplicate article?
Why is this article offensive?
Where is this article plagiarized from?
Why is this article poorly edited?
Matthew Stockman/Getty Images
Mallett Has Big Arm, Big Ego
Ryan Mallett is being called a lot of things in the lead-up to the draft, but very few of his reports are flattering.
Mallett has a big arm that can rifle the ball 60 yards down the field, but there are questions about his attitude and off-field character issues.
Mallett consistently offered "no comment" responses to the queries that just kept coming regarding recent widespread reports of drug allegations and character issues that allegedly have raised a huge red flag in the NFL scouting community. He made Bears QB Jay Cutler look like Tim Tebow in comparison.

As was the case with Cutler's widely criticized exit from the NFC championship game, Mallett's refusal to face the music in a professional fashion set off a Twitter firestorm, with numerous critics instantly blasting him like there was no tomorrow.

It was a performance that had to make fellow QB Cam Newton, who faced the media not long after Mallett spoke, feel instantly more comfortable about how he would be received.

"I've got the interviews with the teams, and they will know what they need to know, and I will leave it at that," said Mallett, whose pro-caliber arm strength was greatly overshadowed by his weak effort in front of the media masses.
Last year, Jimmy Clausen dropped into the second round because of perceived character concerns and attitude problems. After one year in the league, Clausen has not won the locker room over and his on-field performance left a lot to be desired.
That does not mean Mallett can not go high. The Bengals are going to be in the market for a quarterback, and Mallett could go as high as No. 4.
From Profootballtalk.com after Mallett's visit to Cincinnati:
Ultimately, the Bengals are not expected to hold Mallett's character concerns against him on draft weekend. That means he'll likely be given strong consideration in the second round by Cincinnati if the team drafts a receiver or defensive lineman at No. 4 overall.
The Bengals are well-known for not holding character concerns against any player, and that is part of the reason they have been so consistently terrible for the last 20 years.
Derek Anderson had a huge arm but he was terrible and only hopes he still can be a backup somewhere in 2011. I give Mallett only a 25 percent chance of success. He has "bust" written all over him.
For a look at the NFL Draft, check out our NFL Draft Hub.
This article is
What is the duplicate article?
Why is this article offensive?
Where is this article plagiarized from?
Why is this article poorly edited?
Christian Petersen/Getty Images
Blaine Gabbert Is Considered Ready To Start By Scouts
The competition to be the first quarterback taken in the draft is down to Blaine Gabbert and Cam Newton, unless some team pulls a swerve and takes Jake Locker.
Gabbert had a good senior season and impressed many people in all the pre-draft nonsense.
Profootballweekly noted how impressive his Pro Day was:
The most important development in Gabbert's game might have been in his footwork. He looked smooth dropping from center and displayed the athleticism he showed off at the Combine, when he ran a 4.62-second 40-yard dash and a 6.84-second three-cone drill. Gabbert only threw Thursday, choosing to stand on his Combine workout numbers.

Gabbert appeared cool and collected before and during the workout, unfazed by the impressive turnout of the who's who of NFL coaches and scouts.

"I talked to Coach Ryan, and he said, 'Have fun with it. Be a kid every day, and that's the only way you can go about your business because it's not going to last forever,' " he said.
Gabbert has a better chance of succeeding out of the gate because of his style of play. He is being called the most "NFL-ready" quarterback in the draft, and you have to pay attention to that kind of comment.
Gabbert has been criticized for being a "system" quarterback, but I do not buy into that criticism.
Gabbert gets an interesting critique on NFL Mocks:
Gabbert has average accuracy. It's truly nothing special, but it's not a real are of weakness for him. He does hit his receivers in stride, and most of his throws are pretty accurate. However, he really lacks accuracy when he is throwing on the run, and he throws an extremely inconsistent deep ball. He clearly isn't comfortable outside of a pocket environment.

Not everything about Gabbert is less than ideal, however.

Gabbert has good physical tools. He has nice height, solid bulk, and very good athleticism. He really added a lot of speed to his game in 2010. Gabbert showed a lot of mobility this year, especially toward the end of the year, getting 232 rushing yards in his final 6 games after getting a net 0 rushing yards in his first 7 games (remember, sacks count against a quarterback's rushing yard tally in college football).

Gabbert is a good decision maker. He doesn't usually force many throws, and rarely locks onto receivers, and he has enough knowledge of the game to look of corners and help his guys get open. He also seems very comfortable in a pocket environment. The one big issue with his decision making is that I usually see him hold onto the football way too long. However, he doesn't usually attract many sacks because he intentionally throws passes away when no receivers are open as much as any quarterback I have ever seen. Decision making is one of the best assets of his game.
If you have a quarterback who is a good decision-maker, it does not matter what "system" he works in, he will be successful. With that in mind, I give Gabbert a 75 percent chance of succeeding in the NFL.
For a look at the NFL Draft, check out our NFL Draft Hub.
This article is
What is the duplicate article?
Why is this article offensive?
Where is this article plagiarized from?
Why is this article poorly edited?
Kevin C. Cox/Getty Images
Dareus Broke Out As The Best Lineman At The Combine
Marcell Dareus was a consensus first-round pick going into the Combine, and then he wiped the floor with Nick Fairley.
Combine performances should be taken with a grain of salt, but if you are comparing performances against each other, Dareus "won" that race.
Fairley came out of the National Championship Game as a favorite to the No. 1 overall pick, but Dareus eclipsed him.
USA Today talked about Dareus in a recent draft piece:
Alabama DT Marcell Dareus gets the nod because of his versatility and his pedigree, having been coached in a pro-ready defense by former Miami Dolphins head coach Nick Saban.

Dareus is a 6-3, 309-pound beast with the strength, technique and strong hands to fight off double teams and collapse the pocket -- the quickest, most direct way to affect the quarterback.

Dareus' body of work projects him as the surer bet over Auburn defensive tackle Nick Fairley.
Fairley's performance was not bad, but it caused the scouts and general managers to go back and re-assess the film. Dareus' Combine performance showed the scouts what they saw on film was the real thing.
Dareus has all the skills you want in a defensive tackle and he will succeed at the pro level. Everyone was in a rush to proclaim Fairley the next "Ndamukong Suh," but Dareus has the best chance of grabbing that title.
I give Dareus a very good chance to succeed in the NFL, 90 percent.
For a look at the NFL Draft, check out our NFL Draft Hub.
This article is
What is the duplicate article?
Why is this article offensive?
Where is this article plagiarized from?
Why is this article poorly edited?
Joe Robbins/Getty Images
Locker Has Great Potential And The Talent To Realize It
Jake Locker had an uneven senior season, but another year in college may be what he needed to avoid a bust situation in the NFL.
Locker was considered a top prospect who could have been the No. 1 overall pick in this year's draft going into the 2010 season. Now, one year later, he is considered the third best quarterback in the draft.
According to Sports Illustrated:
Locker might be the year's most intriguing prospect. After the 6-foot-2½, 231-pounder announced he would return for his senior season last year, ESPN analyst Mel Kiper said it was "etched in stone" that Locker would be the No. 1 pick in the 2011 draft.

In hindsight, the comment was grossly unfair because scouts had yet to break down Locker's game. When they did, after his uneven senior season, they found issues with accuracy, pocket presence and read progressions. The question they're asking themselves now: is he a stud athlete who happens to play quarterback, or a quarterback who happens to be a stud athlete?

Sources contend that several teams are divided in their own buildings about him. Coaches tend to love Locker because of his intangibles -- he has a great work ethic, comes from a fine family and will never keep a team awake at night wondering what he's doing -- but scouts remove the emotion and look at things like mechanics, technique and Locker's 55.4 percent completion percentage in 2010, when he was hampered by a broken rib and inconsistent pass protection.
The intangibles are what sticks out. A guy who has had a stable background, does not get into trouble with the law, does not have a reputation for exercising a giant ego and can lead a team on the field is a guy you want on your team.
The mechanics can be fixed and his accuracy can be improved. Locker has a better chance of long-term success in the NFL than Cam Newton or Blaine Gabbert in my opinion.
Mike Lombardi of the NFL Network thinks Locker can be a starter in the NFL, as reported in this Seattle Times piece:
"At the end of the day for me, I think when you watch Jake Locker, he's a potential starter in the NFL," Lombardi said. "That's the most you can say at this point in his career. He's a potential starter."

Lombardi said that type of prospect is one he would target in the third or fourth round.

But where a player is chosen doesn't depend on the lowest appraisals. It's not even an average or a consensus of league opinions. It takes only one team to be convinced, and right now there are several on Locker's tail.
Locker is going to be a first-round pick. The only question is if he goes to the Vikings with the 12th pick, or if another team trades back up into the bottom of the first round to grab him.
I hive Locker a good chance to succeed, at least 60 percent.
For a look at the NFL Draft, check out our NFL Draft Hub.
This article is
What is the duplicate article?
Why is this article offensive?
Where is this article plagiarized from?
Why is this article poorly edited?
Ronald Martinez/Getty Images
The Panthers May Not Be The Best Home For Auburn QB
Cam Newton comes into the NFL with baggage. He is athletic but comes from a simplistic spread offense. He has shown great leadership but has some real off-field character baggage.
This is a quarterback you have to treat with kid gloves. Newton has all the tools to succeed, he just needs the right coach and the right environment in which to do so.
First, the negative from Pro Football Weekly:
Played in a simplified, run-first, dive-option read offense with very basic high-low reads. Worked exclusively out of the gun and was very quick to run at the first flash of coverage. Limited field vision — does not process the passing game. Inconsistent throwing mechanics with a flick delivery — generates all of his power from his upper-body strength and too often arms the ball. Streaky passer with spotty accuracy. Makes his receivers work hard and throws into coverage. Does not spin a tight spiral. Very disingenuous — has a fake smile, comes off as very scripted and has a selfish, me-first makeup. Always knows where the cameras are and plays to them. Has an enormous ego with a sense of entitlement that continually invites trouble and makes him believe he is above the law — does not command respect from teammates and always will struggle to win a locker room. Only a one-year producer. Lacks accountability, focus and trustworthiness — is not punctual, seeks shortcuts and sets a bad example. Immature and has had issues with authority. Not dependable.
To say his assessment is harsh would be an understatement. I have no idea how true any of those statements are, but I will allow Warren Moon to retort.
Moon is advising Newton, and had this to say in an ESPN article:
Moon said that all teams have to do is watch tape of Newton and spend time with the Heisman Trophy winner to know he's not "fake."

"You can't be fake and win a national championship," Moon told the website. "The players will see through it. He's won at every level. He took that Auburn team to the national title and that team wasn't as talented as some other teams in the SEC."
Newton has all the skills to be a successful quarterback in the NFL, but I am not sure the Panthers are the best destination for Newton.
Newton needs to stand on the sidelines in a ballcap and hold the clipboard his rookie year while learning the pro game. Moon tries to compare Newton to Sam Bradford, but that is a weak comparison. Bradford was light years ahead of Newton at this point last year.
The best destination for Newton actually would be Indianapolis where he would be in a great environment and there would be no pressure to start him behind Peyton Manning. Since that is not going to happen, Buffalo is a good spot since Ryan Fitzpatrick will be starting while Newton learns.
Whether any front office has the discipline to keep Newton off the field until he is ready is another argument. Rushing Newton along is a recipe for disaster.
If the Panthers draft Newton, I give him even odds of succeeding
For a look at the NFL Draft, check out our NFL Draft Hub.
This article is
What is the duplicate article?
Why is this article offensive?
Where is this article plagiarized from?
Why is this article poorly edited?