NFL Draft 2011, Mike Vrabel, Roger Goodell and Tuesday's Top NFL News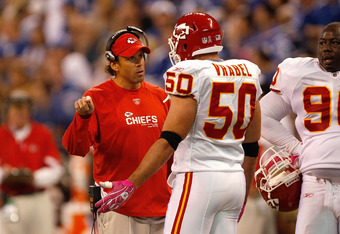 Scott Boehm/Getty Images
Mike Vrabel wants everyone to know that his arrest and charge of felony theft was a giant misunderstanding.
I know there probably is a reasonable explanation for this, but it is hysterically funny to think about the cops leading Vrabel away, saying, "Tell it to the judge."
We will get to Vrabel, and we will talk about Roger Goodell and whether or not the league actually turned down a chance to get back to the negotiating table.
The NFL draft is still looming, so we will mine that vein for all it's worth.
It's reached the point now, with the draft, where I just want to channel Boyd Crowder from Justified and yell "FIRE IN THE HOLE!"
If you do not get that reference, we have nothing further to speak about.
So, thanks for stopping by as we run down the day's headlines, with commentary, analysis and a little sense of humor.
Jonathan Daniel/Getty Images
Boy Returns Perry's Super Bowl Ring In Incredible Act of Kindness
William "The Refrigerator" Perry had a very good day recently. A 10-year old boy bought and returned Perry's Super Bowl ring to him.
Perry lost the ring at some point, but it is unclear if he sold it or lost it, according to the FOX report. All we do know is a boy did something few men would do.
The boy, Clifford Forrest, said Perry had to sell it to pay medical bills:
Forrest took $8,500 out of his college education fund to buy the Super Bowl XX ring that once belonged to Perry and then returned it to the Fridge on Saturday morning, according to the Chicago Sun-Times.

It just seemed like the right thing to do, Forrest told the newspaper.

"I Googled Mr. Perry and saw that he had a disease and had to sell it because of rough times," he said. "He only played in one Super Bowl. I thought he would want it more than I did."
This is about as "Feel Good" as a story gets. Forrest raided his own college fund to get this ring back to Perry. Most kids would not do that. Or at the very least, their parents absolutely would not let their kids raid the college fund.
Forrest has a bright future ahead of him if he already is making these kinds of altruistic gestures before he even hits puberty.
It is a shame Perry lost his ring in the first place, but the silver lining to the story is we discovered there is another truly good person in the world in Forrest.
For a look at the NFL Draft, check out our NFL Draft Hub.
This article is
What is the duplicate article?
Why is this article offensive?
Where is this article plagiarized from?
Why is this article poorly edited?
Jim McIsaac/Getty Images
The Kevin Kolb Trade Debate Continues While Lockout Goes On
Kevin Kolb is a member of the Philadelphia Eagles until further notice. Once normal business resumes, all bets are off.
There is a good debate over Kolb's future and whether the Eagles should trade Kolb while the market is hot, or keep him as insurance should Michael Vick get injured.
ESPN's John Clayton takes up the debate with the idea to trade him:
While it seems unlikely the Eagles can get a first-round pick in 2011 because the time is running out to get a CBA done before the draft, a first-round pick in 2012 still works. Kolb is a free agent after 2011 and surely won't sign an extension as long as Vick is the starter.

It would be better to take a first-rounder in 2012 instead of getting a third-round compensatory pick in 2013. Under the old compensatory formula, a team that loses a free agent could gain a third-rounder if that free agent gets big money and plays well for another team. Kolb could be the top free agent in 2012 because he's a potential starting quarterback. Plus, there is no guarantee the league will even have compensatory picks in the next CBA. What do the Eagles have to lose?
I agree with Clayton's line of thought. There is no guarantee Vick is going to get injured in 2011, and even if he does, the Eagles will end up losing Kolb and getting nothing better than a third-round pick. If the market is hot, take advantage of it and find another backup you can count on.
Mike Tanier of Football Outsider takes the "keep him" stance in the same ESPN article:
A team with Super Bowl aspirations can't afford to be without a Plan B at quarterback, especially when Plan A is an undersized 31-year-old scrambler coming off a season of rib and quad injuries. If they trade Kolb, the Eagles will enter camp with former sixth-round pick Mike Kafka and a rookie or free agent to be named as Vick's backups. Neither the rookie nor the veteran would have a full offseason to learn Andy Reid's complex system. Kolb? He'll be entering his fifth year in the same offense.

Sure, those other teams reached the playoffs without backups of Kolb's quality, but there were lots of close calls. The Chiefs lost an important game by a 31-0 score under Brodie Croyle. Flynn played well for the Packers in a loss to the Patriots, but took most of the snaps in a 7-3 loss to the Lions.
Tanier makes some good points but overlooks a critical point: It is the job of the front office to find quality backups. The Chiefs have not done that. The Packers did find a good backup as once Flynn had a week of full practice, he performed just fine.
A backup does not need to be a franchise quarterback, he just needs to be able to move the offense and give the team a chance to win until the starter comes back. If the backup excels, then the team has a good problem on their hands, just ask the Eagles.
For a look at the NFL Draft, check out our NFL Draft Hub.
This article is
What is the duplicate article?
Why is this article offensive?
Where is this article plagiarized from?
Why is this article poorly edited?
Joe Robbins/Getty Images
Ayers Would Not Have Far To Move If He Stays In AFC West
Akeem Ayers is a west coast guy, and if the stars align, he could stay a west coast guy.
ESPN is reporting the San Diego Chargers, Denver Broncos and Kansas City Chiefs all have taken a look at the prospect out of UCLA:
Ayers is expected to be drafted in the second half of the first round. Ayers was a second-team All-American and a Butkus Award finalist. He had four sacks and 10 tackles for loss last season.

Ayers is a versatile player who can play in both 4-3 and 3-4 defenses. Denver is transitioning to a 4-3 and Kansas City and San Diego use 3-4 defenses.

Denver has the No. 2 and No. 36 picks in the draft, while San Diego has the No. 18 pick and Kansas City owns the No. 21 selection.
Ayers would be a great fit in Denver if he lasts until the second round. Assuming the Broncos draft a defensive tackle like Marcell Dareus or Nick Fairley with the second pick, Ayers then would give the Broncos a double shot of youth and speed to shake things up.
The Chiefs are the most likely home for Ayers as things look right now. The Chiefs pick in the range he is projected to go and the Chiefs have a need for him.
With only a few weeks to the draft, teams pretty much have their boards set and are doing the last few bits of due diligence before the big day.
Ayers does not have any big red flags and would go much higher if there were not so many teams who need big defensive tackles, cornerbacks and quarterbacks.
For a look at the NFL Draft, check out our NFL Draft Hub.
This article is
What is the duplicate article?
Why is this article offensive?
Where is this article plagiarized from?
Why is this article poorly edited?
Tom Pennington/Getty Images
Character Issues Are Legitimate Ones In Draft
Cam Newton has been getting a lot of heat for his character issues. He has had off-field issues and there is a concern this could affect his development as a starting quarterback in the NFL.
People like Warren Moon, who has been advising Newton, take issue with the negative assessments and yell and scream to whoever will listen how unfair it is. Or in the case of Newton, Moon plays the race card.
Enter Peter King of Sports Illustrated:
I think there's a reason we in the media make a big deal about reports of off-field problem of prospective draftees. Two reasons, actually. Aqib Talib and Dez Bryant. We don't know yet if Talib struck a man with a gun and then fired a gun at the same man last month. We don't know yet if Bryant owes money to half the jewelers in Dallas. But there's smoke around each guy now, and each had smoke around them approaching the draft when they came out.

Have we been too judgmental on Cam Newton and Jimmy Smith (the Colorado cornerback with the pockmarked résumé) and others? Perhaps. I don't know many times I've said this in the past few years, especially when a player or agent gets angry about how the prospect is being portrayed in the media, but in the vast majority of cases we're reporting what teams think of these players. Most times those thoughts are accurate. Sometimes they're not. But we don't report them to assassinate players. We're trying to give as accurate a picture as we can into the process you're so interested in.
Dez Bryant had red flags around him. Those red flags are getting a lot of use in the last few weeks as Bryant keeps finding himself named in lawsuits from various jewelry stores.
How bad is Bryant? Mike Florio of Profootballtalk.com has a whole interview segment about Bryant's personal troubles:
(Jean-Jacques) Taylor (Of the Dallas Morning News) has a friendship with David Wells, who serves as Bryant's adviser. And Taylor suggested that Bryant isn't listening to Wells. And Taylor said that Wells is reluctant to quit his position because Bryant has legitimate concerns regarding abandonment. . .

Among other things, Taylor explained that, in 2010, Wells arranged for someone to pick Bryant up and get him to work on time.
Let me put it in simple terms: If you need someone to babysit a grown adult who is not mentally handicapped, you have problems and probably should not be a wide receiver in the NFL.
But back to Newton, he had his issues with the laptop debacle, what he did or did not know regarding the "pay to play" scandal and his delusions of grandeur at the Combine.
Like King said, where there is smoke, there is fire, and that is why Newton is getting raked over the coals.
For a look at the NFL Draft, check out our NFL Draft Hub.
This article is
What is the duplicate article?
Why is this article offensive?
Where is this article plagiarized from?
Why is this article poorly edited?
Joe Robbins/Getty Images
Steelers Need Offensive Linemen, But Corner Could Be Best Value
The Pittsburgh Steelers two big draft needs are an offensive lineman and a cornerback. However, drafting 31st may mean the top value offensive linemen may be off the board.
So the next logical position to draft for would be cornerback as Bryant McFadden just is not getting the job done.
So who do the Steelers draft?
Aaron Williams has been mentioned in some mocks, but Profootballtalk.com is cautioning the reputation of Texas players has been hurt recently:
Pittsburgh drafted two player from Texas in 2008 — wideout Limas Sweed and tackle Tony Hillis. Both have been disappointments. While Casey Hampton has been a stalwart in Pittsburgh, he came from a different era in the Texas program.
There are other cornerbacks out there, so Williams is not the only option. While the best cornerbacks like Patrick Peterson and Prince Amukamara will be gone by the 31st pick, the Steelers have plenty of options to choose from in the "second tier" of talent, assuming they do not trade up.
The Sporting News has an interesting take on the situation:
While we do not believe the Steelers will "reach" to fill a need, we believe that two of the Steelers' biggest needs are the OL and DL and because of the talent at those positions there will be a quality players available when they pick. The Steelers' defensive line is getting older and could use an injection of youth, so players like Cameron Heyward or JJ Watt would be good fits at DE at No. 31, or NT Phil Taylor could be the long term replacement for NT Casey Hampton. If they choose to go OL they could choose between Watkins, Pouncey or Penn State center Stefen Wisniewski.
This is an interesting take on the situation because J.J. Watt is not likely to still be on the board at 31 and the Steelers drafted a center last year. His name is Maurkice Pouncey, you might have heard of him.
Wisniewski could be drafted just to move to right guard, but the Steelers typically do not make moves like that with their first-round picks.
Heyward would be a good pick if he still is on the board, but the Steelers should be doing everything they can to get Mike Pouncey and reunite the brothers. It would help create a solid core for the line and keep Ben Roethlisberger from having to scramble so much.
For a look at the NFL Draft, check out our NFL Draft Hub.
This article is
What is the duplicate article?
Why is this article offensive?
Where is this article plagiarized from?
Why is this article poorly edited?
Stephen Dunn/Getty Images
Andy Dalton Works Out With Colts, Projected To Go High
The Indianapolis Colts do not need a new starting quarterback this year, but that does not mean they should not be looking to the future.
While Manning technically is a free agent, there is little doubt he will be signing a new contract with the Colts. With that in mind, he is 35 years old. It is time for the Colts to look for a successor.
Profootballtalk.com points to a similar situation in Green Bay a few years ago:
Most mock drafts have Dalton going somewhere in the first half of the second round, which would mean that if the Colts are serious about him, they might have to take him with their first-round pick. I'd love to see the look on Manning's face if Roger Goodell steps up to the podium on draft day and announces that the Colts have selected a quarterback with their first-round pick. I imagine Manning's face would look a lot like it looked when Caldwell called his ill-fated timeout in the final minute of the Colts' playoff loss to the Jets. . .

But while Manning likely wouldn't be thrilled, if the Colts think Dalton is a future star, they should draft him. Manning is 35 years old. When the Packers drafted Aaron Rodgers, Brett Favre was 35 years old. That decision caused the Packers plenty of rocky moments, but it ultimately turned out to be a very wise choice.
Even if the Colts are not looking to groom a successor yet, they still need to upgrade the backup position. Curtis Painter just is not a viable option to lead the team to the playoffs.
The Colts have to stay ahead of the problem, and Manning should be professional enough to realize what the realities are.
Dalton started four years at TCU and finished with a 42-7 record. He passed for 10,314 yards and 71 touchdowns in that time. While past success is no guarantee of future success, you can not look past the win/loss record.
Dalton knows how to win, and the rest is just a matter of coaching him up to the pro level.
While Favre may have been pushed out a year or two too early, the Packers obviously do not regret moving on without him.
At some point, the Colts are going to have to move on from Manning. Everyone hopes Manning handles the pitfalls of age better than Favre did.
For a look at the NFL Draft, check out our NFL Draft Hub
This article is
What is the duplicate article?
Why is this article offensive?
Where is this article plagiarized from?
Why is this article poorly edited?
Jeff Zelevansky/Getty Images
The Carson Palmer Drama Still Waits For An Ending
Kevin Kolb's popularity continues to grow as the Cincinnati Bengals now are officially rumored to have an interest in Kolb.
To be fair, it is not like this is any kind of surprise. If the Bengals had not been talking about Kolb, Donovan McNabb, Vince Young and a handful of other veterans, the front office would be even more stupid than I already think they are.
Per Adam Schefter on his Twitter:
Add Bengals to list of teams interested in Kevin Kolb. Connect dots: Bengals WR coach is James Urban, who was Eagles QB coach last year.
The Bengals are at the mercy of their owner, Mike Brown. Brown is the son of legendary coach Paul Brown, but he seems to not have inherited any of his father's intelligence. Brown takes pride in making bad decisions, the kind of bad decisions everyone can see is bad from a mile away yet he does it anyway.
Browns regularly cuts off his nose to spite his face, and he is making a similar move with Carson Palmer's retirement threat. Instead of heeding the warning signs, Brown is blindly moving forward proclaiming Palmer will be back.
In this giant game of chicken, who believes the Bengals will come out the winners?
Kolb is getting a lot of interest and the Eagles will be demanding top dollar for him. Brown is a notoriously cheap owner who already has been burnt several times by top draft picks. Whether by injury or not doing the homework, the Bengals do not have a good track record with top-round draft picks.
Kolb is getting interest from the NFC West, so the bidding war could leave the Bengals in the dust. If the Bengals do not draft a quarterback high in this year's draft, we could be seeing Jordan Palmer or Dan LeFevour behind center.
Who knows? Maybe LeFevour is a star waiting to be found?
For a look at the NFL Draft, check out our NFL Draft Hub.
This article is
What is the duplicate article?
Why is this article offensive?
Where is this article plagiarized from?
Why is this article poorly edited?
Christian Petersen/Getty Images
Despite Wave of Negativity, Moon Sees Newton Going First In Draft
Cam Newton either is the second-coming of Warren Moon, or he is the worst quarterback ever to be considered for the first overall pick. Newton has polarized the analysts, and the debate rages on.
Moon, Newton's adviser, still believes Newton is the best quarterback in the draft and will be taken by the Carolina Panthers, according to USA Today:
"Ron Rivera came and watched him practice the day before his pro day as Cam was going through his routine for the pro day and said, 'I've seen all I need to see as far as him throwing a football. I'm already convinced there. We just need to talk to him more about who he is and get to know him a little bit better,''' Moon said.

"The Panthers had a great meeting with him over dinner that night.

"I think they came away very impressed with the kid. It's just a matter of whether they want to go defense or offense. If they go quarterback, it'll be Cam.''
There is nothing in Moon's statements that are not true. Teams have seen the tape, had the workouts and know everything they need to know about Newton the player. The questions are how fast can Newton develop and how big are the off-field issues?
The major debate on Newton has not changed, it has gotten more vitriolic in the past few weeks, but the core of the argument has not shifted.
I have said from the moment I finished my evaluation of Newton that I believe he can be a very successful quarterback in the NFL, but he has to be developed and brought along properly. He has to be put in the right situation and he should not see the field his rookie year.
If Newton is put in a situation where there is little discipline and the coach and/or front office panics and throws him as the starter right away, Newton will crumble.
That is my opinion, and I am sticking to it. That being said, the only opinion that matters at this point is the Panthers.
For a look at the NFL Draft, check out our NFL Draft Hub.
This article is
What is the duplicate article?
Why is this article offensive?
Where is this article plagiarized from?
Why is this article poorly edited?
Sean Gardner/Getty Images
Goodell Becomes The Focal Point of Labor Problems
NFL Commissioner Roger Goodell definitely is underpaid for what his job entails.
By taking a pay cut to $1, Goodell now has as big of a stake in things as the players. He still is in a no-win situation because the players consider him the enemy. Goodell is the one who punishes the players during the season and he now is the one who speaks on behalf of the owners.
Goodell is the man in the middle, and the burden of finding a way to get both sides back to the table ultimately falls on his shoulders, not the courts. The courts may end up making a decision forcing the two sides back together, but it is Goodell who will be sitting at that table trying to make it work.
If the owners win the court battles, then Goodell will be under pressure by the owners to get the best deal possible. If the players win the court battles, Goodell will be under pressure by the players to give up as much as possible to prevent more litigation.
So far, Goodell has tried to play the politician, and he is doing okay, as this post on Profootballtalk.com shows:
We are certainly planning on having a full season," Goodell said. "That's our objective and we're going to work as hard as we can to make that become a reality."

Calling the labor dispute the primary focus of the owners' meeting, Goodell said the owners believe a deal can and should get done before it would risk shortening or even canceling the season.

"The owners want to play a full season," Goodell said. "I think the players want to play a full season and I know our fans do."
Goodell also has sent letters out to players current and former, and the letter to the players was received about as well as a crack dealer at the dinner table.
Then there was the story yesterday the owners refused a request from the players to return to the negotiating table, which the league denied to PFT:
"No such proposal was made by players or a player representative," NFL spokesman Greg Aiello told PFT via e-mail. "We are interested in negotiating a collective bargaining agreement. We wanted to continue negotiations at the federal mediation office based on our March 11 proposal, but the union walked away from negotiations and filed a lawsuit. We are not interested in discussing a litigation settlement. We are prepared to continue negotiations immediately over the terms of a new collective bargaining agreement and communicated that to the NFLPA two weeks ago."

The key phrase there is the league is "not interested in discussing a litigation settlement." The owners have no interest in settling this in court and the players know it. It is a PR move by the players to get sympathy, but the fact remains the players walked away from the negotiating table so they could sue the owners.
Any attempt by any player to spin this any other way is just misrepresenting the facts.
For a look at the NFL Draft, check out our NFL Draft Hub.
This article is
What is the duplicate article?
Why is this article offensive?
Where is this article plagiarized from?
Why is this article poorly edited?
Kevin C. Cox/Getty Images
Vrabel Not Helping The Situation With Casino Incident
Every state has weird laws. Do a check on any of the major search engines and you will find archived articles about every state and really strange laws that still are on the books.
Chiefs linebacker Mike Vrabel ran afoul of one of those strange laws this week when he was charged with felony theft in Indiana. In Indiana, stealing a box of tissues is considered a felony theft, so now you have to take the term "felony" with a grain of salt.
Then we find out the theft happened in a casino, and you get a headline that reads "Vrabel Auditions For Oceans 14."
I really wish I would have come up with that headline. That is a good one.
The good people at KMBC in Kansas City found out a little more on this story:
KMBC 9 News learned that the incident involved bottles of alcohol taken from a casino eatery.
This is really depressing and funny at the same time. It is depressing because I really wanted to see a security video of Vrabel drunkenly running for the door with an armload of chips like in that one scene in the movie "Casino."
It is funny because eight bottles of beer means Vrabel grabbed some beer and did not realize he had to pay for it at that particular location in the casino and it somehow escalated into an arrest.
Profootballtalk.com pretty much came to the same conclusion:
Either way, free booze flows like spring water in most casinos, since it serves as the ultimate WD-40 for the hinge of a wallet. We'd therefore be surprised if the owners of the casino decide to pursue the matter.
The answer to the question of "Will they pursue the matter?" is no. The Casino has better things to do with their time than pursue charges against a guy who did not realize he had to pay for eight bottles of beer at a certain location.
I can guarantee Vrabel thought one of two things: They were comps, or they would go on his bill.
I would not be surprised if this happens a couple of times a year and the defendant pays for the merchandise and the charges are dropped.
I still want to see Joe Pesci put Vrabel's head in a vice and scream, "Don't make me do it!"
For a look at the NFL Draft, check out our NFL Draft Hub.
This article is
What is the duplicate article?
Why is this article offensive?
Where is this article plagiarized from?
Why is this article poorly edited?