Philadelphia Flyers: 11 Reasons They're the Playoff Favorites in the East
Paul Bereswill/Getty Images
The Philadelphia Flyers have been one of the best teams in the Eastern Conference this year, and at times they sat in first place overall.
Although Philadelphia has been in a bit of a slump as of late, there is no reason to count the Flyers out to make a return to the Stanley Cup Final.
In this slideshow, I will list 11 reasons why I think the Philadelphia Flyers are the playoff favorites in the East, and hopefully give some insight on why they are the team to beat. I hope you enjoy.
1. Depth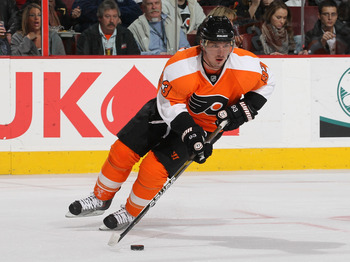 Al Bello/Getty Images
Some people seem to have forgotten the depth that the Philadelphia Flyers possess. It isn't exactly a bad thing when you have guys like Nikolay Zherdev and Andreas Nodl as healthy scratches. Granted they might not be the biggest game changers, but their talent is unquestionable.
The Philadelphia Flyers have more depth than just about any other team in the league, and there is always somebody on their roster who can step up and carry the workload. The Flyers have battled through injuries a few times this year, losing guys like Chris Pronger and Blair Betts. Even with these effective players out of the lineup, the Flyers are still able to maintain a nice playoff seed.
Paul Holmgren made it priority to upgrade the defense over the offseason, and he still hasn't stopped. Since last year, Holmgren has brought in Andrej Meszaros, Sean O'Donnell and Nick Boynton. That will pay dividends when the playoffs finally begin.
2. Versatility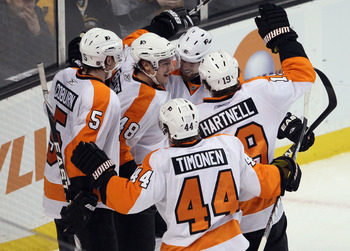 Elsa/Getty Images
The Flyers have this never-say-die attitude about them. Yes, it's easy to pick them apart right now with their recent slump, but the fact is they have still been picking up points, which is all that really matters.
It's almost like Philadelphia plays better when the chips are down. I can't be the only one who's noticed this. If you don't know what I'm talking about, go watch the playoff series against Boston from last year or the Washington game from last week.
The Flyers can be streaky, but for the most part they have been very consistent this year. With additions like Kris Versteeg and Nikolay Zherdev, the Flyers are much more dangerous than last year.
3. Goaltending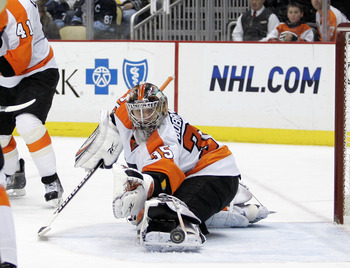 Justin K. Aller/Getty Images
Last year, the Flyers went with the Boucher/Leighton tandem after Ray Emery's season was over, and it worked out fairly well...until the Finals.
This year, the Flyers have a new face between the pipes, and his name is Sergei Bobrovsky. He's younger, quicker and sometimes it seems as though he's made of elastic the way he can stretch. Although Bobrovsky lacks NHL experience, he has shown great promise. The Bobrovsky/Boucher tandem has worked out well for the most part this year, and I certainly believe it to be an upgrade.
People who don't like Sergei Bobrovsky, lay off a little. He's still a rookie and he will inevitably let in weak goals sometimes—it happens. I don't think Bobrovsky would have blown that save on Patrick Kane, though. Just saying...
4. Offense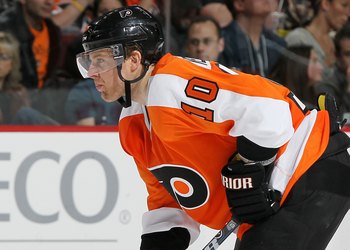 Jim McIsaac/Getty Images
The Flyers have seven players with 20 or more goals, eight if you count Ville Leino (he has 19). If Nikolay Zherdev would have played more games, he would probably be past the 20 goal mark by now.
Adding Kris Versteeg was probably one of the best players they could have acquired offensively. He's netted several goals in his short time with Philly, and he knows what it takes to win. After all, he did just win the Stanley Cup.
I still don't agree with the Flyers decision to scratch Zherdev, but I am happy that they have been giving him more playing time recently, and he's continuing to score goals. I think you may see more of Zherdev in the playoffs than you think.
5. Defense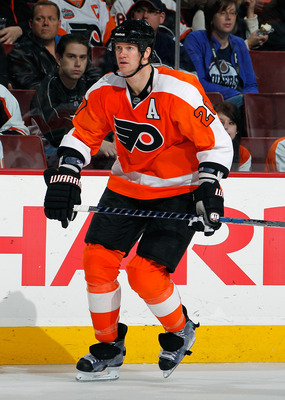 Paul Bereswill/Getty Images
Remember the guy in this picture? Of course you do. It's Chris Pronger. You know, former Stanley Cup champion and Hart Trophy winner?
Unfortunately, some people in Philadelphia have forgotten about him already. Because of the recent losses, some have already jumped ship. Relax, Philly. The Flyers will be fine.
The Flyers boast quite possibly the best defense in the league: Timonen, Meszaros, Coburn, Pronger, O'Donnell, Carle, Boynton, etc. Chris Pronger will be back for the playoffs, and things will return to normal.
All these guys want a Stanley Cup, and after coming so close last year, they are hungrier than ever. These guys want to win, and if they do their job, it will pay off eventually.
6. Experience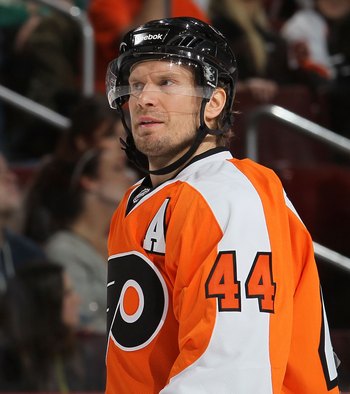 Jim McIsaac/Getty Images
There aren't many guys on this team that don't have playoff experience. Even some of the younger players on the team have experience, even if it was just from last year.
My point is, all these guys know what it takes to get it done. The Flyers battled their way through the playoffs last year and almost won it all. This year, they are in a much better position to continue their success.
Guys like Kimmo Timonen and Chris Pronger are a big part of the Flyers' success, and they both have the experience and skill to take their team through a deep playoff run.
7. Recent Success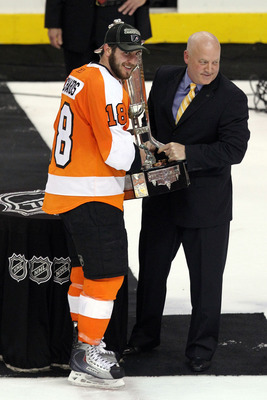 Bruce Bennett/Getty Images
It wasn't that long ago that the Philadelphia Flyers almost took home the Cup. After all, they are the defending Eastern Conference champions.
Philadelphia had a great run last year, and even though they couldn't bring home the Cup, they still brought something back that is just as important—hope. The Flyers showed that they can overcome adversity and pull through when they need to most, and that is something that can be very dangerous to opposing teams.
The Flyers have corrected their mistakes and have positioned themselves perfectly to make another deep playoff run. All they have to do now is execute their plan.
8. Peter Laviolette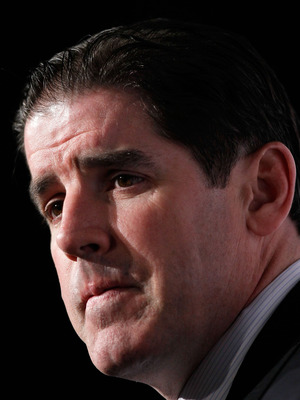 Kevin C. Cox/Getty Images
Peter Laviolette has done so much for this organization in such a short period of time. He came to the Flyers last year after Paul Holmgren fired John Stevens and completely turned the team around.
In one, single season as head coach, he brought Philadelphia to the Stanley Cup Final. He wasn't even coach a full season. Peter can be seen on TV or at the game giving his players hell, something that not many people got to see with John Stevens. He hates to lose.
All in all, Peter Laviolette is a great coach, and I enjoy his approach to the game. I think with another full year under his belt, he has helped this team even more. Maybe enough to win it big this year.
9. Emergence of Young Talent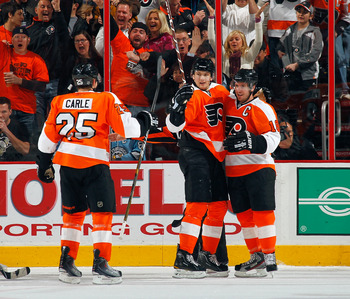 Lou Capozzola/Getty Images
With guys like James van Reimsdyk and Andreas Nodl proving their worth in the lineup, it makes for a real solid team.
James has been on fire as of late and just recently recorded his first career hat trick. If he can keep up this level of play in the playoffs, the Flyers will be tough to beat.
Although Andreas Nodl has been a healthy scratch on and off, he is still a valuable asset to the club and can fill any void that the Flyers may experience in the playoffs.
Don't count out young guys like Kris Versteeg or Nikolay Zherdev either, who only add even more offensive depth.
10. Consistency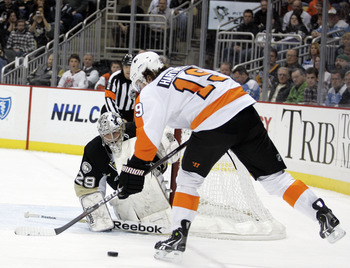 Justin K. Aller/Getty Images
The Flyers have fallen into a slump recently, but even with the losses they have encountered, they still sit in first place in the Eastern Conference. Unfortunately, the Flyers are currently sharing that spot with the Washington Capitals right now.
Nevertheless, the Flyers held a No. 1 spot in the conference for a majority of the year and were even first overall at some points. If one thing has changed from last year, it is most certainly consistency.
Even with the recent string of losses, Philly has still managed to obtain points. Right now, that's all that matters. With three games left for Philadelphia, we will shortly see who sits atop the Eastern Conference.
11. Fans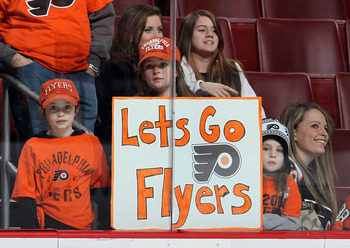 Jim McIsaac/Getty Images
The Philadelphia Flyers are beloved in Philly. There's no question that Philadelphia fans are some of the most loyal, dedicated and crazy. That's what makes a Philly fan, a Philly fan. Yeah, we threw snowballs at Santa Claus, and we'll probably do it again.
Philadelphia doesn't have fans like other teams do. Opposing teams are intimidated just to step into the building. Many players have been open about not liking to play in Philadelphia.
Fact of the matter is, as much as other fans hate Philadelphia fans, we're not going anywhere. Chances are, we're at your home game, wearing a Flyers, Phillies or Eagles jersey.
Keep Reading

Philadelphia Flyers: Like this team?