Arizona Cardinals: 7 Round Mock Draft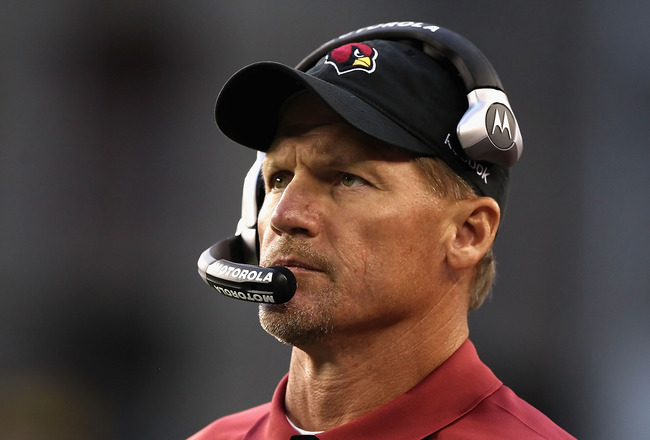 Christian Petersen/Getty Images
The Arizona Cardinals have many needs in this upcoming draft and, due to the lockout, don't have a free-agency period to fill their biggest needs.
There's no question the Cardinals desperately need a quarterback, although they also have needs a offensive line, wide receiver, linebacker, and cornerback.
Here is a full Cardinals mock draft.
First Round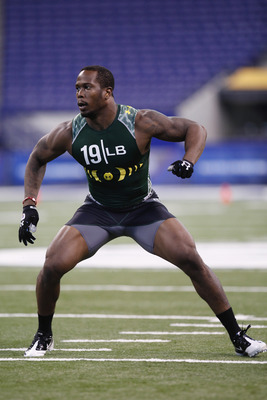 Joe Robbins/Getty Images
Von Miller: Texas A&M OLB
Many Cardinals fans would like to see Cam Newton or Blaine Gabbert selected with this pick. However, I feel that neither of them will be available when the Cardinals pick.
When running a 3-4 defense, you need a good corps of outside linebackers. The Cardinals had arguably the worst group in the league last season.
There is reason for optimism with young OLB O'Brien Schofield. In two starts in the final two games last season, he recorded two sacks, and provided an endless motor on every snap.
Team him with Miller, and second year inside linebacker Daryl Washington, and you could have a feared group of LB's for a long time.
Other Possibilities:
Patrick Peterson
A.J. Green
Blaine Gabbert/Cam Newton (If Available)
Second Round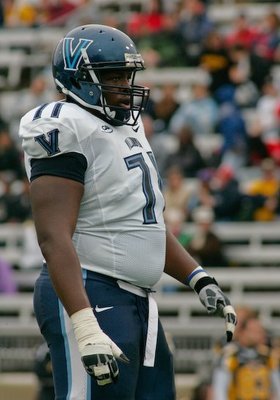 Ben Ijalana: Villanova OT
Offensive line was another one of the biggest weaknesses for the Cards in 2010. Drafting Ijalanato be their left tackle of the future would help the line immensely.
Drafting Ijalana would allow Levi Brown to move to his natural position in right tackle. If Alan Faneca retires, Brown could also move to guard, where his skill set would be more naturally fitted.
Ijalana would bring an immediate boost in the run game, which will be a key factor in the Cardinals 2011 season (if there is one). Beanie Wells is due for a breakout season, and having a new, young offensive tackle to help out with the blocking.
Other Possibilities:
Martez Wilson
Christian Ponder
Kyle Rudolph
Third Round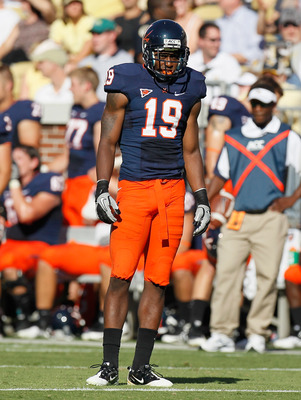 Kevin C. Cox/Getty Images
Ras-I Dowling: Virginia CB
The Cardinals need a cornerback across from Dominique Rodgers-Cromartie. Greg Toler showed signs of being that guy last season, but you can't pass on Dowling in the third round if your the Cardinals.
The Cardinals could potentially take Patrick Peterson in the first round, but i like the combination of Von Miller and Dowling over Peterson and an OLB in the third round. With improved pass rush and progressing cornerbacks, the Cardinals could potentially have a top defense in the league.
Linebacker and offensive line is the biggest need for the Cardinals, but they could get their second corner across from DRC in the third round.
Other Possibilities:
Kelvin Sheppard
James Carpenter
Curtis Brown
Fourth Round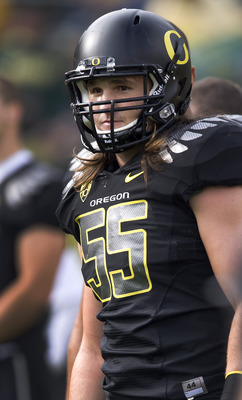 Steve Dykes/Getty Images
Casey Matthews: Oregon ILB
Linebacker was clearly the Cardinals weakest spot last year, and they are going to improve that immensely in this draft. With starters Daryl Washington and O'Brien Schofield each under 25, and potential first round draft pick Von Miller, the Cardinals could have the best young linebacker corps in the league.
With Casey Matthews, the Cards would get a player with a relentless motor, that could lock down their middle linebacker position for many years to come. Not to mention his brother is Clay Matthews.
Casey Matthews alongside Darly Washington would give the Cardinals a formidable inside linebacker combo that is also young, and could strike fear into opposing running backs and quarterbacks.
Other Possibilities:
Nate Irving
Austin Pettis
John Moffitt
Fifth Round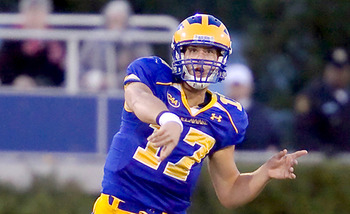 Pat Devlin: Delaware QB
We all known that the Cardinals QB situation was one of the worst in the league last season. Anyone who thinks John Skelton is ready for the NFL next season, is crazy. He is at least 2 years away from being a productive starting QB in the NFL. He has the tools, but he needs to work on the mental aspect of the game to be a legitimate starter.
The Cardinals need to be careful with their QB situation, because not finding a good QB in the next few years could mean their All-Pro receiver Larry Fitzgerald could be on the way out of Arizona. His contract is up after the season anyways.
Many people may be surprised i put Devlin this high, but Ben Roethlisberger and Joe Flacco have lead their teams to success from mid-major schools. In Roethlisberger's case, three Super Bowl appearances, with two wins.
Other Possibilities:
Ricky Stanzi
Ricky Elmore
Nathan Enderle
Sixth Round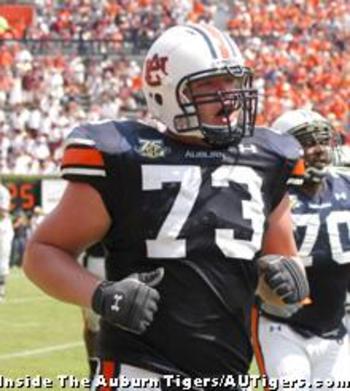 Lee Ziemba: Auburn OL
The Cards get more much-needed offensive line help with this pick. Depth on the O-line is something every team needs. Coming from Auburn, Ziemba has played the best competition in college football and won a National Championship doing it.
There's no guarantee about anyone on the Cardinals offensive line, and this pick would give them depth in case of an injury, or if someone doesn't resign in the off-season.
Ziemba could be ready to start if needed on day-one due to the fact that he went up against NFL-size defensive lines while playing in the SEC. If the Cards decide to take Cam Newton in the first round, he would be familiar with how Newton plays, and how to compliment his play-style.
Other Possibilities:
Derek Hall
Eric Hagg
Ronald Johnson
Sixth Round (Second Pick)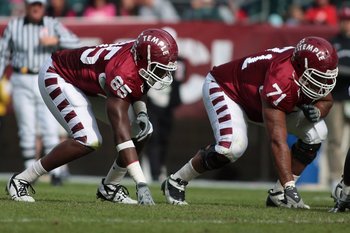 Darius Morris: Temple OL
Beanie Wells and Tim Hightower will smile when they see the Cardinals going O-line happy in this draft. Other than QB, it was easily the Cardinals weak point in the 2010 season.
Drafting these late lineman can be hit or miss, and the Cards will hope both Ziemba and Morris can be starters for them down the road. Team them with Levi Brown (at RT), Ijalana and another and you have a pretty good line.
Before you get a QB, you need a solid line to keep that QB on his legs. So it makes sense that the Cards will look to grab a couple lineman in this draft, along with solving their QB problem.
Other Possibilities:
T.J. Yates
Greg Lloyd
Willie Smith
Seventh Round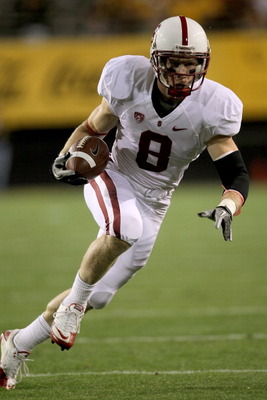 Stephen Dunn/Getty Images
Ryan Whalen: Stanford WR
With the uncertainty surrounding Steve Breaston's return to the team, a late-round wide receiver is a necessity in this draft for the Cards. I know the fans don't want to go into 2011 with Andre Roberts and Max Komar as the 3rd and 4th receivers on the team.
Ryan Whalen caught passes from Andrew Luck last season (he's probably better than anyone the Cards have on the roster), so he knows how to play with a superstar quarterback, and be successful alongside that QB.
The Cards could look at WR earlier in the draft, but there are other needs that must be filled with those picks. If they decide to go that route, I think they grab Austin Pettis in the 4th round, and get another linebacker in the later rounds.
Other Possibilities:
Armon Binns
Jerrel Jernigan
Eric Gordon
Keep Reading

Arizona Cardinals: Like this team?