Dennis Rodman, Minnesota Twins, Masters 2011 and Monday's Late Sports Stories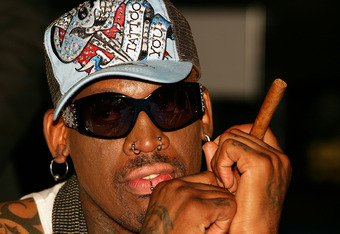 Matt King/Getty Images
Dennis Rodman, the Minnesota Twins and the 2011 Masters are just three of the biggest sports terms buzzing around on the Internet today.
Dennis "The Worm" Rodman just went through a very emotional jersey retirement ceremony in Detroit, where he revealed that he just got the nod from the Hall of Fame.
The MInnesota Twins are gearing up for an early-season showdown against the Bronx Bombers in New York. So far, they've posted a 1-2 record and still need to show that they have what it takes to repeat as AL Central champs.
Last year, the Yankees swept the Twins in their AL division series. Now, the Twins will need to show more fight in their four-game set.
In other news, we've got the 2011 Masters and a little game called the NCAA basketball national championships.
With Phil Mickelson coming away with a Houston Open win last week, there are some interesting storylines to discuss.
Could we see Tiger pick up his game now that his rival Mickelson has finally rebounded from a year-and-half-long slump?
Or will Lefty finally surge to the top as the world's best golfer while Tiger continues to fall into the depths of mediocrity.
For all the latest sports news and talk, stay right here.
We'll be posting updates all day, including more thoughts on the UConn vs. Butler showdown.
Enjoy!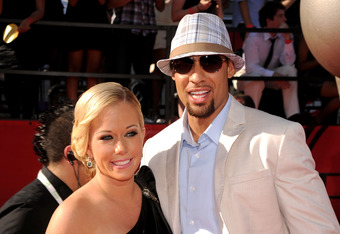 Kendra Wilkinson Touches on Love Story with Hank Baskett
Former Playboy Playmate, Kendra Wilkinson, told "Dancing with the Stars" viewers that her romance with NFL-player husband Hank Baskett received a lot of criticism early on.
It was from that criticism, however, that Kendra drew inspiration for her next dance on the ABC hit reality show. Her song choice for Monday's appearance was Musiq Soulchild's "You and Me Against The World."
According to Kendra, many fans and people from Hank's hometown objected to his relationship with a Playboy Playmate when news first broke that the couple was dating. In fact, people from Baskett's hometown took down a billboard that honored the journeyman NFL wide receiver as a form of protest against Kendra.
But they ignored their critics and let nothing stand in the way for their love for one another.
Since their relationship first started, Kendra has turned into a much bigger star than Baskett has been in the NFL.
Baskett has played limited minutes for the Philadelphia Eagles, Indianapolis Colts and Minnesota Vikings over the past two seasons. And he may not even find himself with a job next season because of his lack of success on the field and an NFL lockout going on.
Now Kendra fans are probably thinking: "She could have done so much better!"
This article is
What is the duplicate article?
Why is this article offensive?
Where is this article plagiarized from?
Why is this article poorly edited?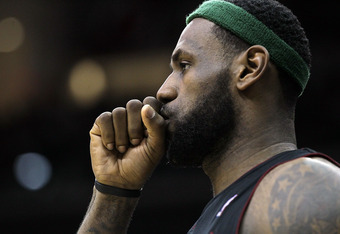 LeBron James and Miami Heat Looking to Fulfill High Expectations
The Miami Heat trio of LeBron James, Dwyane Wade and Chris Bosh all decided to play together during the offseason and form an All-Star tandem in order to do one thing—win championships.
After a regular season where they had major ups and downs, the playoffs are just around the corner and it's time for the Heat to see if they can put it all together in the postseason.
According to Mitch Lawrence of the New York Daily News:
"...the Heat will play nothing but tough series this spring. The Lakers might be the two-time defending champs, but no team will be under more pressure to succeed than Miami."
Why?
That's what happens when you build a super team.
Lawrence adds:
"It's different because Miami has LeBron James. Whether he likes it or not and acknowledges it or not, James' legacy heading into his first playoff run for Team Riley is Game 5 against Boston last spring."
People still remember when King James rolled over, played dead, and then booked his one-way ticket out of Cleveland during the series.
Perhaps he had better days in mind in Miami.
Now it's time for him to prove that his decision to take his talents to South Beach was indeed the smart choice.
If not. No one will let him forget about it.
That's exactly why the pressure is on his and the rest of his teammates.
This article is
What is the duplicate article?
Why is this article offensive?
Where is this article plagiarized from?
Why is this article poorly edited?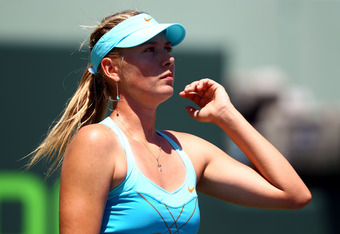 Maria Sharapova Has Eye on More Success This Season
After playing in the Australian Open this year, Sharapova had to deal with a virus that kept her out of tournament play until late March.
Since coming back, however, Sharapova has had impressive back-to-back showings in the Indian Wells Masters event, where she reached the semifinals and the finals of the Sony Ericsson Open in Miami.
Even though Maria Sharapova fell to Victoria Azarenka in the Sony Ericsson finals in Miami this weekend, her recent performance has been strong enough to see her rise in the WTA rankings.
For the first time in over two years, the Russian-born Sharapova is back in the Top 10. A big reason for her surge is that she appears to be finally healthy.
Now that she's starting to show the form that once made her the world's No. 1 tennis player, Sharapova may finally be back.
Could a French Open win come this season?
Paul Higham of Sky Sports says that the 23-year-old Grand Slam tournament in mind. Higham writes, "...another aim was to win the French Open - the only grand slam title to so far evade her grasp and on a surface that has not seemed to suit her game over the years."
Sharapova's game is trending upwards. Now that she's playing healthy, building momentum and ranked in the Top 10, this could be the year she finally makes a breakthrough in the clay courts of the French Open.
She's so close to that career Grand Slam, she can smell it.
This article is
What is the duplicate article?
Why is this article offensive?
Where is this article plagiarized from?
Why is this article poorly edited?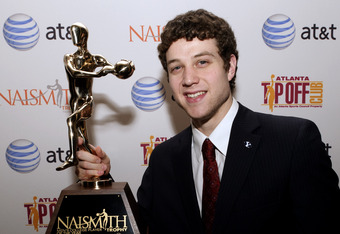 Jimmer Fredette Keeps Adding to His Trophy Collection
The nation's leading scorer, Fredette, was one of college basketball's brightest stars this season. But when it came time for him to shine on the NCAA Tournament stage, he folded.
Since the BYU Cougars were eliminated during the Sweet 16, Fredette has been awarded the Rupp Award, Oscar Robertson Trophy, AP Player of the Year, and the Naismith Player of the Year, among over a dozen other honors for his tremendous season.
What does this all mean?
"Jimmer won all the awards," writes Ed Graney of the Las Vegas Review-Journal. "Kemba is still playing. You decide which is more important."
As much as a solid single season performance can help make a strong impression. What a player does during the postseason is even more memorable.
Tournament success can help turn anyone from a regular season afterthought to a March Madness legend.
Jay Drew of the Salt-Lake Tribune adds:
"It's a no-brainer. If someone asked Jimmer Fredette if he would rather be playing in tonight's NCAA basketball championship game, or picking up another national player of the year award, I am sure he would still rather be playing."
Although Fredette's season separated him from the rest of the pack as the best scorer in the nation, his failure to lead the BYU Cougars past the Sweet 16 will likely cause his NBA stock to fall.
Whereas, another name—Kemba Walker—is continuing to make a strong case to be picked well ahead of Fredette in the upcoming NBA draft.
If you were an NBA team. Which guy would you rather have?
Walker or Fredette?
Kemba can will his team to a victory, carry his teammates on his shoulders with his playmaking skills and has the ability to give defenses fits with his penetration.
In fact, he's a guy that has made history by winning five games in five nights en route to a Big East championship.
While Jimmer has a list of collegiate awards and a sweet-shooting touch that was locked down by the Florida Gators to a 11-for-29 performance in the Sweet 16.
Sorry Jimmer.
Kemba's the winner.
He has a national championship. Not you.
This article is
What is the duplicate article?
Why is this article offensive?
Where is this article plagiarized from?
Why is this article poorly edited?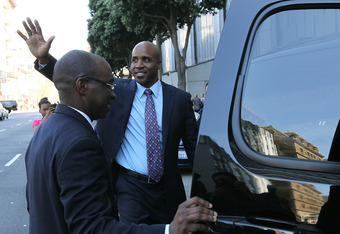 As Barry Bonds' perjury trial was supposed to wrap up, something unexpected happened.
A tape—believed to have been lost—magically resurfaced. And now the government claims that they have even more incriminating evidence against Bonds, baseball's home run king, who denies knowingly using steroids during his career.
The New York Times' Juliet Macur writes:
"Prosecutors said that a long-lost microcassette was unexpectedly and inexplicably found Sunday and contained a secretly taped conversation that would corroborate the testimony of one of its witnesses. They said it could become a pivotal piece of evidence in the trial.

"But Bonds's lawyers said the tape would never go into evidence, and the judge expressed doubts about the admissibility of parts she had heard because they were barely audible."
A former prosecution witness, Steve Hoskins, claimed earlier during the trial that he had repeated conversations with Bonds' orthopedic surgeon Arthur Ting about Bonds' steroid use—an allegation that Ting denied.
The sudden emergence of this tape makes for a very interesting conclusion to the trial.
Which version of the story is true: Ting's or Hoskin's?
We know the story of Bonds' historic run to catch baseball's home run records, both single-season and all-time. But there's very little we know about what happened in the background.
Did he really have no idea what he was doing? Or, did he just think his personal accomplishments would supercede his abrasive personality and endear him to baseball fans everywhere?
Something tells me, Barry's greed and giant ego never thought it would ever catch up to him.
As the trial nears an end, we could be in for a very entertaining climax.
This article is
What is the duplicate article?
Why is this article offensive?
Where is this article plagiarized from?
Why is this article poorly edited?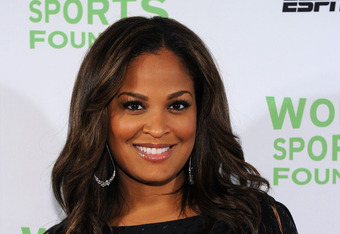 Laila Ali Gives Birth to a Baby Girl
Ali, the daughter of boxing legend Muhammad Ali, welcomed a new member to her family on Monday morning.
Ali tweeted (@TheRealLailaAli): "I had my baby girl this morning! Sydney arrived on her due date at 3am! Everyone is happy and healthy."
The new addition is Ali's second child. She and husband, former NFL player, Curtis Conway have a 2-year-old son, Curtis Muhammad Conway, Jr.
"After a long day of labor, I had a healthy baby girl, Sydney J. Conway," Ali told Us Magazine. "We are both very tired, but we fell in love the moment we laid eyes on each other. I feel so blessed and overwhelmed with love and excitement. Can't wait to get to know her!"
With athletic genes in this family, baby Sydney and young Curtis, Jr. may be two sports names to look for in the future.
On one side of the family is a former NFL wide receiver father picked in the first-round draft. While on the other side, is grandfather that was the best heavyweight the world has ever seen and a mother that could hold her own in a boxing ring as well.
This new birth could be a blessing not just for the Conways but also for sports fans everywhere.
This article is
What is the duplicate article?
Why is this article offensive?
Where is this article plagiarized from?
Why is this article poorly edited?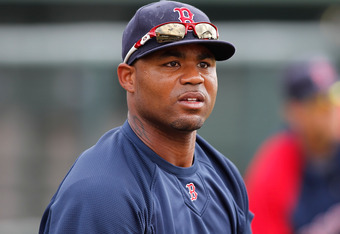 Boston Red Sox Having Buyer's Remorse With Carl Crawford?
During the offseason, the Boston Red Sox spent big bucks on prized free-agent Carl Crawford.
To open the season, Crawford was immediately slotted No. 3 in the Boston battling lineup, where high expectations are the norm.
However, he floundered and went 0-for-7 in his first two games, with four strikeouts. Soon after that, Crawford was dropped to No. 7 of the batting order by manager Terry Francona.
Does this move mean a sudden panic in Red Sox Nation?
No. Not in the least.
John Tomase of the Boston Herald writes:
"It wasn't a demotion, and it won't last long. Francona recognized the pressure Crawford was placing on himself following the $142 million deal he signed this winter, and he hoped a drop in the order would ease the burden."
The Red Sox did their due diligence before they offered Crawford his multi-million dollar deal. They even went so far as to hire a private investigator to make sure they were getting a stand-up guy with nothing to hide. You can bet that they're committed to keeping him at the top of their lineup for the long term.
Based on there postseason success from the past decade, it's fair to say that this is a team that doesn't panic.
Not this early in the season.
The move to drop Crawford in the order, was simply a way for him to shake off all the jitters.
"Looking at him, it's obvious he's trying too hard," Francona told the Herald. "As soon as he gets on base and can start causing some havoc, he'll loosen up and the real Carl will come out. In the meantime, we'll take a little heat off him."
This was a smart move by a very experienced manager in Francona. He understands how important Crawford is to this team and knows how important it is for him to start the season well.
Although some skeptics may immediately read too much into this batting lineup change, it is a maneuver that could ultimately pay off for Crawford and the entire Red Sox team.
Not a panic move.
This article is
What is the duplicate article?
Why is this article offensive?
Where is this article plagiarized from?
Why is this article poorly edited?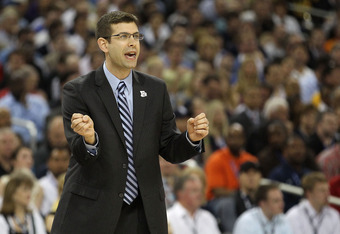 Butler Bulldogs Makes Second Straight National Title Appearance
Butler Bulldogs vs. Connecticut Huskies
Time: 6:23 EST
Channel: CBS
Announcers: Jim Nantz, Clark Kellog and Steve Kerr
The Butler Bulldogs are in it again, appearing in the national title game for the second year in a row.
But this time, the Bulldogs appear poised to win it all.
Facing them tonight in the big game will be the UConn Huskies—a scrappy team led by coach Jim Calhoun that has defied all odds just to get this far in the tournament.
UConn has to rely on Kemba Walker a six-foot junior guard that can score at will and has the ability to carry the entire team on his shoulders
Butler, however, has a lot more size and a more balanced offensive game than the Huskies. The scoring workload is shared by senior forward Matt Howard on the inside post and junior guard Shelvin Mack on the perimeter.
The Bulldogs have more size and length and can easily outrebound a perimeter team like the Huskies, which should immediately play to Butler's advantage.
If young Butler coach Brad Stevens can find a way to lock down Kemba Walker on defense by their bigger players, then they'll be able to take away his playmaking skills and UConn could be left reeling.
This time around the Bulldogs will find redemption, the championship game experience from last season could ultimately aid their run for the title and put themselves into college basketball history.
A mid-major will finally win it all!
Prediction: Butler 68, UConn 63
This article is
What is the duplicate article?
Why is this article offensive?
Where is this article plagiarized from?
Why is this article poorly edited?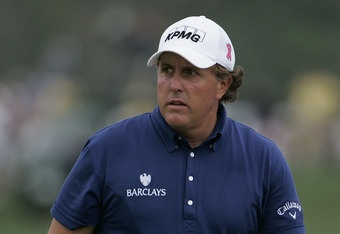 The 2011 Master's Could Finally Send Lefty To The Top
After taking the Houston Shell Open win last week, Phil Mickelson is closer than ever to the top of the world rankings.
For the first time since 1997, Mickelson, ranked No. 3, is ahead of a man named Tiger Woods in the world standings, now No. 7.
Lefty just needs to lock up the Master's trophy and he'll finally take the title of being the world's best golfer—a title that has eluded him his entire career.
According to the Miami Herald:
"So what if Lefty's playing like he's using a righty's clubs every other hole. Augusta is his recharging Juice Machine. In his past five Masters, Mickelson's got two green jackets, winning going away in 2010 by three shots, and two fifth-places."
This article is
What is the duplicate article?
Why is this article offensive?
Where is this article plagiarized from?
Why is this article poorly edited?