NFL Draft 2011: The Latest Pittsburgh Steelers News and Rumors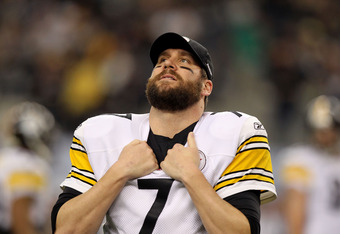 Al Bello/Getty Images
There are only 24 days until the 2011 NFL draft, if you can believe that. Personally, I find it harder to believe it's April already, as the lack of football has made time fly by.
The Pittsburgh Steelers, after having lost the Super Bowl, need to fill a couple holes. Their secondary needs some help, and adding a few bodies on the offensive line would help as well. They did get to the Super Bowl, so they don't have too many holes to worry about.
What is the latest in Steelers draft news? Who is a defensive back being discussed that I think would be a perfect pick for the Steelers? Which offensive linemen are they meeting with to see if they are possible mid-round selections?
Stay tuned for the latest Pittsburgh Steelers draft news.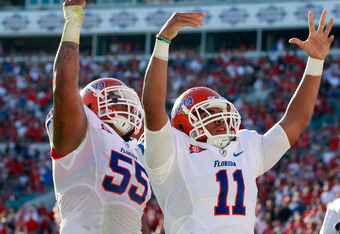 Trading Up Might Sound Like a Possibility For Pittsburgh Steelers, but it Won't Happen
Everyone has an opinion on what the Steelers should do with the 31st pick, and I'm not talking about which player they should select. Rather, there are three camps; those who think they should trade down, those who think they should select the best available with the 31st pick, and those who want them to trade up.
The one I don't understand is the final camp. If that is conditional on trading up to get Pouncey, than that's fair enough, but otherwise there is no reason for them to trade up in the first round.
The Sporting News is divided on this themselves. Russ Lande says they should stay at 31, while Vinnie Iyer believes they are strong candidates to trade up, saying:
"The Steelers are strong candidates to trade up. If they like a special player, such as Georgia wide receiver A.J. Green or Alabama's Julio Jones, they won't be afraid to do so. Either would be an exciting eventual replacement for Hines Ward."
That doesn't sound like the Steelers to me. In a draft class with a defensive pool as deep as this one, they would trade down to maximize the prospects rather than trade up. Moving up to grab a wide receiver would be silly anyway.
Would the Steelers draft a wideout? That's a story for another day. Would they trade up to grab someone not named Pouncey? Absolutely not.
This article is
What is the duplicate article?
Why is this article offensive?
Where is this article plagiarized from?
Why is this article poorly edited?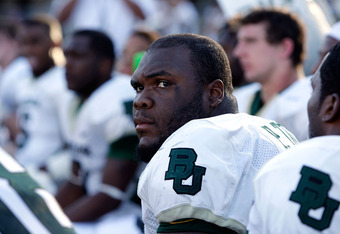 Pittsburgh Steelers May Address Defensive Interior With 31st Pick
The Steelers have several different directions they could go with their first pick. They could trade up to grab Mike Pouncey, trade down to capitalize on defensive depth, grab a cornerback, or grab an offensive lineman.
Something else they could do is find their successor for Casey Hampton. Hampton is 33, will be 34 in September, and is starting to show signs of slowing down. A possible replacement could come from the same state they found Hampton in, Texas, and that replacement could be Phil Taylor.
The big man out of Baylor, Taylor is even bigger than Hampton at 6'3 and 330+ pounds, and would have no problem being an anchor in the defense, as he did for last year's underrated Baylor team. He's visiting with the Steelers next week, so we will see then how well he fits.
Is Taylor the ideal pick here? No, shoring up the defensive backs or offensive line should come first and foremost. That being said, it's not the worst position, since Taylor would be able to fit right into Pittsburgh without too much trouble.
Hampton did make five Pro Bowls after being a first-round pick in 2001 for Pittsburgh, so if the Steelers do believe Taylor's worthy of a first-round pick, then maybe he's poised to be great there.
This article is
What is the duplicate article?
Why is this article offensive?
Where is this article plagiarized from?
Why is this article poorly edited?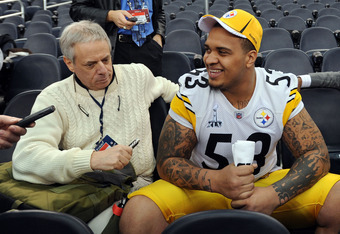 Which Offensive Linemen Who Worked Out With Pittsburgh Steelers Should be Drafted?
The Pittsburgh Steelers worked out three offensive linemen this past Friday. The three that came in were not names I recognized, so as a result I went ahead and tried to figure out exactly who they were.
The first player of note was Jarriel King of South Carolina. Projected as a possible undrafted free agent, or maybe a seventh-rounder, King has a great frame and has the athleticism to make an NFL roster. He could be a reserve tackle and learn under the Steelers.
He has an irregular heartbeat though, which would be a red flag for anyone. If the Steelers are convinced that it won't be a problem, he's worth a pick at the end of the draft.
The second player was James Carpenter of Alabama, who is projected much higher in the draft, at the early part of the third round. He has good size and toughness, which is great for Pittsburgh, but I'm not as convinced about his athleticism. There are better players to grab with the 63rd pick.
The third player was Marcus Gilbert of Florida, who is currently projected as a fourth-round pick. Of the three, I think he best fits the mold of a Steeler. He's not fast, but is a huge player that has a lot of upside, though he will not be a starter immediately. If he can improve his awareness, he could be a steal.
If Gilbert actually falls to the 128th pick, or if the Steelers get an extra fourth-round if they trade their 31st one, then I see them selecting Gilbert, and they may grab King as well for insurance. Two out of three is quite good for any team; the Steelers are definitely doing their homework.
This article is
What is the duplicate article?
Why is this article offensive?
Where is this article plagiarized from?
Why is this article poorly edited?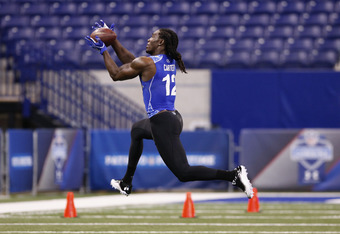 Quinton Carter, Safety out of Oklahoma, Fits Steelers' Defense Perfectly
The Pittsburgh Steelers do not have too many holes to address, so there likely won't be too much variation on who they decide to select with their first couple picks.
At least one of the picks will be used to address the secondary in the first couple rounds. The player who the Steelers may take has not been discussed too much, but after reading up on him I am convinced this would make an amazing pick.
That player is, of course, Quinton Carter, free safety out of Oklahoma. He should be available with the 63rd pick, as he is projected to go early in the third round. He is a playmaker on defense who can tackle, and he may be able to move to cornerback if absolutely necessary.
In contrast, the presumed best safety on the board, Rahim Moore, is more of a zone coverage guy rather than a physical playmaker like Carter, so if Ptitsburgh does want to grab a safety to pair with Polamalu, then Carter should be that guy.
Steelers fans should get to know Carter if they have not already; he should be a great addition.
This article is
What is the duplicate article?
Why is this article offensive?
Where is this article plagiarized from?
Why is this article poorly edited?

Pittsburgh Steelers: Like this team?