WWE News: Michael Cole's Booth Rigged for Undertaker and Triple H Showdown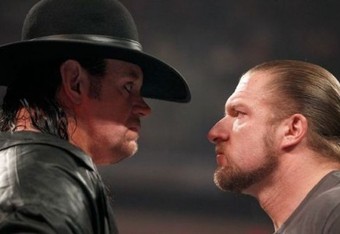 WWE News reports adjustments were made to Michael Cole's booth
News flash: wrestling is not entirely real.
Yes, this comes as a shock to many, but it's true. This report from Wrestlezone.com discloses that there were some safety adjustments made to the booth that Michael Cole has been sitting in for the last few weeks.
Wrestlezone.com reports:
According to a report on ProWrestling.net, former WWE creative team member Seth Mates said during a special WrestleMania 27 audio review that prior to the start of the Undertaker vs. Triple H match, it appeared in the arena as if they were rigging Michael Cole's "Cole Mine" to break easier when Taker/HHH used it later on during their match.
I thought this was news worthy, even though this stuff happens all the time, because even though I'm aware of most of the precautions and tricks they use to keep the wrestlers safe and provide a high level of entertainment, last night looked authentic.
"Real" is a word that gets thrown at professional wrestling all the time. What's real and what's not. While I've been a little critical of the finish last night in the Undertakers match, I can't deny that those guys put their bodies through absolute hell.
Watching it again you can see the absolute pain both men are. When Undertaker flies into the barrier, that's real.
When the Undertaker gets hit in the back with a chair repeatedly, that's real pain.
Michael Cole's booth may have been rigged to have more give, but it doesn't make it much less painful.
There's a big difference in the WWE between pain and injury. The WWE does what they can to prevent injury, but pain is a part of the show. It gives it an edge, it separates it from simple acrobatics and keeps it as real as a scripted show can be.
The pain and the sacrifice that Undertaker and Triple H endured was raw and real. Everything about that match was real expect for the outcome.
In the end, no one cared about that.
Most recent updates:
This article is
What is the duplicate article?
Why is this article offensive?
Where is this article plagiarized from?
Why is this article poorly edited?