WWE News: Randy Orton Fuming over Wrestlemania 27 Match with CM Punk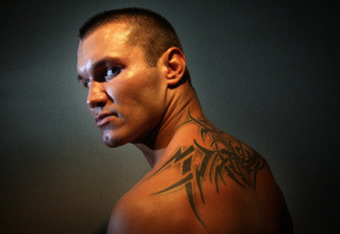 Randy Orton upset over placement of Mania match, WWE News reports
Most of the time the wrestling world would rank Randy Orton much higher than it does Snooki from Jersey Shore.
Wrestlemania 27 was the rare exception to that rule.
As a matter of fact the Viper as he is known in some circles were reportedly unhappy that several matches, including Snooki's was put ahead of him and CM Punk.
Nick Paglino from Wrestlezone.com reported that while Orton understood that his match would not headline, he felt it deserved much better placement.
Paglino writes:
We have been told that agent/producer Arn Anderson informed Orton earlier today that after several Wrestlemania edits his match against Punk would also be trimmed down time-wise, and this further upset Orton.
While Orton understands that Triple H/Undertaker and Cena/Miz/Rock has garnered much fan interest and are money matches that deserve to be ahead of him on the Wrestlemania card, he feels that an 8 man tag match and a match between announcers should not supersede the work he and Punk have been doing on Raw.
Orton, in most cases has a point, and while I don't agree with the WWE trimming down the other matches for Cena vs. Miz, I do see their thinking on the placement issue.
After the Taker match there wasn't going to be much they could follow up with. Putting Orton there, or even going straight to Cena and Miz would have done those matches a disservice. So they did what they had to do and put Snooki there to break up the intensity and let the crowd catch their breath so they could be in anticipation for the main event.
I do agree that Orton and Punk should have went before Jerry Lawler and Michael Cole's match, but otherwise I thought they got the placement right.
What do you guys think?
For a look ahead to the future of some Mania stars, click here.
Most recent updates:
This article is
What is the duplicate article?
Why is this article offensive?
Where is this article plagiarized from?
Why is this article poorly edited?