NCAA Championship Game 2011: Can Butler Change Future of NCAA Sports?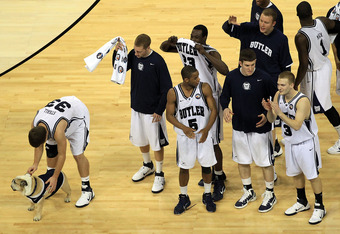 The NCAA championship game has finally arrived, and there is a lot more at stake than the 2011 NCAA national championship. Depending on the outcome, one team can make history, while the other can shape the future.
The Connecticut Huskies are looking to tie Duke for fifth with four national championships, while Jim Calhoun is looking to take home his third title. Kemba Walker is trying to take a team that missed the 2010 NCAA tournament to a national championship the following season.
But tonight isn't about UConn—you already knew that. The headline more or less gave it away.
The Butler Bulldogs can single-handedly change the future of the NCAA. All they have to do is defeat Connecticut tonight.
Butler reached this game last season as well, but fell a half-court three-pointer shy of cutting down the nets. This year, they are hoping that the outcome will be different. Many schools in Butler's situation are also hoping and rooting for a different outcome.
Gary Parrish of CBS Sports says that Butler can do a world of good for many schools if they are able to topple the Huskies tonight.
Parrish points out, "But no school like Butler or one from a league like the Horizon has won a championship in the modern era, and it's been more than two decades since a program operating without the advantages provided by the ACC, Big 12, Big Ten, Big East, Pac-10 or SEC has cut nets on a Monday night in April.
"Consequently, most of us decided at some point that it's simply not possible anymore, that the gap between the haves and have-nots is too wide, that magical runs are fun to watch but they will always come up short. And yet for the second straight year, a private school based in Indianapolis with a little more than 4,000 students has an opportunity to smash that theory to pieces and take it off the table, forever and always."
Parrish also points out, "What's interesting is that practically everybody with similar tastes—TCU fans, Boise State fans, pretty much everybody except Connecticut fans—will be pulling for Butler, too, because the Bulldogs represent something much larger than themselves."
This will not be easy. Connecticut is not going to lie down for the Bulldogs tonight just so all of the non-power conference schools can gain some hope for the future. The game means too much. But if Butler can pull off one more upset, they could change the landscape of NCAA sports for the better. At least we could then hope for some more justice.
Parrish concludes, "It's not the Ohio State-Kansas matchup most projected three weeks ago, and it's not a game full of lottery picks and future NBA MVPs. But it is a game that could reshape the way people view college athletics and remove the word 'can't' from our vocabulary forever."
He is right. In fact, the ratings could actually suffer in a way without programs such as Ohio State, Kansas, Duke, North Carolina and UCLA. But for programs such as VCU, TCU, Boise State, San Diego State and many others, this could be the most important NCAA championship game in the history of the NCAA.
For more on Howard and the Bulldogs, make sure to check out Bleacher Report Featured Columnist Doug Brodess, who takes a look at the NCAA Championship Game 2011: 5 Keys to a Butler Victory.
Most recent updates:
This article is
What is the duplicate article?
Why is this article offensive?
Where is this article plagiarized from?
Why is this article poorly edited?

UConn Basketball: Like this team?