UConn Basketball Scandal: How Will Nate Miles Impact the Huskies' Future?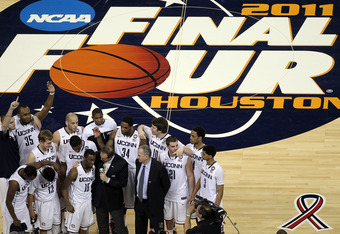 The UConn basketball program has had a lot of ups and downs over the last couple of years. They missed the 2010 NCAA tournament, then did not even fare well in the NIT tournament.
They rebounded in a huge way this season, however, as they now find themselves in the 2011 NCAA championship game against the Butler Bulldogs. But while they may reach a huge high tonight, it could all come crashing down on them very soon afterward.
Not only could they lose Kemba Walker to the NBA, but Jim Calhoun could also retire. Partly because of age and health concerns, but also because Calhoun is at the center of yet another NCAA scandal. While Calhoun may be currently undecided about his future, former recruit Nate Miles could make his call a little easier, depending on what he tells the NCAA Rules and Infractions Committee.
According to Adam Wojnarowski and Dan Wetzel of Yahoo! Sports, "Miles was provided with lodging, transportation, restaurant meals and representation by Josh Nochimson—a professional sports agent and former UConn student manager—between 2006 and 2008, according to multiple sources. As a representative of UConn's athletic interests, Nochimson was prohibited by NCAA rules from having contact with Miles and from providing him with anything of value."
Originally, Miles was not willing to talk, but reportedly, he has changed his mind.
Yahoo! also reported that Calhoun "declared Miles had 'as much basketball ability' as any recruit he ever signed. Made 16 phone calls with Nochimson, including a three-minute, 58-second call the week Miles was to make one of his campus visits."
Yet although Miles is allegedly ready to talk, his word may not carry as much merit and meaning as one would originally think.
Pete Thamel of The New York Times says, "Miles, for many, is less than a fully credible character. He was kicked out of UConn before playing a game, and well before the scandal involving his recruitment became public. He said, after interviews with The New York Times, that he would demand to be paid for any other media interviews. And Miles's admissions about taking cash from an agent conflict with a sworn statement he gave the NCAA."
Whether or not Miles is the most stand-up person, his testimony will likely slap further penalties on the Huskies' basketball program, thus hurting their chances to compete for another national championship any time soon.
For more on recruiting issues plaguing the NCAA, make sure to check out Bleacher Report Correspondent Rob Kelley, who takes a humorous and sarcastic look at Congress Loves Sports: So Why Don't They Try to Fix NCAA Recruiting?
Most recent updates:
This article is
What is the duplicate article?
Why is this article offensive?
Where is this article plagiarized from?
Why is this article poorly edited?

UConn Basketball: Like this team?