Brad Stevens: Why Stevens Would Be Insane to Leave Butler After This Season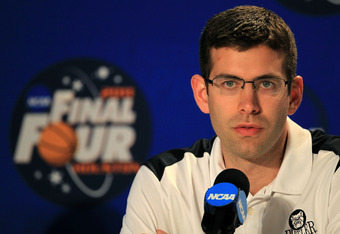 Brad Stevens is leading the Butler Bulldogs in tonight's 2011 NCAA championship game. It is his and Butler's second consecutive appearance in the finals, although they came up two points shy of cutting down the nets in last season's tournament title game.
He is looking for a different ending to this Cinderella story when the buzzer sounds tonight. Oddly enough, that could come right around midnight.
Stevens has led the improbable run of the Bulldogs two straight seasons. He is one of the hottest coaching prospects in the country, and many people figure that he is as good as gone following the 2011 NCAA championship game.
They figure wrong.
Why in the world would Stevens leave now? It wouldn't make any sense. Where do these people have him going?
Would Stevens consider leaving Butler for North Carolina State? Why would he possibly make that move? To go play against North Carolina and Duke a couple of times each season? Please.
Where else? Miami? Would Stevens leave Butler to head down to Coral Gables to coach the Hurricanes? Seriously.
Perhaps, Stevens would leave Butler for UNLV. He could try and get the Runnin' Rebels back to their glory days of two decades ago. Would he leave the Bulldogs to replace Lon Kruger in Vegas? Really?
Stevens is not going anywhere, and there is no sane reason why he would right now. The time is not right at all. Neither are the openings.
Stevens turned down the Oregon Ducks last season, and he could have had all the money he wanted and practice in a top-notch facility. He also could have coached on the ugliest court in the nation, but that is another article for another day. But he said no.
Of course he said no! It was Oregon. They are not exactly known as a basketball powerhouse. Why leave a great program at Butler for the Ducks? Clearly, money is not the deciding factor for Stevens, which is refreshing to see nowadays.
Stevens should only consider leaving if a perennial contender comes calling. Dana O'Neil of ESPN was talking about Butler athletic director Barry Collier and his chances to retain Stevens.
O'Neil reported that Collier quipped, "It's going to take a school capable of going to back-to-back-to-back national championship games to take him away."
Hmmm.
Isn't that Butler already? Obviously, Collier was humorously getting at exactly that point.
O'Neil also reported that Stevens was quoted as saying, "You hear people say all the time, 'The grass is greener somewhere else,'" Stevens said. "Well, I think the grass is very green at Butler. Certainly there can be green grass at other places. You understand that. You see people go through it. You see sometimes it works out for people and sometimes it doesn't. But like I've said many times, we're happy."
Stevens is very content at Butler, as well as he should be—at least for the time being. He would be insane to leave the program after the season. It just wouldn't make sense.
Now, if certain high-profile jobs happened to become vacant for any reason later this month or over the next couple of seasons, that would be another story. I don't have any inside information, so this is purely hypothetical, but what if Mike Krzyzewski finally left Duke and took over behind the bench for the Los Angeles Lakers? Or if Jim Calhoun does in fact retire at Connecticut?
If those types of programs were to find themselves in need of a great coach, then Stevens would be insane not to jump ship.
But again, that is in the future of hypothetical situations. For now, Butler is his ideal situation.
For more on the Bulldogs and their head coach, make sure to check out Bleacher Report Featured Columnist Doug Brodess, who takes a look at Butler and the NCAA Tournament: 10 Reasons Brad Stevens Will Be the Next Coach K.
Most recent updates:
This article is
What is the duplicate article?
Why is this article offensive?
Where is this article plagiarized from?
Why is this article poorly edited?

UConn Basketball: Like this team?