Kemba Walker: Will Walker Leave UConn Only If They Win It All Tonight?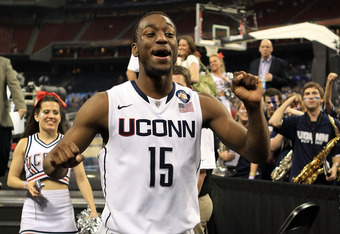 Kemba Walker has been leading the Connecticut Huskies the entire season, and the results could not have been more positive. But after tonight, will he be leaving the Huskies to jump to the next level?
Walker will undoubtedly take home the Most Outstanding Player award if UConn is fortunate enough to come out on top in the 2011 NCAA championship game. He is also likely to enter the NBA draft following tonight's finale.
But will that decision be based solely on whether or not the Huskies win it all tonight?
If Connecticut is victorious, and Walker does have another excellent showing, you would have to figure that he is as good as gone. He will have done it all at the collegiate level, and there would be nothing left for him to prove. I know that people always say that winning another national championship is always something to prove, but that generally works more against the player than for them.
Take Kyle Singler of the Duke Blue Devils, for example. Singler led Duke to a national championship last season, but decided that he would return for his senior season and look to make it consecutive titles.
Had he come out last year, he was a projected lottery pick. This year, Duke did not even advance to the Elite Eight, and Singler may not even get drafted in the first round in June. Financially, he would have been better off coming out last season.
Therefore, could Walker wind up in a similar situation? He is a projected lottery pick if he declares himself eligible for the 2011 NBA Draft. If he leads Connecticut tonight, he could find himself in the top 10.
But what if he returns to school for his senior season? Sure, he could win back-to-back titles at Connecticut. It is a possibility, although it will depend on what some of the other highly touted underclassmen decide to do about playing next season.
But maybe the Huskies do not win it all next season. Maybe they take a step backward and suffer some injuries. Maybe Walker even gets injured at some point. Maybe he doesn't suffer an injury, but he struggles. Maybe better players declare for the draft next season than this one. Maybe new rules make it impossible for players to resist coming out early next season.
It is a lot of maybe situations, but as we know, anything can happen.
In my opinion, Walker will—and should—go pro after tonight's game, regardless of the outcome. While Eric Angevine of CBS Sports says that the team will be fine due to their young talent, he sees Walker making the same decision I do shortly after the buzzer sounds in Houston.
"But Kemba Walker will leave Storrs," Angevine says. "The clock is ticking, and right around midnight on Monday could be the start of a new chapter for Walker and for the school he's called home for the past three seasons. It will be an occasion for sadness and reflection for the Huskies, but not a time to panic."
Walker needs to do what is best for him and his family. He has done everything within his power to help his Huskies family. Now, he will help them win a national championship before he decides to call the NBA his new home.
For more on the championship game tonight, make sure to check out Bleacher Report Contributor Matt Stein, who previews the NCAA Championship Game 2011: Can Kemba Walker Carry UConn to Victory?
Most recent updates:
This article is
What is the duplicate article?
Why is this article offensive?
Where is this article plagiarized from?
Why is this article poorly edited?

UConn Basketball: Like this team?