Vancouver Canucks 2011: 4 Players Who Need to Step Up in the NHL Playoffs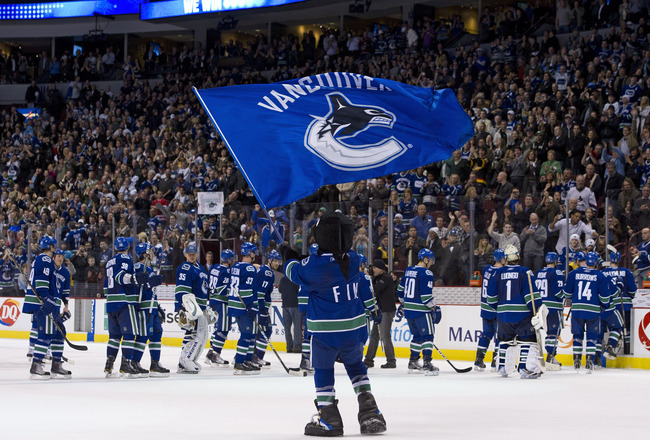 Rich Lam/Getty Images
The Vancouver Canucks have claimed their best regular season in franchise history. They have done so with a combination of skill, depth and chemistry.
Despite having key players out with injury, Vancouver has dominated most of the season and will finish the best team in the league. But all of those achievements and accolades are meaningless come playoff time. When the NHL season becomes a race to 16 wins, regular-season stats and numbers have very little impact.
The Canucks know all too well that the pressure is on to deliver the city of Vancouver its first NHL-era Stanley Cup. While the Canucks may be the most complete team built for a Cup run, they will need some players to step up their game if they expect to make it to the final dance.
The Sedin twins are playing extremely well, and I expect them to play their very best in the postseason. Of course, even with the twins at their peak, Vancouver needs a team effort game in and game out.
In my opinion, there are four specific Canucks players that need to go into the playoffs playing not just their best hockey of the season, but of their careers. Without the following players giving 110 percent, I have my doubts about Vancouver bringing Lord Stanley to the west coast of Canada for the first time since 1915.
Roberto Luongo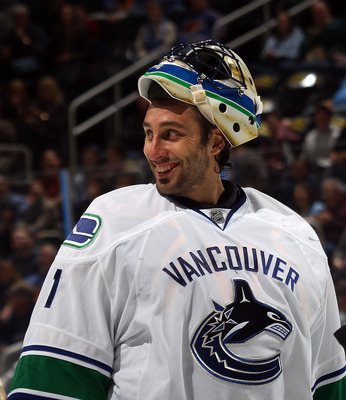 Bruce Bennett/Getty Images
Roberto Luongo has the most to prove this postseason. No other Canucks player will have his performance dissected and micro-analyzed more than the Vancouver netminder.
Luongo's first playoff appearance in a Canucks uniform was impressive. In 2007, Luongo posted a .941 save percentage and a goals-against average of 1.77 in 12 games. The Canucks lost in the second round to the eventual champion Anaheim Ducks in five games.
After an absence in 2008, the Canucks have since lost in back-to-back years to the Chicago Blackhawks, both occasions in the second round and both in six games. Luongo's numbers were far less spectacular in those losses.
In 2009, after a four-game sweep of the St. Louis Blues, Luongo faltered against the Blackhawks and his playoff line was a respectable .914 save percentage and a 2.52 goals-against average. In 2010, despite flashes of brilliance in a six-game triumph over the Los Angeles Kings, Luongo struggled again versus the 'Hawks and this time finished the playoffs with a dismal .895 save percentage and 3.22 goals-against average.
Luongo's rising playoff numbers are a source of major concern for the Canucks and their fans.
Regardless of how well or poorly the rest of the team performs, Luongo will bear the most responsibility for Vancouver's success or disappointment. Even while Luongo arguably may be coming off his best season ever, the former Canucks captain knows it's all for naught if he can't bring his game to an all-time high this postseason.
Keith Ballard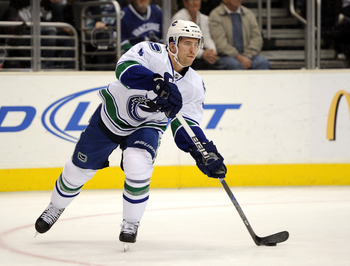 Harry How/Getty Images
Keith Ballard's debut season with the Canucks hasn't been all peaches and cream. After missing time at the beginning of the season due to injury, Ballard has struggled not only to find consistency throughout the year, but just to stay in the starting lineup.
Ballard was brought in during the offseason to bolster a Canucks defensive corps that had been riddled with injuries the previous year. His role as a member of the Florida Panthers and Phoenix Coyotes was a top pairing defender capable of a shutdown role, and provide limited offensive support.
Unfortunately, none of his potential has materialized for Ballard in Vancouver.
To be fair, Ballard was a bigger fish in a small pond while in Florida and Phoenix. Since coming to Vancouver, he has been surrounded with comparable talent. Some players don't perform as well when moving from a mediocre club to a comparatively great one.
Nonetheless, Ballard has had his opportunities this season to step up and be a hero for the Canucks. With Alexander Edler, Kevin Bieksa, Andrew Alberts, Dan Hamhuis and Aaron Rome all missing significant time to injury throughout the season, Ballard has been needed to shoulder a greater load.
Even while Ballard's overall performance has improved, he is still yet to find his stride. With just seven points in 62 games and questionable defensive play, Ballard has clearly underachieved.
Keith will need to find some inspiration in his game with the playoffs looming for Vancouver and holes remaining in their defensive pairings. Even should Alexander Edler return to the Canucks lineup in time for the postseason, it's unlikely he will be playing at full steam until deep into the playoffs. Until then, the Canucks will need large contributions from their remaining defenders, especially Ballard.
If Ballard can find his confidence, his skill and toughness will be essential for a Stanley Cup win.
Mason Raymond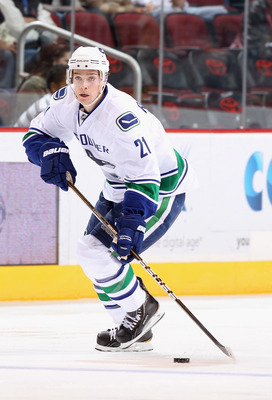 Christian Petersen/Getty Images
Mason Raymond has been a bit of an enigma throughout his young career.
Since breaking into the Canucks lineup back in 2007-08, Raymond has been cursed with streaky scoring. Last year, Raymond found greater consistency in his game as he set career highs in goals (25), assists (28) and points (53).
There is no debating Raymond's potential talent. He has amazing speed, a good shot and creative hands. Unfortunately, Mason seems to be unable to harness his talent for a full season.
Raymond took a step back this year. In 67 games, he has posted 13 goals and 24 assists while playing primarily on the Canucks' second line alongside Ryan Kesler and Mikael Samuelsson.
Lately though, Raymond has been shuffled about the Canucks starting lineup, due to injuries as well as his lack of production.
The latest experiment from Canucks coach Alain Vigneault has been to have Raymond center the Canucks' third line between Jannik Hansen and Raffi Torres. While Raymond has showed improvement in his new role, it is still not at the level the Canucks expect from the young speedster.
One of the glaring flaws in Vancouver's play last year in the playoffs was a lack of scoring from the forwards not named "Sedin" or "Samuelsson." Raymond posted just three goals and one assist in 12 playoff games last year. For a player that many feel has 30-goals-per-year potential, Raymond has underachieved.
In order for the Canucks to achieve success this postseason, they will need production from their secondary scoring. If Mason Raymond can find his A-game, Vancouver will have a powerful asset to alleviate the load carried by the Sedins.
No matter how much depth the Canucks have on paper, it is what actually transpires on the ice that counts.
Ryan Kesler
Harry How/Getty Images
Ryan Kesler could be the monster in the shadows for Vancouver. While Kesler is no longer an underrated name on the Canucks roster, I still don't think we've seen his best hockey yet.
Kesler has had his best season of his career this year. Although unlikely to surpass his point total from last year (75), Ryan has already crushed his previous high in goals of 26 set in 2008-09. His 37 goals rank him second on the Canucks and tied for fifth in the NHL.
In addition to his strong offensive performance, Kesler has also been solid in his own end of the ice. Throwing hits, blocking shots and killing penalties, Ryan has put himself among the front-runners for the Selke Trophy for best defensive forward. About the only thing missing from Kesler's resume is a strong playoff performance.
Last year Kesler did record 10 points in 12 games. The problem was that only one of those points was a goal. In the 2009 playoffs, he only recorded four points in 10 games—hardly the offensive output expected from the gifted center.
Kesler has been instrumental for Vancouver this year. He has adopted a greater role in their leadership and has been extremely influential on ice with his gritty play. What he needs to do is take that effort and duplicate it this postseason.
Longtime Canucks fans remember how great a force Trevor Linden was in the playoffs. He played with heart, gusto and found ways to play at a level that far eclipsed his best regular-season performances. Ryan Kesler has all the same tools to deliver a Lindenesque experience.
For all the talk of goaltending, goal scoring, talent and depth, a consistent critique has been the lack of heart the Canucks have shown the last several playoff appearances. The Vancouver teams of 1982 and 1994 were not the deepest or most talented NHL clubs in their day, but they played with a ton of heart and found it within themselves to elevate to an almost mystical level of effort.
I believe Ryan Kesler is the catalyst for this incarnation of the Vancouver Canucks. If he can lead by example, if he can lay his body on the line and give that super-human performance throughout the playoffs, this team will win, and win big.
Keep Reading

Vancouver Canucks: Like this team?