WWE Wrestlemania Live Update: Cody Rhodes Blasts Rey Mysterio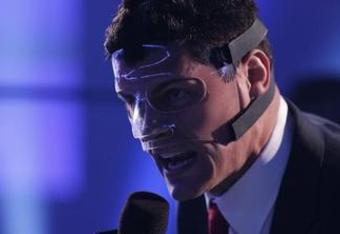 Cody Rhodes gets much needed win in this WWE Wrestlemania Live Update
In perhaps the dumbest angle of Wrestlemania 27, Cody Rhodes and his pointless mask defeat Rey Mysterio.
Ok, so there are so many things wrong with Cody Rhodes and his angle that I'm not even sure where to start. How about I start with the fact that it's one thing to have him come back pissed that he had to miss time because of Mysterio, but it's another thing to have him come back looking like Rip Hamilton when his face is just as fine as it ever was.
Perhaps the mask was to take away from his incredible lack of skill on the mic. Perhaps the mask was to give him an edge that the sun of Dusty Rhodes has not had.
What the mask has done so successfully is to create a gimmick that doesn't work and paints Rhodes into a box.
They did the same thing with Kane when they gave him a mask and lied and said he was horribly disfigured. The reality was Kane was ugly. Scary? Hell yes. But that's about it.
Still, I'm glad to see Rhodes get a much needed victory. He did demonstrate he could sell it in the ring. He didn't look still and he had a good give and take with Mysterio, which isn't easy to do since Mysterio has a skill set that most wrestlers don't have.
Still, the sooner they ditch the mask and just make him crazy the better off we will all be.
For a look at the ridiculous ring attire of Wrestlemania's past, click here.
Most recent updates:
This article is
What is the duplicate article?
Why is this article offensive?
Where is this article plagiarized from?
Why is this article poorly edited?