Madden 12: Popular Video Game Will Replicate NFL's New Concussion Rules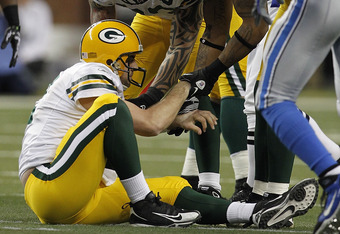 Madden 12 Hoping to Teach Youngsters a Lesson with New Concussion Rules
In previous entries of the Madden NFL video game franchise, players who suffered concussions could return to the field in the following quarter. For a football simulator that is praised for its realism, this is obviously something of a contradiction.
However, concussions are going to be taken a little more seriously in this year's edition of the game, Madden NFL 12. Players who suffer concussions are no longer going to be able to return to action in the same game, and the in-game announcers (Gus Johnson and Chris Collinsworth) will actually go so far as to explain the seriousness of head injuries in football.
These crucial changes were outlined in a New York Times article that was published on Saturday. The idea behind them is simple: They up the game's trademark realism, and they teach impressionable youngsters that concussions and head injuries in general are not so easily shrugged off.
"It starts young kids," said legendary head coach John Madden, the game's namesake, "they start in video games. I think the osmosis is if you get a concussion, that's a serious thing and you shouldn't play. Or leading with the head that you want to eliminate. We want that message to be strong."
In addition to the changes in protocol involving concussed players, the game will also no longer contain animations of head-to-head hits or headfirst tackles of any kind. Such things are being cracked down on in the NFL, and EA Sports, the company that makes the game, clearly means to teach kids a valuable lesson by following suit.
"I wouldn't say this is a full public-service announcement, but it's a means to educate," said executive producer Phil Frazier.
According to the Times, the Madden NFL franchise has sold some 90 million copies in its 22 years of existence. That means that a lot of youngsters out there, including yours truly, have gained their share of football knowledge by playing the game.
Madden himself realizes that this comes with more responsibilities than just entertainment.
"Kids used to learn football in the playground, but now they learn the game more by the video game," Madden said. "Strategy is probably a bigger part.
"But also as graphics get better, we can be better about showing proper tackling techniques. And to show that concussions are really serious: If we show players playing through them, then kids won't understand."
The reaction to these changes has been decidedly mixed. There are plenty of gamers out there who recognize the value of what Madden and EA Sports are trying to do, but there are also plenty who are not so thrilled.
After all, violence in video games is nothing new, and there are many games out there that can subject kids to much worse things than a football concussion.
That latter argument is definitely true. But that doesn't mean the folks at EA Sports aren't doing the right thing. The difference between sports games and, say, first-person shooters is that there is a much greater emphasis on realism in the former (note to Call of Duty players: recovering from gun shot wounds is not a simple matter of catching one's breath).
This is largely due to the demand on the part of gamers themselves, and the ability to the Madden franchise to adapt with the times is one of the reasons why it's such a hot seller.
Madden NFL 12 is due out in August, and you can rest assured that the game will sell like hotcakes once again. Even if the NFL season is still in jeopardy.
For more NFL coverage, check out our latest Projections for the First 10 Picks in the 2011 NFL Draft.
Most recent updates:
This article is
What is the duplicate article?
Why is this article offensive?
Where is this article plagiarized from?
Why is this article poorly edited?