Bellator 39 Cageside Live Blog and Results: Eddie Alvarez Defeats Pat Curran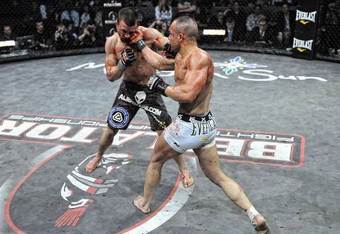 Eddie Alvarez battered Pat Curran to retain his Bellator 155-pound gold.

We are live cageside from the Mohegan Sun Arena in Uncasville, Conn., for Bellator 39, headlined by lightweight champion Eddie Alvarez vs. Pat Curran.
We'll be here all night, giving you the results and quick-hit recaps of the action. Here we go!
Dan Cramer def. Greg Rebello by unanimous decision
If you love wrestling and one-sided dominance, this fight was for you. Cramer took Rebello down repeatedly and essentially wrestled him to death with a few random strikes thrown in.
I had it 30-26 Cramer, who had a loud and boisterous following among those left behind. All three judges had it 30-27.
Off to the post-fight presser. Thanks for joining us tonight!
Lightweight Champion Eddie Alvarez defeated Pat Curran by unanimous decision
It may have taken him a while to get going, but once he did, Eddie Alvarez showed why he's one of the world's best, putting on a striking demonstration to successfully defend his Lightweight title with a unanimous decision win over Pat Curran.
Two judges had it 50-45 for Alvarez, while another had it 49-46. I had it 49-47 Alvarez.
In the early rounds, Curran was up for the fight, stuffing Alvarez's takedown attempts and effectively counter-striking off clinches. But as the bout wore on, Curran began to do less and less and Alvarez did a lot more.
In the third, Alvarez began to pour it on, hurting Curran with crushing body shots and crisp strikes to the face. He finally got his first takedown in the 3rd and had no issues the rest of the way, sapping Curran round by round.
The fourth and fifth rounds are where E.A. shone the most, bloodying up Curran's face something fierce. He even channeled his inner Anderson Silva, walking away from Curran at several points in perhaps a self-motivating fashion. After the third or fourth time, the crowd began to air their displeasure.
But no matter the reaction, Alvarez did his job and successfully retained his Lightweight title. However, Curran made a nice showing of himself and should be a good hand for the promotion down the line.
We do have one non-televised fight left: Greg Rebello vs. Dan Cramer.
Rick Hawn defeated Lyman Good by split decision to advance to the Welterweight finals

This was a very close fight as both guys seemed a bit timid to lay it all out there. Having said that, Hawn did just enough in the 2nd and 3rd round -- including a key takedown with less than 10 seconds to go -- to earn the win.
One judge had it 29-28 Hawn, while another one had it 29-28 Good. One judge scored it 30-27 for Hawn. He now advances to the welterweight finals and will face either Jay Hieron vs. Brett Weedman.
Good took the first round, landing a nice uppercut that staggered Hawn. Good did some nice work in preventing takedowns but didn't push the pace enough in the 2nd and 3rd rounds to earn the win.
In the 2nd, Hawn was on top throughout, but didn't do any real damage while there. The issue? Good didn't do anything either and didn't do anything to escape. It was a razor close 3rd round which Hawn won with the aforementioned takedown. Both guys seemed tentative to make a mistake that would have cost them the fight.
Good has his own section right next to the entrance and they went nuts for Good all fight long. Despite Hawn being from Massachusetts, it felt like Good (Harlem, NY) was the hometown guy.
Next up: the main event!
Patricky "Pitbull" Freire defeated Toby Imada by 1st round TKO (2:53) to advance to the lightweight tournament finals
Freire was patient for most of the first round and it paid off, crushing Imada flush with a flying right knee that had him out on his feet. A left hook later and Imada was out like the proverbial light.
Imada was down for several minutes and he was removed on a stretcher for safety. The ring announcer made sure to mention it was precautionary measure to help alleviate concerns.
Imada barely got any offense in and didn't look good here. On the flip side, Freire looks like a star on the rise and now advances to finals of Bellator's Lightweight tournament. He was very emotional post-fight in his interview.
Crowd loved the finish and were very respectful for Imada post-fight.
Rick Hawn vs. Lyman Good in the welterweight semifinals is up next.
Ben Saunders defeated Matt Lee by 3rd round TKO (doctor's stoppage - cuts) at 1:24
Know one thing about Matt Lee. He can take a ridiculous amount of punishment. Saunders - he formerly of the UFC - used his Bellator debut to give a muay thai clinic to those in attendance, crushing Lee's face and midsection with knee strike after knee strike after knee strike.
Saunders looked fantastic in all aspects of the game and barely got hit. He likely broke Lee's nose in the first round, causing Lee to breathe through his mouth the rest of the fight. The end came in the third when Saunders landed a standing right elbow that opened another nasty cut around Lee's left eye.
Good stoppage as the Massachusetts native Lee was toast. I'm already looking forward to Saunders' next fight. No post-fight interview with Saunders, which shocked me.
Toby Imada vs. Patricky "Pitbull" Freire is up next. Video packages for both and backstage shots are being shown now.
A few quick notes before we get going:
- Bellator really does a nice job with the arena setup, screens, etc. It's nearly impossible to miss any part of the action.
- Plenty of highlight packages put to real music, which gives it a big time feel.
- Lower bowl is completely full, so it should be a loud crowd. The venue is kinda small, but it gets loud.
Ben Saunders vs. Matt Lee is up next.
Ryan Quinn defeated Mike Winters by unanimous decision
For a guy that's just 4-2, Ryan Quinn was over like crazy here. The Danbury, CT, native couldn't do anything wrong by this crowd, even when Winters got the best of him.
Quinn kept working for various armbar and rear naked choke submissions in this fight, which was nearly all on the ground. Two judges had it 30-27 for the ATT product, while another had it 30-26, same as yours truly.
Of note, Winters tried a reverse triangle while on the ground, apparently a given at any Bellator show. The crowd was really into both guys, but Quinn was definitely their man.
Next up: Ben Saunders vs. Matt Lee to open the televised portion of the show.
David Jansen defeated Scott McAfee by 1st round submission (darce choke) at 4:58
Boring fight that got saved by the finish. Jansen got the takedown early and didn't do anything to advance his position for minutes on end. McAfee couldn't do anything and as the round was ending, Jansen locked in a tight darse choke and McAfee tapped with two seconds left.
Arena is nearly completely filled in the lower bowl and no one in the upper bowl.
Next up: Mike Winters vs. Ryan Quinn. Both guys got great pops coming out as they're from New York and Connecticut respectively.
Renê Nazare def. Luiz Azeredo by 2nd round TKO (injury stoppage)
Nazare dominated the stand-up in the first round, hurting Azeredo. The fight went to the ground and Azeredo started getting the better of Nazare.
After the first round, Azeredo was complaining about his left hand or wrist (likely broken) and the fight was stopped.
Next up: David Jansen vs. Scoty Mcafee. The announcer is going to give the crowd instructions on how to get on TV later, WWE tv tapings style.
John McLaughlin defeated Blair Tugman by unanimous decision
Unpopular decision here with the folks, despite the fact both guys are from Connecticut. All three judges scored it 29-28 for McLaughlin, even though Tugman turned it on late and owned the third round. I had it 29-28 for Tugman.
Post-fight, Tugman bolted from the cage and didn't shake McLaughlin's hand. He then knocked over the Bellator banner as he was heading through the entranceway, so at least he knocked something out tonight.
Next fight: Luiz Azeredo vs. Renê Nazare. Azeredo is apparently an injury replacement for Matt Veach.
This article is
What is the duplicate article?
Why is this article offensive?
Where is this article plagiarized from?
Why is this article poorly edited?