Maria Sharapova, Matt Barnes, Jacob Tucker and Saturday's Top Sports Buzz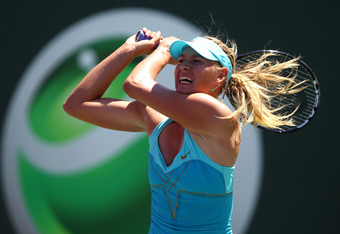 Clive Brunskill/Getty Images
Maria Sharapova has been making the news again lately. And no, gentlemen, she does not have a sexy new photo spread due for release... We're talking tennis today, as Sharapova seemed poised to take home the Sony Ericsson Open title (which would have been her most impressive victory since taking home the Australian Open trophy in 2008).
But Victoria Azarenka had other plans.
Azarenka held on to defeat Sharapova in straight sets and secure the win, which she attributed to a new mentality. Well, something must be working. Sharapova now joins Kim Clijsters and Vera Zvonareva as notches on Azarenka's belt.
In other sports news, LA Lakers' forward Matt Barnes may be physically back in action, but his short temper got the best of him. He ended up paying for his scuffle with Dallas Mavericks guard Jason Terry with a one-game suspension.
And Jacob Tucker has given Midwestern guys of average height everywhere someone to look up to. He emerged from Division III anonymity to become a YouTube sensation and win the NCAA Slam Dunk Contest.
Stay tuned for all this and more as I run through the latest sports buzz of the day!
Jimmer Fredette Earns AP Player of the Year, but What About the NBA?
Every time I hear the name "Jimmer Fredette," I get this song stuck in my head, so I figured I'd just get it over with and share the experience with my readers!
Fredette, the pride and joy of BYU basketball, was named the AP Player of the Year yesterday, and looking at the college basketball landscape, this comes as no surprise.
According to ESPN's Andy Katz, Fredette had this to say about this honor:
"It's been quite a ride and it's been a lot of fun and I wouldn't take anything back," Fredette said. "I had quite the career at BYU. There were a lot of ups and downs, but there were a lot more ups this year."
Receiving 48 votes from the 65-member national media panel, Fredette became the first player in BYU history to achieve such an award.
So what about the NBA draft? Fredette is...well...hopeful:
"I just feel like as long as I can get into the right situation I can be successful, but it's all about the situation," he said. "Hopefully when I get in that situation I'll prove that I can play and earn the respect of my teammates, coaches and general manager, everybody involved, and hopefully play well for them."
Fredette didn't have what it took to go anywhere in the 2010 draft, and things aren't looking so hot for him this year either. While he may be one of the most exciting players of this season, this excitement just doesn't transfer well into the NBA.
ESPN's Chad Ford writes:
"While NBA scouts all say they appreciate him as a player, they say all the wrong things when talking about his pro potential. They emphasize that he lacks the lateral quickness to guard his position. They claim he doesn't have the top-end speed of today's great point guards. They position him as a 6-foot-2 shooting guard trapped in a Euroleague player's body. Almost all of them assert he's one dimensional in an Eddie House sort of way."
Perhaps the biggest obstacle that Fredette will have to overcome is the fact that he has yet to establish a true identity as a player. BYU coach Dave Rose described Fredette as "unique" and points out that unique players are "harder to scout."
The problem with this theory is that "unique" doesn't get anybody drafted. Calling Fredette "unique" is the same thing as your mother telling you that you're "special," and the other kids are just jealous. Feel better, Jimmer?
I didn't think so.
In reality, NBA teams know what they want, and Jimmer Fredette just ain't it.
For more NBA Draft predictions, check out Featured Columnist Elliott Pohnl's 2011 NBA Mock Draft: When Will Jimmer Fredette Come Off the Board?
This article is
What is the duplicate article?
Why is this article offensive?
Where is this article plagiarized from?
Why is this article poorly edited?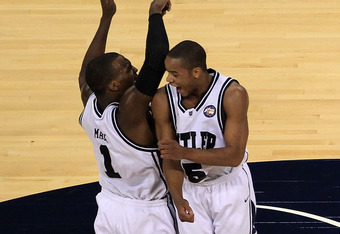 NCAA Final Four is Half Over, and Butler Bulldogs are Playing Like Champions
We've approached the second game of this year's NCAA Final Four, and everybody's favorite Cinderella story has made it to the national championship...again.
Yes, the Butler Bulldogs stuck it out through some first half accuracy issues to defeat the VCU Rams 70-62, and they will once again prepare to compete in this year's championship game.
Last year, the Bulldogs fell to the Duke Blue Devils in the NCAA championship game, and college hoops fans everywhere were shocked that Butler had made it that far.
While this is far from foreign territory for the Bulldogs, they will no longer enter this stage of the tournament as "darlings." They are no longer that cute little team, and they are no longer "just happy to be there."
This year's Bulldogs are there to win it all.
A Final Four matchup between Butler and VCU may not be the stuff of dreams for most fans, but these two teams played like their programs were right up there with the Dukes and Kentuckys of the world.
ESPN's Andy Katz writes:
"Butler beat VCU 70-62 Saturday night at Reliant Stadium in what was billed as the undercard in the first of two national semifinals. But the way the Bulldogs are playing this month, in this tournament, it's hard to call them anything but a headline act."
He then goes on to say:
"Sure, the numbers say Butler is a No. 8 seed and seeds this low aren't supposed to play for national championships. Trends like that are meaningless now, though."
As someone who watched her Alma mater (Ohio University) hit the Georgetown Hoyas with an upset in the first round of last year's tournament, I was rooting for the Bulldogs as they took on Duke for the championship.
This year, I will still be a Butler-backer but not because of my love for the "little guy." No, this year the Bulldogs have earned my support simply by being the most determined (and dare I say "most talented") team in the tournament.
Butler has emerged as a college basketball powerhouse, and Andy Katz agrees:
"Two shots at winning a title in a two year-span is phenomenal for any school, regardless of conference. Yet the unassuming Bulldogs are again on the cusp of a national title. Butler is now a consistently successful program -- not just a team that can win a game or two in March."
For more NCAA Final Four coverage, check out our March Madness Page!
This article is
What is the duplicate article?
Why is this article offensive?
Where is this article plagiarized from?
Why is this article poorly edited?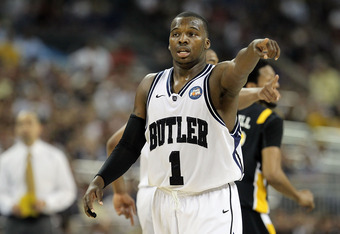 Shelvin Mack Gives Butler Bulldogs Fans a Reason to Celebrate in NCAA Final Four!
In what might be one of the most unusual matchups in NCAA tournament history, the No. 8 seed Butler Bulldogs defeated the No. 11 seed VCU Rams 70-62. Throughout the first half of this showdown, Butler struggled with accuracy (going 0 for 9 from 3-point range), but Shelvin Mack stepped it up to score 11 points, making three of his four three-pointers.
Mack gave Butler its first lead of the game, and the Bulldogs didn't look back since.
With just over two minutes left to play, VCU's Jamie Skeen sunk a clutch three pointer to set the Rams up for a four-point play, but Butler's Matt Howard (along with Mack) continued to grab boards left and right.
Mack finished with 24 points and six rebounds, but his presence cannot be described solely by listing stats. This Bulldogs guard was a game-changer, elevating his teammates when they just couldn't seem to get anything going offensively.
There is no news on whether Mack will declare for the NBA draft, but just look at him! He's built for the NBA. His size is makes him especially dangerous because it allows him to be sneakily speedy, and with a little work on the consistency of his jump shot, his range will prove him to be a spectacular asset in the pros.
The Bulldogs will now wait patiently as they anticipate the outcome of tonight's game between No. 4 seed Kentucky and No. 3 seed UConn.
For more NCAA tournament coverage, check out our March Madness Page.
This article is
What is the duplicate article?
Why is this article offensive?
Where is this article plagiarized from?
Why is this article poorly edited?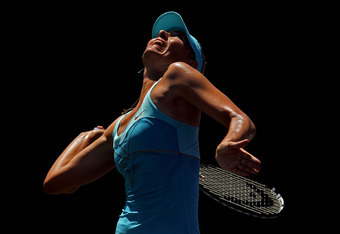 Maria Sharapova Falls to Victoria Azarenka, and it Won't Be the Last Time
Victoria Azarenka defeated Maria Sharapova in straight sets at the Sony Ericsson Open today, and this finals match demonstrated one very important fact:
Sharapova needs some serious work, and Azarenka was the perfect foil to expose her every weakness.
ESPN's Greg Garber (when he wasn't wasting time discussing the various grunts associated with women's tennis) describes Sharapova's struggles throughout the match:
"Sharapova's serve -- perhaps a product of her lack of confidence in her surgically repaired shoulder -- was atrocious. She was broken all four times in the first set alone and didn't hold her first service game until (a frankly amazing) 80 minutes into the match, after going 0-for-6. She finished with one hold in nine tries."
For more on women's tennis, check out Sweet Vik-Tory: Azarenka Slams Sharapova, Bags Second Miami Title.
Now, even though Sharapova is only 23 years old, some must wonder if her career is on its way downhill. The careers of tennis stars are virtually terminal before they even pick up a racquet, so it would come as no surprise to see Sharapova continue to slip down the WTA rankings. But unlike many of her "tennis hottie" counterparts, Maria Sharapova has something that sets her apart from the other pretty faces of women's tennis: talent.
Give Sharapova time, and she'll get into a rhythm. Garber agrees:
"...this is a good time for Sharapova to rediscover the game that produced those three major titles. After reaching the semifinals two weeks ago at Indian Wells, she'll return to the top 10 next week, but there is clearly more work to do."
And he hits the nail on the head. We haven't seen the end of Sharapova's struggles, but she is one hell of an athlete...and a fighter. She will be far from satisfied with her soon-to-be No. 9 WTA ranking, and we will all witness her tenacious fight back to the top.
This article is
What is the duplicate article?
Why is this article offensive?
Where is this article plagiarized from?
Why is this article poorly edited?