NCAA Men's Final Four 2011: Breaking Down Butler and VCU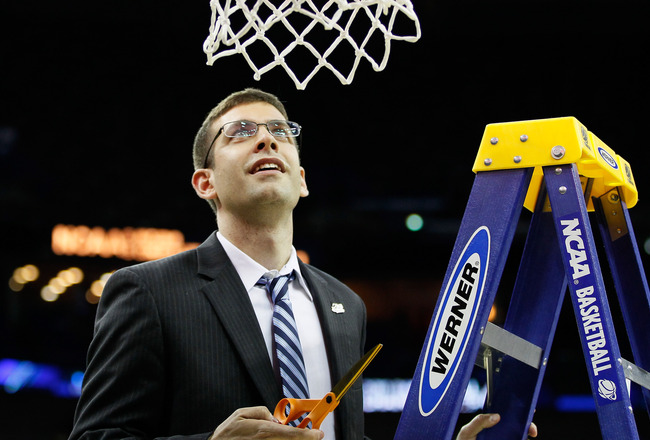 Kevin C. Cox/Getty Images
Today is the day.
In one of the most unlikely Final Four matchups of all time, Butler and VCU will play later today for a spot in the national championship game Monday night.
Can Butler finish off what it started last season, or will VCU continue its journey from questionable selection to national champion?
While neither was a very attractive pick to make it this far in the NCAA tourney—just looking at my bracket at this point makes my head hurt—both have shown the ability to elevate their game to meet any challenge put in front of them. They are both led by young, on-the-rise coaches who have managed to draw every speck of talent and determination out of their teams, and they both have the look of a team on a mission.
So who wins?
Unfortunately for college basketball fans, this year's NCAA tournament has proven that there is no crystal ball out there to show us who will win any game.
But there is always a method to the madness. Let's break this game down.
Guards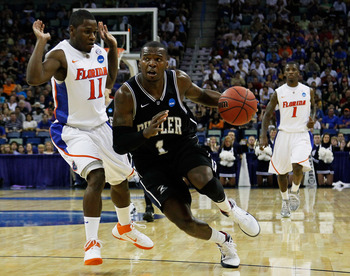 Shelvin Mack
Kevin C. Cox/Getty Images
If there is one trend that has been apparent throughout this year's tourney, it's that you need great guard play to advance. Guards set the tone for the offense, create opportunities for their teammates and have to hit big shots down the stretch.
Both VCU and Butler have gotten great play from their guards in the tournament and will need another big effort from them today to survive.
VCU
VCU is led by PG Joey Rodriguez, who at 5'10" often plays like the biggest man on the court. While not a high-scoring guard, he has complete command of his team and always seems to make a big play when the game is on the line. If he can break down his defender off the dribble today and get in the lane, he will create a lot of easy buckets for the Rams.
Flanking Rodriguez are guards Bradford Burgess Ed Nixon, and Brandon Rozzell.
Burgess has been electric for the Rams in the tournament and had huge games in VCU's wins over Florida St. and Purdue. He can penetrate off the dribble or knock down the three, and if he gets on a roll, Butler will be in for a long day. Nixon and Rozzell are role players that play solid defense and are strong outside shooters.
Butler
Butler is led by Shelvin Mack, an all-world guard that is playing as well as anyone left in the tournament. Picking up where he left off in last year's tournament, he is seemingly immune to late-game pressure, as he has knocked down big shot after big shot to send teams like Wisconsin and Florida back home.
Mack is joined by Shawn Vanzant and Ronald Nored, making this backcourt the most experienced group left in the tournament. Vanzant is a streaky shooter from outside, but can hit the midrange jumper and get to the rim. Nored doesn't score much, but his ability to lock down opposing guards on the defensive end is a big reason why Butler is still alive.
VCU has the guards to play with anyone in the country, but they don't have someone like Mack, who can single-handedly take a game over. They have to figure out how to contain him if they want to win.
Advantage: Butler (slightly)
Forwards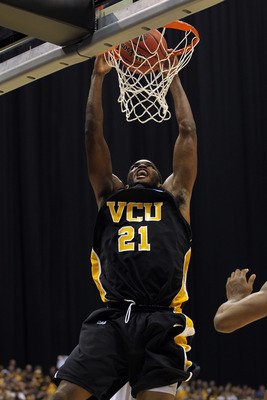 Jamie Skeen
Jamie Squire/Getty Images
With both teams' guards playing so well, the difference in today's game may well be the big men.
VCU
VCU likes to play an uptempo, guard-heavy style that often leaves Jamie Skeen isolated in the post. This could pose a mismatch problem for Butler. With Skeen's ability to play with his back to the basket or face up and step away from the rim, he will likely see a lot of double-teams from Butler.
Skeen is coming off a huge game against Kansas where he put up 26 points and 10 rebounds. More importantly than that, he made the famed Morris twins look ordinary by comparison. If Skeen wasn't getting much attention from the NBA before the Kansas game, he certainly is now. He has the ability to dominate Butler down low, but needs to stay on the court and out of foul trouble.
Butler
For Butler, it's all about Matt Howard. Howard is a guy you can't help but root for when he's out there. The guy can do it all. He posts up, he can shoot the three, he's a fierce rebounder and he is maybe the best college basketball player I have ever seen at coming up with loose balls. While Mack is behind the wheel of this team, Howard is undoubtedly its emotional leader.
I love Howard, but he could have his hands full today with Skeen. Skeen is bigger, more athletic and poses a major matchup problem for the Bulldogs.
Advantage: VCU
Style of Play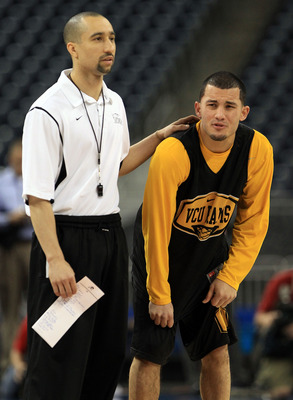 Shaka Smart and Joey Rodriguez
Streeter Lecka/Getty Images
Perhaps the biggest factor in today's game will be the style in which it's played.
While both VCU and Butler have similar stories as mid-major conference Cinderella teams, their style of play that got them here couldn't be more different.
VCU
VCU loves chaos—or at least that's how it seems.
The Rams want to make this game as fast as possible. They will run every chance they get and will pressure Butler up and down the court. Coach Shaka Smart has done an excellent job creating game plans throughout this tournament that have allowed VCU to impose its will on their opponents. They'll try that again today because they know that if they can speed the game up, they have a clear advantage.
Butler
Butler, on the other hand, is a team that loves order.
The Bulldogs want to limit the number of VCU's possessions. They will try to do so by slowing the ball down on offense and hustling back on defense to avoid fast-break opportunities and force VCU to play in a half-court setting. Look for Butler to take a lot of shots in the last 10 seconds of the shot clock and hold a guard out at the top of the key to disrupt fast breaks.
In this kind of battle I always side with the team that wants to slow the game down. If Butler can avoid getting caught up in VCU's attempts to turn this game into a track meet, it should be able impose its will and keep this game from getting out of the 60s.
Coach Brad Stevens is fantastic at making sure his team keeps playing its game; so don't be surprised to see him call a few timeouts if his team gets out of sync.
Advantage: Butler
Coaching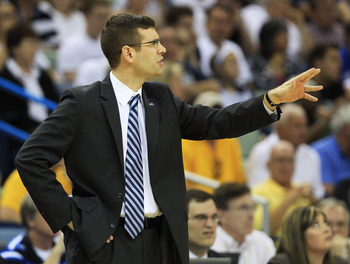 Butler Head Coach Brad Stevens
Streeter Lecka/Getty Images
Does this game signal a change on the horizon for coaching in college basketball?
Neither Stevens nor Smart has turned 40, but both are climbing the ranks of great coaches in the NCAA.
Both coaches are students of the game, and neither is afraid to get on the court and mix it up with his team in practice. Their players clearly love playing for them, and their energy on the sidelines is infectious.
VCU
Smart burst onto the coaching scene this year and for good reason. He has VCU playing at a level many didn't think was possible midway through the season. During last week's Kansas game, I literally thought he was going to run out on the court and play defense—he was so animated.
More important than his intensity though is his ability to put his team in the best possible position to succeed. I have no doubt he will have an excellent strategy for stopping Howard/Mack and will make sure his team isn't intimidated by the scope of the Final Four.
Butler
What can you say about Stevens that hasn't already been said?
The guy is an incredible coach. I don't think there is anyone in America who knows how to do more with less than Stevens. His players know exactly what is expected out them, and each has embraced his role on the team.
The only question now is can they execute the game plan effectively? Stevens will look to slow down Skeen on the inside and Rodriguez/Burgess on the perimeter. Anyone think he can't do it?
Advantage: Butler
The Pick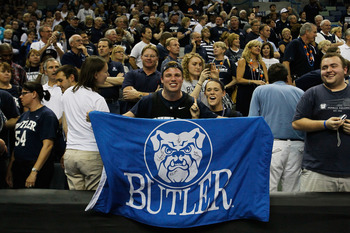 Kevin C. Cox/Getty Images
I'll be the first to admit this is a game that's almost impossible to call.
Both Butler and VCU are teams that are peaking at the absolute right time and will be bringing a ton of momentum, not to mention a great game plan to Houston today.
To win, VCU will need to speed this game up and knock Butler back on its heels. The Rams will also need big games from the trio of Rodriguez, Skeen and Burgess. They have relied on the three throughout the tournament, and if they can shoot the ball like they did against Kansas, VCU will be tough to beat today.
For Butler, the key is to keep doing what it's been doing. Butler is a team that loves to grind it out and will need to step up its toughness at both ends of the court to minimize VCU's athleticism.
While I believe this will be a fantastic game, something tells me Stevens will have his guys firing on all cylinders today. I don't want to overemphasize the role that experience will play today, but in a game this razor tight, you might see it become a factor late in the game.
Pick: Butler, 65-61
Keep Reading