World Football: Ranking the Top 25 Strikers in Europe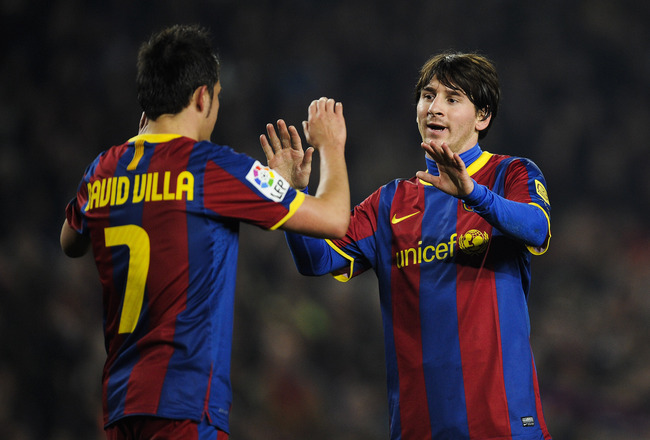 David Ramos/Getty Images
Much in the same vein as the "Top 25 Defenders in Europe" article there has always been much debate as to just who is able to claim inclusion into the top 25 strikers in Europe.
There are a number of hugely talented striker, including many who on anyone else's list could well have featured.
Names such as Dimitar Berbatov, Miroslav Klose, Edinson Cavani and Luca Toni were all unlucky to be missed, but it's such a topsy turvy game that within even one week's time, these names could have jumped into the top end of this list.
As was the same in ranking the defenders, based on the votes of a number of dedicated football fans, here is an attempted list on deciding just who the top 25 strikers in Europe really are.
25. Giuseppe Rossi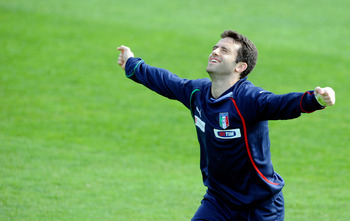 Claudio Villa/Getty Images
Age: 24
Club: Villareal
Nationality: Italian (US Born)
Reason: A Manchester United reject, most people wrote him off after him left the club, but after working very hard for Villareal, Rossi is finally proving his critics wrong.
Sitting near the top of the Spanish Primera Liga scorers charts now, Rossi was one of the strikers linked to Tottenham during the January transfer window, and although he didn't make the move, the attention he received was not undue.
24. Alvaro Negredo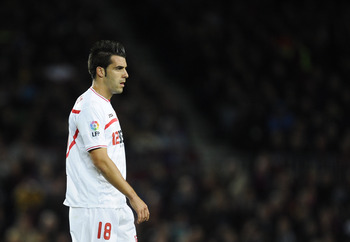 David Ramos/Getty Images
Age: 25
Club: Sevilla
Nationality: Spanish
Reason: Despite failing to make any impact on the Real Madrid first team during his early career, Negredo has proved that he still has the talent to cut it at the very highest level.
As one of the first names on Sevilla's team sheet each week, Negredo is one of the massively talented Spanish strikers, as if there was any more needed.
His lack of international caps can only come down to the fantastically talented rivals for the positions, although Negredo has scored twice in his few appearances for Spain.
23. Fernando Llorente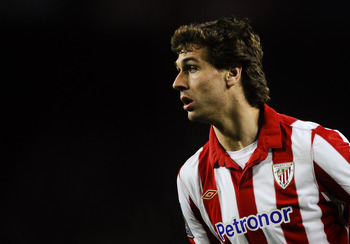 David Ramos/Getty Images
Age: 26
Club: Athletic Bilbao
Nationality: Spanish
Reason: Much like Negredo, Llorente is one of the often underappreciated Spanish internationals as he is stuck behind some unbelievably talented teammates.
Despite this, he has still had a number of showings in the Spanish national team, and in his relatively small international career, he has managed to maintain a particularly impressive scoring record.
In his club career, Llorente has also been a key part in helping Athletic Bilbao to the runners up position in the 2009 Spanish Cup and Spanish Supercup.
22. Mario Gomez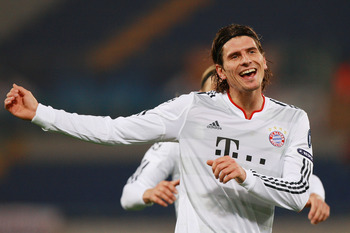 Paolo Bruno/Getty Images
Age: 25
Club: Bayern Munich
Nationality: German
Reason: At international level, Gomez has had to live in the shadow of Miroslav Klose, one of Germany's most prolific goalscorers, but at domestic club level, Gomez has proven himself very worthy of a starting place in Bayern Munich's squad ahead of Klose.
The striker is rumoured to have attracted bids from Liverpool and Tottenham during the January transfer window, and if he keeps up his form, he can expect far more bids to come his way in the summer.
21. Thomas Muller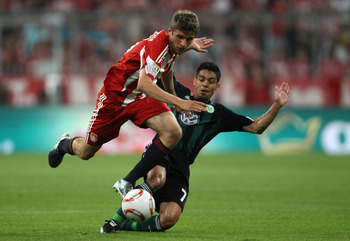 Clive Brunskill/Getty Images
Age: 21
Club: Bayern Munich
Nationality: German
Reason: Most people will remember Thomas Muller from the 2010 World Cup during which Thomas Muller won the Golden Boot and Young Player of the Tournament.
Having not received much international attention before, the German burst onto everyone's radar with a number of solid World Cup games, including two goals against England in the Round of 16.
Since then, the youngster has gone on to prove himself as one of Munich's most important players, and both him and Mario Gomez have left the prolific Miroslav Klose as a bench warmer.
20. Asamoah Gyan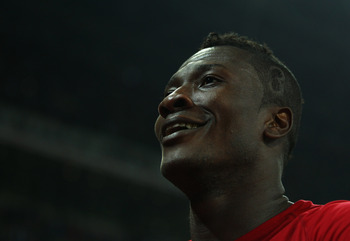 Julian Finney/Getty Images
Age: 25
Club: Sunderland
Nationality: Ghanaian
Reason: The Ghanaian striker that came to most people's attention during the 2010 World Cup, Gyan has actually had a relatively successful career in European football since 2003, when he first signed for Udinese.
His performances at the World Cup for Ghana captured fans' attention as he helped lead Ghana to within seconds of being the first African side in a World Cup semifinal. Gyan has scored at a respectable rate of one goal per two games for Ghana since his debut.
19. Luis Suarez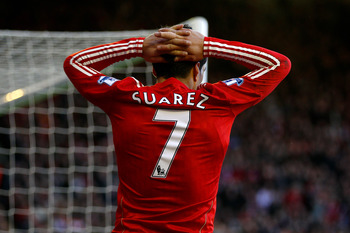 Clive Brunskill/Getty Images
Age: 24
Club: Liverpool
Nationality: Uruguayan
Reason: Maybe it's not the best idea to have Luis Suarez and Asamoah Gyan next to each other, but there's no denying the Uruguayan's talent beyond his now infamous "Hand of God 2."
Since the World Cup, Suarez has suffered a long suspension for biting an opponent while in the Eredivisie, before signing for Liverpool in January and playing a large role in turning the club's season around. While he is somewhat outshined by Mario Balotelli in terms of controversy, Suarez still has the talent to be considered one of the best strikers in Europe.
18. Antonio Cassano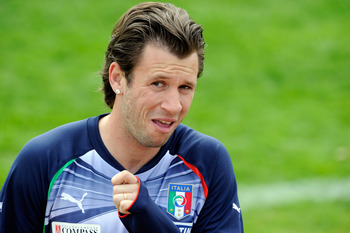 Claudio Villa/Getty Images
Age: 28
Club: AC Milan
Nationality: Italian
Reason: Cassano's character can perhaps best be summed up by the fact that "Cassanata" is now Italian slang for behaving in a way that upsets a team environment.
Regardless of his behavourial issues off the pitch, when he's on the pitch, Cassano is easily deserving of a place in this list. His performances for Sampdoria earned him a transfer to AC Milan at the end of 2010, which put him in an already stunning attacking line alongside Robinho, Pato and Zlatan Ibrahimovic.
Cassano has managed to secure a regular place in the Italian national team and the AC Milan starting XI, just proving his massive talent.
17. Edin Dzeko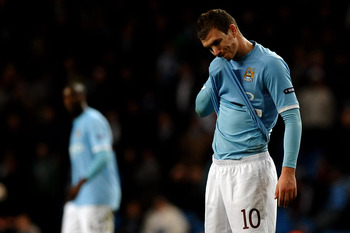 Laurence Griffiths/Getty Images
Age: 25
Club: Manchester City
Nationality: Bosnian
Reason: His start at Manchester City has hardly been as prolific as he may have expected, but provided he doesn't take his frustration out on his game, then there's no reason we won't be seeing the prolific goalscorer back on form by the end of the season.
He came to attention during his time at Wolfsburg thanks to his magnificent scoring record, which attracted attention from some of Europe's biggest clubs. While his transfer to Manchester City has not gone as planned so far, the Bosnian should never be taken lightly.
16. Francesco Totti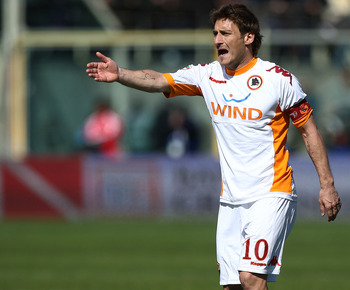 Paolo Bruno/Getty Images
Age: 34
Club: Roma
Nationality: Italian
Reason: A man who should need no introduction to any football fans, Francesco Totti is one of Italy's best strikers of the recent era.
His record speaks for itself as a World Cup winning striker, he is also the highest scorer still active in Serie A and sixth on the all-time list behind a number of legends.
Despite having won just one Serie A trophy and no major European cups, Totti is still a Roma legend having played for them his entire career since 1992. In that time, he's made well over 450 appearances and scored more than 200 goals.
15. Robin Van Persie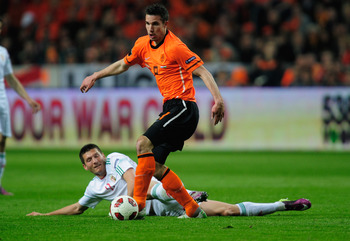 Jamie McDonald/Getty Images
Age: 27
Club: Arsenal
Nationality: Dutch
Reason: Despite being very injury-prone, Van Persie can still easily be rated as one of the top strikers in Europe.
He started in the 2010 World Cup final for Holland as well as in the 2006 Champions League final with Arsenal. Despite being on the losing sides in both games, Van Persie still has the talent to win a major trophy before his career is finished.
His record in the Premier League makes him one of the top Dutch strikers the league has seen, alongside Dennis Bergkamp, Jimmy Floyd Hasselbaink and Ruud Van Nistelrooy.
14. Alexandre Pato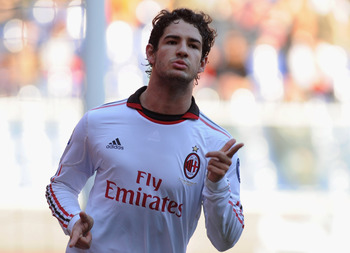 Valerio Pennicino/Getty Images
Age: 21
Club: AC Milan
Nationality: Brazilian
Reason: Another of Brazil's massively talented youngsters, Pato has not always fulfilled his potential with AC Milan, but when he has been on top form, it's been near unstoppable.
Internationally, he may be having to accept that the spotlight is usually on Neymar, but being far more experienced in top class European football, Pato should not need to worry about his place in the Brazil squad being under threat.
With an undoubtedly long career in front of him, Pato will have many chances to win a lot of major trophies.
13. Sergio Aguero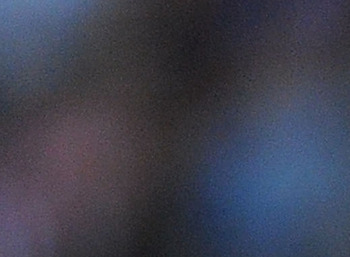 Denis Doyle/Getty Images
Age: 22
Club: Atletico Madrid
Nationality: Argentinian
Reason: Sergio Aguero has been one of the most-promising talents for the future for some time now and has only recently started fulfilling his potential.
Also well known as Diego Maradona's son-in-law, Aguero is not only a very important member of Atletico Madrid's squad but also of Argentina's national team too.
His performances led to rumoured bids of up to £38 million being made for him during the English transfer window, and that can be expected to continue this summer as well.
12. Diego Milito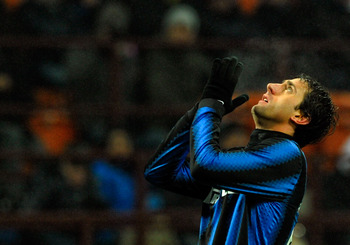 Claudio Villa/Getty Images
Age: 31
Club: Inter Milan
Nationality: Argentinian
Reason: Another addition to Argentina's massively talented attacking selection, Milito proved his value last season acting as a major part of Inter Milan's treble winning squad.
Milito scored the only goal in the Coppa Italia final against Roma, helping his club to their first silverware of the season. He then scored the only goal of the game against Siena on the final week of the Serie A season to secure Inter the league title. The season wasn't over for him yet though, as he went on to score both of Inter Milan's goals in the Champions League final against Bayern Munich delivering the third and final piece of silverware to the club.
11. Didier Drogba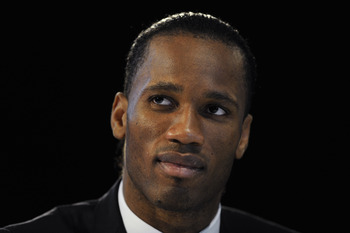 David Ramos/Getty Images
Age: 33
Club: Chelsea
Nationality: Ivorian
Reason: Didier Drogba is best known as being one of Africa's top strikers of recent generations, as well as having been a staple in the Chelsea squad over recent years..
Since suffering a bout with malaria in 2010, Drogba has struggled to be on his best form, although his talent throughout his career is still easy enough for anyone to see. He played a key role in Chelsea's title winning campaigns of 2005, 2006 and 2010 as well as their success in other domestic competitions.
Drogba is also Ivory Coast's all-time leading top scorer having scored 47 international goals.
10. Fernando Torres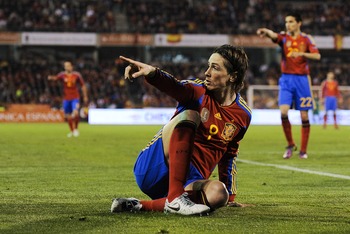 David Ramos/Getty Images
Age: 27
Club: Chelsea
Nationality: Spanish
Reason: To some, he's the £50 million flop, to others, he's still one of Spain's best strikers in recent memory. Either way, it's difficult not to see the talent that Torres has when he's on form.
Having won both the World Cup and the European Championships with Spain, the striker has plenty of medals to back up his ability.
Although with his form of late, he must try to improve quickly before any more people jump on the bandwagon and declare him a flop.
9. Wayne Rooney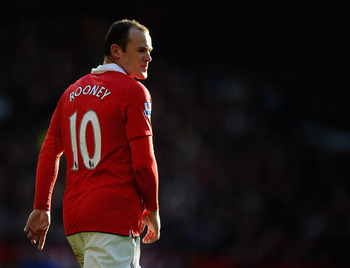 Laurence Griffiths/Getty Images
Age: 25
Club: Manchester United
Nationality: English
Reason: In the season leading up to the World Cup, Rooney showed the world what he is capable of. He was an unstoppable force that season, making fools of many defenders and goalkeepers.
However, with the weight of a country on his shoulders during the summer of 2010, Rooney began to struggle and has since looked a shadow of what he was last season.
It's understandable that everyone falls off form at some point during their careers, although, like Torres, he needs to find form sooner rather than later.
8. Gonzalo Higuain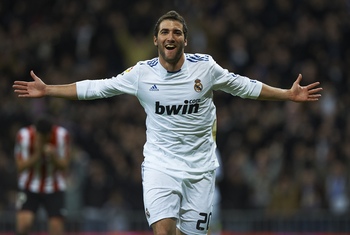 Manuel Queimadelos Alonso/Getty Images
Age: 23
Club: Real Madrid
Nationality: Argentinian
Reason: As if Argentina needed any more talented strikers, Higuain is one of the best strikers in the World at the moment.
Although he has struggled with an injury for the latter half of this season, Higuain has still proven his worth to real Madrid this year, helping them through the early stages of the season ensuring they remain close to Barcelona at the top of the Primera Division.
Although born in France, Higuain chose to play for Argentina having grown up there from 10 months old. His international scoring record so far is one to be admired, having hit seven goals in 13 appearances.
7. Karim Benzema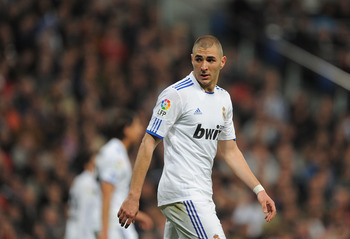 Denis Doyle/Getty Images
Age: 23
Club: Real Madrid
Nationality: French
Reason: Adding even more talent to Real Madrid's front line, Benzema has been unstoppable recently, scoring 10 goals in his last eight games for the club before falling to an injury while on international duty.
The 23-year-old has attracted much attention from around Europe, but Real Madrid will now be desperately trying to keep hold of the striker who has helped them into the Champions League quarterfinals for the first time since 2004.
A regular French international, Benzema is one of the members of the very promising youthful squad that France have been developing since the World Cup.
6. Carlos Tevez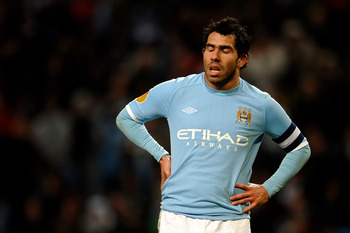 Laurence Griffiths/Getty Images
Age: 27
Club: Manchester City
Nationality: Argentinian
Reason: Carlos Tevez is hugely popular with one half of Manchester and not surprisingly very unpopular with the other half.
Tevez adds even more talent to the Argentinian front line, as well as leading Manchester City to one of their best seasons in the club's history so far this year.
His strike record for Manchester City stands at comfortably more than 0.5 goals a game, which is a very respectable record, and although he has not got such a strong scoring record internationally, Tevez is still one of the most talented strikers in the Premier League.
5. Diego Forlan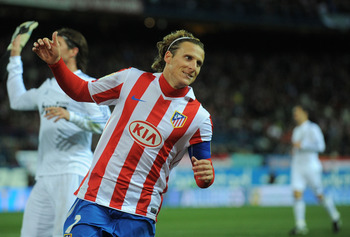 Denis Doyle/Getty Images
Age: 31
Club: Atletico Madrid
Nationality: Uruguayan
Reason: If you've been lucky enough to have seen him play at any point over the last few years, you'll find it hard to believe that Forlan left Manchester United as the subject of ridicule for his poor performances.
The Uruguayan has gone from strength to strength since moving away from United and has proven himself as one of the top strikers in the world right now.
Forlan won the 2010 FIFA World Cup Golden Ball, recognising his performances as the best in the tournament, and he has since gone on to consolidate his place as a top quality striker even more since.
4. Zlatan Ibrahimovic
Valerio Pennicino/Getty Images
Age: 29
Club: AC Milan
Nationality: Swedish
Reason: Known for his controversial behaviour off the pitch, Ibrahimovic is a class act when he's on the pitch however.
As an out and out goalscorer, he's managed to achieve a goals-to-game ratio of over 0.5 for his last three clubs. In 2009, he finished as Serie A top scorer before moving to Barcelona. Although he didn't have the best time at Barcelona, his scoring record was still very strong and secured him a loan move to AC Milan, where he has since been on his very best form.
3. Samuel Eto'o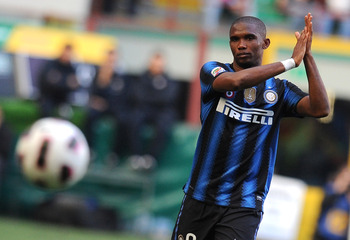 Tullio M. Puglia/Getty Images
Age: 30
Club: Inter Milan
Nationality: Cameroonian
Reason: Surprisingly forgotten about recently, Samuel Eto'o is undoubtedly still one of the great talents in World Football. He holds records as being only the second person to score in two different Champions League finals as well as only the fourth person to have won two back-to-back Champions League medals.
Eto'o has taken part in three World Cup's with Cameroon and six African Cup of Nations tournaments, winning two of them.
His goals-to-game ratio at Inter Milan is well over 0.5 as it was during his time with Barcelona.
2. David Villa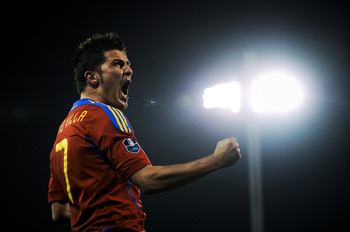 David Ramos/Getty Images
Age: 29
Club: Barcelona
Nationality: Spanish
Reason: David Villa is one of the best Spanish strikers that has been seen for years. In fact, no one has matched his goals-per-game ratio for the national team since Alfredo Di Stefano.
Villa also recently passed Rauls international scoring record, making him Spain's all-time top goalscorer.
His good form is not only at international level, however, as he has been a huge part in the Barcelona squad this past season, as well as being key player for Valencia and his other past clubs before.
1. Lionel Messi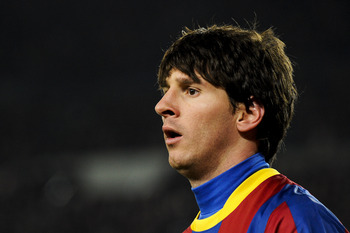 David Ramos/Getty Images
Age: 23
Club: Barcelona
Nationality: Argentinian
Reason: If there's any player on this list who cannot be argued with, it is undoubtedly Lionel Messi. The undisputed best player in the World, sometimes plays in a more attacking midfielder position but is largely considered a striker by most fans.
Having won the past two consecutive Ballon d'Or awards, Lionel Messi is said by most to be one of the greatest players ever and he is still only 23.
Having won four La Liga titles and two Champions League's with Barcelona already, the only thing still missing from his CV is the World Cup which, with time on his side and a team as talented as Argentina, is a very realistic possibility for the future.
Word's can hardly describe the talent that Messi has. The Argentinian's skill can only be seen to be believed.
Keep Reading