Muhammad Ali: Jon Jones Aside, Which 2011 Sports Star Is Most Like Ali?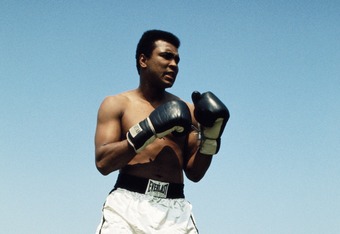 We all know by now that ring announcer Bruce Buffer described UFC fighter Jon Jones as the next Muhammad Ali. While I happen to believe that this was a ridiculous and unfair comparison, I understand what Buffer meant.
Jones, at just 23-years-old, became the youngest light heavyweight champion in UFC history. If he continues his dominance, he could go down as the greatest MMA fighter in history.
But he is young. He is still relatively unproven, at least in showing that he can dominate for the next decade.
Ali is a living legend. He was, perhaps what he calls himself, which is "The Greatest of All Time."
With that being said, aside from Jones, which 2011 sports star is most like Ali? I have selected a few for consideration, and here are some of the reasons why the following people could earn that comparison.
First, you have to remember that Ali was great back than and beloved now, but he was not always the most popular athlete. He was cocky. He was controversial. People forget that, mainly because of his current condition. Much like they forget what Ted Williams was like when he was playing baseball. Everyone loved him toward the end of his life, but that was far from the case in his playing days.
In that case, perhaps even Tiger Woods and Roger Clemens and Barry Bonds will all be thought of fondly 30 or 40 years from now.
But if we are considering some current day athletes who could be compared to Ali, the following athletes come to mind.
1. Floyd Mayweather Jr.: Mayweather is cocky. He is controversial and he is brash. "Money" makes a living out of talking and fighting - in that order. If he ever fought and defeated Manny Pacquiao, he could go down as one of the greatest of all time, and the comparisons to Ali would be accurate in some regards.
2. Tiger Woods: This would have been slightly more accurate if Woods was still winning PGA tournaments. But he has a similar personality, and receives mixed feelings from the fans and the media. He will also one day be considered one of the best to ever dominate his field.
3. Kobe Bryant: The Los Angeles Lakers guard is one of the best players to ever step on an NBA court. But he is not that well liked outside of California. He has had his off the cour issues, and his ego is unlike any other player today in the world of basketball.
4. LeBron James: This mat be the least likely comparison, but James is the most elite player in the game. He will not win the MVP award this year and his team will not win a championship. But James is another one who gets mixed feelings from the fans, and he plays the role of the villain well. Much like Ali did one day.
5. Alex Rodriguez: Say what you want about the Yankees slugger, but one day, steroids aside, Rodriguez will go down as one of the greatest to ever play. he is also very controversial, and while has matured a little bit, he is still arrogant.
I would like to know who else should be on this list, and why you consider them like Ali.
Most recent updates:
This article is
What is the duplicate article?
Why is this article offensive?
Where is this article plagiarized from?
Why is this article poorly edited?