MLB Opening Day TV Schedule: Friday's Games, Times, Live Streaming and More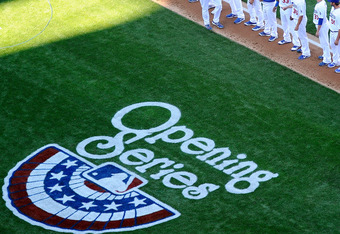 MLB Opening Day was officially yesterday, but it only featured six games, meaning that it is actually the start of the 2011 season for most of the teams today.
Friday features 11 games, with only four of those teams having already played this season.April could be the best month of the season, as fans will find it the most accessible. For the entire month, MLB.TV is free this month on iPad, iPod and iPhone, and it streams almost everywhere. That means you can watch your favorite team at home or on the go without having to miss a pitch.
What better way is there to follow all of your favorite fantasy players? They say you cannot win a championship in April, but that does not mean that you cannot lose one.
Here is a look at what you can see today, as well as picks and predictions for all of those who wish to have a "special interest" in each game:
1:05 PM: Houston Astros (Brett Myers) vs. Philadelphia Phillies (Roy Hallday): The crowd will ignite the team, and the Phillies start the year off right with a win over the lowly Astros.
2:20 PM: Pittsburgh Pirates (Kevin Correia) vs. Chicago Cubs (Ryan Dempster): Both teams are going to struggle this season, yet you have to go with the Cubs and Dempster here, as the Pirates strike out way too often.
3:05 PM: Chicago White Sox (Mark Buehrle) vs. Cleveland Indians (Fausto Carmona): I like Carmona as the better pitcher, but the Indians are horrible. The White Sox will slug their way to victory.
4:05 PM: Boston Red Sox (Jon Lester) vs. Texas Rangers (C.J. Wilson): A matchup of what should feature last year's American League champs against this year's favorites. The Red Sox will start this season on fire and sweep the Rangers. That begins today with one of the best pitchers in all of baseball.
4:10 PM: Arizona Diamondbacks (Ian Kennedy) vs. Colorado Rockies (Ubaldo Jimenez): Jimenez is still looking for that elusive contract extension, and a great start on Opening Day will go a long ways in getting it for him. Besides, the Diamondbacks are destined for last place in their division.
7:07 PM: Minnesota Twins (Carl Pavano) vs. Toronto Blue Jays (Ricky Romero): The Twins are the healthiest they have been in over a year, and they will get the job done here.
7:10 PM: Baltimore Orioles (Jeremy Guthrie) vs. Tampa Bay Rays (David Price): The Rays lost a lot of talent, but they still must be better than the Orioles, unless you listen to Buck Showalter, who says his team is the best in the division. Rays win, but the bullpen almost blows the game late.
7:10 PM: New York Mets (Mike Pelphrey) vs. Florida Marlins (Josh Johnson): The Marlins are going to win a few games this season, and Johnson will give them a shot every time out, beginning with tonight in a dominant performance over the Mets.
8:10 PM: Los Angeles Angels (Dan Haren) vs. Kansas City Royals (Jeff Francis): The Angels become the first team to go 2-0 this season with their second win over the hapless Royals n two days.
10:05 PM: Seattle Mariners (Felix Hernandez) vs. Oakland Athletics (Trevor Cahill): Oakland is going to surprise many teams and finish second in their division. But no way they beat King Felix tonight.
10:10 PM: San Francisco Giants (Jonathan Sanchez) vs. Los Angeles Dodgers (Chad Billingsley): The newly locked up Billingsley goes out and gives the Giants their second loss of 2011.
For more on Opening Day for many teams, make sure to check out Bleacher Report Angels Featured Columnist Doug Mead, who takes a look at MLB 2011: 8 Reasons Why Opening Day Should Be Declared a National Holiday.
Most recent updates:
This article is
What is the duplicate article?
Why is this article offensive?
Where is this article plagiarized from?
Why is this article poorly edited?