NCAA Tournament Final Four: The 4 Most Important Players in the Final Four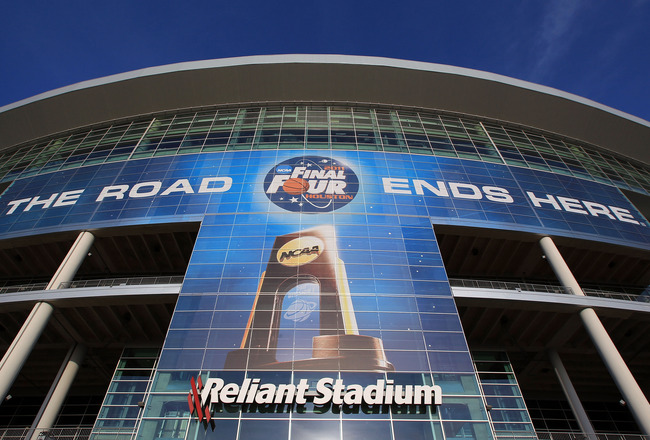 Streeter Lecka/Getty Images
It's Final Four time, folks. Only the best team will come out on top this March Madness. With Cinderella teams such as VCU and Butler still remaining, there is no guessing how the rest of the tournament will turn out.
In all of these programs, there are star players playing an important role in their teams' success. Fans are constantly wondering who will lead their programs to winning the Big Dance. The Sports Dish will be looking at which four players will be the keys to their team's success in the next few tournament games.
Honorable Mention: Jeremy Lamb, Guard/Forward, Connecticut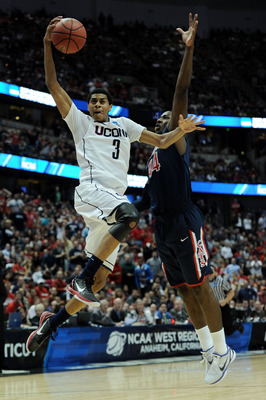 Harry How/Getty Images
The freshman sensation out of Connecticut will have a huge role during the Final Four. With all eyes on how well Kemba Walker will do in the Final Four, look for Jeremy Lamb to step up and provide the Huskies with good scoring beyond Walker.
Already averaging 18.3 points per game this tournament, Lamb has been getting very good looks, especially with the constant double-teaming of Walker. The 6'5" monster out of Atlanta is shooting out of his mind as of late. From three-point range, Lamb has shot 11-of-15 during the tournament.
Using his long, scrawny frame, Lamb has been a nightmare for opposing teams when he drives to the rim. With his solid shooting from the outside and great shooting in traffic, Lamb has shot an outstanding 59 percent from the field this tournament.
For Connecticut to win the Big Dance, Lamb will need to have a pivotal role in complementing Kemba Walker offensively, as well as being confident in his ability to make big plays. With a tough task in hand, look for a great battle between freshmen Jeremy Lamb and Terrence Jones, with Lamb's scoring being the factor that will separate these giants.
Honorable Mention: Matt Howard, Forward, Butler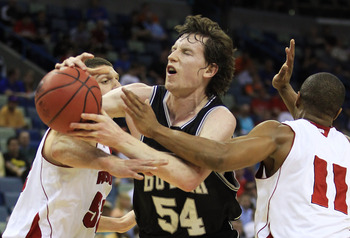 Streeter Lecka/Getty Images
Matt Howard knows what it takes to make the national championship. Howard, along with Gordon Hayward, helped lead the Butler Bulldogs into last year's national championship before losing in a heartbreaker against Duke.
With motivation and redemption from last year's game, Howard has done everything to try to help Butler make it back to the promised land.
So far, Howard's plan has worked perfectly, as he has led the eighth-seeded Bulldogs back into the Final Four for the second straight year. Although he hasn't been the most athletically gifted player on the floor, Howard has played with mental characteristics that most players don't utilize these days: heart and emotion.
Howard is constantly shown flying to make big plays and has done whatever it takes to get Butler past better-ranked foes. Whether it was his crazy layup against Old Dominion or his clutch free throws against Pittsburgh, both game-winners, something certain is for sure: No one wants to win it all as much as Howard does.
4. Joey Rodriguez, Point Guard, VCU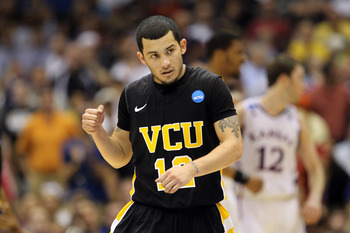 Jamie Squire/Getty Images
The leader and the captain of the VCU Rams checks in at No. 4 on our list. After helping slay the No. 1 seed Kansas Jayhawks in the Elite Eight, Rodriguez looks to help make his 11th-seeded Rams become the highest seed ever to win the national championship.
The VCU Rams might not look like the scariest team on paper, but when teams think about facing them, the one player they focus on is Joey Rodriguez. The 5'10" point guard doesn't seem like he would be much of a threat with his lack of size, but when the game starts, Rodriguez uses his speed, quickness and vision to make opposing players fear him.
Rodriguez is also one of the better defenders on VCU's squad. Against the Jayhawks, Rodriguez played well against the solid trio of Kansas guards. He forced many missed shots by Kansas' guards and put a lot of pressure on them.
Even though he isn't the best player on VCU statistically, without his leadership and his ability to create shots for his teammates, VCU would not be in the position it is currently.
At the end of the day, VCU has to rely on Rodriguez to have a monster performance defensively against Butler's Shelvin Mack. If VCU can find a way to advance, then he will be important in stopping either Brandon Knight or Kemba Walker.
3. Josh Harrellson, Center, Kentucky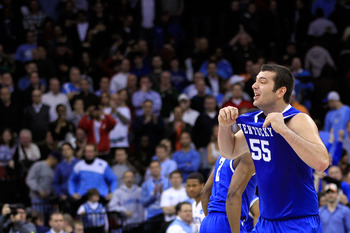 Chris Trotman/Getty Images
When looking at Kentucky's roster, the names Terrence Jones, Darius Miller and Brandon Knight probably come to mind when deciding who the most important player may be for this young Kentucky Wildcats team.
The name Josh Harrellson is seldom used among college basketball fans when describing the Wildcats' most talented players. However, in this tournament, Harrellson might be the most important player for Kentucky.
At first glance, Harrellson just looks like a big guy at 6'10" and 275 pounds. Even when looking at his stat line throughout the season, he has only averaged 7.6 points per game and 8.8 rebounds per game. This tournament, though, changed everything for the senior out of Missouri.
Harrellson has been stellar in every game he has played in the tournament. He has scored in double figures in all games and has provided the Wildcats with an average of nine rebounds per game.
What makes Harrellson valued more than any other player on the Wildcats, though, isn't any stat he possesses—it's his leadership. For Harrellson, he is the only senior on the roster for this Wildcats team. Although he was a junior-college transfer, he still has the experience needed to help this young Wildcats roster.
For the Wildcats, they are lucky to have a big man in Harrellson. He gives them an interior force that can't be matched by any center in the Final Four. With Harrellson in the post, this Wildcats team will have an advantage on the inside compared to its Final Four foes. In order for Kentucky to advance, Harrellson will need to out-rebound UConn's big men and provide solid scoring in the paint.
2. Shelvin Mack, Point Guard, Butler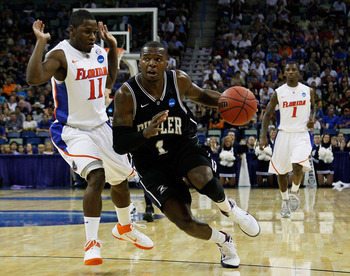 Kevin C. Cox/Getty Images
Shelvin Mack was another player on Butler's roster from last year who knew he needed to stay to take care of unfinished business. Although Mack could have left to go to the NBA at the end of last season, the junior point guard decided to stay and see how things were after the heartbreaker against Duke.
Well, it looks as if Mack made the right choice, as he sees his Butler Bulldogs one game away from where they were in last year's Final Four.
With Gordon Hayward gone to the NBA, Butler will need to rely on Mack to keep its Cinderella story alive. Mack has provided Butler with all the big plays whenever it has needed them.
He was a vital reason for Butler shocking the world by not only defeating Pittsburgh, but by defeating Florida as well. Against both Florida and Pittsburgh, Mack was shooting out of his mind, scoring 30 points against the Panthers and 27 against the Gators.
Mack and Matt Howard have been Butler's two most reliable players throughout the tournament. I don't think things will change, as Butler will keep trying to use both Mack and Howard to make shots when it counts to get Butler the win.
One way Butler will need Mack's help in the Final Four will be to contain Joey Rodriguez. Mack will need to make sure that Rodriguez doesn't get easy three-pointers, and Mack must make it his duty to force turnovers on Rodriguez. With solid play by Mack against VCU in the Final Four, look for Butler to advance and make its second straight NCAA championship.
1. Kemba Walker, Point Guard, Connecticut
Kevork Djansezian/Getty Images
There would be no list without scoring sensation Kemba Walker. There is no doubt in my mind that Walker is the most important player to his team this season. It seems that in some games this season, Kemba has singlehandedly won games for the Connecticut Huskies with his outstanding scoring ability.
This scoring ability didn't stop after the regular season. It has continued in the NCAA tournament, as spectators have seen Walker light it up for 33 points in the second round against Cincinnati and for 36 points the next game against San Diego State University.
What has really impressed scouts isn't just his scoring ability, but his all-around talent as a point guard. Walker is just the third player in NCAA tournament history to average 25-5-5 throughout the tournament.
For the Huskies, Kemba Walker has to step up every game and provide them with a large sum of points. In the past three tournament games, Walker and Jeremy Lamb have combined for 70 percent of the Huskies' points.
With his solid play throughout the tournament, Walker is just going higher up among voters for the Naismith Player of the Year. With Jimmer Fredette, Jared Sullinger and Nolan Smith falling out of the tournament, Kemba Walker is the last star left and still has time to make an impression as to why he is the best player in college basketball.
Lastly, if Connecticut wants to have a chance to cut the nets down come this Monday, it will need Kemba Walker to force mistakes on Brandon Knight and must have Walker score the way he has been lately. If Walker can keep up his scoring and 25-5-5 average throughout the next few games, it will be tough not to crown these Huskies as the new national champions in college basketball.
View More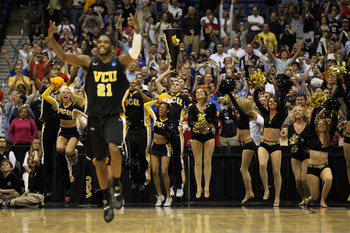 Jamie Squire/Getty Images
To see more amazing articles and the rest of the Honorable Mentions on this list...visit The Sports Dish (or if you are interested in writing for a sports blog in addition to B/R, message me) (http://www.thesportsdish.com).
Keep Reading