NBA Free Agents 2011: Yao Ming and the Top 12 Big Men Who Could Change Teams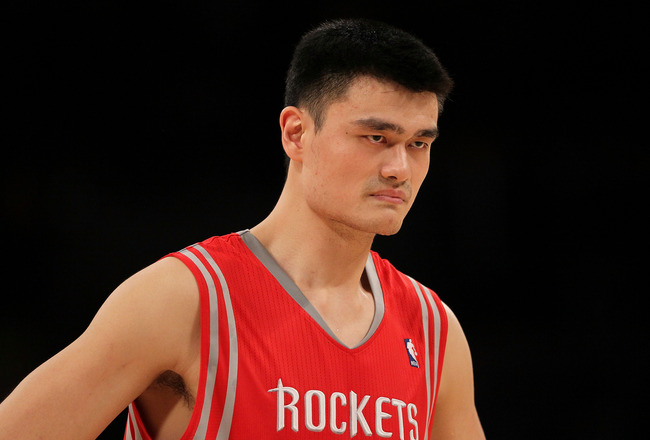 Jeff Gross/Getty Images
As the 2010-2011 NBA season nears its end, fans can once again look forward to a number of good players hitting the free-agency market. Last year, we were glued to our TVs as LeBron James announced he would be joining Chris Bosh and Dwyane Wade in Miami. In 2011, rather than see three perennial All-Stars ponder their futures, we will see the likes of Ray Allen, Zach Randolph and Jason Richardson decide where to play next.
Yet, while there are certainly a number of talented athletes in this year's free-agency class, today's focus will be on my personal favorite type of player: the big man. Each time a player who can score points as well as play great defense in the post becomes a free agent, it's always exciting to see where they will end up.
This year's big man free-agent class is headlined by Houston Rockets center Yao Ming (pictured at left), who has only played five games this year due to a stress fracture in his ankle. Given his history of injury problems and almost zero guarantee that he can stay healthy, the team is sure to let him sign elsewhere.
Here are 12 free-agent big men who could join Yao in free agency this year and possibly move on to new teams.
No. 12: Ben Wallace, Detroit Pistons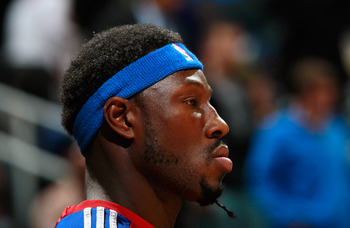 Kevin C. Cox/Getty Images
In 2002, 2003, 2005 and 2006, Ben Wallace was the NBA Defensive Player of the Year. The man could simply do it all. He could rebound, block shots, box people out, you name it! Then, he left the Detroit Pistons for a four-year, $60 million contract with the Chicago Bulls, and it all went downhill.
During his two seasons in Chicago, Wallace battled knee injuries before being traded to the Cleveland Cavaliers and ultimately returning to Detroit via free agency. This year, he has only averaged about three points and just under six rebounds a game.
Given how the situation in Detroit is basically a disaster, Wallace is almost certain to walk away. At age 36, he isn't the dominant big man that once terrorized opposing offenses. Still, he is a good locker room presence and can still be on the floor for about 20 minutes a night.
Potential suitors: Knicks, Wizards
No. 11: Nenad Krstic, Boston Celtics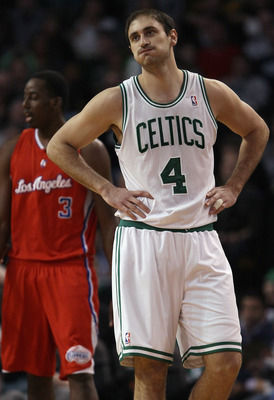 Elsa/Getty Images
Nenad Krstic came to Boston at the trade deadline as part of the infamous Kendrick Perkins trade. Since that deal, the seven-footer has averaged about 10 points and six rebounds a game. Still, with the Celtics about to have three key players hit free agency, Krstic could easily get lost in the shuffle and find a new team.
Not helping Krstic's case is the fact that he got injured tonight in Boston's win over the San Antonio Spurs, suffering a knee injury that, according to Celtics coach Doc Rivers in an interview with TNT's David Aldridge, "does not look good."
Krstic isn't the type of big man who is going to score and rebound in double figures, but he plays a decent enough post defense that he should be attractive to some teams. Look for him to find a new home in 2011, possibly in a smaller market.
Potential suitors: Bobcats, Warriors
No. 10: Nazr Mohammed, Oklahoma City Thunder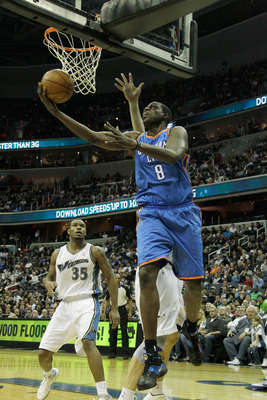 Rob Carr/Getty Images
After spending the first half of the season with the Charlotte Bobcats, Nazr Mohammed and his expiring contract were traded to the Oklahoma City Thunder for D.J. White and Morris Peterson, thus providing the Thunder with some help in the post to complement Kendrick Perkins. Now that Perkins has been signed to a multiyear extension, it's no secret that Mohammed will be looking for a new team this offseason.
Mohammed isn't much of an offensive big man, but he puts his body on the line night after night in that he goes after every rebound and uses his 6'10", 250-pound frame to his advantage. More importantly, he is a great veteran presence in any locker room and can be a leader when called upon. Regardless of what happens this offseason, Mohammed is sure to have a job somewhere.
Potential Suitors: Knicks, Mavericks
No. 9: Nene Hilario, Denver Nuggets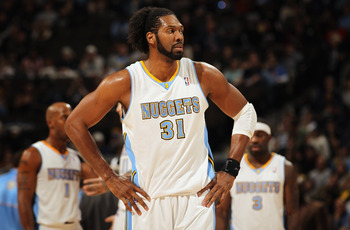 Doug Pensinger/Getty Images
Nene is a good big man in that he is a huge scoring threat in the post and can put up double figures in points consistently, as evidenced by his 14.5 points per game. He only averages 7.5 rebounds, but he can also work that category with authority as well as block shots with tremendous strength.
Given the fact that there are multiple years left on his contract, he is not technically a free agent. Still, he is expected to exercise his opt-out clause and test the free-agent market. Now that the "'Melo-Drama" is over in Denver, there is no reason to believe that the team will attempt to bring him back.
Potential suitors: Knicks, Nuggets, Nets
No. 8: Glen Davis, Boston Celtics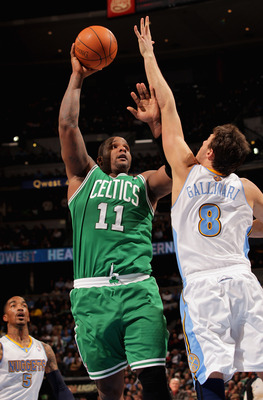 Doug Pensinger/Getty Images
As I mentioned before, the Boston Celtics have some key players hitting free agency this offseason. One of these very players is power forward Glen Davis, known to fans as "Big Baby." If the Celtics want to be top contenders next season, it is essential that they re-sign Davis.
Davis is literally a big man at 6'9" and 289 pounds, and his performance in the paint has played a big role in the team's success this season. He only averages 11.8 points and 5.6 rebounds a game, but the defense he plays greatly fills the void left by Kendrick Perkins. Still, despite his impressive play in Boston, his supposed questionable attitude may ultimately lead to him playing for a new team next season.
Potential suitors: Celtics, Rockets
No. 7: Samuel Dalembert, Sacramento Kings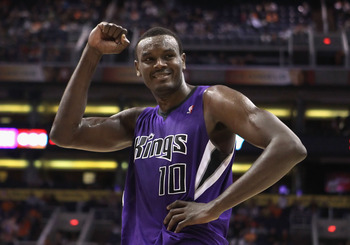 Christian Petersen/Getty Images
Based on his seasonal stats alone, Samuel Dalembert does not seem like an impressive big man. His points and rebounds per game are identical at 7.7, and his physicality in crashing the boards in the first half of the season was questionable at best. Yet, Dalembert has made himself a lot more attractive to potential suitors over the past month.
Over the past two months, Dalembert has averaged 11 points and 9.8 rebounds per game. That's very impressive for someone who basically was written off as a wash-up during the first half of the season.
Given the uncertainty surrounding the future of the Sacramento Kings, it's difficult to say just how much of an effort the team will make to bring him back—what with the possibility of moving to Anaheim and such. He seems to like playing for Paul Westphal, so hopefully he will stay. If not, there are other teams that will surely make a play for him.
Potential suitors: Kings, Mavericks, Wizards, Knicks
No. 6: Greg Oden, Portland Trail Blazers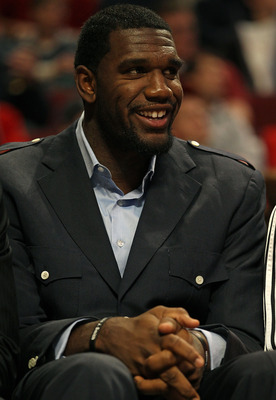 Jonathan Daniel/Getty Images
Since being taken with the first overall pick in the 2007 NBA draft, Greg Oden has slowly but surely worked his way towards the top of the draft bust ladder. He is only 23 years old, but his severe knee injuries, including two microfracture surgeries, have hampered him.
Oden has only played two seasons but has put up decent enough numbers to have career averages of 9.4 points and 7.3 rebounds. The Blazers have from the end of the NBA Finals until June 30 to offer him an extension worth $8.8 million, but chances are that he won't receive it—given the emergence of his teammate LaMarcus Aldridge.
Combine that with the presence of the newly-acquired Gerald Wallace's contract, and it's a sure bet that Oden will be a free agent. The only question is, who will sign him?
Potential suitors: Blazers, European team, or retirement
No. 5: Kris Humphries, New Jersey Nets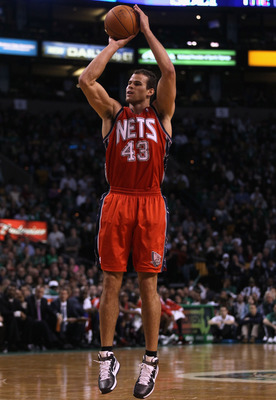 Elsa/Getty Images
In the Nets' last game against the New York Knicks, broadcasters Mike Breen and Walt "Clyde" Frazier made a key point about Humphries as a player. Despite being the power forward and not the center, combined with his 6'9", 235-pound frame, the two pointed out that he is an extremely physical player. He goes after EVERY rebound.
That being said, it is no surprise that Humphries has averaged 10 points and 10.4 rebounds on the season—not to mention 14.2 points and 14.8 rebounds in the month of March! Humphries simply puts his body on the line game after game and plays outstanding defense. His contract expires at the end of this year, and given his play since gaining more minutes after the Deron Williams trade, he will have multiple long-term offers for his services.
At this point, it's hard to believe that Humphries won't re-sign with the Nets. Team owner Mikhail Prokhorov wants to win, and if he wants to attract big name players, he would be wise to keep the athletic power forward. If not the Nets, Humphries will probably sign someplace out west so he can be closer to his girlfriend, Kim Kardashian.
Potential suitors: Nets, Clippers, Kings/future Anaheim team
No. 4: Zach Randolph, Memphis Grizzlies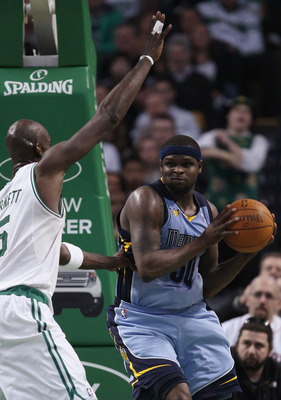 Elsa/Getty Images
Now, let me start off by saying this: I LOVE ZACH RANDOLPH! He is one of the few true big men out there—one who can consistently average 20 points and 10 rebounds a game. This season, he has done just that, averaging 20 points and 12.4 rebounds a game for the Memphis Grizzlies. Even more impressive, his field goal percentage is an even 50 percent.
Sadly, the Grizzlies are a small market team and talented center Marc Gasol also may hit the free-agent market this offseason. With team management focusing on youth, it will be extremely hard for Randolph to return to Memphis on a contract that suits his talents.
If the Grizzlies can re-sign him, more power to them. Yet, at this point, it looks like Randolph will be on his way out.
Potential suitors: Grizzlies, Wizards, Nets
No. 3: Tyson Chandler, Dallas Mavericks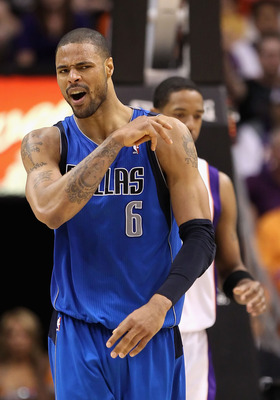 Christian Petersen/Getty Images
Ever since being drafted out of high school with the second overall pick in the 2001 NBA draft, Tyson Chandler has never really become the dominant center scouts thought he would be. He struggled over his first five seasons with the Chicago Bulls, and then spent time with the New Orleans Hornets and Charlotte Bobcats before seeming to find his full niche this season with the Dallas Mavericks.
Chandler isn't the big man who will score 20-plus points a game and bring down more than 10 rebounds consistently, but he has shown this season with Dallas that he can be an effective defender. He has averaged 10.2 points and 9.4 rebounds and, given the amount of heart he shows on the court, Chandler is sure to receive multiple offers from multiple teams.
The odds of him re-signing with the Mavs are slim at this point, but I wouldn't be surprised to see him stay as he seems to love the city and its fans. If not Dallas, he will certainly find a job with another team.
Potential suitors: Mavericks, Knicks
No. 2: Yao Ming, Houston Rockets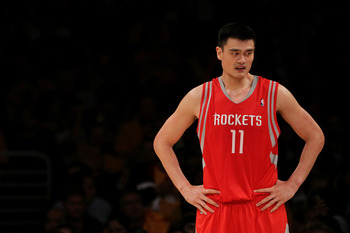 Jeff Gross/Getty Images
Despite the fact that he seems to rarely play at all, Yao Ming is not by any means a bad player. In fact, he is the exact opposite. He has averaged 20-plus points a game three times in his career and 10-plus rebounds twice. For his career, he has averaged 19 points and 9.2 rebouds with an incredible 52 percent field goal percentage.
That being said, why wouldn't the Rockets gamble on his health and sign him to a short-term deal? Well, because the odds of them eating that contract and not getting any bang for their buck outweigh the odds of Yao actually playing a full season. The man has not played a full season since 2004-2005 and missed all of last season with a broken foot.
As talented as he is, his 7'6", 310-pound frame is slowly breaking down and too many questions remain regarding his future. The only team he could possibly sign with is the Los Angeles Clippers, who nearly traded for him this season. If the Clippers don't gamble on him, Yao's NBA career might just be over.
Potential suitors: Clippers
No. 1: Tim Duncan, San Antonio Spurs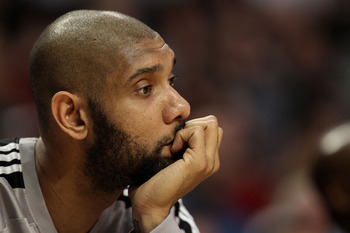 Jonathan Daniel/Getty Images
This is a name I never thought would end up on this type of countdown. Throughout his career, Tim Duncan has been the face of the San Antonio Spurs. After this season, he can opt out of his current contract, and according to the trends seen with these clauses the past couple of seasons, there is no reason to believe that Duncan will not opt-out, except for the $21 million he is due next season.
Yet, Duncan's situation is an interesting one. He will turn 35 in April, and any new contract he agrees to in the future will be subject to the current CBA's "Over-36 rule." Long story short, with any contract Duncan agrees to from this day and on, he will have to defer some money. He is used to this, having restructured his contract in the past so that the Spurs have more financial flexibility.
Yet this season, Duncan is averaging career lows. He is only averaging 13.3 points and nine rebounds a game. Keep in mind, he has averaged 20.6 points and 11.4 rebounds for his career.
That being said, could he finally be showing signs of age? The Spurs have great depth at power forward/center in Tiago Splitter, DeJuan Blair and Matt Bonner. Those players are all younger, so couldn't starting them and letting Duncan walk be more effective in the long term?
Needless to say, if Duncan walks, the contract offers will come flooding in. He could essentially have his pick of teams. Though I personally don't see him leaving San Antonio, it is definitely something to consider.
Potential suitors: Spurs, Knicks, Mavericks, Rockets
Keep Reading