WWE Wrestlemania 27 Results: 20 Things We Learned from the Event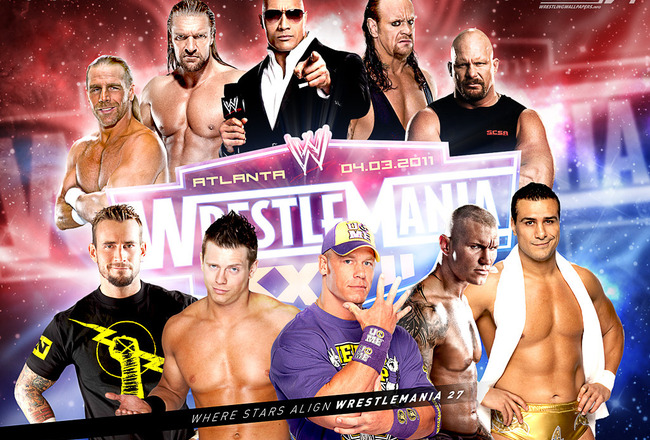 Hello, Buzzers, Buzz is back.
The biggest event of all sports entertainment, WrestleMania 27, is now over.
Regardless of what others might say, I didn't really hate the show. I'm someone who might have critical thoughts, but in the end, I enjoy watching what's available for the time being with a hope of seeing more improvements in the future.
I sure felt something was missing, but I would never go too far as to call it the worst WrestleMania ever. As you will see in the following slides, some matches did deliver. Furthermore, no WrestleMania will be worse that WM 9, 11, 13, 2 and other horrible WrestleManias. I would even say that WrestleMania 25 (excluding Undertaker vs HBK) was more disappointing.
I think it always has to do with how people here set their hopes way too high especially after reading dozens of dirt-sheet reports. The interesting thing, however, was the fact that many people were already expecting a horrible show before it started and they're still complaining about how bad it was after it ended.
It has become a tradition for IWC to always put down any event no matter what happens. Maybe some of us always expects a WrestleMania 17 rewind every year.
I'm sure that outside the IWC dungeon, many casual fans enjoyed it and I can tell you this from my cousin who liked most of the event, even though he thought that it wasn't that brilliant.
Again, I'm not saying that this event was epic by any means. I wouldn't even rank it among the top 10 or top 15 'Manias ever. I might say that the event combined might have not been satisfying for many people and it might have lacked some energy at certain moments. But if we break down each match, you will find some pros.
But saying this doesn't mean that I enjoyed every single moment of WrestleMania, and you'll notice that I will mention many cons that occurred during this event as we go on.
Like I always do after every PPV, I'll break down several things we learned from the event.
So as you look forward to RAW tonight, and as the road to Extreme Rules begins, let's break down 20 things we learned from last night's grand daddy of them all.
All said and done, let the show begin.
1. WWE Had Little Planning to the Event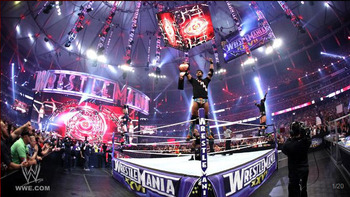 So I praised the event in the introduction slide, and then I begin with a negative point?
Throughout the history of WrestleMania events, we always had throwaway matches and fillers that might be added for several reasons. However, in this year's event it seemed that such randomly added matches were due to little planning and I'll explain why.
As we headed into the event, WWE officials seemed lost while booking the matches. It was evident from the buildups of many rivalries and I didn't need dirt-sheet reports to tell me that WWE were still uncertain about some matches.
And due to the random booking, they had to make many last-minute announcements on RAW and few hours before WrestleMania. Because of those randomly booked matches, we had a match that was dropped to the dark event, one match that had little time and another match that had wasted talents.
Overall, even the addition of old stars and celebrities wasn't really that beneficial if you ask me.
2. WWE Is so Obsessed with Celebrities and Legends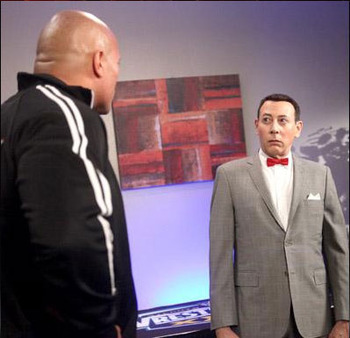 First, let me say that I have no problem with WWE inviting celebrities to WrestleMania. I think that it's an understandable move and we always saw this in all previous events.
However, I always hated WWE's obsession with giving those celebrities and even old legends all the time at the expense of younger talents.
I like Rock. I really like him. He's one of my favorites ever. But just look at yourselves here. You're rambling about the event despite having The Great One as its host. I really thought that his opening promo was way too long. It could have been shorter. What else did he say that we haven't heard before? Again, nothing against The Rock here and this slide isn't really directed towards him. After all, he was this show's host, so it wasn't really a big deal, but the promo could have been shorter.
We had countless backstage segments with Mae Young, Snoop Dogg, Pee-Wee Herman and Snooki. I like the nostalgia that WWE tries to bring by getting old superstars, and I know that celebrities might pull more attention, but I also feel that we can have shorter segments and maybe less.
The only backstage segment I liked was the stare down between Stone Cold and Rock.
I feel sorry for Trish Stratus, though. I felt that her return wasn't hyped like it should be given how WWE considers her as the best WWE Diva ever. I know she had a match that could have involved other Divas, but at least she's a former WWE Diva unlike Snooki who had no business here.
Anyway, what I'm trying to say here is that those legends and celebrities are great, but they shouldn't come just to take time from other younger talents. It's better if they help them because those young talents are the future of WWE.
3. WWE Didn't Have Big Plans for Daniel Bryan and Sheamus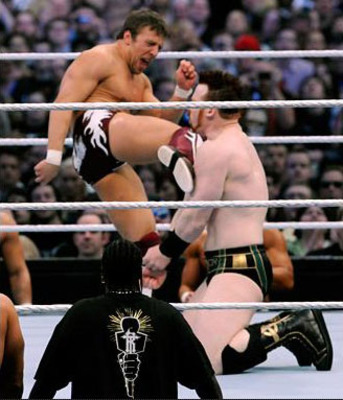 This match was the first victim of the little planning I mentioned in the second slide and the obsession with celebrities I mentioned in the third slide.
WWE had to drop this bout and make it a dark match due to time constraints and maybe lack of big plans for this match.
Many people were looking forward to this contest as they felt it could be a good fight between both superstars. Some even went too far as to call it the potential show-stealer.
However, as I said, and as you all witnessed, the match had to be dropped from the card in the end.
I guess this shows that WWE weren't really having decent plans for this match. I bet it would have gotten three to four minutes with Sheamus retaining the US Title.

4. Alberto Del Rio's Destiny Was Toppled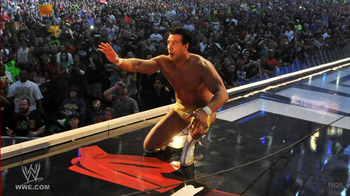 His name is Alberto Del Rio, but you already know that.
He debuted and promised to be the next big thing, and you saw that.
He said his destiny is to win the Royal Rumble match, and while you doubted it at first, you learned that after the event.
He said his destiny is to become the World Heavyweight Champion at WrestleMania, and he made us believe it at every encounter he had with Edge. However, the event is now in the history books and Del Rio didn't win the World Title but you didn't expect that.
I guess this summarizes what I wanted to say. For eight months, Alberto Del Rio has been heavily pushed as the next big thing. Ever since his debut, he was able to gain our interest with his charisma and his great heel mannerisms. It was obvious from his run that his big moment is coming faster than we think. And to be fair, he proved that he was ready for it.
However, it seems that wasting a Royal Rumble win has become a WWE tradition as the Rumble match winner failed to win the World Title for the fourth straight year. Moreover, the Rumble winner was always advertised as the man who's going to headline WrestleMania. This wasn't the case in many PPVs in the past, but the interesting thing this time was that the winner opened the show.
I'm not really angry with how things ended here as I'm a huge fan of Edge. But I felt that a big time WrestleMania moment would have been great for the Mexican Aristocrat.
Anyway, one thing we know here. Del Rio might have failed to win last night, but he'll definitely fulfill his destiny at a certain moment this year. I'm not sure how he feels after watching the Rolls Royce destroyed by Edge.
5. Edge Ended His WrestleMania Curse
Prior to his match against Undertaker at WrestleMania 24, Edge was having a flawless WrestleMania streak as he was undefeated. However, after his first singles loss against the Dead Man, Edge went on a losing streak. Moreover, Edge was still one of the few former World Champions from his generation who never had a big time WrestleMania moment.
But after last night, Edge can add this win to his accomplished and successful resume.
That was a good opening match to be honest. It had some good moments but it could have been longer. I think that Del Rio's arm-bar breaker is good, but he needs to add a KO finisher to his move set.
Edge was able to overcome Brodus Clay's involvement after some help from Christian, and hit the spear for the win.
I'm glad Edge was able to end his losing streak because he was becoming the WrestleMania jobber. But I still felt sorry for Del Rio's fallen destiny.
6. Christian's Role Is Still Unclear but It Will Transpire with Time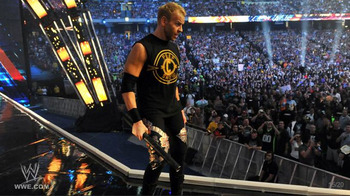 Until now, Christian's role in this rivalry is still unclear. Many people felt that he should have been added to the match due to his running feud with Alberto Del Rio and his history with Edge.
Ever since his return, Christian has been on a great run as he was able to beat Alberto Del Rio twice on SmackDown. He also helped Edge on numerous occasions.
It was said that Christian was supposed to be part of the eight-men tag-team match, but WWE decided to add him on Edge's side in his World Heavyweight Title match instead. He played a major role in helping Edge retain the title.
Now that the match is over, what's next for Christian? Will he feud with Alberto Del Rio for the No. 1 contender's spot? Will he turn on Edge? Will he keep helping Edge? Or will he end up feuding with Brodus Clay?
Only time will tell.
7. Cody Rhodes Has Put Himself on the Right Track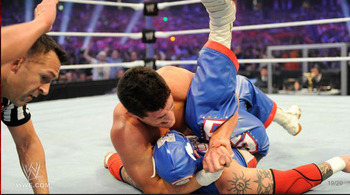 It's really interesting how things change in one year.
Last year, Cody Rhodes was part of the Legacy triple threat match against his former teammates, Randy Orton and Ted DiBiase. His performance wasn't really impressive by any means and he ended up receiving the punt kick to his head.
After the split of Legacy, most wrestling and Internet pundits anticipated a bright future for DiBiase who was expected to outshine Rhodes.
However, things went in the complete opposite way. Cody Rhodes was able to stay relevant especially after debuting a new gimmick that really helped him rise on SmackDown. This was followed by his new twisted character that came as a result of Rey Mysterio breaking his nose.
Anyway, while DiBiase wasn't even part of the WrestleMania main card this year, Rhodes in return was involved in a solid rivalry against one of WWE's top faces. To make it even more interesting, Rhodes was able to grab the victory.
What else can he wish for? I don't know if this rivalry will continue, but that was a great moment for Cody especially that it happened on the biggest stage of WWE.
I'm glad to see Mysterio putting him over. Another weird attire though. Captain America? I wonder if this reminds you of a certain superstar.
8. The Corre Was Destroyed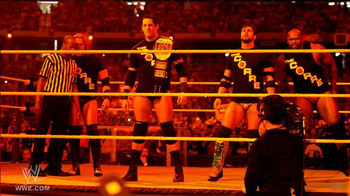 This match was another victim of the throwaway matches I mentioned in the second slide. In fact, it was the main victim of random and messy booking done by WWE.
If Internet wrestling news were right, Wade Barret was supposed to face Undertaker at WrestleMania. Furthermore, Ezekiel Jackson was supposed to face Big Show. However, the initial plans for Barret were dropped later.
Now I want say that the rivalry between those teams was random because Corre competed against Santino and Kozlov on many occasions. Furthermore, Corre were already involved in a heated rivalry against Big Show.
But WWE seemed lost as we headed into WrestleMania, so they decided to go with a random face turn for Kane (who discovered that Big Show completes him) and then throw all eight gentlemen in one ring. Unfortunately for Kozlov, he got injured one day before and missed his first ever WrestleMania match as a result. Kofi Kingston replaced him.
But if I were Kozlov I wouldn't be that mad for missing the show. In fact, this was a trash-booked match to say the least. I couldn't even pay attention to what happened because the contest ended before I prepared myself to watch it.
The only thing I saw was the burial of four future potential superstars in a squash match. I wonder if their Championships will keep them relevant.
9. CM Punk's Bad Luck Against Top Superstars Continues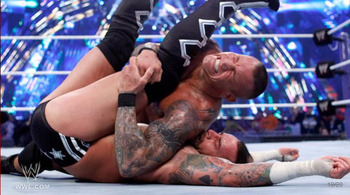 That was another great match and I already saw many people calling it the match of the night. Both superstars did put on a good match, but unfortunately for Punk, he found himself on the receiving end of a mid-air RKO that was enough to put him down for the three count.
Ever since his famous rivalry against Jeff Hardy that made him one of the best heels in WWE, CM Punk has been unlucky against all top superstars he has faced afterward.
Whether it was against Undertaker, Rey Mysterio, Big Show or Orton, Punk always found himself on the losing side. Even when leading stables, they only ended up getting buried in front of his eyes. The only rivalry that seemed to be going well with him was against Cena, and WWE dropped the ball with that feud.
Anyway, I won't talk about this a lot here. We'll have to wait for RAW to see if this battle will continue. If this ended here, then it seems that Randy Orton will be challenging the WWE Champion again sooner than later.
10. Jerry Lawler Had His Wrestlemania Moment but Not the Way We Expected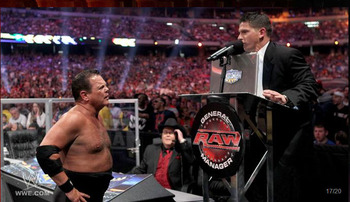 After years of numerous accomplishments in his long career, Jerry "The King" Lawler finally got his WrestleMania moment.
Now it's not really considered a big match when you face a non-wrestler, but at least it's still good for him to finally appear at WrestleMania. Furthermore, this match received the best buildup among all the other matches.
However, I don't think that this was the exact moment we wanted to see. I mean he lost. Yes, it was a disqualification, but still, that was the last thing we expected. I thought we were going to watch him celebrate with Stone Cold after they both destroy Cole. I know that this happened, but it was before the GM reversed the decision.
11. Michael Cole Shocked the WWE Universe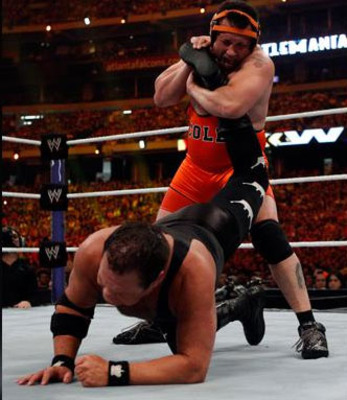 So did anybody expect to see Michael Cole victorious against Lawler? All predictions were describing this as the easiest call of the night. Pundits even had the scenario for this match set in their mind before it started.
Well, let us be real here, we all had the same scenario in our head. I think you all thought of Cole being humiliated and crushed by Lawler before receiving a Stone Cold Stunner following his loss. A beer bath was definitely in our minds too.
However, no one expected him to begin the way he did. He actually dominated part of the match after spending minutes out of the ring because he was afraid of facing Lawler. But with some help from Swagger, things looked better for the self-proclaimed voice of WWE.
Now he ended up tapping out to the ankle lock with both hands as he begged for mercy. But RAW's anonymous GM interrupted the gentlemen during their beer celebration and reversed the decision because Stone Cold abused his authority as a referee.
Yes, Cole was declared as the winner. Who would have thought of this?
And speaking of stunners, let's take a look at the next slide.
12. The Stone Cold Stunners didn't go in the directions we expected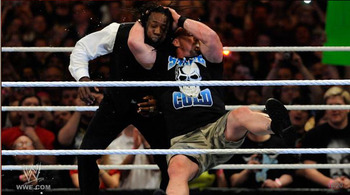 What would you expect from Stone Cold Steve Austin when you see him making his way to the ring? Beer celebration and, of course, a stunner to anyone standing before him. It has become a tradition to see Austin hit his signature Stone Cold Stunner to all superstars in the ring whenever he referees a match. The interesting thing is that he never differentiated between faces and heels. Everybody was a victim of this.
We all remember his stunners to Goldberg and Brock Lesnar at WrestleMania XX. We also remember how he stunned Donald Trump at WrestleMania 23.
Well, last night was no different as Stone Cold delivered three stunners. The superstars who received the stunners were Jack Swagger for interfering in the match, ironically, Booker T for celebrating in the ring via a spin-a-rooni, and Josh Mathews after he read the GM's email.
Even though, I never expected to see Booker T among the gentlemen receiving the stunner, I wasn't surprised because that's Stone Cold. However, the only man we all expected to see stunned never did. Yes, I'm talking about Michael Cole. I think he should have definitely received a stunner too.
Anyway, I'm glad he didn't stun Lawler as this would have added more insult to injury.
13. The Streak Match Stole the Show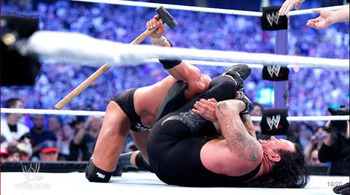 Call it what you want, but this was the match of the night for simple reasons. If we take into consideration the somehow poor buildup it had and the low expectations we had for the match given the health conditions of both superstars, we can say that the match exceeded all expectations.
Undertaker and Triple H were able to put a great and brutal match. Now some people might say that most parts of the match were about kicking out of finishers. But that's what makes the crowd go crazy. Wasn't the WrestleMania 26 match similar to this in terms of kicking off numerous finishers? But again, I think the match had many other moments than finishers only.
I was surprised to see Undertaker deliver a good match and move the way he did. I thought that his injury was still severe that he might not be able to do his signature moves. But still, he performed his suicide dive much to my surprise.
Triple H on the other hand, decimated the Dead Man and tried his best to keep him down with no success. The action even spilled outside the ring where the Spanish announcing table was destroyed (as usual) and Cole's cube was crushed too.
That's what's a match is all about. Two men fighting and beating the hell out of each others.
Triple H escaped a Chokeslam, a Last Ride and a Tombstone. While Undertaker escaped three Pedigrees and a Tombstone.
In the end, just when Triple H was about to destroy the Undertaker with his sledgehammer, the Phenom locked the Hell's Gate on the Game, and after struggling for over a minute, HHH had no choice but to tap out.
The match ended and the streak remained alive.
14. Undertaker Will Take a Lengthy Hiatus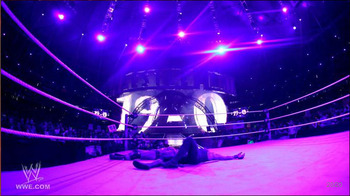 After the match, Undertaker stayed down for a while and wasn't able to stand up. Now I'm still not sure if that was real or he was only selling his injuries.
The Phenom left the ring on a stretcher.
Whether this was real or not, Undertaker will sure take a long time off after this. We all know that he used to take hiatus after his WrestleMania matches even when he was in a good condition. So it won't be a surprise to see him leave for a while given his health issues.
As a big fan of Undertaker, I hope he never returns until he fully recovers. They don't need to rush his return because I don't think he has anything major to do before WrestleMania 28.
Furthermore, I hope that next 'Mania will be his last PPV before he retires. I know it's not my job to tell any superstar when to leave, but that's for his own sake.
Anyway, for all Undertaker fans, check this article that I wrote few days ago.
WWE Wrestlemania 27: The Undertaker's Top 20 PPV Events Ever.
15. HBK Tricked the WWE Universe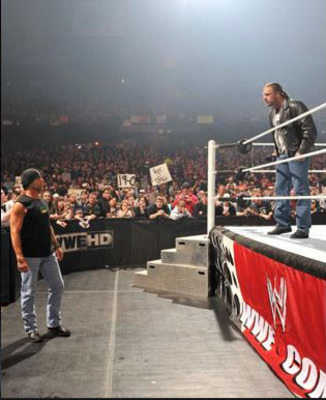 So all the news and reports about a possible Shawn Michaels involvement at ringside were false. His appearance on RAW was the only involvement we saw.
I would add that HBK did help trick us here. Everything we heard about him knowing why HHH will end the streak and how he might appear in the match were nothing but a ploy. He even played on us during an interview.
Triple H and Undertaker fought alone with no outside interferences and I'm glad that it happened this way. But I do admit that HBK's appearance on RAW made the match more interesting after we thought that the buildup was somehow poor at first.
16. Jim Ross Is Still Good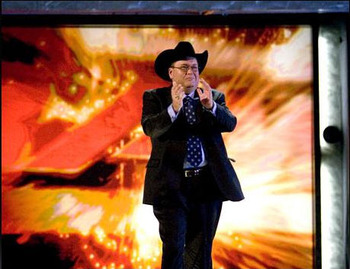 So finally, JR returned to WrestleMania and called the final four matches, and I think he did a good job.
Sure he wasn't as energetic as he used to be. He wasn't as loud as he used to be. But at least, his return was refreshing and it was good to hear him commentate again.
Let's hope we see more appearances by good Ol' JR in the future.
17. Ziggler and Morrison Were Wasted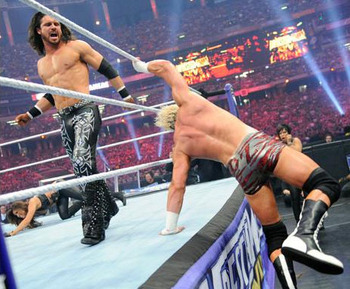 Not only were John Morrison and Dolph Ziggler thrown randomly in this match, but they were never tagged in during the bout. They only had a very brief encounter that ended up with Morrison hitting the starship pain on Ziggler outside the ring.
I don't understand why they add superstars to a certain match if they're not going to wrestle. I know that the match was more about Snooki, but that doesn't change anything. Come on, it's WrestleMania, and any superstar should get the chance to showcase his skills when added to a match.
I had no big issue with WWE getting Snooki but this match was similar to the Corre match. Short match and wasted talents.
Again, that was part of the little planning I referred to in the second slide.
18. Snooki Exceeded Expectations and Stole the Moment of the Match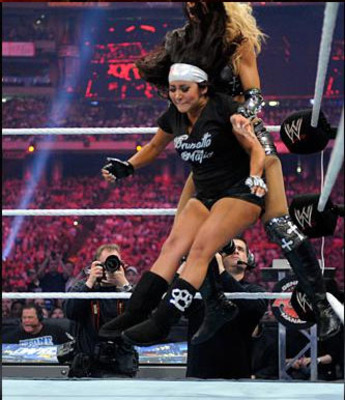 Before you start ranting on me, I'm not praising Snooki at all and I never cared for her. I'm just saying that she exceeded expectations with those two moves she performed.
I guess fans had little to no expectations for her and that's why she exceeded them.
Not only this, but she stole the moment of the match when she pinned Michelle McCool for the win.
I wonder if she might think about becoming a WWE Diva in the future.
19. The Seeds for a Rivalry Between Cena and The Rock Have Been Planted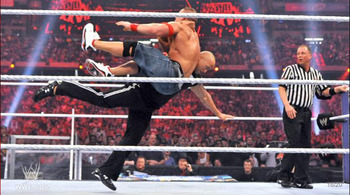 Ever since the Rock made his triumphant return, it became more obvious that issues between him and John Cena are heating up. During every promo, it became more obvious that things won't be okay once those two meet face to face.
And that's exactly what happened on RAW last week when John Cena hit the Attitude Adjustment on the Rock.
Of course, we all knew that Rock will never let this end without revenge, and much for John Cena's bad luck, the revenge came on the expense of his title match against the Miz.
First, the match ended with a double count-out which meant that Miz retained the WWE Title. But The Rock came in and instead of reading what the RAW GM had to say about it, he restarted the match making it a no disqualification. And he quickly hit a Rock Bottom on Cena wasting no time. Miz capitalized and pinned the fallen Cena for the win.
I don't know what is Rock going to do next. Will he leave for a while? Maybe. Will he stay for long? I doubt it. But is there any possibility for a future Rock/Cena feud? Definitely, and the seeds have been planted last week and last night.
20. Miz Benefited from Not Being the Main Superstar in This Rivalry After All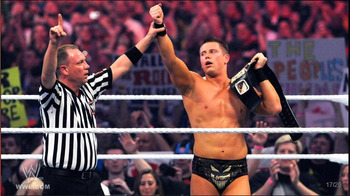 So the Miz was able to retain the WWE Title last night. I don't think many people expected him to win the match when it was first announced. But as we got closer to the event, and as Cena's exchanges of words with The Rock increased, it became obvious that the focus became more on Cena vs. The Rock.
Because of this, Miz tried his best to keep himself relevant in this feud by benefiting from Cena's focus on Rock. This helped him gain the upper hand on more than one occasion. He even had his own interaction with The Rock.
However, let's face it, it only needed one segment on RAW to make it a Cena/Rock rivalry only with Miz as a secondary character.
Did this harm him, though? Of course not. Sure he received a Spine Buster and a People's Elbow by The Rock later, but The Rockl/Cena rivalry helped him retain his title as we saw last night.
So being a second thought wasn't bad after all.
The End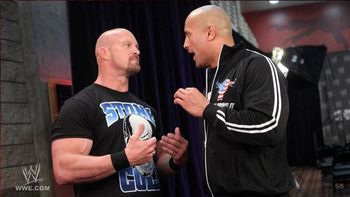 As I said, that wasn't an epic show, but it wasn't as horrible as some people are trying to make it. The results of some matches might have had their effects on some people's mind, but I still think that two to four matches were watchable.
Anyway, let's hope that Extreme Rules will be a better PPV.
Until then, have a nice day.
All thoughts and comments are welcome.
null
Keep Reading