New York Yankees, Kansas City Royals, Detroit Tigers & Thursday's Late MLB Buzz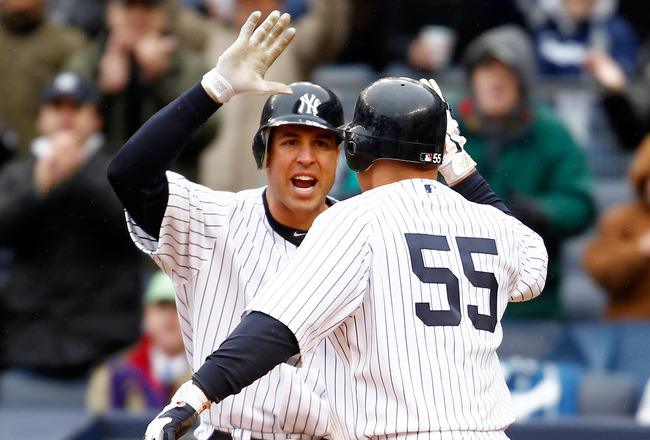 Jeff Zelevansky/Getty Images
The New York Yankees started the party off with a win over the Detroit Tigers. It's Opening Day for Major League Baseball.
Bust out the hot dogs, nachos and beer. For one day, we can sit back, and enjoy the grandeur of the nation's past time. No worries if your team drops game one, we have 162 of these things to go.
The Bronx Bombers got off on the right foot. You don't want to play these guys in New York on Opening Day. They never seem to lose in that situation.
Yet the Detroit Tigers showed up and fought the good fight. They might have gotten the better of the pinstripes had they not looked so sloppy.
And on cool day in Kansas City, the Royals are taking on the Anaheim, sorry, Los Angeles Angels. They are behind to the Halos at the moment. There is hope as Mike Aviles just hit a shot to right.
Will this be the Royals year? No. It doesn't matter, though. The beauty of Opening Day is that every team has a shot.
It's games two through 162 that gives clubs like the Royals trouble.
Play ball!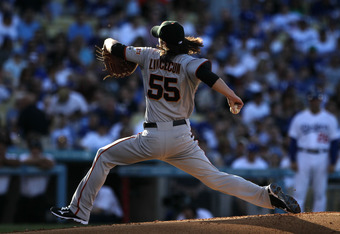 San Francisco Giants Get Off on the Wrong Foot in Championship Defense
You don't want to throw any Tim Lincecum starts away. You only get so many. That is what happened Thursday evening from Chavez Ravine.
The San Francisco Giants were taking on their hated rivals in the first game of their title defense. They looked a tad rusty in the field.
When all was said and done, the Giants were on the wrong side of a 2-1 final score. The box score will also reveal a dirty little tidbit in the three errors that the defending champs committed. The crucial one came in the sixth inning.
Pablo Sandoval wanted to back-pick Matt Kemp who was leading off at third. Buster Posey fired the ball down towards third, it sailed past the bag out towards left field.
A scoreless game had a run, and the Dodgers claimed it as theirs. Little Timmy Lincecum did enough to get the win. "The Freak" went seven innings without giving up an earned run and striking out five. You know, regular ho-hum dominance.
This is the first season that this San Francisco ball club will enter as defending World Series champions. They looked a bit nervous with that type of weight on their shoulders. They will settle in and start winning ball games shortly.
The one player that never seemed to waver was Lincecum. Despite the errors, he continued to go out and pitch his game. This team will never suffer an extended losing streak when this guy gets the ball every few days.
This may not be the way you want to start the season, but this cast of characters leaves me confident they will be just fine going forward.
Related Story: San Francisco Giants: Why Matt Cain Is a Dark Horse for Cy Young Award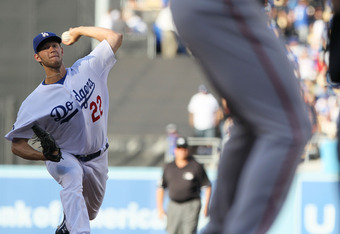 Dodgers Answer San Francisco Giants with Opening Day Victory
Question and answer. One jab gave way to a counter punch. It was Opening Day at Chavez Ravine, and the hits came well before the first pitch.
San Francisco fans were in tow to celebrate their first season as defending champs. They decided to fly a couple of banners over the Los Angeles venue to send a message. One banner read "SF GIANTS 2010 CHAMPS, BEAT LA."
Another read, "DODGERS STILL SUCK, FROM SF CHAMP FANS."
Dodgers fans had a banner of their own. Theirs read simply, "LA 5, SF 1, GO DODGERS." It was a direct reference to how many titles each team has.
This was the atmosphere to open the 2011 edition of Major League Baseball. You have to love the hatred and rivalry. This is what makes sports so much fun.
If you thought the pre-game was the best part of the day, you would be sorely mistaken. We were treated to the first classic pitching duel of the season. Clayton Kershaw and Tim Lincecum looked very polished early.
The only shaky issues for both teams was in the field. Both teams looked confused at times with the glove. The Giants got the worst of it with three costly errors.
The Dodgers managed to escape with a win. Their young players finally looked liked seasoned leaders on day one. The biggest player to turn things around from last season's form was Matt Kemp.
This is only the first game, but Kemp looks promising. He was disciplined at the plate, and refined on the base paths. He was one for one with three walks and a stolen base.
The other player of note was Clayton Kershaw. He seemed to always succumb to one wild inning last season. Today he was precise. He went seven innings without giving up a run.
He said after the game, "It's a great way to start a season."
Yes it was.
Related Story: Opening Day: Why MLB Got It Right This Year with Dodgers vs. Giants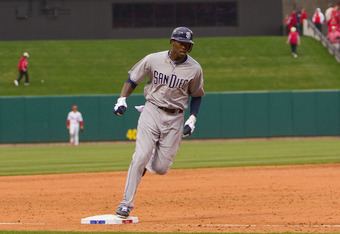 San Diego Padres Get Big Game From Cameron Maybin
The crowd was a sea of red. The cheers were raucous. These St. Louis fans are not dumb. They understood that Thursday very well could be the last Opening Day for Albert Pujols in a Cardinals uniform.
A man that was made for such festivities had his worst game of his career. He went 0 for 5. What's worse, he killed his team by grounding out into a career-high three double plays.
I am sorry St. Louis. Today was not how you planned. Instead, the heroics would come from the other dugout. The day would belong to Cameron Maybin and the San Diego Padres.
It is not easy to steal the show from the Cardinals at home. It is extremely difficult to keep pace with Chris Carpenter on the bump. It is near impossible to silence that bat of big bad Albert Pujols.
The Padres did all three Thursday afternoon.
Cameron Maybin put a damper on the day when he tied the game with two-outs in the ninth. Maybin's solo shot would send the game to extra innings. He then killed the whole day altogether for Cards fans when he singled home the go ahead runs in the eleventh.
The Cardinals couldn't answer in the bottom of the eleventh. San Diego took the first of 162 games with a score of 5-2.
You can bet that Albert Pujols will not allow this type of scenario to ever take place again. San Diego is left to revel in the rarity of this Opening Day.
Related Story: MLB Power Rankings: Every Fan Base Judged By Their Fair Weather Qualities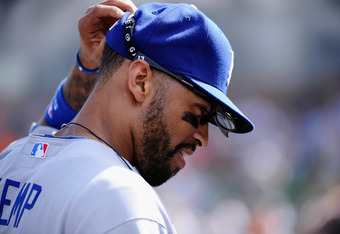 LA Dodgers Head Into 2011 Needing Young Studs to Mature
We have called them the next generation of Los Angeles stars for far too long. The time is ripe for the Dodgers bevy of babies to grow up and lead this team to the next level.
The call was always that the Dodgers needed a seasoned vet to light a fire under Matt Kemp, Andre Ethier and James Loney. If that isn't the case, the excuse is a porous starting rotation.
Well the starters are solid, and the leaders this team needs are already on the roster. I will give Kemp a mulligan for 2010. I will allows Loney to remain quiet, as long as he leads by example. I will even excuse comments made my Andre Ethier recently.
But these guys are really trying my patience.
Ethier came out the night before Opening Day and stated the following.
"My salary is increasing each year. I would say the likeliness of me being here beyond this year, it's not just my decision. ... I have been kind of lucky to be in one spot in baseball for as long as I have been, for six years now. That is a long time to be in one city playing for one team. There is no inclination now other than to go out and play this year and see what we've got."
Trash.
You don't start the season by adding to the pressure and uncertainty. That is strike one in the leadership department. I have pause that these guys will ever figure it out.
This is a team that once fielded a fearsome foursome of Cey, Garvey, Lopes and Russell. That was a time when the mantra was "we" not "I."
Those days are long gone. What is left is hope. I hope that Don Mattingly can carve some team spirit in these players from an aloof generation.
I hope they realize that no one is coming to help them lead. They are the ones that should be grabbing the bull by its horns and dragging it into the post season. This team needs these guys to be more than they have been, not on the field, but off it.
The season starts Thursday.
Related Story: Opening Day: Why MLB Got It Right This Year with Dodgers vs. Giants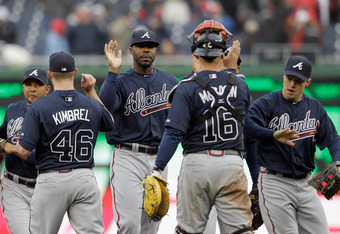 MLB Scores Are Finally Here to the Joy of Baseball Fans Everywhere
A very merry Opening Day to you and yours.
A day that should really be a national holiday finally came after months of waiting. There really is nothing like it. Every team has the same chances out of the gate. Every ballclub starts at zero. Now we get to see what 2011 has in store.
Thursday was a relatively slow day in the majors. Most teams are left to wait for Friday when there will be eleven games on the docket. That does not mean there wasn't a significant amount of action today.
Here is a rundown of the action Thursday.
Detroit Tigers 3
New York Yankees 6
Mark Teixeira actually shows up on day one and hits a home run. Anything is possible.
Los Angeles Angels 4
Kansas City Royals 2
Jered Weaver throws six strong innings, and the bullpen almost undoes it all.
Atlanta Braves 2
Washington Nationals 0
Derek Lowe looks like a bona fide ace. Jason Heyward has another great opening day, hits first home run of baseball season.
Milwaukee Brewers 6
Cincinnati Reds 7
What could be the two contenders to the NL Central met up for another classic finish. Unlikely hero, Ramon Hernandez, has first walk-off home run of the season.
San Diego Padres 5 (11 innings)

St. Louis Cardinals 3
Padres take first extra innings game. Cards see Pujols go 0 for 5. Also hits into three double plays.
San Francisco Giants 0 (6th inning, in progress)
Los Angeles Dodgers 1
So far, this has been a fine pitching duel. Buster Posey throws one away at third to allow Kemp to score.
Crack a beer folks, it's baseball season. Welcome the warm weather, the lazy days of summer are just around the corner. Another fine season has begun.
If you need me, I will be over here smiling.
Related Story: Opening Argument: Why Today Should Be a National Holiday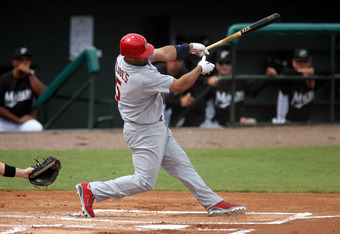 St. Louis Cardinals See Albert Pujols Have One of His Worst Season on Opening Day
You can't even count on Albert Pujols anymore. What is this world coming to?
The Cards best hitter of all-time was blanked on Thursday in the Cardinals' home opener against the San Diego Padres.
The mood was festive to start the game despite a looming contract issue for Pujols. That is to be expected. St. Louis fans are quite possibly the best in baseball. They take their lumps when they must, and celebrate whenever they can.
It was lump taking time on Opening Day.
St. Louis jumped out to an early lead. In all they saw three runners come home, and one of their players blast one over the fence.
They also had 12 hits. Please don't spit out your coffee when I tell you that Pujols was not involved in any of that. He came up five time in the eleven inning game, he was sent back to the bench all five times.
The worst stat of the day for Big Al was the three double plays he grounded out into. That would be a career first if you are scoring at home.
In a tight game, the Cards needed Pujols badly. This may be a sign of things to come if Albert does indeed bolt to free agency next season.
We can all agree that the slugger will be just fine. He will once again put up gaudy numbers as he has done every season. For one day though, he was as human as you and I.
Related Story: St. Louis Cardinals: Opening Day No Holiday for Matt Holliday and Red Birds
Detroit Tigers and Justin Verlander Drop Game Number One to New York
Well that was a game of unlikely outcomes.
Justin Verlander looked every bit ready to dominate early this season. He was crisp and dominating in the spring. Well, these are the games that matter.
Verlander was in no way horrible. He did enough to invoke confidence that he can anchor this staff. He just wasn't as good as the Tigers needed.
He was pumping fire early, but ended up making some costly walks in the first inning, an inning he would finish with 31 pitches. That may have been enough to tire his arm and allow a home run to Mark Teixeira in the third.
That was the other unlikely outcome of day one in Major League Baseball action. There was a rare Mark Teixeira sighting. The slugger that can't seem to get going early every season was in mid-season form.
He has a three-run blast in the third, and looked very comfortable all day. He said after the game, "I've been petitioning the league to start in March for years. Finally they let us start in March because everybody knows my Aprils. It's great to start this way. ... Last year was awful, it was embarrassing."
Yes, Tex, it was. My fantasy team is just barely coming back from your dismal start.
The Tigers have a lot to be proud of coming away from Thursday. They looked a bit shaky with the glove. In all, they look prepared to once again challenge for the American League Central. One game does not make a season, but we can assume these Tigers are ready to win a boat load of ball games.
Jim Leyland had his own assessment to offer. "Their bullpen and the long ball is what did us in today. I thought it was actually a decent game for the conditions. It was pretty rough."
We know what they Yankees are. They are a power hitting team that may have holes in their rotation. Chin up Tigers fans, this is a very long season.
Related Story: New York Yankees: Why Their Victory over the Tigers Means a Bright Future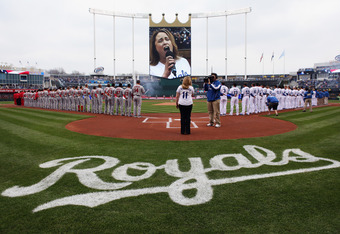 Kansas City Royals Drop Season Opener to Los Angeles Angels
It was a cold hazy day in Kansas City. The Royals were trying their best to get out to a promising start against the Los Angeles Angels.
This is a team that hasn't placed higher than fourth since 2003.
If we extrapolate today's game over a season, we can safely say that the Royals are a bat or two away from success.
The Angels got out to a four run lead with a two run shot by Torii Hunter in the fourth. Jeff Mathis chipped in with a bomb in the sixth inning.
The Halos ace, Jered Weaver, earned his paycheck on Thursday. He went six and a third allowing no runs and striking out six.
The issues for the Angels came when skipper Mike Scioscia went to the bullpen. They allowed the Royals to get back in the game and threaten to ruin their Opening Day.
Through a little over three innings, the staff gave up two home runs and five hits. The biting of the nails came in the eighth inning. Mike Aviles had just homered. The Angels then proceeded to load the bases with one out.
Jeff Francouer strode to the plate right after he homered in his last at-bat. It is a good thing for the Halos that he strikes out more than he hits bombs. Jeff whiffed his way back to the bench and Alcides Escobar popped out after him to end the inning.
The Angels escape day one with a victory. The Royals suffered what is sure to be the first of many losses.
Related Story: Opening Argument: Why Today Should Be a National Holiday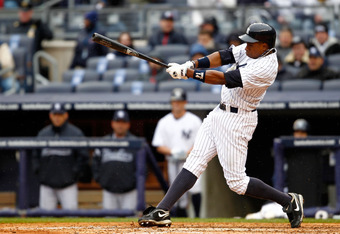 New York Yankees Make Use of The Long Ball in Opening Day Win
Same stuff, different season. That is one nice way of putting it. The bane of baseball fans not calling the Yankees their own is, well, the Yankees.
They are forever near the top of the heap in talent, and offensive production. The Bronx Bombers started off the 2011 baseball season in New York Thursday afternoon.
Their one bona fide ace strode to the mound. The Yankees will need C.C. Sabathia to do just what he did today. Pitch well enough for the Yankees bats to matter. He may have one of the cushiest jobs in the majors if day one is a sign of things to come.
The Yankees have power.
They showed just what they plan on doing to pitchers for the rest of the season. The Yankees enjoyed two long balls to start their campaign. One from Curtis Granderson, and another from Mark Teixeira.
The day that Teixeira ha should worry the rest of the American League East. This guy is usually allergic to early season production. Someone must have told him the calendar read June.
Justin Verlander was at times shaky. This is counter to the fine spring he had. There is something to be said about the weather conditions that were more fit for a football game. He may have done enough to get the win, but the Tigers bobbled some balls late.
One ball got past catcher Alex Avila exacerbating the issues. Leyland was not nearly downtrodden after the game. How can you be when we are still in March.
Leyland offered a balanced assessment of the day, "Their bullpen and the long ball is what did us in today. I thought it was actually a decent game for the conditions. It was pretty rough."
The Tigers are not worried. Their big question mark and potential pariah Miguel Cabrera seemed to have his head in the game. He finished the day one for two with an RBI and a walk.
The Yankees were simply better late in the game. They also enjoyed the fact that they were playing at home to start the season. This team has won 13 of their last 14 home openers.
Sometimes you just can't deny fate.
Related Story: Opening Acts: The Top Contenders for 2011 MLB Awards