2011 Buffalo Bills: Lee Evans, Donte Whitner, and 6 Bills on the Hot Seat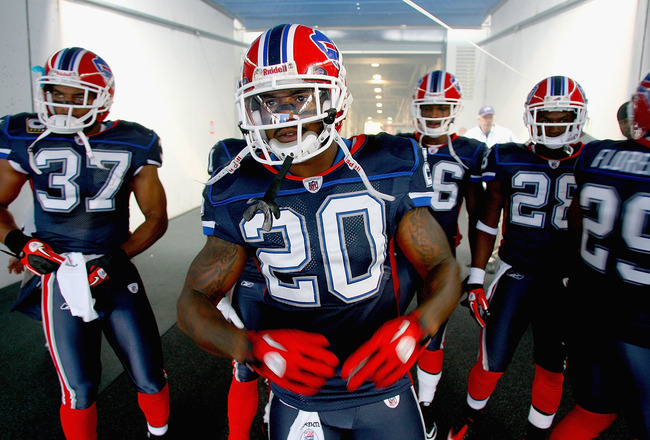 Rick Stewart/Getty Images
The head brass at One Bills Drive are looking to reverse the culture of a losing Buffalo Bills franchise that hasn't had a whiff of the postseason since 1999, when they lost to the Tennessee Titans in the infamous "Music City Miracle" game.
After revamping the coaching staff and roster just a year ago, there are several Bills who need to have an impact this season if they wish to stick around in Buffalo.
With that being said, let's take a look at the top six Bills players that will be on the hot seat in the 2011 NFL season.
Shawne Merriman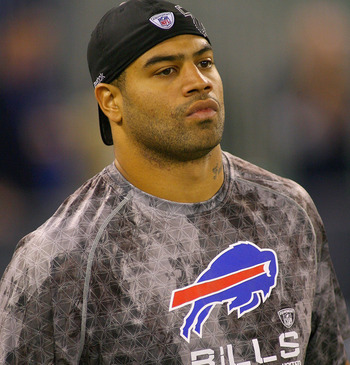 Rick Stewart/Getty Images
Buffalo Bills General Manager, Buddy Nix, claimed former All-Pro linebacker Shawne Merriman off waivers after being released from the San Diego Chargers last year.
Merriman immediately burst onto the scene coming out of Maryland, recording 39.5 sacks while forcing eight fumbles in his first three seasons, but in the following three years, he was plagued by injuries, causing him to appear in just 18 games in which he recorded four sacks.
The Bills gave him a pretty hefty contract, only to watch him suffer an injury in his first practice as a member of the team.
At just 26 years old, Buffalo is hoping that he will return to his former self and bring a pass rush presence to a defense that struggled in every facet of the game.
Leodis McKelvin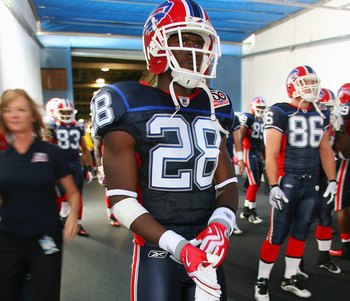 Rick Stewart/Getty Images
The Buffalo Bills selected cornerback Leodis McKelvin with the No. 11 overall pick in the 2008 NFL Draft, hoping that he would solidify their secondary and become a dominant, shut down corner.
McKelvin has all the potential in the world, but has been extremely inconsistent in his three NFL seasons, and lost his starting job to Drayton Florence, only to return to the starting lineup when fellow corner, Terrence McGee went down with an injury.
Last year he showed signs of improvement, recording 62 tackles and two interceptions, while defending 11 passes, but he gave up too many key plays, and has led the Bills to take a hard look at Louisiana State's Patrick Peterson, who could be the No. 3 overall pick in this season's draft.
Shawn Nelson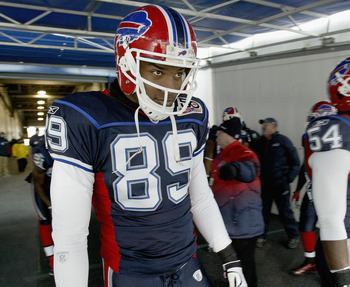 Rick Stewart/Getty Images
The Buffalo Bills haven't had a productive tight end in years, and as NFL offenses have begun incorporating them into passing attacks, selecting Southern Mississippi product Shawn Nelson in the fourth round of the 2009 NFL Draft seemed like the Bills were going to head in that direction.
However, he has only appeared in 17 games, recording just 20 receptions for 181 yards and just one touchdown, and was suspended last year for violating the league's substance abuse policy.
At 6'5" 240 pounds, he has the prototypical size and speed you look for in a tight end, but he hasn't been able to find the field, leaving David Martin and Jonathan Stupar ahead of him on the depth chart.
Donte Whitner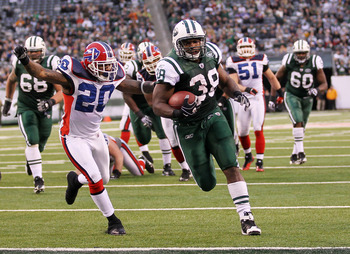 Al Bello/Getty Images
Donte Whitner hasn't lived up to his No. 8 overall draft status when the Bills took the Ohio State Buckeye in 2006. Too often he looks to make a big hit rather than make a big play, and he lacks the ball hawking ability you look for in a safety.
His 140 tackles in 2010 are a misleading statistic, and he has only recorded five interceptions in his career. Combining that with his Twitter rants, he has grown more and more irritating to Bills fans who want more out of a safety looking for top-five money.
It seems as if he will be back in Buffalo next year, as he was tendered at the end of the year, but if he doesn't pick up his production his stay will not be for long.
Lee Evans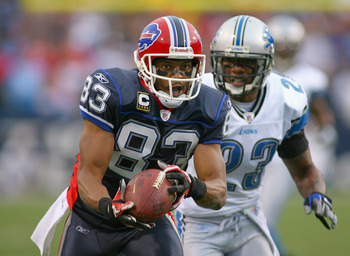 Rick Stewart/Getty Images
Wide receiver Lee Evans has been a fan favorite and a model citizen during his eight seasons as a Buffalo Bill, but after recording career lows in receptions (37), yards (578), and scored just four touchdowns, he needs to have a good 2011 year if he wants to stick around much longer.
The Bills are pretty deep at wide receiver, with Steve Johnson's emergence last year, along with undrafted rookie, David Nelson's production.
According to Allen Wilson of the Buffalo News, head coach Chan Gailey openly stated that Evans needed to improve his route running, and become more than just a deep ball threat.
Aaron Maybin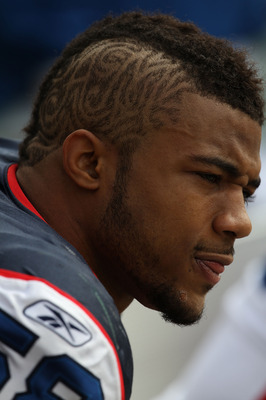 Jonathan Daniel/Getty Images
Personally, I don't see why Aaron Maybin is still on the Bills roster at this point. He has obviously spent more time in the barber shop than in the playbook, and has yet to record a sack since being selecting 11th overall in 2009.
Last year there were high hopes for Maybin, who seemed to be a perfect fit as an outside pass rusher in the 3-4 defense, but he couldn't find a way to get on the field, even in special teams situations.
Chan Gailey told Tim Graham of ESPN that he works hard, but still needs to learn the fundamentals of pass rushing. If he doesn't have an impressive training camp, I can't see him making the opening day roster.
Keep Reading

Buffalo Bills: Like this team?