Falcons' RB Michael "The Centaur" Turner Looks to Regain Elite Status in 2011
March 31, 2011
2010 Review
(brought to you by PYROMANIAC.COM)
To former teammate Lorenzo Neal, Michael Turner is known as "The Centaur" and for good reason.  Despite being listed at just 5'10", Turner tips the scales at a whopping 244 pounds, most of which can be found compacted in his massive lower body.  For those who don't know, a "Centaur" is a mythological beast that possesses the head, arms and torso of a man, yet stands upon the lower body and legs of a horse.  One look at the Atlanta Falcons running back and you'll see the similarities.
In 2008, Turner did well in living up to his mythical status by putting up some monstrous numbers including rushing yards (1,699), attempts (377), TDs (17), and fantasy points (276.0, second to DeAngelo Williams' 283.9). 
However, a horse can only be ridden so hard before they begin to tire, thus subjecting them to the possibility of injury.  That is exactly what happened to Turner in 2009 when he played in just 11 games due to an ankle injury and was held to less than half his yardage from the year before.  That said, the prospect of holding down an awe-inspiring beast such as "The Centaur" for long seems futile, as was proven by the mammoth RB in 2010.
A sluggish start to Turner's season had fantasy owners wondering if the prognosticators' prophecies foretelling of a triumphant return to stardom were more hopeful in nature than anything else.  "The Centaur" would amass just two 100-yard games and one TD over the first six weeks of the season, but for those who kept their optimism on high, their loyalty would soon be rewarded.  During the Falcons next seven weeks of play, Turner would put up five 100-yard games, 10 touchdowns, 743 total yards and an average of 19.2 fantasy points per game.  Finally, the Michael Turner owners were hoping for had returned.
When a player experiences an injury that keeps him off the field for a significant amount of time (i.e. a month or more), it commonly takes a good year back in uniform for these players to regain their status among the elite.  Knowing this, Turner fans should not be surprised that the hefty Atlanta running back ended up ninth on the year-end fantasy rankings list for 2010. 
Be that as it may, fan of "The Centaur" or not, watch out for him in 2011.  If this mythical creature can manage to gain a spot back in the Top-10 less than a year off of injury, rest assured, you'll be happy to see him still sitting there on the board at the end of the first round during your 2011 fantasy draft.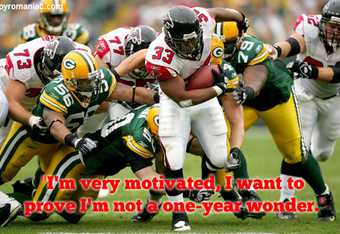 2011 Pros & Cons
(+) Turner is now a full year and a half removed from his ankle injury and will be at full strength for the 2011 season.
(+) Has put up 10-plus TDs every year since joining the Falcons in 2008 (39 TDs in 43 games).
(+) With QB Matt Ryan coming into his own and WR Roddy White proving to be one of the best in the game, defenses can't focus on the Falcons running game.
(+) Being in a division with New Orleans, Tampa Bay and Carolina, Turner plays at least nine games in domes (eight at home, one in New Orleans) and two others in warm-weather cities.
(+) Showed his commitment as an elite RB by working his way into prime physical shape last season.
(+) Atlanta is now a legitimate Super Bowl contender, with much of that assessment due to Turner's role in their offense.
(+) "The Centaur" has the thickest thighs in the league, a trait running backs never seem to go wrong with having.
(–) His straight-ahead, bruising running style leaves him susceptible to injury/wearing down toward the end of the season
(–) Tallied 377 carries in 2008, then was injured and missed five games in 2009.  Racked up another hefty 334 carries in 2010; what will happen in 2011?
(–) With the Falcons moving towards a more pass-heavy attack, Turner's lack of receiving skills could keep him out of the Top-five fantasy RBs in the league.
For the rest of Michael Turner's Player Profile, CLICK HERE