Boston Red Sox or Tampa Bay Rays? Which Team Will Reach .500 First?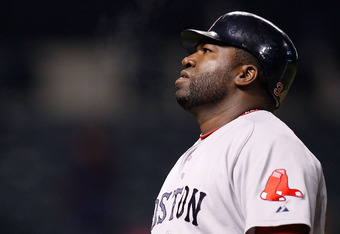 Jared Wickerham/Getty Images
The Boston Red Sox and the Tampa Bay Rays are both having an abysmal start to their 2011 seasons. Both teams, as of now, are 0-6—this is a testament to the curiosities of baseball. Almost everyone in the sports writing community picked the Red Sox to win the A.L. East this year. As for the the Rays, they happen to be the defending champions of this division, considered by many the toughest division in baseball.
With the Baltimore Orioles on top of the A.L. East, things are looking surreal at this point. Baltimore has virtually no big name hitters or pitchers on the team, yet are in first place, ahead of the New York Yankees, who boast a $250M payroll.
When Boston loses to the Indians, there is going to be some trouble in Beantown, especially now that hard liquor sales have been approved at Fenway Park. No one loves their baseball like the citizens of Boston and the Red Sox know it. There will surely be some shakeups in the Boston lineup as well as to their pitching rotation. One should fully expect a bullpen makeover as well.
The Red Sox have four pitchers with a sub-4.00 ERA, but four of their pitchers have ERAs in double digits, as well. Opposing teams are currently averaging 6.33 runs a game against the struggling Sox.
To make matters worse for the Sox Nation, the averages for all 13 hitters that have batted this season are as follows:
Jonathan Daniel/Getty Images
Ellsbury—.167
Crawford—.174
Gonzalez—.304
Ortiz—.227
Pedroia—.227
Youkilis—.105
Scutaro—.176
Saltalamachia—.071
Drew—.231
Lowrie—.143
Cameron—.000
McDonald—.000
Varitek—.000
Quite the meager display, and all in, the Red Sox are only averaging 2.67 runs per game.
Now, as bad as that looks for the Red Sox, the Tampa Bay Rays are in even worse shape. With a suspect bullpen and a new lineup for 2011, things aren't gelling for the Tampa Bay Rays. While their pitching is faring a little better, with five pitchers boasting sub-4.00 ERAs, the Rays' bats seem to have holes in them.
Which A.L. East team will finish in last place in 2011?
The Rays brought in Johnny Damon and Manny Ramirez to strengthen a depleted lineup, and these "ringers" are hitting .053 and .059 respectfully. And, they aren't even the worst hitters in the lineup this year. The Rays are currently hitting for a team average of .148, and have only amassed eight runs in six games. Most of these runs have been from home runs.
Understandably, it is early in the season. Many changes will be made on the part of both teams, but after seeing the two teams, it could be a long year for both teams, as well. Thus far, the Rays have a slight edge in pitching, while the Red Sox are hitting better than the Rays.
The good news is these two teams play each other on April 11, so someone has to win a game this year. Smart money would be on the Red Sox. The Rays were expecting problems from their pitching this year and the Red Sox hitting will come to life against the Rays' sub-par bullpen. Don't expect the Rays to improve their record until after the Boston series.
So, which team hits .500 first?
Answer: Red Sox
This article is
What is the duplicate article?
Why is this article offensive?
Where is this article plagiarized from?
Why is this article poorly edited?

Boston Red Sox: Like this team?