2011 NFL Offseason: Will Nnamdi Asomugha Sign with the Tampa Bay Buccaneers?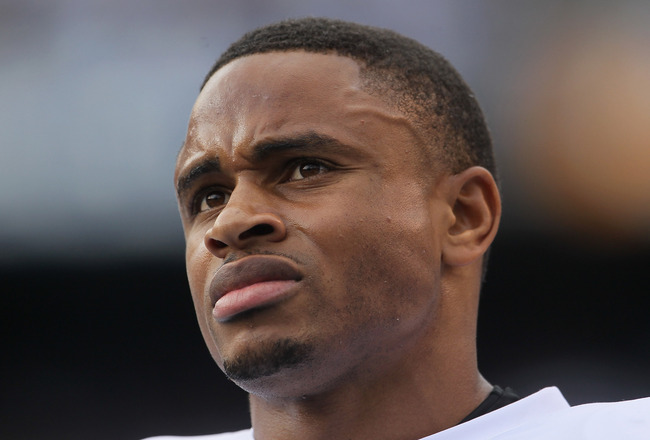 Jeff Gross/Getty Images
The young, talented Tampa Bay Buccaneers have a problem.
They have an incredible base of young talent—Josh Freeman, LeGarrette Blount, Mike Williams, Donald Penn, Gerald McCoy, among others. But two of the men I have not mentioned, Tanard Jackson and Aqib Talib, are likely never to wear the pewter and red again.
With Jackson suspended until late September because of a substance abuse violation and Talib facing criminal charges, it is unlikely that Mark Dominik will keep either of them on the roster if and when the 2011 season begins.
That being said, the Bucs have a gaping hole in the secondary. With a bite-sized payroll of $57 million last season, the Bucs can certainly afford to splurge during free agency. The player that they should target is expensive, elite and could singlehandedly transform the Bucs defense from good to great.
This player is Nnamdi Asomugha.
Cornerback Depth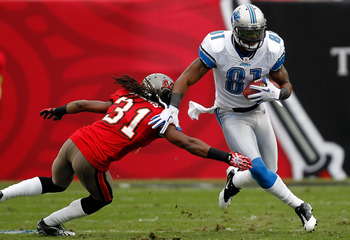 J. Meric/Getty Images
With all players healthy and active, the Bucs have a decent set of cornerbacks. Behind Talib and incumbent Ronde Barber, they have promising players such as E.J. Biggers (pictured), Myron Lewis and Elbert Mack.
But in a division where they have to go up against the likes of Marques Colston, Roddy White and Steve Smith a combined six times a year, having great cornerbacks is not an option. Plus, in 2011 the Bucs' opponents will include Houston (Andre Johnson), Indianapolis (Reggie Wayne) and Green Bay (Greg Jennings).
With Barber aging and becoming increasingly limited in his ability to cover receivers, and Talib likely gone, the starting CB tandem of Biggers and Lewis is about as scary as a five-year-old girl to other teams.
But Asomugha is a game-changer. He covers well in all schemes and is a dynamic playmaker. He is absolutely one of the top three corners in the game, and I would argue that he is the best.
The Pirate Booty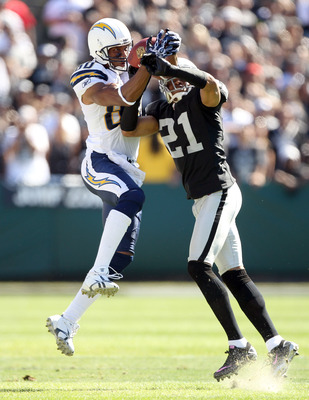 Ezra Shaw/Getty Images
A lot of this whole proposition depends on the outcome of the NFL labor dispute and lockout. As of today, the Bucs have just over $63 million committed towards players for 2011. There are many factors that will cause that commitment to increase.
The Bucs will have to pay their draft picks (possibly less than normal if a rookie wage scale is implemented), their current players that will be re-signed to new contracts and additional costs if current player contract tenders hold up (like Davin Joseph's). But getting rid of Talib and perhaps Jackson would free up plenty of cap space.
Whatever the case, the salary cap will probably be between $100 and $140 million next season. No matter what it is, the Bucs will almost certainly be able to afford Asomugha. His salary would probably be upwards of $15 million, but that still leaves room for some flexibility.
Competition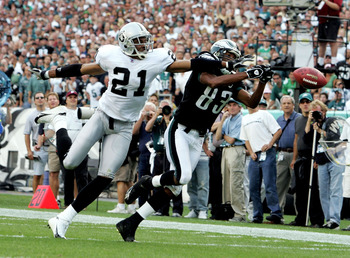 Jim McIsaac/Getty Images
In a perfect world for the Bucs, they would be the only team interested in Asomugha. Unfortunately, there are and will be many, many teams that will pursue this blue-chip free agent. There are several possible landing spots.
He could decide to re-sign in Oakland, or go across the bay to the secondary-starved 49ers. He could form the best cornerback duo in league history by signing with the Jets. The Eagles are a very logical landing spot, as are the Packers or Ravens.
All of these teams have just as much of a shot at landing Asomugha as the Bucs. But given their dire need for a cornerback, Tampa Bay should be willing to shell out an exorbitant amount of money to ensure a functional secondary next season.
Is He That Good?
For many Bucs fans who don't see Oakland play a whole lot, the brilliance of Nnamdi Asomugha may be underestimated. Sure, he's a good corner. But what makes him so much better than Talib or Barber?
Watch the video on the left. This is Asomugha covering Larry Fitzgerald last year. When covering Fitzgerald, Asomugha held him to one catch for 18 yards. Fitzgerald's only other catch was an 8-yard touchdown catch while Asomugha was in zone coverage. This is not Sammie Stroughter. This is Larry Fitzgerald.
Asomugha is extremely physical but also quick enough to jump routes and keep up with the fastest receivers on fly patterns.
Will He Fit?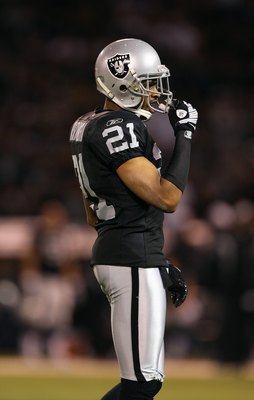 Jed Jacobsohn/Getty Images
The Bucs defense may quite be at its 2002 level, but it is still very good. With a plethora of defensive-line contributors and a solid group of linebackers, the front seven for the Bucs has the potential to break out in 2011.
In the NFL draft, the Bucs will likely target a defensive end, some secondary help and an interior linebacker. Regardless of how draft day goes, there is always room on any defense for a shutdown cornerback.
Asomugha will fit well in the Tampa Bay defense. Raheem Morris runs a hybrid defense that combines elements of the Tampa 2 with elements of man-to-man coverage. In this sense, Asomugha is a perfect fit. He is perfectly capable of succeeding in zone and man schemes. Essentially, he is a bigger, more physical and faster Ronde Barber.
If that's not music to your ears, I don't know what is.
Bottom Line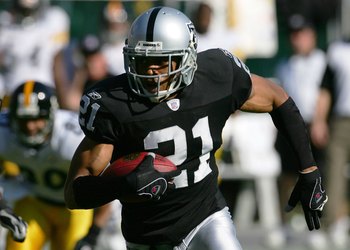 Robert Laberge/Getty Images
Over the course of a few months, the Buccaneers went from rebuilding mode to win-now mode. After most experts picked them to win no more than four games in 2010, the Bucs shocked everyone by winning 10, and were one Calvin Johnson beast-mode game away from the playoffs.
With nearly everyone returning on both sides of the ball (except, of course, Talib and maybe Jackson), the Bucs will be a very attractive option to any free agent. They are a team with money to spend and lots of room for improvement.
Getting Asomugha would be a gigantic boost to an already talented team. It would give the defense some star power and name recognition, and he would be a great teacher for the Bucs' young cornerbacks.
This is a no-lose situation for the Bucs. Nnamdi Asomugha is a great fit and a great player.
Plus, he knows what it's like to be a pirate.
Keep Reading

Tampa Bay Buccaneers: Like this team?