Los Angeles Dodgers: Can Matt Kemp Come Back, or Are the Dodgers Doomed?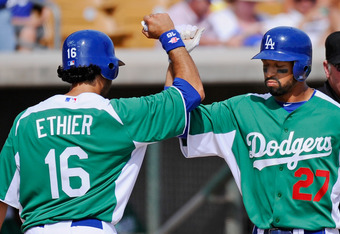 The Los Angeles Dodgers are mired in a bitter divorce. Generally speaking, that is something you say in the baseball world when a key player leaves his team via a trade or free agency. But in this case, I mean an actual bitter, messy divorce between former married owners.
The McCourts are splitting, so everyone figured that they would suffer financially.
What do they say about people who assume?
Exactly.
Yesterday, the Dodgers announced that they have signed pitcher Chad Billingsley to a four year extension worth approximately $40 million. They were also able to keep Ted Lilly and bring in Juan Uribe, so all of these reports of money woes seem very premature.
Still, it may difficult for the Dodgers to unseat the San Francisco Giants as National League West champions. But it may all come down to one single player.
Matt Kemp had an off season last year. His numbers have actually declined over the past couple of seasons, and if he continues to slide, this team will significantly struggle to score runs. Their saving grace is that they are not expected to allow too many runs per contest.
Along with Billingsley and Lilly, the Dodgers have Clayton Kershaw and Hiroki Kuroda to round out a solid rotation. The bullpen is good, but Jonathan Broxton needs to be more consistent this season. If he is not, they may be better off going with Hong-Chih Kuo at the end of the game.
The lineup is not that strong. If Kemp struggles, then expect Andre Ethier to see even fewer pitches to hit, as opposing teams will work around him at every opportunity. Uribe will help, but at this point in their careers, Rafael Furcal and James Loney are unknowns as to what they will bring to the offense.
This could be a good season for Don Mattingly in his managerial debut if everything falls into place. It could also be one to forget if players such as Kemp and Broxton cannot turn things around.
For more on the first pitches from every game, make sure to check out Bleacher Report Mets Featured Columnist Ash Marshall, who takes a look at MLB Opening Day 2011: 20 memories, Stats and Facts from Baseball's Opening Day.
Most recent updates:
This article is
What is the duplicate article?
Why is this article offensive?
Where is this article plagiarized from?
Why is this article poorly edited?